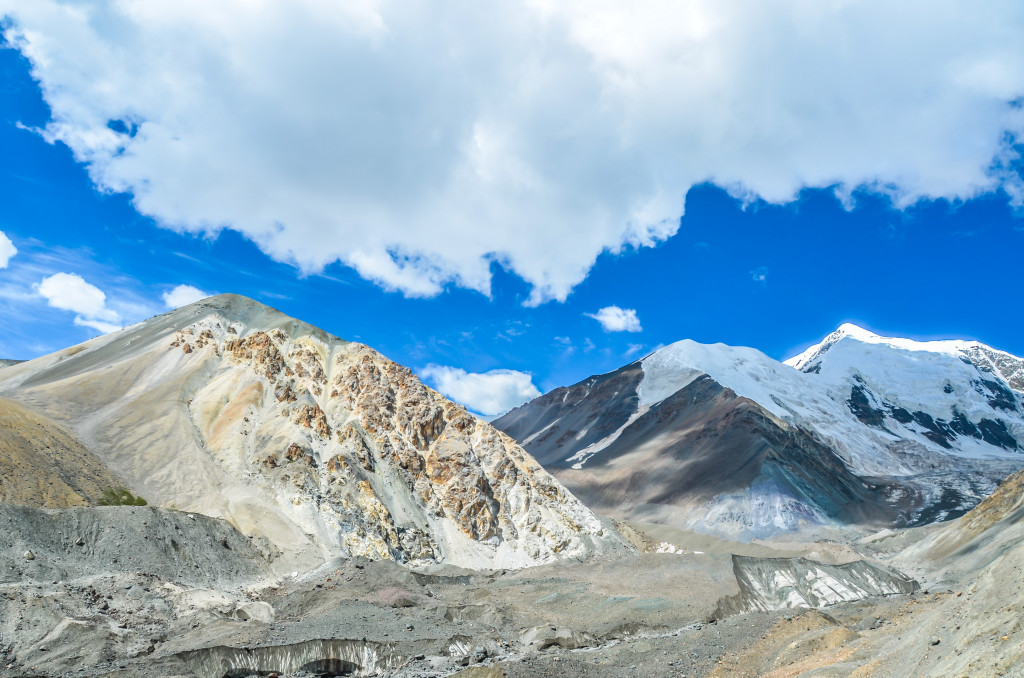 Amdo ཨ༌མདོ་  is one of the three main regions of Tibet found in the northeast corner of the Tibetan Plateau. Amdo is home to approximately 25% of the total Tibetan population. Parts of Amdo lie in 3 Chinese provinces: northern and eastern Qinghai, southwest Gansu and northern Sichuan. If you think of Tibet as rolling grasslands filled with yaks and nomads, the Amdo region is what you are thinking of. Amdo covers an area of over 645,000 square kilometers (250,000 square miles) and is slightly smaller than the state of Texas and slightly larger than Ukraine.
Most of Amdo has not been under the direct rule of the Dalai Lama's since the middle of the 18th century. From the mid-18th century until the mid-20th century, much of Amdo was ruled by local kings and chiefs or by warlords. Much of Amdo was incorporated into the newly formed Qinghai province མཚོ་སྔོན་ in 1928, though the Tibetan government in Lhasa still laid claimed to the region. It wasn't until the 1950's before China really had control over the Amdo region. Many of Tibet's most famous people are from Amdo including the current 14th Dalai Lama, the late 10th Panchen Lama and the famous Buddhist reformer Tsongkhapa.
Today Amdo is divided into 7 Tibetan Autonomous Prefectures and 2 Tibetan Autonomous Counties. Click on the links below for more information on specific regions of Amdo:
Much of Amdo is covered in the best grasslands that Tibet has to offer. These grasslands lie between 3000 and 3500 meters above sea level and are perfect for grazing yaks, sheep, goats and horses. Though many nomads have been relocated to small resettlement villages, there are still plenty of nomads living in traditional yak wool tents in eastern Qinghai, southwest Gansu and northern Sichuan. This area is easily the best on the Tibetan Plateau to see authentic, traditional nomadic culture. The best places in Amdo to go for nomadic culture are Zoige/Ruo'ergai county in Ngawa/Aba prefecture, Darlag/Dari county in Golok/Guoluo prefecture and Machu/Maqu county in Ganlho/Gannan prefecture.
Amdo also has plenty of fertile farming valleys. The region south of Xining to the town of Rebkong (Tongren) lies along the Yellow River and is perfect for growing barley, wheat and rapeseed. The farming regions of Amdo mostly lie between 2500 and 3000 meters above sea level.
While most of Amdo consists of rolling grasslands, there are a some high snow-capped mountains as well. Golok prefecture in southeast Qinghai has the highest peaks in Amdo with many peaks rising above 5000 meters. Mt. Nyenbo Yurtse rises above 5300 meters in the remote Jigdril county in Golok, while the highest mountain in Amdo is Amnye Machen ཨ་མྱེས་རྨ་ཆེན་་ in Machen county, which rises to 6282 meters above sea level.
There are no large cities in Amdo. The cultural heart of Amdo is the region between Rebkong རེབ་གོང་ and Labrang Monastery བླ་བྲང་དགོན་པ་ which is along the Qinghai-Gansu border. This region is filled with many large Tibetan Buddhist monasteries and according to Tibetans, this area speaks the standard Amdo Tibetan dialect. The area between Rebkong and Labrang, known as Xiahe in Chinese, receives the most tourists in Amdo.
The winters in Amdo can be quite extreme in parts. The regions of Amdo around Qinghai Lake and the nomadic grasslands of southeast Qinghai/southwest Gansu/northern Sichuan have bitterly cold winters with temperatures regularly reaching -20C. The coldest region in all of Amdo is the western Golok prefecture county of Mado/Maduo. This county lies between 4300 and 4700 meters and often reaches -30C or colder. Heavy snow and sub-freezing temperatures are found here even in the summer. In general regions of Amdo that lie under 3700 meters can have pleasant summer temperatures ranging between 20 and 26C.
Amdo is home to the largest lakes on the Tibetan Plateau. Qinghai Lake མཚོ་སྔོན་པོ་ located in northeast Qinghai is not only the largest lake on the Tibetan Plateau, but is the largest lake in all of China. The lake, which is saltwater, lies at an elevation of 3200 meters, and covers just under 4500 square kilometers (1700 square miles). The twin lakes of Ngoring མཚོ་སྔོ་རིང་ and Kyaring  མཚོ་སྐྱ་རིང་ (known as Eling and Zhaling in Chinese) are located very near to the headwaters of the Yellow River at nearly 4300 meters above sea level in remote Mado county in western Golok  prefecture.
Amdo is a great place to spend weeks exploring. Since all of Amdo lies outside of the Tibet Autonomous Region, no organized tour, no permits and no tour guide is required. Foreign travelers are free to explore most of Amdo on their own using public transportation. There are a few exceptions. Many counties in Haixi/Tsonub prefecture are completely off-limits to tourists, especially Delingha county. The 2 northern counties in Haibei/Tsoyang prefecture are also permanently closed to foreign travelers. The southeast counties in Golok prefecture, including Gabde/Gande, Darlag/Dari, Baima/Banma and Jigdril/Jiuzhi counties are open, but require an Alien Travel Permit which can be arranged at the Public Security Bureau in Machen/Dawu, the capital of the prefecture. Lastly, Ngawa/Aba county in Ngawa prefecture in northern Sichuan is normally closed to foreign travelers.
The 2 best places for starting your travel adventures through Amdo are Xining in Qinghai province and Chengdu in Sichuan province. Both of these cities have public buses to the Amdo regions within their province. The most popular overland journey in Amdo is the route connecting Chengdu to Xining going through Songpan, Jiuzhiagou National Park, Zoige/Ruo'ergai, Lhamo/Langmusi, Labrang/Xiahe and Rebkong/Tongren. There are public buses all along this amazing route. For those a bit more adventurous, the treks around Amnye Machen and Nyenbo Yurtse in Golok prefecture (southeast Qinghai) are remote, rugged and pristine.
For more information about traveling in Amdo, send an email to: thelandofsnows@gmail.com