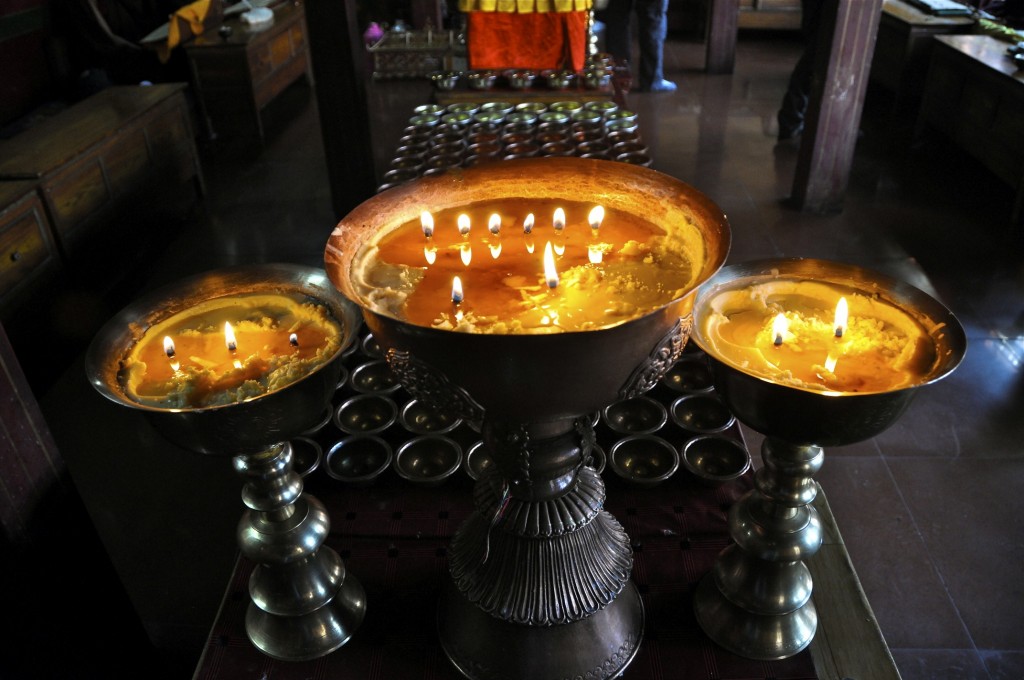 Tibet travel update
UPDATED October 30, 2012
This year has been a difficult year so far for those wanting to travel to Tibet, including the regions of Amdo and Kham. All areas were closed during March and some areas in Kham didn't reopen until late April/early May. Here is the latest update on travel regulations and closures across the Tibetan Plateau (NB: This information is current at the time of writing. It is important to remember that travel regulations can and do change all the time without any warning).
Lhasa and the Tibet Autonomous Region (read carefully!)
UPDATE: Lhasa and the Tibet Autonomous Region are currently open to foreign travelers.
After periodic closings throughout 2012, Lhasa and the Tibet Autonomous Region (TAR) are currently open to foreign travelers, however not all areas are open. Mt. Everest Base Camp remains closed to foreigners as does all of Chamdo Prefecture with the exception of Rawok Lake.  Mt. Kailash and the overland route to Nepal are open.
Read through the following carefully! These are the regulations that are currently being enforced:
The current regulations handed down by the Tibet Tourism Bureau (TTB) state that foreigners need to be in a group of 5 people who are all from the same nationality. This means that all 5 people in your group must carry the same nationality passport. Some of the more popular travel agencies will do their best to find others from the same country as you so that a group of 5 can travel together. Also, some travel agencies with more "connections" at the TTB can get permits for groups of only 3 or 4, but this is not common. Also, the TTB is requiring foreigners to each pay a $500 deposit to the travel agency before travel permits can be processed. Since you have to travel in a group of 5, this means that a deposit of $2500 ($500 x 5 people) needs to be paid in advance to the agency before the TTB will even think about processing your permit. The travel agency needs to submit a bank transfer receipt for the $2500 to the TTB along with the permit applications. If your permit is processed, the amount of the deposit is deducted from the total price of your tour. For example, if your tour costs $3500 for your group of 5 and you have paid the $2500 deposit, you will pay the remaining $1000 balance of the tour to your agency once your permit is processed. If the TTB doesn't approve your travel permit, which happens often, you will be refunded the $2500 deposit, minus bank transfer fees. You most likely will have to pay any bank transfer fees that occur for returning your deposit.
People holding passports from the UK, Norway, Austria and Korea currently are not being allowed to travel to the Tibet Autonomous Region. No official statement has been given on this strange regulation and it is impossible to say when this rule will be lifted. The standard regulations of having a tour guide and a private vehicle remain in place. Independent travel in the Tibet Autonomous Region remains impossible. It is highly unlikely that those regulations will go away anytime soon.
I recently met with the owner of one of the most popular and most recommended Tibetan owned travel agencies and he told me that he has only been able to obtain permits for around 20% of the customers who have contacted his office this summer. I met with the managers of 2 other popular Tibetan owned travel agencies (one based in Lhasa and the other in Xining) and they said they have stopped trying to arrange tours to Lhasa and the TAR for foreigners because it is just too difficult for them to arrange. Other larger Chinese government owned agencies in Chengdu have slightly better chances of obtaining permits for their customers, but most still report only getting permits for 20% to 40% of the people who contact them.
Again, you can try contacting a travel agency in Lhasa to arrange a tour and permits for you, but be advised that many people/groups are not getting in. The Tibet Tourism Bureau has not said that the area is closed, but they are being extremely selective in issuing permits for organized tours. It is also important to remember that it is NOT the agencies who make the regulations! All of the Tibetan owned agencies that I know report that they have had many foreigners call them cursing and yelling at them. These foreigners think that these agencies are trying to rip them off and think the agencies are giving them a run-around telling them different regulations each week. However, it is the Tibet Tourism Bureau who makes the rules….not the agencies. It is important to remember that these agencies want your business and are trying everything they can to arrange your tour, but the TTB is making it difficult for them. It is no use wasting time getting upset with a travel agency when these are rules that they have to follow.
It is important to note that there are early rumors out of Lhasa suggesting that the TAR could close again in September or October due to the Chinese Congress meeting in Beijing, which will be discussing the upcoming presidential change in China. This is not for certain, but it could happen.
Chamdo prefecture in the far eastern portion of the TAR remains permanently closed to foreign travelers. It has been closed since March 2010. The overland routes from Sichuan and Yunnan provinces, which must pass through Chamdo prefecture along the way to Lhasa, also remain closed to foreign travelers. Everest Base Camp also remains closed to foreign travelers.
With Lhasa and the rest of the Tibet Autonomous Region being heavily restricted, don't just cancel your Tibet tour! Go explore the (mostly) open regions of Amdo and Kham that are located in Qinghai, southwest Gansu, western and northern Sichuan and northwest Yunnan. More than 60% of the total Tibetan population live in these amazing areas!
The Amdo regions
The Amdo regions appear to be open except the restive county of Ngawa/Aba in northern Sichuan province. This is not a surprise as this county has been closed for most of the past 10+ years. I have heard many reports of foreigners traveling across the Amdo areas of Qinghai, including Golok prefecture and Rebkong, without any problems. I have also heard many reports of people traveling the overland route from Xining to Chengdu through Xiahe/Labrang, Langmusi, Zoige/Ruo'ergai and Songpan without any problems. Again, keep in mind that Amdo can be quite restive and closures could occur again at anytime.
UPDATE: There have recently been at least 4 self-immolations in and around Labrang (Xiahe). Though the government there has not said the region is closed, there most likely are travel restrictions in this area regarding foreigners.
The Kham regions
The Kham regions found in northwest Yunnan very rarely close and currently are all open. Yushu prefecture in southern Qinghai province also is all open, but keep in mind that the area in and around Jyekundo is still being rebuilt from a 7.1 earthquake that devastated the region in April 2010. There have now been more than 7 immolations in Yushu prefecture including a recent one in Jyekundo. So, while the authorities there say the area is open, it could close at anytime.
After months of refusing to sell bus tickets to foreigners, the main Xin Nan Men station in Chengdu is now selling tickets to Kangding without any problems. The smaller bus station in the Tibetan District of Chengdu in Wu Hou Ci should also sell tickets without any problems.
Not all regions of western Sichuan are open, even though the local police in the area claim that everything is open. I have heard several reports of people getting turned around who were trying to go north or northwest to places like Ganzi, Sertar and Dege counties. Some people have managed to get to Dege without problems, though I have now heard many reports of people being asked to leave Ganzi, Sertar and Dege. As these places have been political hot spots for decades, this doesn't come as a surprise. I also have heard several recent reports of people not being able to purchase bus tickets going west from Kangding to Litang. There are also reports of a checkpoint along the road from Jyekundo (Yushu) to Sershul (Shiqu). This checkpoint has turned several foreign travelers around back to Jyekundo who were attempting to get to Sershul and Dege. I also heard a recent report of foreign travelers who managed to get bus tickets from Shangri La (Zhongdian) in Yunnan province to Chaktreng (Xiangcheng) and Dabpa (Daocheng) in Sichuan who had to get off the bus near the border of Yunnan and Sichuan and register with their passports.
I know there are a lot of restrictions across the Tibetan Plateau, but with all of the immolations that have happened, it is not surprising.
I will do my best to keep this update.
Losang