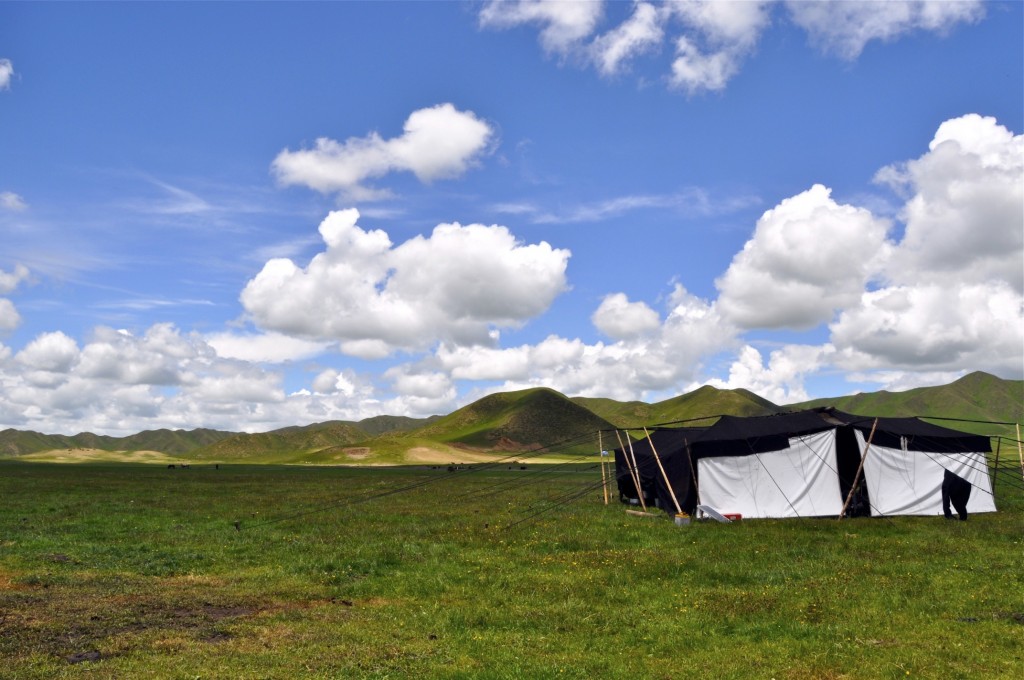 The Sichuan part of Amdo lies within Aba / Ngawa Tibetan and Qiang Autonomous Prefecture རྔ་བ་ཁུལ་ in far northern Sichuan province. Ngawa prefecture is divided into 13 counties and covers an area of 83,201 square kilometers. Ngawa is about the same size as the US state of South Carolina or slightly smaller than Portugal. It has a population of 898,000 with Tibetans making up between 52% to 56% of the total population. The Qiang minority number around 200,000 in China with the bulk of these living in Mao, Li and Wenchuan counties in Ngawa prefecture and in nearby Beichuan Qiang Autonomous County.
Not all of the estimated 500,000 Tibetans in Aba/Ngawa prefecture are Amdo speaking. Most of the Tibetans found in Heishui/ Trochu ཁྲོ་ཆུ་རྫོང་, Jinchuan/Chuchen ཆུ་ཆེན་རྫོང་ and Xiaojin/Tsenlha བཙན་ལྷ་རྫོང་ counties are of the sub-group of Tibetans known as Gyarong རྒྱལ་རོང་. There are also a substantial amount of Gyarong Tibetans in Ma'erkang/Barkham county འབར་ཁམས་རྫོང་ and in Danba/Rongtrak རོང་བྲག་རྫོང་ in nearby Ganzi/Garnze Tibetan Autonomous Prefecture. Gyarong Tibetans are Qiangic speaking Tibetans, who for the most part, cannot understand the Amdo dialect of Tibetan. Amdo speaking Tibetans are found throughout the counties of Ruo'ergai/Zoige མཛོད་དགེ་རྫོང་, Hongyuan/Khakog རྐ་ཁོག་རྫོང་, Aba/Ngawa རྔ་བ་རྫོང་ and Rangtang/Dzamtang ཛམ་ཐང་རྫོང་. Smaller amounts of Amdo speaking Tibetans are found in Songpan/Sungchu ཟུང་ཆུ་རྫོང་, Ma'erkang/Barkham and Jiuzhaigou counties.
Much of the Amdo speaking regions of Aba/Ngawa prefecture consist of rolling grasslands that lie between 3200 and 3500 meters above sea level. These grasslands are probably the best that the Tibetan Plateau has to offer and are filled with yaks and sheep. During the summer months, traditional yak wool tents can be found throughout the counties of Ruo'ergai/Zoige, Hongyuan, Aba/Ngawa and Rangtang/Dzamtang. This is an excellent place to spend time exploring if you are interested in Tibetan nomad culture.
The Jiuzhagou Nature Reserve in northeast Aba/Ngawa prefecture is stunningly beautiful. Though Tibetans only make up about 1/4 of the population of this county, this area's natural beauty makes it well worth going to. Jiuzhaigou is covered in brilliant turquoise lakes with snow-covered peaks in the background. During the summer high season, thousands of tourists flock here each day. I recommend visiting here from mid-October until early April. It will be cold, but the mountains will be covered in heavy snow and there will be almost no tourists. There are daily buses going from Chengdu and Songpan to Jiuzhaigou as well as flights from Chengdu to Jiuzhaigou during the high season (early May to early October). NOTE: The flights to Jiuzhaigou are quite expensive and are rarely discounted.
The town of Songpan, known in Tibetan as Sungchu ཟུང་ཆུ་, has been an increasingly popular stop for travelers in northern Sichuan. Though Tibetans make up 40% of the population of Songpan county, relatively few live in the county town of Songpan. Still, the town is well worth spending a few days in, especially if you have come from the more remote nomadic regions west of Songpan. There are several nice hotels and restaurants to choose from in town (Emma's Kitchen is my personal favorite). Songpan is a popular place to do some horse trekking. There are a few companies in town that all offer the same programs for about the same prices. There are daily buses going from Chengdu to Songpan.
Though it generally gets bad reviews from the guidebooks, Ruo'ergai/Zoige is a great place to spend some time. The county town is decent with several okay hotels and restaurants. There is a fairly large monastery located in town. But, the best parts of Zoige are not in the county town, but lie a short distance away. Nearly all of Zoige county is covered in grasslands which are home to nomadic and semi-nomadic Tibetans. If I had to recommend one place to go to see traditional nomadic culture, this is where I would recommend. Sixty kilometers west of the county town of Zoige is the small nomad trading post of Tangke, known in Tibetan as Tangkor. Tangkor, which is still in Zoige county, lies a short distance off of the Yellow River and is rich in Tibetan nomadic culture. During the summer season, there are a couple decent hotel options in town or better, bring your tent and camp with some of the thousands of Tibetan nomads who live in this area. You can hire a shared mini-van taxi in the county town of Zoige to take you to Tangkor.
Though some counties in Aba/Ngawa prefecture occasionally close due to political unstableness, no organized tour is required to travel in the Sichuan part of Amdo. The only exception is Aba/Ngawa county (not to be confused with the prefecture which goes by the same name). Aba/Ngawa county is a closed area and foreign travelers cannot go there. All other areas of the prefecture remain open to foreign travelers.
The best place to begin exploring this area is in Chengdu, the capital of Sichuan province. From Chengdu, there are daily buses to all 13 counties of Aba/Ngawa prefecture. There are no train lines in the prefecture and there is only 1 airport, which is in Jiuzhaigou. The capital town of Aba/Ngawa prefecture is Ma'erkang, known in Tibetan as Barkham. Though it is not listed in any of the main guidebooks, Ma'erkang/Barkham is a nice-sized town lying in a deep valley along a glacier river. It is clean and modern and worth pending a day or two in. From Barkham, there are also daily buses and shared mini-vans going to most of the other counties in the prefecture.
If you have any questions about the Sichuan part of Amdo, feel free to email me at thelandofsnows@gmail.com