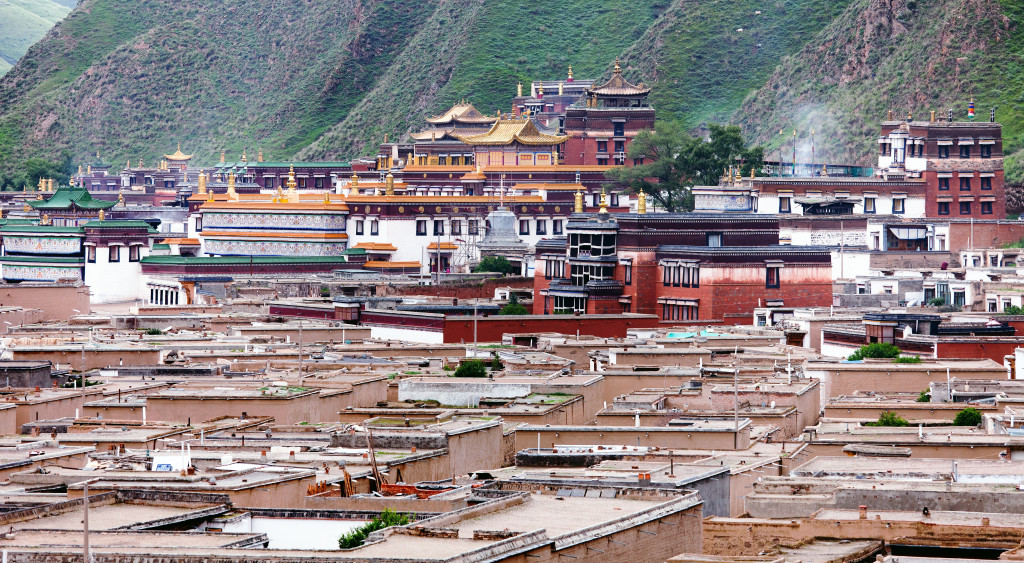 Labrang is the largest and most famous Buddhist monastery in the Amdo region. Read this post for more information about this fascinating place.
Labrang Monastery བླ་བྲང་བཀྲ་དགོན་པ་ is the largest monastery in the traditional Tibetan region of Amdo. Established in 1709, Labrang housed over 4000 monks at its peak, but now only has around 1500 monks with another couple of hundred lay students. Located in the Gansu Part of Amdo, Labrang is considered the cultural heart of Amdo Tibetan culture along with nearby town of Rebkong. Labrang is one of the "Great Six" Gelukpa sect monasteries of Tibetan Buddhism.
Labrang Monastery is located in Xiahe county, known in Tibetan as Sang Chu བསང་ཆུ་. The town lies along the Da Xia (Sang Chu) River, which is a tributary of the Yellow River. The town of Xiahe is approximately 50% Tibetan with the remaining 50% being mostly Han Chinese and Hui Muslims. The eastern part of the city is predominantly Chinese and is well developed. It contains several large hotels for government officials and Chinese tourists. Labrang Monastery lies in the middle of town. The western part of town is nearly all Tibetans, many of whom live in small, traditional style Tibetan homes. Most foreign travelers prefer to stay in the area near to where the monastery begins. There are several good Tibetan owned hotels in this area as well as several Tibetan owned restaurants.
Labrang Monastery is an important pilgrimage destination for Tibetans living across the Amdo region. Though religious pilgrims come throughout the year, the most popular time pilgrims arrive in Labrang is the weeks before and after Losar, or Tibetan New Year. Large festivals take place in Labrang during Losar each year. A huge Thangka (a huge Buddhist painting) is displayed on the Thangka Wall near the monastery and many thousands of Tibetans are in attendance. Each day during Losar thousands of pilgrims walk the kora (pilgrimage circuit) around the monastery. The pilgrimage circuit is lined with thousands of prayer wheels. 

Labrang lies at an elevation of 2950 meters (9675 feet) in a valley that is partially surrounded by an evergreen forest. The location is quite beautiful and relaxing. There are excellent hiking trails in the area that are well worth exploring. The town is quite modern and has several good hotel options to choose from, both budget and mid-range. I personally always stay at the Bao Ma Hotel or the Overseas Tibetan Hotel, both of which lie near the monastery.
Getting to Labrang/Xiahe is easy. There are multiple buses per day from Lanzhou to Xiahe, which take about 4 hours. There is also a daily bus from both Xining and Rebkong (Tongren) in Qinghai province to Xiahe.
If you have any questions about Labrang or other regions of Tibet, send me an email at thelandofsnows@gmail.com