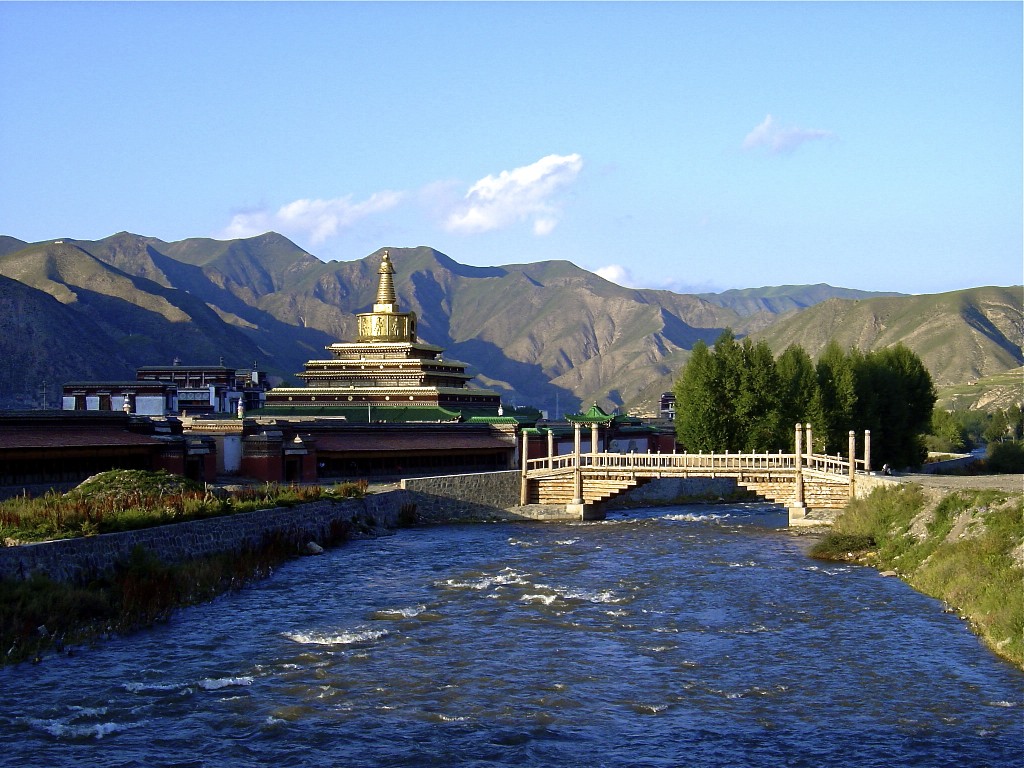 The Gansu part of Amdo lies mostly in the southwest portion of the province. It covers about 48,000 square kilometers and is approximately the same size as Slovakia or about half the size of the US state of Indiana. Gansu has 1 Tibetan Autonomous Prefecture, which has 8 counties, and 1 Tibetan Autonomous County. All together, there are about 415,000 Amdo speaking Tibetans living in Gansu province. The Tibetan regions of Gansu are:
Gannan / Ganlho Tibetan Autonomous Prefecture ཀན་ལྷོ་ཁུལ་
Tianzhu / Bairi Tibetan Autonomous County དཔའ་རིས་རྫོང༌
Gannan / Ganlho prefecture consists of 8 counties in southwest Gansu province, while Tianzhu / Bairi county is located northwest of Lanzhou, close to the border of Qinghai.
Much of the Gansu part of Amdo consists of rolling grasslands that are perfect for herding sheep and yaks. The elevation is mostly between 2800 and 3400 meters. Farming is most important in Tianzhu Tibetan Autonomous County as well as the counties of Lintan/Batse བ་ཙེ་ and Zhouqu/Drugchu འབྲུག་ཆུ་ in Gannan prefecture. These farming areas lie mostly between 2000 and 2400 meters above sea level. Barley, rapeseed and wheat are the most important crops. The southwest counties of Gannan prefecture are home to many nomads and semi-nomadic Amdo Tibetans. The counties of Maqu/Machu རྨ་ཆུ་, Luqu/Luchu ཀླུ་ཆུ་ and Xiahe/Labrang བླ་བྲང་ still have many Tibetans who live part of the year in traditional nomad tents, though many of them have been resettled over the past 10 years to small concrete resettlement villages. This region of the Tibetan Plateau is one of the best to visit if you are interested in Tibetan nomadic culture and lifestyle.
There are several great tourist places in the Gansu part of Amdo. The most famous is Labrang Monastery, one of the largest monasteries in all of the Greater Tibet area. Local monks say there are around 2000 monks living at Labrang (official monk population is considerably less). Located in the town of Xiahe, Labrang Monastery lies along the Sangchu River, a tributary of the Yellow River. Labrang Monastery is one of the 6 main monasteries of the Gelukpa Sect of Tibetan Buddhism and was founded in 1709. It is a major pilgrimage destination for Tibetans across the Amdo region. Everyday, pilgrims can be found spinning the more than 1000 prayer wheels that line the 2 kilometer kora around the monastery.
Most of the Gansu part of Amdo has long, cold winters. Low temperatures in the winter often reach between -15C and -20C. Summer season is pleasant with highs reaching between 18 and 23C. An increasingly popular trek in the summer time takes you from Labrang Monastery to Rebkong in Qinghai province over 5 or 6 days. Gary McCue's Trekking Tibet book has great information on this amazing trek. Horse trekking has also become quite popular in the Gansu part of Amdo. There are some places to go on short treks in and around Labrang Monastery, but the best place to go is in Langmusi, known as Taktsang Lhamo in Tibetan. The Langmusi Tibetan Horse Trekking Company offers full-service treks lasting from 1 to 5 days. They also arrange hiking and cultural tours of the area. I know the Tibetan co-owner and have done horse treks with them before and highly recommend them. The area in and around Langmusi is easily one of the most beautiful regions in all of the Amdo region of Tibet. It is well worth spending a few days or more exploring this area.
Getting to the Gansu part of Amdo is quite easy. Though the area does occasionally close due to political unstableness, no organized tour is required to travel in this area. Lanzhou is the best place to start for exploring this region. There are daily buses from Lanzhou to all 8 counties of Gannan/Ganlho prefecture as well as to Tianzhu/Bairi county north of Lanzhou. If you are exploring the Qinghai part of Amdo, there is also a daily bus from Xining to Xiahe and from Tongren/Rebkong to Xiahe. From Xiahe, you can work your way to Langmusi by public bus as well as other counties within the prefecture.
The Gansu part of Amdo is full of natural beauty and authentic, traditional Tibetan culture. It is a great destination choice for those who cannot afford the organized tour that Lhasa and the Tibet Autonomous Region requires of foreign travelers. If you have any questions about this region, send an email to thelandofsnows@gmail.com.