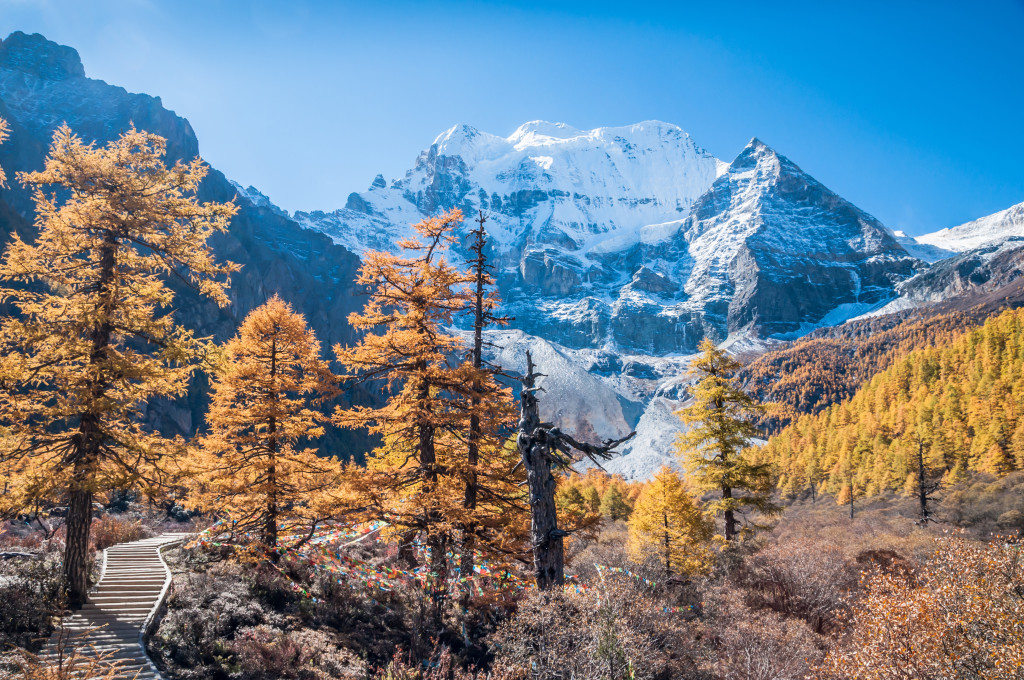 Can't afford a journey to Lhasa, Everest or other areas in the Tibet Autonomous Region? Then why not travel to the open areas of Amdo and Kham? Read more about why these areas are amazing!

Why not Amdo and Kham?
UPDATED March 2015
It is important to remember that Tibet consists far more  than just the Tibet Autonomous Region (TAR). In fact, the TAR only has about 50% of the land mass of the Tibetan Plateau and only around 40% of the total Tibetan population within China. The remaining half of the Tibetan Plateau is found in the traditional Tibetan regions of Amdo and Kham. Amdo and Kham lie outside of the TAR in the provinces of Qinghai, western and northern Sichuan, southwest Gansu and northwest Yunnan. Though these areas lie outside of the TAR, don't think that these areas are any less "Tibet" than inside the TAR! In fact, those of us who are familiar with Tibet and have spent a lot of time living, working and traveling the area, will tell you that the best regions of Tibet are not in the TAR, but in the Amdo and Kham areas.
A lot of people who email me regarding travel advice on Tibet are completely unaware of the Amdo and Kham regions of the Tibetan Plateau, which is unfortunate. Not only has this region produced many of the most famous Tibetans, including the current Dalai Lama, it has some of the best preserved Tibetan culture. Are you disappointed that you won't be able to visit the 50-or-so nomad families that live around Nam Tso? Try going to the Amdo regions of southwest Gansu and northern Sichuan where there are more than 35,000 nomad families spread across some of the best grasslands the Tibetan Plateau has to offer!
Did you want to visit a large Tibetan Buddhist monastery? Yep, Amdo and Kham have them! In fact, there are more than 1200 Tibetan Buddhist monasteries spread across this region and the best thing about them? Ninety-eight percent of them do not charge an entrance fee! Unlike the TAR, which charges between 25 RMB and 100 RMB per person to enter most monasteries, nearly all of them in Amdo and Kham are free. In addition, many monasteries (though not all) in Amdo and Kham allow you to photograph and take video inside. In the TAR, this is almost always forbidden unless you want to pay a high photography or video fee.
While only the TAR has views of the Tibetan Himalaya's, don't think that you can't see any snow-capped, glaciated peaks in Amdo or Kham! There are more than 3 dozen peaks in Sichuan Kham alone that rise above 6000 meters (apprx 20,000 feet). That's not including the high peaks in Qinghai and northwest Yunnan. The highest peak in Kham is Minya Konka (pictured at the very top of this post), which rises to 7556 meters. It is the 2nd highest peak outside the Himalaya's and is located very close to Dartsendo (Kangding) in western Sichuan.
Kham and Amdo also have some excellent treks that see very few foreigners. The 5 day trek along the west face of Minya Konka (again, pictured at the very top of this post) is simply amazing! Not only do you get great views of Minya Konka, you get up-close views of several other glaciated peaks that rise above 6000 meters. Both Amnye Machen in Golok, Amdo and Kawa Karpo (Meili Xue Shan) in Dechen, Kham are also great to trek around. There are numerous off-the-beaten path treks in Dege county in far northwest Sichuan that go through nomadic areas and the 5 day trek from Rebkong to Labrang in Amdo is awesome! Pick up the most recent copy of Gary McCue's Trekking Tibet book. It gives detailed information on these and other treks in Amdo and Kham.
The best thing about the Amdo and Kham regions, is that they -for the most part- are open! No organized tour is required. That means you can travel the area on your own without permits, without a guide and without a private vehicle with a driver. As I stated earlier in this post, most people who are familiar with Tibet and travel there often agree that the Kham and Amdo regions are some of the best places to observe traditional Tibetan culture…..and I agree! These areas don't get nearly the recognition that they deserve. With the best preserved Tibetan culture, very few travelers, snow-capped peaks, great trekking routes, lots of nomadic culture, over a thousand monasteries, snow-fed rivers, stunning grasslands and no organized tour requirement, why doesn't everyone go there!
For more information about these areas feel free to email me at thelandofsnows@gmail.com and read through the links of mine below:
More pictures from Kham and Amdo….