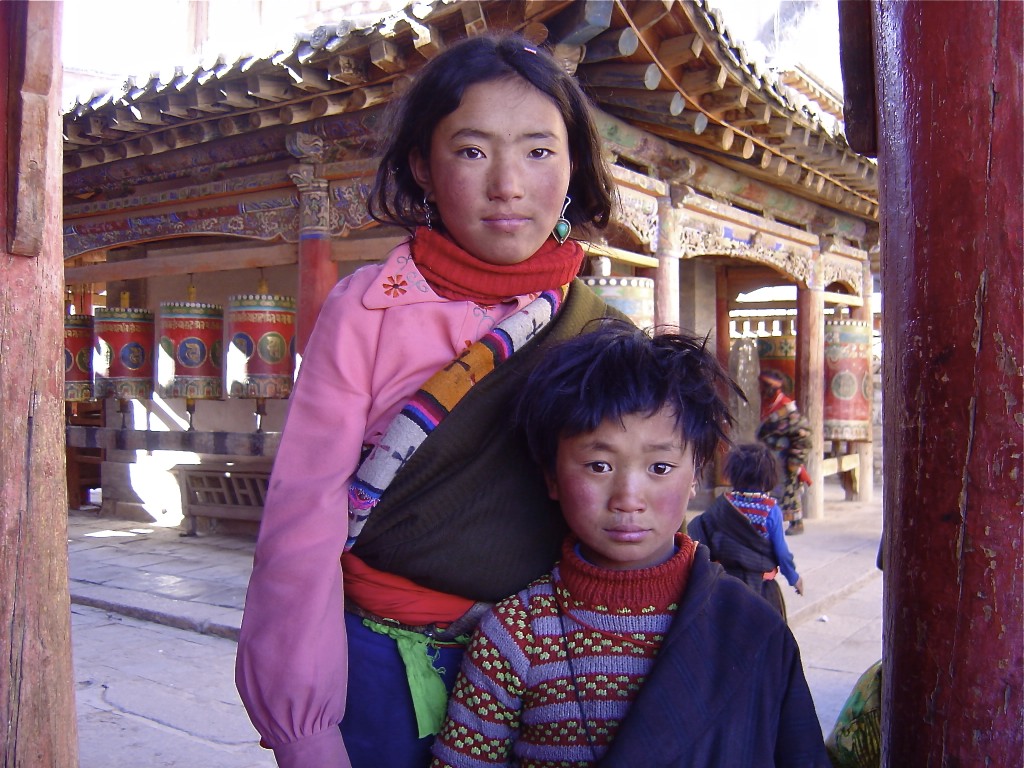 The Qinghai part of Amdo covers a huge area roughly twice the size of Colorado or 1.5 times the size of Germany. There are 5 Tibetan Autonomous Prefectures within Qinghai that are Amdo speaking and one other prefecture with a large Amdo Tibetan population. Approximately 60% of the Amdo speaking Tibetans in China live within Qinghai. The remaining 40% live in Gansu and Sichuan. All together, there are approximately 900,000 Amdo Tibetans in Qinghai. The Amdo Tibetan autonomous prefectures in Qinghai are:
1. Guoluo / Golog མགོ་ལོག་
2. Huangnan / Malho རྨ་ལྷོ་
3. Hainan / Tsolho མཚོ་ལྷོ་
4. Haibei / Tsochang མཚོ་བྱང་
5. Haixi / Tsonub མཚོ་ནུབ་
6. Haidong* / Tsoshar མཚོ་ཤར་
7. Xining City** / Siling ཟི་ལིང་
* Haidong is not a Tibetan Autonomous Prefecture, but is home to over 135,000 Amdo Tibetans. The current 14th Dalai Lama as well as the late 10th Panchen Lama are both from this prefecture.
 **Xining City is not in a Tibetan Autonomous Prefecture. There are approximately 120,000 Tibetans in Xining, which is just over 5% of the total Xining City population. Xining City covers the Xining city limits as well as the 3 surrounding counties of Datong, Huangzhong and Huangyuan. 
The Qinghai part of Amdo is a great place to go for those interested in traditional nomadic Tibetan culture. Yak and sheep herding remain a vital part of most Tibetans lives in this area. Tibetan nomads can be found throughout Golog and Hainan/Tsolho prefectures as well as in parts of Huangnan/Malho and Haibei/Tsochang prefectures. These regions consist mostly of high altitude grasslands lying between 3300 and 4000 meters above sea level. Though many nomads in Qinghai have been relocated or are in the process of being relocated, it is still possible to find nomads during the summer and fall seasons living in traditional yak wool tents. Others herd their flocks while living in small mud-brick or concrete homes.
The relatively low lying valleys in Haidong/Tsoshar prefecture and the northern counties of Huangnan/Malho and Hainan/Tsolho prefectures are excellent for farming rapeseed, barley and wheat. These fertile valleys lie between 2200 and 3000 meters above sea level. The Tsongkha valley outside of Xining is also very fertile for farming. The upper reaches of the Yellow River, known in Tibetan as the Ma Chu རྨ་ཆུ་, are found in western Golog Prefecture. From there, the river flows through much of eastern Qinghai province contributing to the fertile soil found in the region. The Yellow River is the 6th longest river in the world and the second longest river in China after the Yangtze River.
While much of Amdo consists of rolling high altitude grasslands, there are numerous snow-capped peaks as well. Most of the highest mountains are found in Golog prefecture, the highest prefecture in Amdo. The highest peak in all of Amdo is found in Qinghai. Mt. Amnye Machen ཨ་མྱིས་རྨ་ཆེན་ rises to 6280 meters and is found in Golog prefecture. This glaciated peak is one of the 4 main mountains that are considered to be holy amongst Tibetan people. The other 3 mountains are Kailash in western Tibet, Minya Konka in the Sichuan part of Kham and Kawa Karpo in the Yunnan part of Kham. Each year, thousands of pilgrims walk the pilgrimage route around Amnye Machen. The route along Amnye Machen has become increasingly popular for foreign trekkers who take 5 to 8 days to trek around the mountain.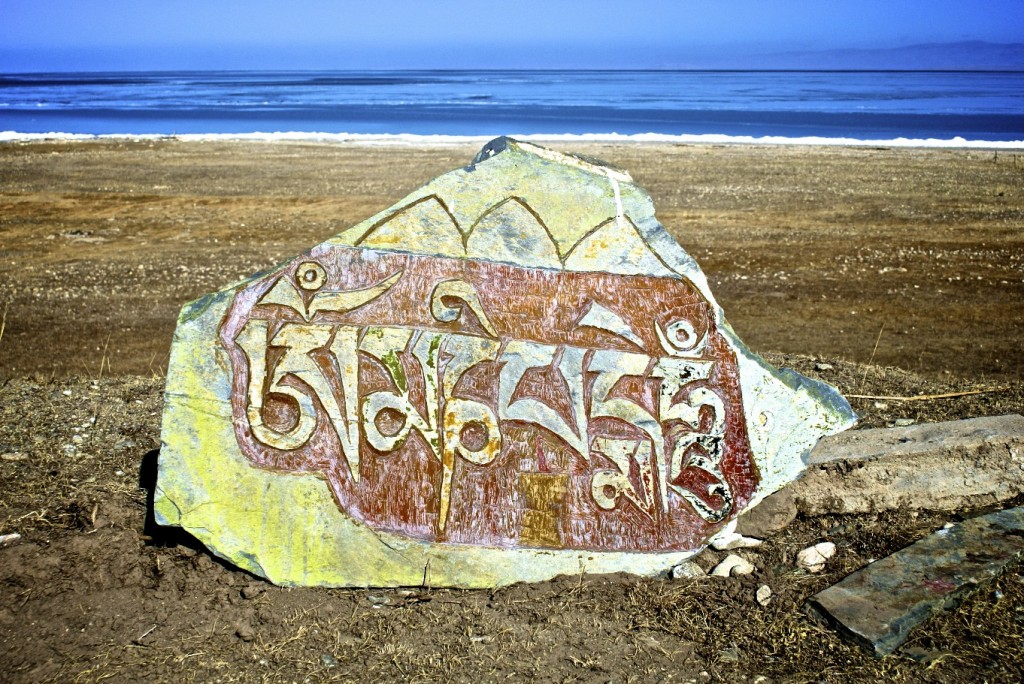 The largest lake on the Tibetan Plateau, and in all of China, is Qinghai Lake. Qinghai Lake, known in Tibetan as Tso Ngonbo མཚོ་སྔོན་པོ་, lies in northern Qinghai at an elevation of 3200 meters. It covers roughly 4400 square kilometers. Half of the lake is in Haibei/Tsochang prefecture, while the other half is in Hainan/Tsolho prefecture. The lake is a stunning turquoise color and during the fall and winter, snow-capped peaks form the background of the lake. During the summer season, the lake is a very popular spot for Chinese tourists. Other lakes in the Qinghai part of Amdo include Tso Ngoring མཚོ་སྔོ་རིང་ (Eling Lake in Chinese) and Tso Gyaring མཚོ་སྐྱ་རིང་ (Zhaling Lake). These two lakes are both found in Madoi county in Golog prefecture and are major contributors to the Yellow River. Though very remote and difficult to reach, these lakes are amazingly beautiful and offer stunning views of the nearby Kunlun Mountain Range.
Winters across most of Amdo are very cold and last a long time. The coldest regions are Golog prefecture (especially Madoi county) and areas above 3500 meters north and south of Qinghai Lake as well as the nomad grasslands around Tsekog county in Huangnan/Malho prefecture. In areas above 3500 meters, lows often reach -25C and lows of -30C or colder are not uncommon. Summers can still bring cool nightly temperatures, but day time temperatures are quite pleasant ranging between 18 and 23C.
The Qinghai part of Amdo is, for the most part, an open area of the Tibetan Plateau. No organized tour is required. There are however, some areas that are permanently closed to foreign travelers. Delingha county in Haixi prefecture (northwest Qinghai) is completely closed to foreigners. If you somehow make it here, the police will quickly find you and escort you out. Other counties in Haixi prefecture also appear to be closed to foreigners (I say appear to be closed because the government hasn't said anything officially, but when foreigners go there, they are usually asked to leave) including Tianjun and Wulan counties. If you plan to go north from Golmud to either Xinjiang or Gansu provinces, the police often require foreigners to purchase an Alien Travel Permit for around 50 RMB per person.  You can ask the unfriendly people at the Public Security Bureau in Golmud for more details.
Another area in the Qinghai part of Amdo that has some travel regulations is Golog prefecture. Madoi and Machen counties are completely open, but the other 4 counties of the prefecture (Jiuzhi/Jigdril, Gande/Gabde, Banma/Pema and Dari/Darlag) usually require an Alien Travel Permit. This permit can be purchased at the Public Security Bureau in the prefecture capital of Dawu in Machen county for around 50 RMB per person.
Lastly, the 2 northern counties in Haibei/Tsochang prefecture (north of Qinghai Lake) are also closed to foreign travelers. These counties are Qilian and Menyuan. Getting caught in these counties could result in a fine and definitely will result in you being asked to immediately leave by local police.
Xining is the starting point for travel in the Qinghai part of Amdo. Xining is easily reached by rail or air from most large cities in China. There are daily buses from Xining to every county within Qinghai province. Each prefecture has a capital town, which is normally the largest town in the prefecture. The capital town will have daily buses or mini-vans to all of the other counties within the prefecture. It is best to spend a night or two in Xining, elevation 2300 meters, before going to higher elevation areas of the province.
If you have any questions on the Qinghai part of Amdo, send an email to thelandofsnows@gmail.com