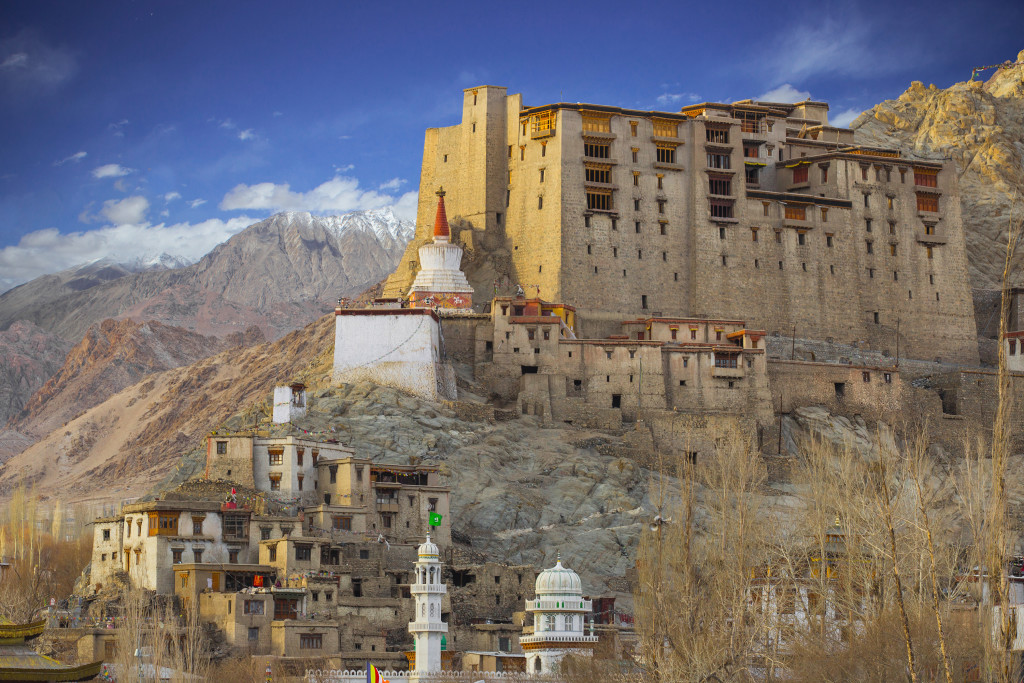 There are many amazing small towns across the Himalaya. Here are 5 of my personal favorites found in India, Nepal, Tibet and the Kham region.
Himalaya Towns
Leh, Ladakh, India: Elevation 3425 meters
Leh, located in the Indian state of Jammu and Kashmir, is one of the most fascinating towns in the Himalaya…and one of the most beautiful. The town has a population of around 35,000 and has an interesting mix of Buddhist Ladakhi's and Muslim Kashmiri's. The architecture in the town shows both Buddhist and Muslim styles. From just about everywhere, you can see a sweeping panoramic view of the Himalaya's rising above town. The highest peak in the vicinity is Stok Kangri, a 6153 meter peak that is popular in the summer months for trekking and summiting.
On my first journey to Leh, I was quick to find out how friendly the people were. Coming from my home on the Tibetan Plateau, there are no direct flights to India. My travel route in mid April several years ago took, me to Singapore and then on to Delhi, where I spent the night. The airlines lost my bag somewhere in Singapore and since I was staying the night in Delhi, I was just wearing lightweight clothing. I packed all my winter clothing in my bag, which was now lost. The next day I flew to Leh, where it was still late winter, without my winter gear! I stayed at a simple, but pleasant guesthouse in the Old Town of Leh that was owned by a kind, older Kashmiri man. I told this man my situation and he personally made it his responsibility to track down my lost bag. He spent several hours talking to airline officials in Delhi, finally tracked down my bag and had it sent up to Leh the next morning. I was amazed at this man's kind hospitality towards a complete stranger. If you have been to Ladakh before, you will know that most people are like this man…extremely hospitable and friendly.
The Leh Palace was built in the 17th century and served as the home of the royal family until the middle of the 19th century. The royal family then moved to the Stok Palace, 15 kilometers south. The Leh Palace is 9 stories high and is built on a mountainside. Its architecture is modeled after Lhasa's Potala Palace. A major restoration project was been underway at the Leh Palace for several years, but it remains open to the public. The views of Leh and the surrounding mountains are quite impressive from the palace.
The Shanti Stupa, built in 1991, is located a few kilometers south of town, several hundred meters above town. You can take a taxi there or climb an endless series of stairs (I don't recommend climbing the stairs until you have had a couple of days to acclimatize to the elevation). The view of Leh and the Himalaya is quite amazing from Shanti Stupa. Be sure to bring your wide-angle lens!
Leh isn't very big. It can, for the most part, be navigated on foot. There are many excellent guesthouses and mid-range hotels to choose from in town. I recommend choosing one that offers good views of the mountains. There are also numerous restaurants around serving great Indian, Tibetan, Kashmiri and Western food. Most restaurants, hotels and travel agencies can speak English well. The Ladakhi language is very similar to the Amdo dialect that is spoken in far eastern Tibet.
There are 2 main roads leading to Leh, however, both roads are closed in winter time due to heavy snow. The first road is the 422 kilometer road connecting Srinigar to Leh via Kargil. The road closes in the early winter due to heavy snow at the Zoji La Pass. The second road connects Leh with Manali, which is 479 kilometers to the south. This road is normally only open for 4 or 5 months each year due to heavy snow. In addition, there are daily flights from Leh to Delhi all year round and weekly flights to Srinigar and Jammu.
Leh is the starting point to other amazing areas in Ladakh including the Nubra Valley, Pangong Tso Lake, Tso Moriri and many more. Leh has numerous travel agencies that can arrange great treks (including winter treks) and climbing expeditions to nearby Mt. Stok Kangri as well as journeys to other places in Ladakh.
 Gyantse, Tibet: Elevation: 4025 meters
It's definitely hard for me to choose a favorite town in Tibet, a region I have lived and worked in for the past 13 years. However, the town of Gyantse is a special place to me. I have been here 20 times or more and always love coming here. Gyantse lies at an elevation of 4025 meters along the Nyang Chu Valley. It is strategically located along the ancient trade route linking Gangtok, Sikkim with Lhasa. Gyantse is 255 kilometers southwest of Lhasa via Yamdrok Lake. It is a main stopping point for travelers taking the overland route from Lhasa to Kathmandu.
Gyantse is quite small and has a population of around 15,000. You can walk the entire town in just a little over an hour or so. The main site here is the Pelkhor Chode Monastery, which was founded in the early 15th century. This monastery is one of Tibet's most famous and most revered. During festivals and holidays, thousands of Tibetans visit the monastery. Pelkhor Chode is quite different than other monasteries in Tibet and is a mixture of Tibetan, Nepali and Chinese architecture. The monastery is surrounded by a high 3 or 4 meter wall. Along the top wall of the monastery, you can get a great view of the monastery and town below.
Within the Pelkhor Chode Monastery is the 35 meter high Kumbum Stupa (pagoda), one of the largest in Tibet. It is a beautiful structure that can actually be entered. There are stairs and chapels throughout the stupa. Their are painted murals throughout the inside chapels. An entrance ticket is needed to enter the Pelkhor Chode Monastery. Tickets can be purchased at the front gate.
The Gyantse Dzong is one of Tibet's best preserved fortresses. The fortresses sits on a mountain, high above town. The fortress was built in the late 14th century. The Gyantse Dzong was attacked by British forces during the British Expedition to Tibet in 1903-04. The last few times I have been in Gyantse, the Dzong has been off-limits to tourists. You can get good views and pictures of the Dzong from high up along the back wall at the Pelkhor Chode Monastery.
As with all areas of the Tibet Autonomous Region (TAR), you can only go to Gyantse as part of an organized tour that can only be arranged by a travel agency. It is not possible to visit this area on your own using public transportation. For more information on how to arrange a journey to Gyantse and other regions of the Tibet Autonomous Region, read the following link: How to get to Tibet
There are 3 or 4 good hotels to choose from in Gyantse. My favorite is the Tibetan-owned and staffed Yeti Hotel, located just below the Gyantse Dzong. There are also a couple of good restaurants in town that serve a mixture of Tibetan, Chinese, Nepali and Western food. My favorite restaurant is the friendly Yak Restaurant.
Pokhara, Nepal: Elevation:  885 meters
Pokhara is actually Nepal's second largest city, but it still has the feel of a town despite having a population of 265,000. It's probably feels like a town because it is loosely spread out across a long valley that spans 12 kilometers from north to south and is around 6 kilometers wide. It's easy to see why Pokhara has seen a 10 fold increase in the amount of tourists over the past 10 years. The region is stunningly beautiful. Three of the world's ten highest peaks lie within 50 kilometers of Pokhara. Dhaulagiri (#7 at 8167 meters), Manaslu (#8 at 8163 meters) and Annapurna I (#10 at 8091 meters) are all within close proximity of Pokhara.
The Lakeside District of Pokhara lies along the beautiful shores of Fewa Lake (Phewa Tal). This area is popular with travelers, but is a lot of fun and offers spectacular views of the Annapurna Range on clear days. Fewa Lake is Nepal's second largest lake. There is a walking and cycling path around the lake or you can rent a small boat or kayak to soak in the views.
If you love the outdoors, Pokhara is a great place to base yourself. The popular treks to Annapurna Base Camp, Poon Hill and others start in Pokhara. You can rent boats/kayaks at Fewa Lake and there are numerous places along the Lakeside where you can rent bicycles. Several travel agencies in town can arrange whitewater rafting tours and paragliding.
There are a couple of viewpoints around Pokhara that you just have to go to. The first, and most spectacular, is Sarangkot. During clear weather (most months except June through early September) you get a sweeping view of the Himalaya, including Dhaulagiri, Machhupucchare and Annapurna II. The view is absolutely amazing. You can arrange a taxi the day before to take you up to the Sarangkot viewpoint to watch the sunrise. It is also a good place to go in the late afternoon to watch the sunset.
The second viewpoint is from the World Peace Pagoda (Shanti Stupa). The stupa is located on top of a hill just south of Fewa Lake. From the stupa, you can also get an awesome view of the Annapurna Range.
Getting to Pokhara is easy. Pokhara lies 205 kilometers west of Kathmandu. There are numerous buses everyday that take between 6 and 7 hours. Greenline buses are air-conditioned, serve a decent lunch and are quite comfortable. They cost more than other buses, but are worth it. There are also flights from Pokhara to Kathmandu. The 25 to 30 minute flight costs around $120/person with great views of the Himalaya in clear weather.
Though Pokhara is quite touristy, it is still a great place to spend time in….MUCH better than chaotic Kathmandu! There are countless guesthouses and hotels in town along with many dozens of great restaurants serving a wide variety of cuisine.
Kangding (Dartsedo), Kham region of Sichuan, China   Elevation: 2600 meters
Kangding, known in Tibetan as Dartsedo, is the gateway to the Kham region of the Tibetan Plateau. It is located 325 kilometers west of Chengdu at an elevation of 2600 meters. It sits in a narrow valley surrounded by high mountains. There are around 20 peaks within 45 kilometers of Kangding that rise to 6000 meters or higher, including Minya Konka, which tops out at 7556 meters. Kangding has a population of around 100,000. It has a mixed population of Tibetan, Chinese, Qiang and Hui peoples. Though Kangding isn't overly popular with guidebook writers, it is actually a fun town with plenty of outdoor things to do. It is one of my favorite places in the Kham region of the Tibetan Plateau.
Kangding, population around 90,000, has 4 Tibetan Buddhist monasteries that can all be reached by walking. Ngachu Monastery (An Jue Si in Chinese) sits right downtown near the river and dates back to 1654. Lhamo Tse (Nanwu Si) is on the far west end of town, about 2kms from the center of town. Dordrak Monastery (Jingang Si) is a bit further west of Lhamo Tse and Dentok Monastery (Paoma Si) is on top of Paoma Mountain, which rises above the town of Kangding. You can either take the cable car up the mountain or take the hiking trail.
Each night, weather permitting, there is Tibetan dancing in the Center Square in Kangding. There are usually a couple hundred people or more who join together in dancing to popular Tibetan songs. Kangding is not very big…can easily be navigated on foot. It lies in a very narrow valley and extends about 3 kilometers or so in length. There are many fun shops to browse through as well as several good Tibetan restaurants to choose from. One of my favorites is the Malaya Tibetan Restaurant, located on the 6th floor above the Dico's fast-food restaurant. Malaya has a beautiful atmosphere and serves excellent Tibetan food as well as Chinese and some Indian dishes. For those looking for a good coffee place, Himalayan Coffee is as good as it gets! It is located downtown inside the new walking street market. Along with excellent coffee, they serve good pizza and baked goods.
There are several nice hotels to stay in the downtown area of Kangding. My favorite place is Zhilam Hostel, located about an 8 to 10 minute walk from downtown. Zhilam Hostel is owned by my good friends from the US who have been in Kangding for about 8 years. They and their Tibetan staff run the best hostel on the Tibetan Plateau. The hostel serves great food and has an amazing view of the snow-capped peaks.
The main reason to go to Kangding is to explore the amazing outdoor areas that are so close. The first place to go to, especially if the weather is clear, is Yia Jia Geng (elevation 3800 meters). It is located 30 kilometers south of Kangding and offers a stunning panoramic view of some 6000 meter peaks. A taxi here will cost between 200 and 300 RMB, depending on how long you want to stay. The next place I recommend is Zheduo Pass, located 35 kilometers west of Kangding at 4200 meters in elevation. This pass also allows some awesome views of the mountains.
If you are interested in trekking, the 5 day Minya Konka (Gongga Shan) trek is one of my favorites on the Tibetan Plateau. The trek follows the west flank of the mountain range and is pristine wilderness. For more information on doing this trek on your own, read through Zhilam Hostel's useful information: Trekking Minya Konka on your own. If you prefer to have a local guide lead you on this trek (recommended if you don't have high altitude trekking experience), contact my good friend Patru. He is a local Tibetan who knows this region better than anyone: Trekking with Patru.
There are multiple buses everyday going from Chengdu to Kangding. The bus normally takes 7 or 8 hours. There is also a daily flight between Chengdu and Kangding that takes about 40 minutes. Kangding is also the starting point for exploring more of the Kham region. For recommended itineraries from Kangding, read through the following:
Overland Chengdu to Kangding to Shangri La
Darjeeling, India  Elevation: 2050 meters
Darjeeling is located in the Indian state of West Bengal, though it has a shared history with nearby Sikkim and Bhutan. Tea from Darjeeling is famous across the globe. Large tea plantations can be found all over the Darjeeling area. During the British Raj Era, Darjeeling became a popular hill station retreat due to its temperate climate, especially compared to the steaming hot plains of southern India. The British built old Darjeeling in a Victorian-style, some of which can still be seen in town today. Darjeeling remains a popular place for Indian and foreign tourists. It is one of my favorite Himalayan towns, due in part to its impressive view of Mt. Kangchenjunga, the world's third highest peak at 8598 meters.
Darjeeling lies along the hillside at an average elevation of about 2050 meters. It has a population of around 135,000. The majority of the population are ethnic Nepali, but there are also Sherpas, Tibetans, Tamang, Lepcha, Gurung as well as other ethnic groups. English is widely spoken in Darjeeling.
In addition to the amazing view of Kangchenjunga on a clear day, there are numerous other things to see in and around Darjeeling. The Himalayan Mountaineering Institute (HMI) is quite fascinating. HMI was started by the late Tenzing Norgay, who was the first to summit Everest along with Sir Edmund Hillary in 1953. Tenzing Norgay personally managed HMI for many years. The museum contains many pieces of equipment used on early Himalayan (particularly Everest) expeditions. Outside the complex is a statue of Tenzing Norgay. If you are fascinated about Everest, you will not want to miss the HMI. I am in constant awe every time I go there!
I am not a huge fan of zoos, but the Himalayan Zoo in Darjeeling is quite nice. There is a wide selection of different animals found across the Himalaya including tigers, snow leopards, wolves, Asiatic Black Bear, red pandas, deer, civets and a couple of yaks. This is a great place to go if you are traveling with children.
St. Andrew's is a beautiful church that was first built in 1843 (rebuilt around 1873) and is open to the public. The Tibetan Buddhist Monastery of Bhutia Busty is located about 1.5 kilometers down the hill from the main square of Chowrasta. It is the oldest monastery in the Darjeeling area, though the monastery has moved several times over the past 250 years. The "Toy Train" started operating in the 1880's. The 2 hour train ride goes from Darjeeling to Ghoom and back, going along the Himalayan foothills. Darejeeling is also a fun town just to walk around, especially around Chowrasta Square.
There are a few ways to get to Darjeeling. You can fly from Kolkata to the Bagdogra, a small city located about 16 kilometers west of Siliguri. From Siliguri, you can take a shared taxi (or rent the taxi all to yourself) to Darjeeling. The journey takes about 3 hours along a very windy, curvy road. Those prone to carsickness will want to take medication before departing.
You can also take the train from Kolkata to New Jalpaiguri (NJP). The trains vary in time from about 11 hours to 15 hours. From NJP, you can then take a shared taxi to Darjeeling, which is around 3 hours or so.
Since Darjeeling is a popular tourist destination, there are many good hotels to choose from as well as great restaurants. In the high season, which is April-May and again in October-November, a hotel reservation is strongly recommended. The summer months (low season) from June through late September bring heavy monsoon rains.
This list is of 5 of my favorite towns across the Himalaya. There are many other amazing places that I could have also added to the list. Perhaps in a future post I will write about some of my favorite villages across the region. If you have any questions about these 5 towns, please feel free to contact me at: thelandofsnows@gmail.com