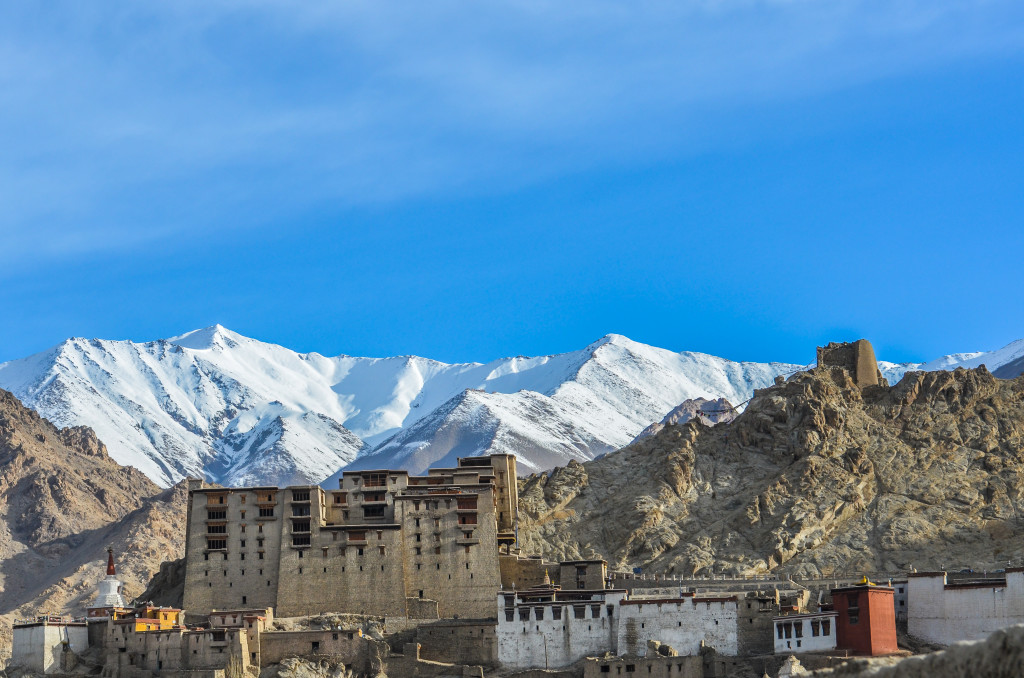 UPDATED September 2017: Ladakh, or Little Tibet, is located in far northern India. It is the far western extent of the Tibetan Plateau and is one of the most beautiful regions of the Himalaya.
For information on a reputable travel agency to use in Ladakh, India please email me at: thelandofsnows@gmail.com
UPDATED September 2017
How to get to Ladakh
Ladakh is located in the western Himalayan disputed region of Jammu and Kashmir in far northern India. Ladakh is bordered by Tibet to the east, Pakistan to the west, Xinjiang, China to the north and  Himachal Pradesh to the south. Ladakh, often referred to as "Little Tibet" is a stunning area with a very unique and preserved culture. It is one of my favorite regions of the Himalaya. It is filled with amazing Himalaya mountain views, stunning alpine lakes, amazing treks and some of the friendliest people I have ever met! Not many travelers make it to this remote area. From 2011 to 2013, Ladakh averaged only about 38,000 foreign travelers per year with another 140,000 Indian tourists per year.
Ladakh is divided into 2 districts: Kargil and Leh. Kargil lies in the western section and is predominantly Muslim (with the exception of Zanskar), while Leh lies in the eastern section and is predominantly Buddhist. Ladakh was an independent kingdom for 900 years. To this day, Leh still looks and feels more like Tibet than India. Many dozens of Tibetan Buddhist monasteries are found across Leh and Zanskar. The town of Leh was once the capital of the Kingdom of Ladakh and now serves as the administrative seat of Ladakh.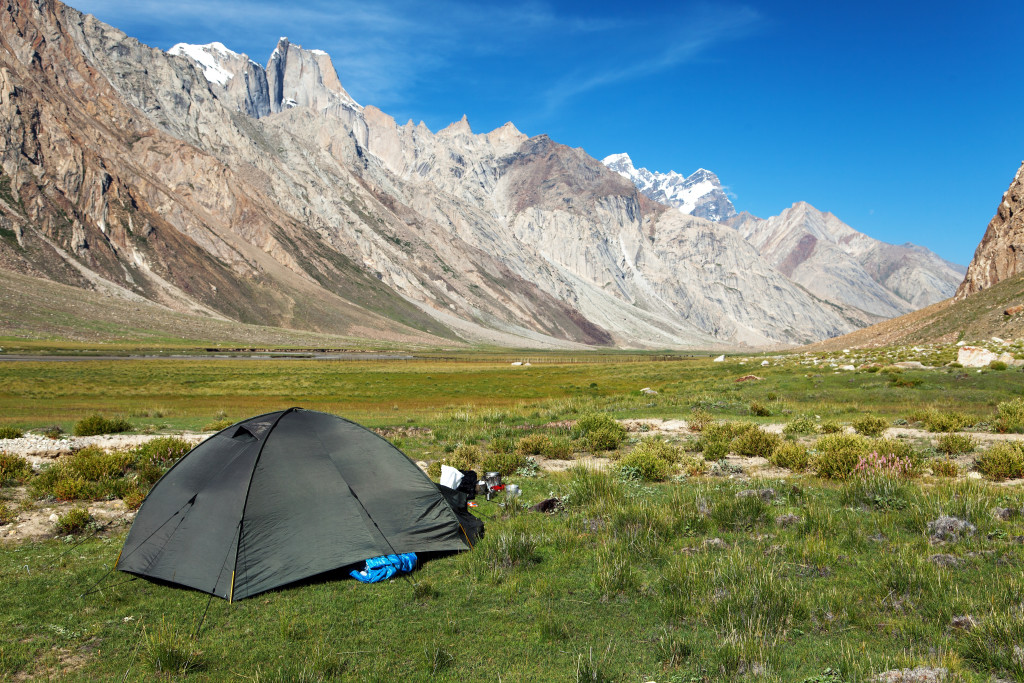 Trekking in Zanskar in the summer
Leh, Ladakh
Leh, pronounced "lay",  has a population of around 35,000 and has an interesting mix of Buddhist Ladakhi's and Muslim Kashmiri's. The architecture in the town shows both Buddhist and Muslim styles. From just about everywhere, you can see a sweeping panoramic view of the Himalaya's rising above town. The highest peak in the vicinity is Stok Kangri, a 6153 meter peak that is popular in the summer months for trekking and summiting.
In town is the Leh Palace, which was built in the 17th century and served as the home of the royal family until the middle of the 19th century. The royal family then moved to the Stok Palace, 15 kilometers south. The Leh Palace is 9 stories high and is built on a mountainside. Its architecture is modeled after Lhasa's Potala Palace. A major restoration project was been underway at the Leh Palace for several years, but it remains open to the public. The views of Leh and the surrounding mountains are quite impressive from the palace.
The Shanti Stupa, built in 1991, is located a few kilometers south downtown Leh, several hundred meters above town. You can take a taxi there or climb an endless series of stairs (I don't recommend climbing the stairs until you have had a couple of days to acclimatize to the elevation). The view of Leh and the Himalaya is quite amazing from Shanti Stupa. Be sure to bring your wide-angle lens!
Leh isn't very big. It can, for the most part, be navigated on foot. There are many excellent guesthouses and mid-range hotels to choose from in town. I recommend choosing one that offers good views of the mountains. There are also numerous restaurants around serving great Indian, Tibetan, Kashmiri and Western food. Most restaurants, hotels and travel agencies can speak English well. The Ladakhi language is very similar to the Amdo dialect that is spoken in far eastern Tibet.
There are 2 main roads leading to Leh, however, both roads are closed in winter time due to heavy snow. The first road is the 422 kilometer road connecting Srinigar to Leh via Kargil. The road closes in the early winter due to heavy snow at the Zoji La Pass. The second road connects Leh with Manali, which is 479 kilometers to the south. This road is normally only open for 4 or 5 months each year due to heavy snow. In addition, there are daily flights from Leh to Delhi all year round and weekly flights to Srinigar and Jammu.
Leh is the starting point for visiting many amazing areas in the region such as the Nubra Valley, Pangong Tso, Lamayuru, Tso Moririr, Thiksey Monastery and the overland routes to Kargil, Srinigar and Manali. Ladakh also offers plenty to do outdoors such as trekking and mountain climbing.
Kargil, Ladakh
Kargil is a small Muslim town located approximately halfway between Srinigar and Leh. Few people stay here very long. Most only stay for just a night enroute to either Leh or Srinigar. In the center of Kargil, population 12,000 or so, there are several guesthouses to choose from as well as good restaurants. Off of the Main Bazaar are the bus station and the jeep stand where you can take transportation to Leh (213 kilometers, 9 or 10 hours), Srinigar (221 kilometers, 9 or 10 hours) and even to Padum Village in Zanskar (240 kilometers, 16+ hours).
Zanskar Valley 
Zanskar is one of the most stunning valleys in Ladakh and is a trekkers paradise. Surrounded by gorgeous mountain peaks and being completely remote, it's easy to see why this region attracts avid trekkers. Most people who travel to this area do so on foot, however it is possible to take a vehicle here from Kargil (240 kilometers, 16+ hours).
The small village of Padum, population 1500, serves as the administrative center for the Zanskar region. Padum has few facilities. There are a few guesthouses in town that are usually only open during the summer months and early autumn. There are numerous trekking companies in Leh that can arrange treks in this stunning region. Treks include to Lamayuru, to Kargil and to Darcha.
For information on a good, reputable trekking company for Zanskar and other areas of Ladakh, please send me an email at: thelandofsnows@gmail.com
 Tso Moriri
Tso Moriri is one Ladakh's two most famous lakes. It is located in eastern Ladakh approximately 230 kilometers via Tso Kar from the capital town of Leh. The lake sits at an elevation of 4595 meters/15,075 feet and is surrounded by snow covered mountains rising well over 6000 meters. This region is extremely remote and very sparsely populated, but is full of amazing beauty. This area is part of the Changthang, or Northern Plateau that stretches for well over 1500 kilometers east across northern Tibet. I saw quite a bit of wildlife the last time I was in this area including Tibetan gazelle, black-necked cranes, foxes and kiang (wild Tibetan ass).
There is one small settlement along the lake called Korzok. This tiny village is quite poor and is inhabited by pashmina goat herders. Korzok also has a small monastery, home to around 50 or 60 monks who follow the Drukpa branch of the Kagyu sect of Tibetan Buddhism. The village has several simple homestays and guesthouses. I had a great time with the family I stayed with. The family made all of my meals and offered me a basic, but clean room for the night. I was fortunate enough to be the only foreigner in the region.
To visit Tso Moriri, an Inner Line Permit (ILP) is required. Only a travel agency can arrange this for you in Leh. There were a few checkpoints along the way to the lake, including a military checkpoint before entering Korzok village. The soldiers at the checkpoint were quite friendly and cordial. In fact, 4 of them joined me at my guesthouse later than evening just to talk. This is something that would NEVER happen in Tibet!
To reach Tso Moriri, I used a great travel agency in Leh who took care of all my permits and arranged a good vehicle and driver for me to use. It took me about 6 hours to reach Tso Moriri from Leh making several photography stops along the way. For more information on how to get to Tso Moriri, feel free to email me at: thelandofsnows@gmail.com
Pangong Tso
Pangong Tso is the most famous lake in Ladakh. It is located in eastern Ladakh along the border with Tibet. About 1/3 of the lake is in Ladakh with the remaining 2/3 being in Tibet. This beautiful lake sits at an elevation of 4350 meters/14,270 feet. The lake and sky are both amazing shades of blue that are a must see when in this part of India.
Pangong is about 158 kilometers from Leh. To get there, you cross over the 5360 meter/17,586 foot Chang La Pass, which is covered in snow for much of the year. An Inner Line Permit (ILP) is required to travel to this region, which can be arranged by a travel agency in Leh. Supposedly these permits are given to groups of 2 or 3, but I have been able to get a permit just for myself without any problems.
Travel agencies in Leh can arrange transportation to and from Pangong. The road is surprisingly good for most of the way. Some people just go to the lake on a day trip. The drive to the lake takes a little over 4 hours. The first place you arrive to at the lake, Lukung, offers tea houses and restaurants to eat lunch at. If you wish to stay at the lake, that is possible. There is a small village along the shores of the lake called Spangmik which has several basic homestays to choose from.
Nubra Valley 
Around 125 kilometers north of Leh is the spectacular valley of Nubra. If you only have time for one excursion outside of Leh, this is it! To reach Nubra Valley, you cross over the famous Khardung La Pass. This pass claims to be the "World's Highest Motorable Road" at 5602 meters. In reality, the pass tops out at around 5359 meters/17,578 feet. Both the Suge La  and Semo La passes in Tibet are higher than the Khardung La. To visit Nubra, you will have to get an Inner Line Permit (ILP) in Leh from a travel agency, which is easy to do.
The Nubra Valley is an ancient trading route that connected Tibet with Uyghur inhabited lands of Central Asia, now in China's Xinjiang province. Most of the valley sits at around 3150 meters with towering mountains rising well over 6000 meters all around. The village of Diskit, located near the Shyok river, serves as the administrative seat of the area. Above the village is the Diskit Monastery, which was founded in the 17th century. The old town of Diskit has a few basic guesthouses to choose from as well as a few restaurants. Jeeps from Leh to Diskit takes about 4 1/2 hours, or so.
I suggest taking at least 3 days and 2 nights to explore this region…and more time if you have it. You can go from Leh to Hunder via Diskit and stay the night there. In Hunder, you can see some of the famous Bactrian, or 2-humped camels. You can even ride a camel if you want! From there you can go up the Nubra River to the villages of Pinchamrik and Panamik. You can stay in one of these villages before returning to Leh the next day.  For a more remote adventure, you can travel a further 90 kilometers or so past Hunder. I plan to visit this region in summer 2015 and will post more information at that time. Travel agencies in Leh can arrange transportation and permits for you to go to this amazing area.
How to get to Ladakh
There are a few ways of getting to Ladakh…some are more adventurous than others! The easiest way is to fly. There are daily flights to Leh from Delhi. There are also weekly flights to Srinigar and to Jammu. The Leh airport is open all year round. Flying is the only way to reach Leh from mid autumn until late April/early May.
For the adventurous, you can take the bus or hire a jeep from Manali, Himachal Pradesh to Leh. The journey covers 479 kilometers and takes 2 days with a stop in Keylong for the night. If you hire a private jeep, they can make the journey in a torturous 21 to 24 hours. Another option is to take a bus from Srinigar to Leh, a journey of about 422 kilometers via Kargil. Buses take around 19 hours to cover the distance while private jeeps can do it in around 14 or 15 hours. Again, the roads connecting Leh with both Srinigar and Manali close due for many months due to heavy snow beginning in mid autumn.
To reach the areas of the Nubra Valley, Pangong Tso and Tso Moriri, you will have to have a travel agency apply for an Inner Line Permit (ILP) for you. The permit takes about 1 working day to arrange and costs around 150 rupees per person. Travel agencies in Leh can also arrange vehicles and a driver for areas across Ladakh. The prices are set each year by the local government. You can pick up a published booklet that states the fares from Leh to places throughout Ladakh. You can share a jeep with up to 5 people while splitting the costs. This makes traveling in Ladakh quite affordable. Ladakh is a highly disputed region with numerous military checkpoints. Be sure to carry your passport with you at all times.
Best Time to Visit Ladakh
The main tourist season in Ladakh is from July through early to mid September. Unlike most of India, the monsoons don't bring heavy rain to Ladakh in the summer months. Generally, Ladakh receives a lot of sunshine in the summer. Trekking in Ladakh in the summer is perfect, though some of the high passes can still be below freezing at night.
The lakes of Pangong and Tso Moriri are frozen for much of the year. Even in late April and early May these lakes can still be covered in ice. For those who are interested in winter trekking, the Chadar Ice Trek in the Zanskar area is best in late January and February. Reminder, the roads to Leh from Srinigar and Manali are closed for 5 or 6 months each winter due to heavy snow blocking the road. While you can fly to Leh all year round, much of the surrounding area can only be accessed from late spring until early autumn.
If you have any questions on how to get to Ladakh or need a recommendation on a good travel agency to use to explore this region, feel free to email me at: thelandofsnows@gmail.com