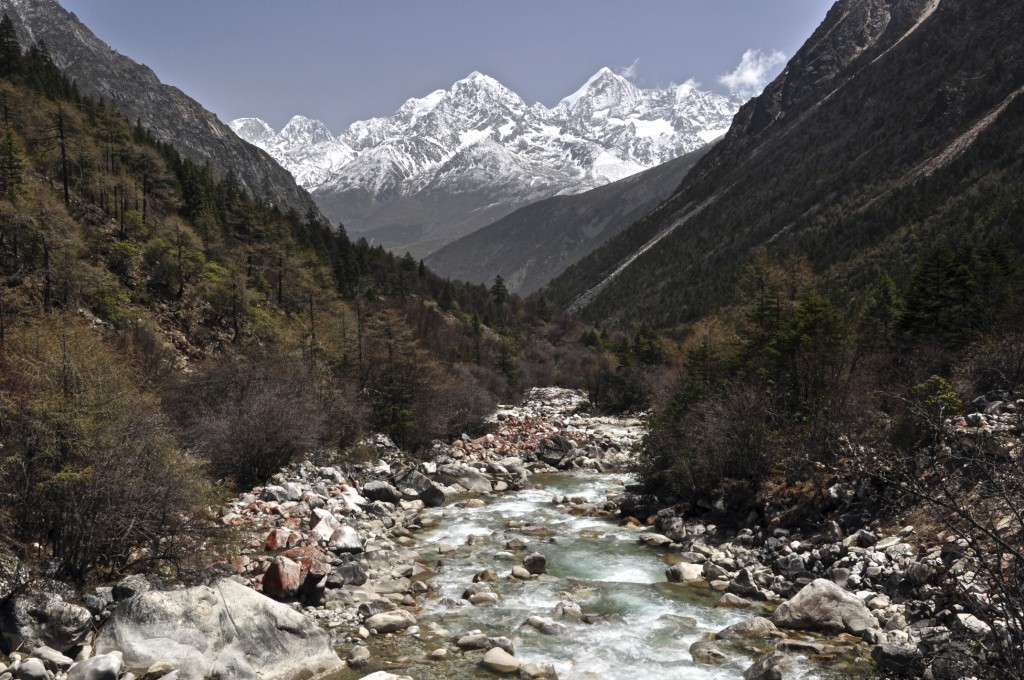 Ganzi/Garnze Tibetan Autonomous Prefecture དཀར་མཛེས་བོད་རིགས་རང་སྐྱོང་ཁུལ་ in western Sichuan covers an area of 151,078 square kilometers (58,331 square miles) and is located in the traditional Tibetan region of Kham. It is approximately the same size as the US state of New York and about half the size of Italy. It has a population of 1 million people, with Kham Tibetans making up 78% of the population. Of the 5 prefectures that make up the Kham region of Tibet, Garnze has highest number of Tibetans. Garnze is covered with high snow-capped peaks, alpine forests and deep river valleys. It is easily one of the most scenic parts of the Tibetan Plateau. Farming communities are found throughout the prefecture, though yak herding nomads can also be found in the higher elevation counties of Lithang (Litang), Sershul (Shiqu) and Nyarong (Xinlong). Elevation varies in the prefecture. The high grasslands of Sershul county sit between 4000 meters and 4500 meters while the fertile farmlands of Derong county lie at only 2300 meters.
Garnze prefecture used to be part of the now defunct Xikang province. In 1939 the government of the Republic of China created Xikang province with Dartsendo (Kangding) as the capital. Xikang covered the far eastern region of Kham. After the Communist People's Republic of China took control of the region from the Republic of China (Kuomintang) in 1950, Xikang was divided with everything west of the Yangtze River becoming Chamdo Territory and everything east of the Yangtze remaining Xikang province. In 1955, Xikang province was merged into Sichuan province and renamed Garnze Tibetan Autonomous Prefecture. In 1965, Chamdo Territory became part of the newly formed Tibet Autonomous Region and was renamed Chamdo Prefecture. While the capital of Sichuan province is Chengdu, the prefecture capital of Garnze remains Dartsendo.
Garnze prefecture is divided into 18 counties:
1.Kangding/Dardo 康定/དར་མདོ་
2.Luding/Jagsam   泸定/ལྕགས་ཟམ་
3.Danba/Rongtrak 丹巴/རོང་བྲག་
4.Jiulong/Gyesur  九龙/བརྒྱད་ཟུར་
5.Yajiang/Nyachuka 雅江/ཉག་ཆུ་ཁ་
6.Daofu/Dawu 道孚/རྟའུ་
7.Luhuo/Drango 炉霍/བྲག་འགོ་
8.Ganzi/Garnze 甘孜/དཀར་མཛེས
9.Xinlong/Nyarong 新龙/ཉག་རོང་
10.Dege/Derge 德格/སྡེ་དགེ་
11.Baiyu/Pelyul 白玉/དཔལ་ཡུལ་
12.Shiqu/Sershul 石渠/སེར་ཤུལ་
13.Seda/Sertar 色达/གསེར་ཐར་
14.Litang/Lithang 理塘/ལི་ཐང་
15.Batang/Bathang 巴塘/འབའ་ཐང་
16.Xiangcheng/Chaktreng 乡城/ཕྱག་འཕྲེང་
17.Daocheng/Dabpa 稻城/འདབ་པ་
18.Derong/Derong 得荣/སྡེ་རོང་
The capital of Garnze prefecture is Dartsendo དར་རྩེ་མདོ་, known as Kangding in Chinese. It is the largest town in the prefecture and has a population of around 90,000. There are multiple buses per day from Chengdu to Dartsendo. There are also buses each day from Dartsendo to all counties of Garnze prefecture with the exception of Shiqu/Sershul and Seda/Serthar. The Kangding airport is currently the 2nd highest commercial airport in the world  at 4280 meters above sea level. The airport opened in April 2009. Currently, the airport only has weekly flights to Chengdu , though there are plans to extend service to Lhasa in the future. The airport is closed during the winter months.
Dartsendo sits in a beautiful valley along the banks of the Zheduo and Yala Rivers. These two rivers merge on the east end of town just below the towering Guoda Mountain.  Dartsendo has long been the cultural boundary between Han Chinese and Tibetans. Roughly 40% of the population are Tibetans, 40% Han Chinese with the remaining 20% coming from smaller minority groups such as the Qiang, Yi and Hui. Colorful Tibetan nomads from the nearby grasslands often come into town to buy and sell goods.
 Most travelers to Dartsendo stay only 1 or 2 days. However, there is enough to see and do in the area to keep one busy for several days. There are 4 Tibetan Buddhist monasteries in town. Ngachu Monastery, known as An Jue Si in Chinese, dates back to 1654. It sits downtown right across from the Kangding Hotel. Lhamo Tse Monastery (Nanwu Si) is on the far west end of Kangding about 2kms from downtown. Dordrak Monastery (Jinggang Si) is more than 400 years old. It is located next to Sally's Knapsack Inn on the south end of town. Dentok Monastery (Paoma Si) lies on top of Mt. Paoma, which overlooks all of Kangding. You can hike up this mountain to reach the monastery or take the cable car to the top.
There are 2 main highways that run through Garnze prefecture. China National Highway 317, also known as the Northern Tibet-Sichuan Highway, begins in Chengdu and goes through the counties of Drango (Luhuo), Garnze (Ganzi) and Dege in northwestern Garnze prefecture before crossing into the Tibet Autonomous Region. China National Highway 318, or the Southern Tibet-Sichuan Highway,  runs through the central part of the prefecture from Dartsendo (Kangding) west to Nyachuka (Yajiang), Lithang (Litang) and Bathang (Batang) before entering the Tibet Autonomous Region.
The Hengduan Mountain Range, which mostly runs north to south, extends through much of Garnze prefecture. The Yangtze, Meokong and Salween Rivers all cut deep gorges through this rugged range. The highest mountain in this range, and the highest mountain in Garnze prefecture, is Minya Konka མི་ཉག་གངས་དཀར་རི་བོ་, known in Chinese as Gongga Shan. This glaciated peak rises to 7556 meters. There are many other mountains in the prefecture that rise above 6000 meters, notably Trola Mountain in Dege county, which rises to 6168 meters and Mt. Chenresig in Dabpa county (Daocheng), which rises to 6032 meters.
The rugged mountains of Garnze prefecture offer some of the best hiking and trekking that the Tibetan Plateau has to offer. Excellent high altitude hiking can be done along the west face of Minya Konka. This trek begins just a short drive west from Dartsendo and takes 4 or 5 days to go from the trailhead to the Konka Monastery on the southwest face of the mountain. The Yading Nature Reserve also offers an excellent 2 day trek around Mt. Chenresig, the main holy mountain in the reserve. There is also great trekking around Trola Mountain in Dege county. Pick up a copy of Gary McCue's Trekking Tibet book for more information on treks in the Dege area.
Lithang is well known across Tibet for its large annual horse festival, however this festival has not been held the past few years due to a political demonstration that took place in 2008. Smaller horse festivals do occur each year in the smaller townships across Lithang county. Contact Medok at the Potala Inn in Lithang for more information about summer horse festivals in the area. Horse festivals also occur in Sershul and in Lhagang (Tagong) each summer. Contact Angela at Chyoger Treks for more details on horse festivals near Lhagang.
The remote counties of Lithang, Nyarong (Xinlong), Garnze (Ganzi) and Sershul (Shiqu) are excellent places to go and see traditional nomadic culture. These counties have large expanses of grasslands filled with yaks. During the summer months these nomads live in traditional yak wool tents. The nomadic regions are difficult to reach, but are well worth the effort to get there.
Garnze prefecture, with all of its rich Tibetan culture and amazing scenery, is one of the best regions of the Tibetan Plateau to visit. Though this region does close from time to time due to Tibetan protests and unrest, no organized tour is required. Foreigners can travel this region freely on their own without any permits, tour guide or private vehicle. For more information about the Sichuan Part of Kham, send me an email at thelandofsnows@gmail.com.
Losang བློ་བཟང་