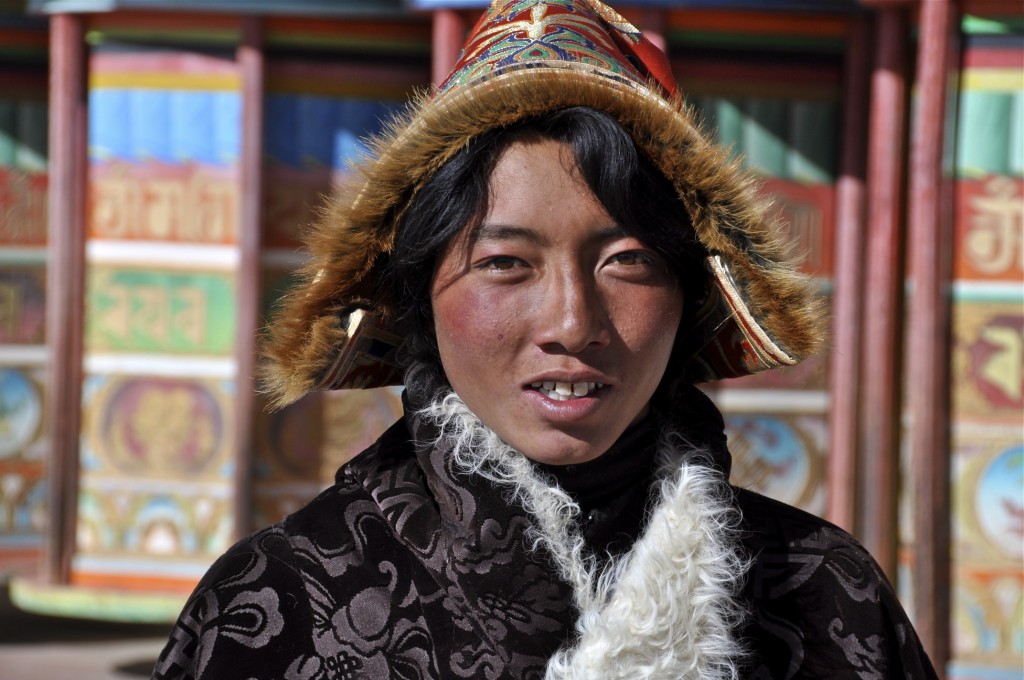 Kham ཁམས་ is one of the 3 main traditional regions of Tibet, along with U-Tsang དབུས་གཙང་ and Amdo ཨ་མདོ་ and is located in the eastern and southeastern corner of the Tibetan Plateau. Kham is a large area covering over 924,000 kilometers² (356,000 miles²) and is more than twice the size of Sweden and more than twice the size of California. Kham is home to approximately 2 million Tibetans or 35% of the total Tibetan population. Parts of Kham lie in the eastern portion of the Tibet Autonomous Region (TAR), western Sichuan, southern Qinghai and northwest Yunnan provinces. Read the links below for more detailed information on the specific regions within Kham:
History of Kham
From the 10th century on, Kham was never under the authority of Lhasa for an extended period of time or under direct Chinese authority until the communist takeover in the 1950's. Kham was also never ruled by a single leader, but was split up into over 2 dozen separate  kingdoms each with its own king. In recent centuries the most powerful kingdoms in Kham were those of Muli (modern day Muli Tibetan Autonomous County in southwest Sichuan), Chakla (modern day Dartsendo/Kangding county in western Sichuan), Dege (modern day far western Sichuan), Lingtsang (modern day northwestern Sichuan) and Nangchen (modern day Yushu Tibetan Autonomous Prefecture in southern Qinghai). Part of the reason that Kham never was under the authority of Lhasa was because of the sect of Buddhism followed in Kham. The Dalai Lama, the government and the most powerful monasteries in Lhasa follow the Gelukpa sect of Tibetan Buddhism while older schools of Buddhism such as the Kagyu, Nyingma and Sakya (around Jyekundo) are followed in Kham. The ancient Bon religion is still practiced in Nyingtri Prefecture, also known as the Kongpo region.
In 1939 the government of the Republic of China created Xikang province with Dartsendo (Kangding) as the capital. Xikang covered the far eastern region of Kham. After the Communist People's Republic of China took control of the region from the Republic of China (Kuomintang) in 1950, Xikang was divided with everything west of the Yangtze River becoming Chamdo Territory and everything east of the Yangtze remaining Xikang province. In 1955, Xikang province was merged into Sichuan province and renamed Garnze Tibetan Autonomous Prefecture. In 1965, Chamdo Territory became part of the newly formed Tibet Autonomous Region and was renamed Chamdo Prefecture.
Kham is the most geographically diverse region of Tibet. Kham, traditionally known as Chushi Gangdruk ཆུ་བཞི་སྒང་དྲུག་ which means "4 Rivers, 6 Ranges",  contains the headwaters of many of Asia's longest and most important rivers. The Mekong, Yangtze, Yellow and Salween rivers all begin in Kham. These rivers cut deep canyons and gorges throughout eastern Kham. There are numerous mountain ranges and high peaks throughout the area. The Kunlun Mountains (which includes the Bayan Har/Bayan Kala Range) form the far northern boundary of Kham while the far eastern extent of the Himalaya's form the southern boundary. The rugged Hengduan Range, which includes the Daxue Mountains, are along the eastern border of Kham and mainland China. The highest peak in Kham is Minya Konka, which rises to 7556 meters. Other notable peaks in Kham are Mt. Chola, rising to 6168 meters in Dege county and Mt. Bukadaban in Drido county rising to 6860 meters.
The far northern parts of Kham found in Yushu (Qinghai) and Nagchu (TAR) prefectures consist mainly of high altitude grasslands that lie between 4200 meters and 4800 meters. This treeless region is sparsely populated and has long, cold winters. Much of northern Kham is permafrost. The few Tibetans who live in this area rely on yak and sheep herding for most of their income. Eastern Kham (Garnze in Sichuan and parts of Chamdo in the TAR) has many deep river valleys that give way to towering peaks. The towns in these valleys lie between 2800 meters and 3400 meters and have a milder climate than northern Kham. Dense evergreen forests are found throughout this area along with fertile farming soil. Southern Kham (Dechen prefecture in Yunnan, parts of Garnze in Sichuan and parts of Chamdo in the TAR) also has evergreen forests as well as plenty of amazing craggy peaked mountains. The elevation in southern Kham is mostly between 2600 meters and 3300 meters.
The Kham Tibetans, better known as Khampa/Khamba ཁམས་པ་, number around 2 million. Khampa are traditionally known as the warriors of Tibet. Whether from Beijing or Lhasa, the Khampa have always been resistant to outsiders controlling their land. Throughout their long history, the Khampa have fought and killed anyone who tried to settle in their region. During the early 20th century, several European and American explorers were also killed by Khampa including Jules-Léon Dutreuil de Rhins, Louis Victor Liotard and Dr. Albert Shelton.
Most Khampa's are considerably taller than Tibetans from other regions of Tibet. It is not uncommon to come across Khampa men standing well over 6 feet tall. Kham men from Chamdo, Dege and Nangchen often wear their hair long with red or black tassels woven in. Most Khampa men wear earrings. Women from Riwoche, Dege and Jyekundo usually have large pieces of turquoise or coral worn on top of their heads. Throughout Kham, chuba ཕྱུ་པ་ (traditional long coats worn by Tibetans) are fur-lined and made of beautiful material.
There are no large cities in Kham. The largest towns are Chamdo, Dartsendo (Kangding), Gyelthang (Shangri La/Zhongdian) and Jyekundo (Jiegu/Yushu). Each of these 4 towns has an airport. An additional airport in Nagchu is scheduled to open in 2015. The nearest large city to Kham is Chengdu, which is the traditional starting point for people wanting to travel the region. The areas of Kham in Qinghai, western Sichuan and northwest Yunnan do not require organized tours, permits or tour guides, though the Qinghai and Sichuan parts do close to political unstableness from time to time. The Kham regions that are in the Tibet Autonomous Region, such as Nagchu and Chamdo prefectures, require a complete organized tour including travel permits, a tour guide, a private vehicle and a driver. NOTE: All 11 counties of Chamdo prefecture have been completely closed to foreign travelers since March 2009.
The main language spoken in Kham is the Kham dialect of Tibetan ཁམས་སྐད་. Kham Tibetan has many sub-dialects and differs so much from northern Kham to southern Kham that speakers from those areas cannot understand each other. The Kham dialect of Tibetan is also, for the most part, not understood by Tibetans from Lhasa or Amdo. There are 4 main dialect groups of Kham Tibetan: Eastern Kham (spoken in eastern Garnze prefecture), Western Kham (spoken in northwestern Garnze and northeastern Chamdo prefectures), Northern Kham (spoken in Yushu prefecture and parts of Nagchu prefecture) and southern Kham (spoken in Dechen prefecture, southwestern Garnze prefecture and southeastern Chamdo prefecture). The Dege dialect of Kham is considered by many to be the "standard Kham dialect", though most Kham Tibetans in Southern Kham cannot understand this dialect at all.
All areas of Tibet are amazing and beautiful, but in my opinion Kham is the best region as it offers amazing scenery (nomadic grasslands,  glaciated peaks, alpine lakes, evergreen forests and deep river valleys) and equally amazing culture. Some of the best preserved Tibetan cultural areas are located in Kham. It is not the easiest region of the Tibetan Plateau to reach, but it is well worth the effort getting there.
For more information about Kham, send me an email to thelandofsnows@gmail.com