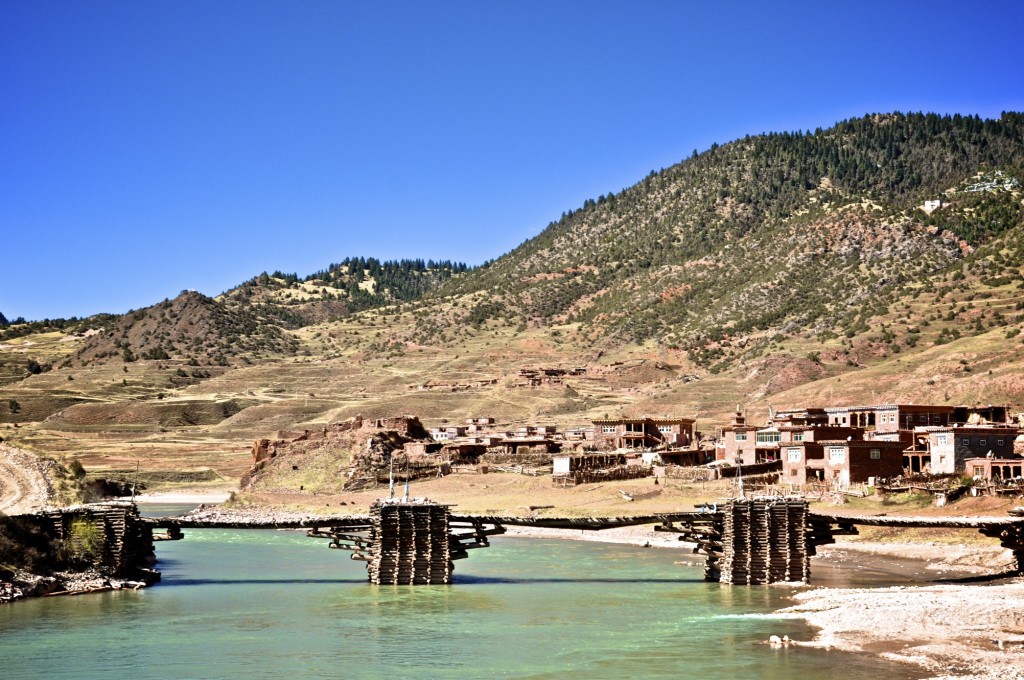 The Kham region of the Tibet Autonomous Region (TAR) is found in Chamdo prefecture ཆབ་མདོ་ས་ཁུལ་, as well as parts of Nagchu ནག་ཆུ་ས་ཁུལ་ and Nyingtri prefectures ཉིང་ཁྲི་ས་ཁུལ་. The Kham part of the TAR lies all in the east and covers roughly 1/3 of the land mass of the TAR. Though the region is stunningly beautiful, few travelers go to this region due to the required organized tour that all foreigners must be part of. All foreigners wanting to go to any region of the TAR must be part of an organized tour that includes travel permits, a tour guide, a private vehicle and a driver. Chamdo prefecture has been completely closed to all foreign travelers since March 2010 and no date has been set for it to reopen. When Chamdo prefecture is open, it requires multiple travel permits that can take weeks to arrange.
The Kham regions of the TAR that are in Chamdo range in elevation between 3000 meters and 3700 meters above sea level. Chamdo prefecture lies along the Mekong River (as well as many tributaries such as the Dzi River) making it a very fertile farming area. Barley, wheat and potatoes are all grown in this area. The small Kham Tibetan area found in Nyingtri prefecture lies within one of the lowest elevation regions of the Tibetan Plateau. Many areas of Nyingtri lie between 2300 meters and 2800 meters. This is also a fertile farming region. The Kham areas in Nagchu prefecture are some of the highest in all of Tibet with elevations between 4000 meters and 4800 meters. This sparsely populated area consists mostly of rolling grasslands that are home to nomadic or semi-nomadic yak herders. Winters in Nagchu prefecture are long and brutally cold.
The weather across the Kham region of the TAR varies greatly. Nagchu prefecture, in the north, has long cold winters with lows often reaching -25C or colder. Summers are brief and can still bring snow and freezing temperatures in regions above 4200 meters. Chamdo prefecture in the far east, has milder temperatures than Nagchu, but still regularly gets to -10C or -15C during the winter. Summer months bring rain, heavy at times, but temperatures are mild ranging between 21C and 25C. The lower elevation regions of Kham in Nyingtri prefecture have the mildest climate on the Tibetan Plateau. Winter low temperatures range between 0C and -4C, though heavy snow can fall during winter. Summer high temperatures range between 22C and 26C.
The Kham Tibetan population in the TAR is approximately 835,000. Of this total, roughly 552,000 live in Chamdo prefecture and 230,000 live in Nagchu prefecture. Many Tibetans in Nagchu prefecture refer to themselves not as Khamba ཁམས་པ་, but as Changba བྱང་པ་, however the spoken language in northern and eastern Nagchu is considered to be a dialect of Kham and is similar to the Kham dialect spoken in southern Yushu prefecture in the Qinghai part of Kham. Another 53,000 Kham speaking Tibetans live in the eastern and southeastern counties of Nyingtri prefecture. The western counties of Nyingtri prefecture are considered Lhasa dialect speaking Tibetans. Here are the prefectures and counties where Kham Tibetans (or Kham speaking Tibetans) are found:
Chamdo Prefecture is divided into 11 counties:
1. Changdu/Chamdo 昌都/ཆབ་མདོ་
2. Jiangda/Jomda 江达/འཇོ་མདའ་
3. Gongjue/Gonjo  贡觉/གོ་འཇོ་
4. Leiwuqi/Riwoche 类乌齐/རི་བོ་ཆེ་
5. Dingqing/Dengchen  丁青/སྟེང་ཆེན་
6. Chaya/Dragyab  察雅/བྲག་གཡབ་
7. Basu/Baxoi  八宿/དཔའ་ཤོད་
8. Zuogong/Dzogang  左贡/མཛོ་སྒང་
9. Mangkang/Markham  芒康/སྨར་ཁམས་
10. Luolong/Lhorong  洛隆/ལྷོ་རོང་
11. Bianba/Pelbar  边坝/དཔལ་འབར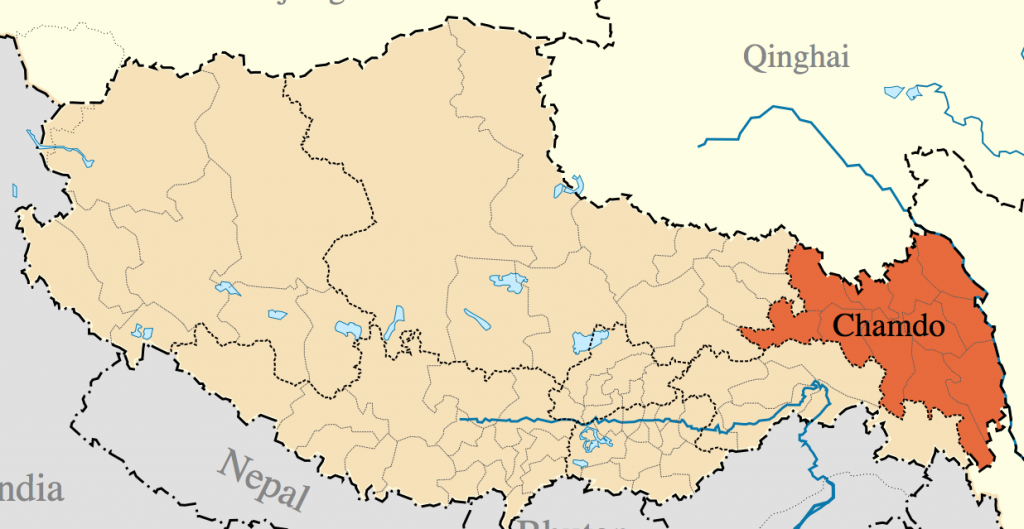 ་Nagchu prefecture is divided into 10 counties and 1 special district. Kham speaking Tibetans are found in the following 7 northern and  eastern counties of Nagchu prefecture:
1. Naqu/Nagchu  那曲/ནག་ཆུ་
2. Jiali/Lhari  嘉黎/ལྷ་རི་
3. Biru/Driru  比如/འབྲི་རུ་
4. Nierong/Nyenrong  聂荣/གཉན་རོང་
5. Anduo/Amdo  安多/ཨ་མདོ་
6. Suo/Sog  索/སོག་
7. Baqing/Bachen  巴青/སྦྲ་ཆེན་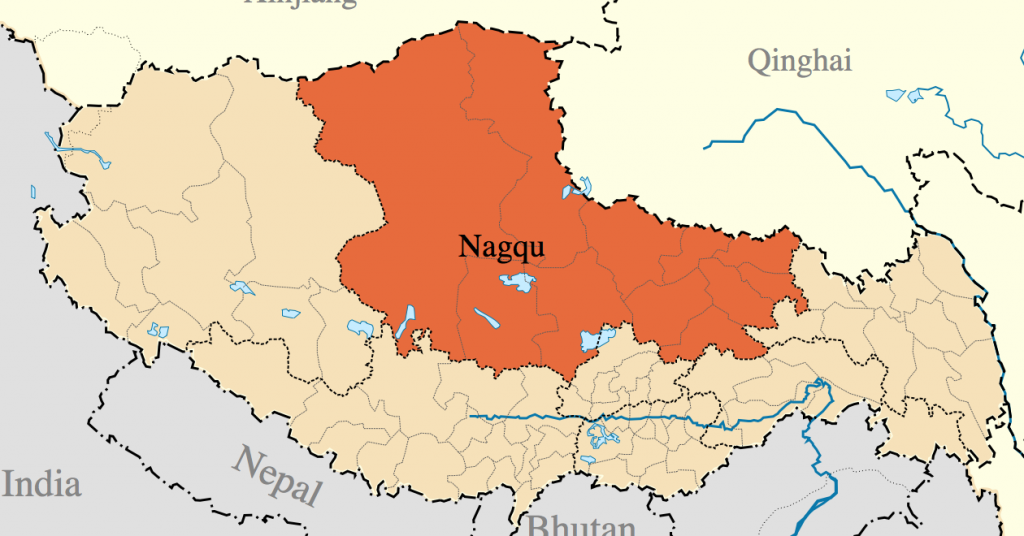 Nyingtri Prefecture is divided into 7 counties. About 1/3 of the total population of Nyingtri prefecture are Kham speaking Tibetans. Kham speaking Tibetans are found in parts of 4 of those 7 counties:
1. Linzhi/Nyingtri  林芝/ཉིང་ཁྲི་
2. Motuo/Medok  墨脱/མེ་ཏོག་
3. Bomi/Bome  波密/སྤོ་མེས་
4. Chayu/Dzayul  察隅/རྫ་ཡུལ་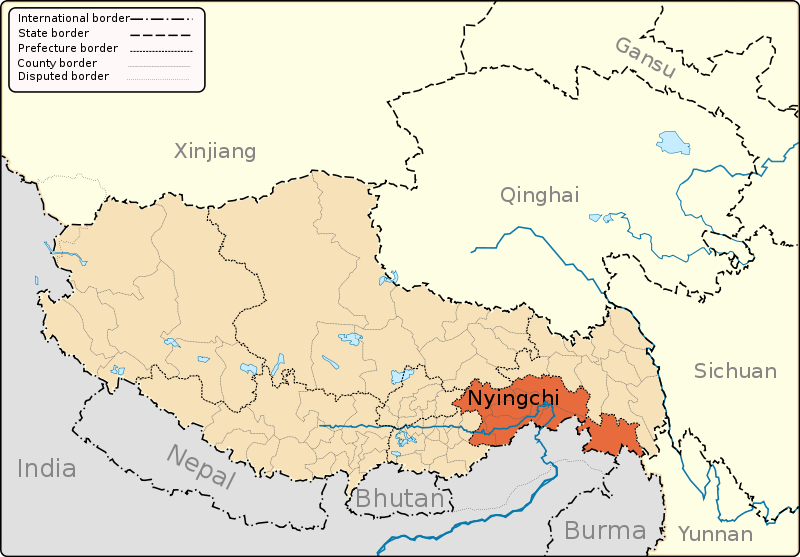 As stated above, all regions of Kham within the TAR require a complete organized tour that includes permits, a tour guide, a private vehicle and a driver. This can only be arranged through a licensed travel agency. There is no railway going through the eastern TAR part of Kham, though the Beijing government has plans to build a railway connecting Lhasa with Chengdu. This proposed railway would go through Chamdo and Nyingtri prefectures. This railway likely won't be completed until at least 2020. The existing railway to Lhasa goes through Nagchu prefecture in the northern TAR. All of the trains from Mainland China to Lhasa stop in Nagchu and some of the trains also stop in Amdo county.
There are 2 main routes for reaching the TAR part of Kham. China National Highway 318 (also known as the Southern Sichuan-Tibet Highway) runs east from Lhasa through Nyingtri prefecture and the southeast portion of Chamdo prefecture. The other alternative is to go north from Lhasa on China National Highway 109 (also known as the Qinghai-Tibet Highway) to Nagchu town. From Nagchu you then head east on China National Highway 317 (also known as the Northern Sichuan-Tibet Highway) through the eastern portion of Nagchu prefecture and through northeast Chamdo prefecture. Be advised that Chamdo prefecture has been completely closed to foreign travelers since March 2010 and no date has been set for this area to reopen.
The main airport in the TAR part of Kham is in Chamdo county. The Chamdo Bangda airport is currently the highest commercial airport in the world and lies at an elevation of 4334 meters. The airport is located a little over 2 hours from the town of Chamdo. There are weekly flights from Chengdu and Lhasa to Chamdo. An airport in Nagchu prefecture is planned to be opened in 2014. When this airport opens, it will be the highest in the world at 4436 meters. There is also an airport in Nyingtri prefecture, but only around 1/3 of the population of Nyingtri are considered to be Kham speaking Tibetans.
Though the travel restrictions on the TAR part of Kham make traveling to this region costly, it is well worth it. The snow-capped Nyenchen Tangla Mountains གཉན་ཆེན་ཐང་ལྷ་ rise across this part of Kham with countless peaks rising above 5500 meters. The Mekong, Yangtze and Salween rivers cut amazing gorges and canyons through the evergreen forests of Chamdo and Nyingtri prefectures. Very few foreign travelers go through this region, which is rich in traditional Tibetan culture.  The only large town in this area is Chamdo. Most of the other county towns are small and there are plenty of small farming villages to explore. Nagchu prefecture is largely nomadic and semi-nomadic so this region will allow you to see plenty of yak herders living in either yak wool tents or small mud-brick homes.
If you have any questions regarding the Kham part of the TAR, send an email to thelandofsnows@gmail.com
Losang བློ་བཟང་