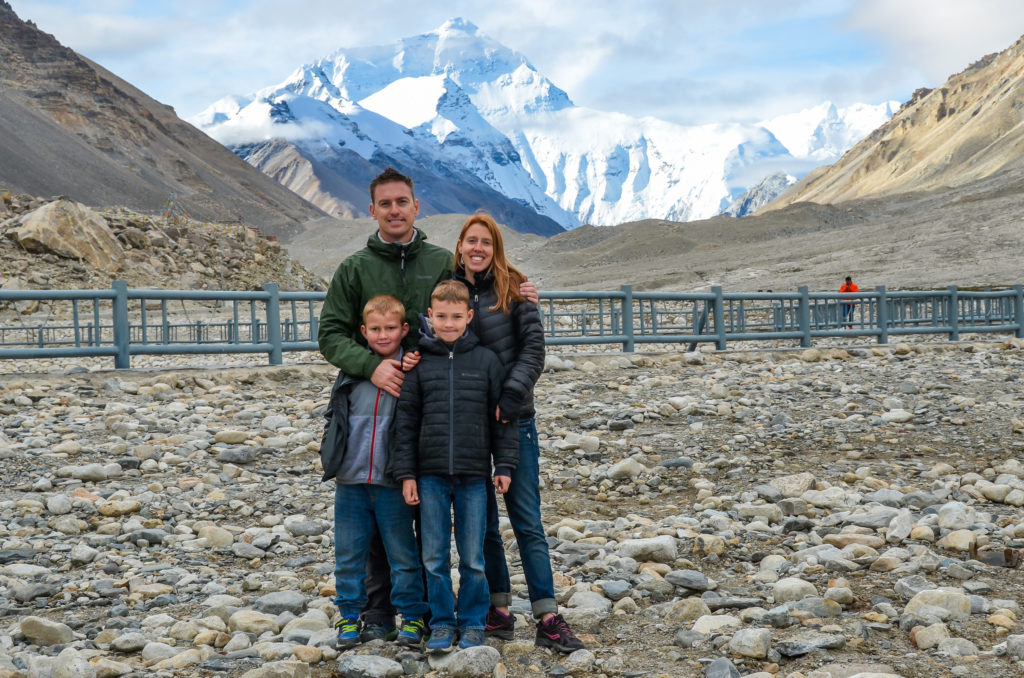 Tibet can be a great place to travel with children. Read this post to learn how to take a family tour in Tibet! More info at: thelandofsnows@gmail.com
Contact us for FREE Tibet travel planning
We are the experts in Tibet travel! We have many decades of experience traveling, climbing and trekking in Tibet. Use us for free Tibet trip planning, info on traveling in Tibet with children, suggestions on what agencies to use, what travel routes to take, when to go, How to get to Tibet and more! Feel free to contact us at: thelandofsnows@gmail.com.
For additional information on Tibet travel, connect with us on social media:
Traveling in Tibet with Children
Each year I see more and more families traveling in Tibet with children, which is great! My 2 boys have lived nearly their entire lives on the Tibetan Plateau and have traveled extensively across Tibet. I have taken my boys trekking in the Kham region, have stayed with Tibetan nomads in the Amdo region, have taken them to Everest Base Camp, have taken them overland from Xining to Shangri La to Yushu along with countless other journeys. Some journeys that I have taken my boys on in Tibet have lasted as long as a month and have gone to elevations as high as 5400 meters/17,700 feet. Knowing how to keep your children safe at high altitude, keeping them from going bored on long driving days and teaching them the importance of other cultures is key when planning a family tour in Tibet. This post will give you further information, based on my own experience living on the Tibetan Plateau with my children.
What age should children be to go to Tibet?
This is probably the most important question regarding traveling in Tibet with children as there can be health risks in young children at high altitude. According to experts, including one of my staff who is a medical doctor with her PhD in high altitude medicine, you should avoid taking children under the age of 4 or 5 to Tibet. The reason is that young children can have difficulty expressing verbally that they are struggling at high altitude. There is also an increased risk for altitude sickness in younger children as their lungs, brains and hearts are still developing. So, because of the altitude in Tibet, I strongly recommend waiting for your child to be at least 5 years old before visiting.
Another thing to consider is the vastness of Tibet. Getting from place to place, particularly on the long journey to Everest Base camp, requires somewhat long driving times. If your child doesn't like road trips, consider staying just in Lhasa, taking a shorter distance journey or waiting until your child is older and can better handle a long distance road trip.
One more thing to consider is the costs involved in traveling to Tibet. It is no secret that Tibet is not a budget travel destination. It might be better to wait until your children are old enough to really appreciate Tibet's unique culture and history before planning your journey. That age is going to vary from child to child. In my experience working in tourism the past 12 years, children over the age of 10 really enjoy Tibet and its stunning landscape and culture.
When to take a family tour in Tibet?
Another important decision is when to take a family tour in Tibet. If you are like most families across the globe, the most convenient time to travel is during the summer holiday time when kids are out of school. The summer months in Tibet (June through September) offer the warmest temperatures of the year. However, the summer brings large amounts of travelers to Tibet, particularly the month of August. In August, there are tens of thousands of Chinese tourists who arrive to Lhasa each day. Chinese travelers tend to stare at children and take their pictures, which can make children feel very uncomfortable (especially since this will probably happen dozens of times per day). If you can only travel in the summer, I recommend going in late June or early July so that you can avoid the peak tourism time, which is from late July through September).
If your schedule with your children is a little more flexible, the shoulder season months are the BEST time to travel to Tibet. The shoulder, or off-season tourism period, is from early April through late May and again from mid October through early/mid December. During these travel periods, there are usually few other travelers and the weather is generally clear allowing for good views of the mountains, including the overland journey to Mt Everest.
It is possible to visit Tibet in the winter months from mid December through early February. The weather can be very cold during this time, especially in the Everest Region. With proper cold-weather clothing, you can take an overland journey in the winter months, but trekking is out of the question. Some places in Tibet do close in the winter due to weather and snow conditions. Nam Tso lake usually closes sometime in late November or early December due to snow covering the roadway. Some travel agencies will not organize journeys to far western Tibet due to the risk of extreme weather.
You will want to avoid planning a journey to Tibet from mid February through early April. Each year, Tibet closes to all foreign travelers during this 5 to 6 week time period. For more information on this annual closure, please go to the following link: Tibet Closed from mid February to early April each year.
Where to take your family in Tibet?
There are many dozens of journeys you can take in Tibet with your family. The classic overland route from Lhasa to Everest Base Camp is always a good choice. This route allows your family to explore the holy city of Lhasa, Tibet before setting off on the overland route to the North Face Everest Base Camp. You will see many of Tibet's most important monasteries, cultural sites along with many places to get outstanding landscape views. I suggest taking 9 to 12 days to do this journey (on the longer side if your children are younger).
If your time for Tibet is short, you could spend 3 days in Lhasa and then take a day trip outside of Lhasa to either Yamdrok Lake, Samye Monastery or Ganden Monastery. A shorter trip like this (5 or 6 days) would allow you to stay in a comfortable hotel in Lhasa the whole time you are in Tibet, but still get a taste of rural Tibet on a day trip to the places mentioned above.
If your children are older, you could do the awesome trek between Ganden and Samye Monasteries. You would need to spend at least 4 nights in Lhasa to acclimatize and then you could set out for Ganden…one of Tibet's most important Buddhist monasteries. From there, you could set out on the 4 or 5 day trek to Samye, Tibet's very first monastery. The trek covers some 80 kilometers/50 miles and is a great place to see nomadic life, mountain scenery and experience the great outdoors! The entire journey would take between 10 and 12 days to complete. I only recommend this trek for older children age 14 and above who love the outdoors, and have experience camping.
For those wanting a real adventure in Tibet, the journey to Mt Kailash in far western Tibet might be for you!  I only recommend this journey for older children age 16 and above who can handle the long road trip to Mt Kailash and can complete the 3 day high altitude trek around Asia's holiest peak. The journey to Kailash would take you through central Tibet and Everest Base Camp before arriving to Mt Kailash.
If you are looking for a more off-the-beaten-path adventure, the Amdo and Kham regions are my top recommendations. These areas are located outside of the Tibet Autonomous Region (TAR) in modern day Qinghai, Gansu, Sichuan and Yunnan provinces. These areas technically do not require an organized tour, but most people traveling with children to these areas will hire a guide and private vehicle.
How to arrange a family tour in Tibet?
As with all travel in the Tibet Autonomous Region, you will need a travel agency to arrange your journey…..no exceptions. The company I own and manage, Himalaya Journey can arrange a family tour to Tibet for you. As I have raised my own children on the Tibetan Plateau and have traveled all across Tibet with my boys, I can use my experience to assist you in arranging a high quality journey in Tibet for you. I only arrange 25 private journeys per year, so if my schedule is full, I can recommend some other excellent Tibet-owned agencies in Lhasa for you to contact.
To start getting information on a family tour in Tibet, take a minute and fill out our contact page in the following link: Contact Us
If you have any questions about Traveling in Tibet with Children, feel free to email me at: thelandofsnows@gmail.com