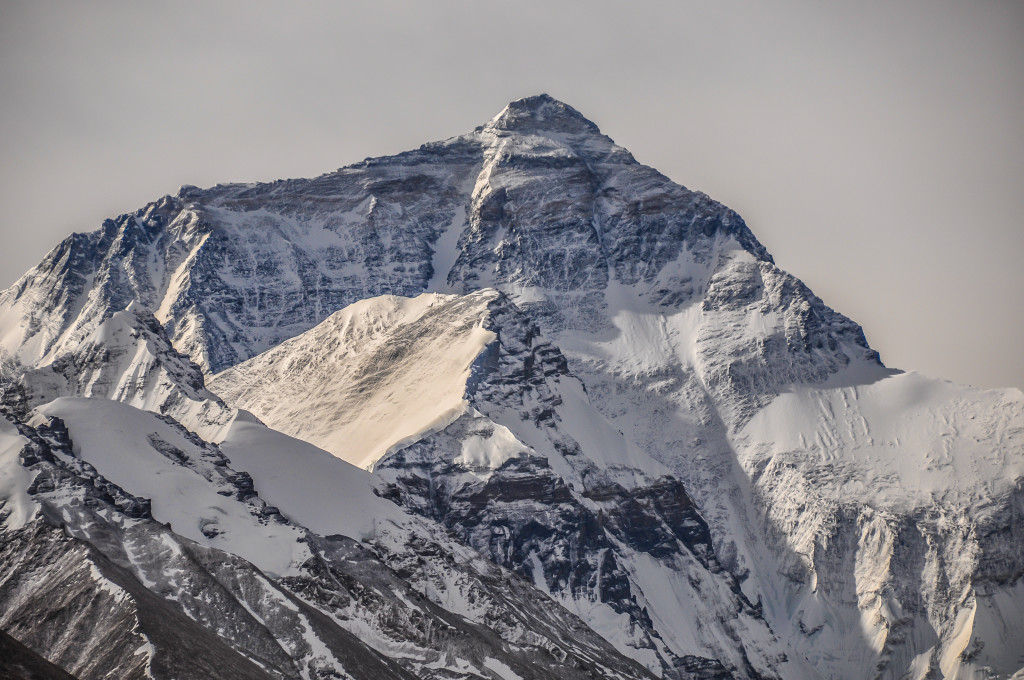 Mt. Everest is the main destination that travelers in Tibet go to. The Tibet-side of Everest offers an amazing view of the world's highest peak.
Tibet-side Everest Base Camp
For tour information on going to the Tibet side of Mt Everest (click link) or for any Tibet travel questions, email us at: thelandofsnows@gmail.com
UPDATED NOVEMBER 2017
For many people, the main reason that they go to Tibet is to see the amazing view of Everest's famous North Face. The view of Everest from the Tibet side gives a clear, sweeping view of the mountain. I receive more emails about the Everest region that any other region of the Tibetan Plateau. I have been fortunate enough to go to the Tibet-side Everest Region over 3 dozen times the past 15 years. In this post, I will answer some of the most common questions I receive regarding the world's highest peak.
1. How do I get to Everest Base Camp?
As everyone should already know, the only way that foreigners can go to Tibet or Everest Base Camp is by arranging an organized tour through a travel agency. There are NO exceptions. In order to go to Mt Everest, you need to contact a travel agency in advance, preferably owned by Tibetans and based in Tibet, and have them arrange the required travel permits, tour guide, private vehicle and driver. You cannot use public transportation (ie. buses) to travel to Everest. For more detailed information on how to travel to Tibet, go to the following links:
How to go to Tibet from Mainland China
For recommendations on which travel agency to use to go to Everest or other regions of Tibet, send me an email at thelandofsnows@gmail.com.
2. How long does it take to get to Everest from Lhasa? 
Everest Base Camp (EBC), elevation 5200 meters, is nearly 800 kilometers (500 miles) southwest of Lhasa. Most people prefer to visit the many amazing sights along the way to EBC such as Yamdrok Lake, Gyantse, Shigatse and Sakya Monastery. Altogether, a journey going from Lhasa to Everest Base Camp and back to Lhasa takes between 8 and 12 days. A journey going from Lhasa to the Nepal border via Mt Everest base camp takes 9 or 10 days. Here are some suggested travel itineraries that include going to Everest Base Camp:
Overland from Lhasa to Everest Base Camp
Overland From Lhasa to Kathmandu via Mt Everest
3. How long is the hike to Everest Base Camp?
Unlike the Nepal side of Everest which can only be reached by trekking, no hiking is required to reach the Tibet side of Everest. You can drive all the way to Everest Base Camp from both Lhasa and the Nepal-Tibet border. If you wish to trek there, I recommend starting from Old Tingri and going to EBC from there. The trek normally takes 3 or 4 days.
4. What types of accommodations are available at Everest Base Camp?
During the high season (mid April through mid October) there are 3 main places to stay in the Everest Base Camp area. The first place is the Rongphu Government Hotel. This ugly looking hotel is way overpriced for the services it provides. It is located about 350 meters away from Rongphu Monastery and about 2 kilometers north of the Everest Base Camp region. Note: It is currently under renovation and is closed until further notice. When open, the government guesthouse is only open from April through October.
The second option is the simple guesthouse across from Rongphu Monastery. They offer simple rooms for a very minimal price. The advantage of staying at the monastery is the excellent view of Everest viewed from just above the monastery. The Rongphu Monastery Guesthouse is normally open year round.
The third place to stay in the area is at the "tent hotels", which are are about 2 kilometers past Rongphu Monastery. This is the closest to the mountain that you can sleep without having a climbing/trekking permit. The "tent hotels" are a group of about 60 traditional-style yak wool tents that local Tibetans turn into guesthouses. The tents are all basically the same with beds, lots of blankets and serving hot drinks and simple Tibetan and Western food. These tents are not available during the low season and are only open from mid April through mid October.
The elevation of Rongphu Monastery (4950 meters) and the "tent hotels" (5050 meters) are both very high. If you feel ill due to altitude, an alternative to staying in the Everest region is to stay in the lower elevation villages of Tashi Dzom or Basum. Both of these villages lie at around 4300 meters, considerably lower than the places near base camp. Both villages offer simple Tibetan style guesthouses with meals. Tashi Dzom is more popular because it is bigger, but Basum is also a nice place to stay. From Tashi Dzom and Basum, it takes 30 to 45 minutes to reach EBC by vehicle.
New Regulation at Everest Base Camp
A new government regulation as of summer 2017 states that all travelers going to the Everest Base Camp region can only go about 1 kilometer beyond the "tent hotels". Before the summer of 2017, all travelers could go a further 3 kilometers closer to Everest by bus to an area just north of the official base camp where climbing expeditions set up their camps. However, this new regulation no longer permits this. The government is now calling the area just beyond the tent hotels "Everest Base Camp". Don't worry! The view of Everest from the "tent hotels" is still amazing. Look at the picture below:
5. Is Rongphu Monastery located at Everest Base Camp?
No, Rongphu (Rongbuk) Monastery is located about 3 kilometers north of Everest Base Camp (EBC). The road to EBC goes right past Rongphu Monastery so the monastery is impossible to miss. You don't need to ask a travel agency to go to Rongphu when going to Everest as all travel agencies will make a stop at Rongphu along the way to EBC.
6. What are the best months to see a clear view of Everest?
The best months to see a clear view of Everest are from April through early June and again from late September through December. During these months, the weather is usually clear offering excellent views of the mountain. You can also visit Everest base camp in January and early February as long as you a prepared for very cold temperatures. The road leading from Lhasa to Mt Everest is almost always open and only VERY rarely closes due to snow.
Though the peak high season for travel in Tibet is during the summer months from July through early October, the views of Everest are often not good in the middle summer time. Don't expect clear views of the mountain in the summer, especially in July and August. Read the following post for more details when to visit Everest: Best Time to Visit Tibet
7. Is Everest Base Camp going to be covered in heavy snow?
Though EBC sits nearly 5200 meters, it is relatively rare to see heavy snow on the ground in the area. While snow does fall in the region, the strong rays of the sun quickly melt away the snow. In all of the times I have been to EBC, I have never seen more than 7 cm (3 inches) of snow on the ground there. Most of the times I have been there, there hasn't been any snow on the ground. However, do keep in mind that you are in the Himalayas at very high elevation, so anything can happen! In October 2013 there was an unexpected heavy snow storm that dropped nearly 1 meter of snow in some places on the Tibet side causing a large group of travelers to become stuck at the Everest Base Camp region (these travelers were completely safe at base camp, but the road leading out was temporarily closed). This group was not stuck for too long as the government cleared the road to get all the travelers out of the region and on with the rest of their journey. Again, heavy snow is the area is very, very rare.
8. Is it possible to go to Everest Base Camp in the winter?
Yes, you can go to EBC in the winter months. The road to EBC usually doesn't receive heavy snow, so getting there is no problem. The "tent hotels" are not open during the winter months and the Rongbuk Government Hotel is also usually closed. The Rongphu Monastery guesthouse usually remains open as do the guesthouses in Tashi Dzom and Basum, which are 30 to 45 minutes north of Mt Everest. Tibet is closed each year in February and March so it is not possible to go to Everest or any other area of Tibet during that time. Read more on this annual closure in the following link: Tibet closed each year from mid February through March
9. Can you see Everest from the main road that connects Lhasa to the Nepal border?
Yes, there are a few places that you can see Everest from the main road, but none of the views are very good. You will only get a very small glimpse of the mountain. In order to really get a good view of Everest, you will have to take the cut-off from the main road. From the main road, the road to Everest Base Camp is around 100 kilometers.
Many people ask me if it is worth it to take the 170 kilometer detour (100 kilometers to EBC and another 70 kilometers along the back road to Old Tingri) to see Everest. If it is during the months when the weather is clear, it is absolutely worth it! The views of Everest from base camp are so much better than the views from the main road. In addition, the view of Everest from the Tibet-side base camp is much better than the view of Everest from the Nepal-side base camp.
10. Is it possible to trek to EBC?
Yes, trekking the Everest Region is quite popular. The best time to go is from late April to mid May and then from mid-September to early November. There are 2 main routes to take. The first is from the village of Baber (often referred to as "New Tingri") to Everest Base Camp going via the villages of Chay, Tashi Dzom and Basum. This route usually takes about 4 days and follows the newly paved road to base camp. In my opinion, this is not a very good route as the views of Everest and the rest of the Himalaya's are not that good until you get closer to Rongbphu Monastery (the exception being the amazing sweeping view of the Himalaya's from the Geu La pass).
The more interesting route in my opinion is trekking to EBC from the small town of Old Tingri. This route is about 70 kilometers long and can be done in 3 or 4 days. There are several small villages along the way and in addition to seeing good views of Everest, you can also get excellent views of Cho Oyu, the 6th highest peak in the world, and several other peaks above 6000 meters.
As with all treks in the Tibet Autonomous Region, treks in the EBC region need to be arranged in advance through a travel agency. Even if you have an organized tour, you cannot decide to do a trek at EBC once you arrive there. It must be arranged prior to you arriving in Lhasa.
11. Is it possible to trek higher than Everest Base Camp?
Yes, though it is not often advertised on travel agency websites, many Lhasa-based companies can arrange treks up to Advanced Base Camp (ABC). ABC sits at 6400 meters. From EBC, it takes 4 days to trek to ABC and back down to EBC. Usually this route is free of ice and snow meaning crampons and ropes are not required. ABC, which requires an additional permit,  is the highest you can go on Everest without a climbing permit.
12. Can I go and talk to climbing expeditions while at EBC?
No, if you don't have a trekking or climbing permit that allows you beyond EBC, you will not be allowed to interact with climbing teams. With the new regulation that went into place the summer of 2017, the closest you can get to Everest is a kilometer or so past the "tent hotels". Climbing expeditions in the spring months base themselves a further 3 kilometers past the "tent hotels", so you cannot go and interact with the climbers. Military personnel patrol the area and will not allow anyone beyond EBC who does not have the proper permits. Trying to sneak past the military will result in a fine of 1500 RMB ($230) or more and will cause your guide and the travel agency you are using to get into serious trouble. Please do not go beyond the Everest base camp area permitted for foreign travelers.
13. How much are the entrance fees for visiting EBC?
In order to enter the Everest Region, you not only need to purchase an entrance ticket, but you also need to purchase a vehicle entrance ticket. The price of an entrance ticket is 180 RMB ($28) per person. You (or your group) are also responsible for purchasing a ticket for your guide. In addition to this, you also have to purchase a 400 RMB ($60) vehicle entrance fee which includes the fee for the driver. Be advised that these prices are scheduled to be raised by summer 2018.
Nearly all places in Tibet are free for your Tibetan guide to enter. The only real exception is the Everest Base Camp region. You will be required to pay for your guides entrance fee to Everest. Be sure you ask your travel agent that is arranging your journey to Tibet if that ticket cost is in your tour price or if you will have to pay it upon arrival.
14. Which travel agency should I use to arrange my tour to Everest Base Camp?
Send me an email and let me know how long you plan to be in Tibet and what areas you want to go to. I will gladly get back to you with a recommendation on which travel agency to use. My email address is thelandofsnows@gmail.com
Do you have a question about the Everest Region that I didn't answer? Send me an email with your question and I will add it to this list!
Lobsang བློ་བཟང་