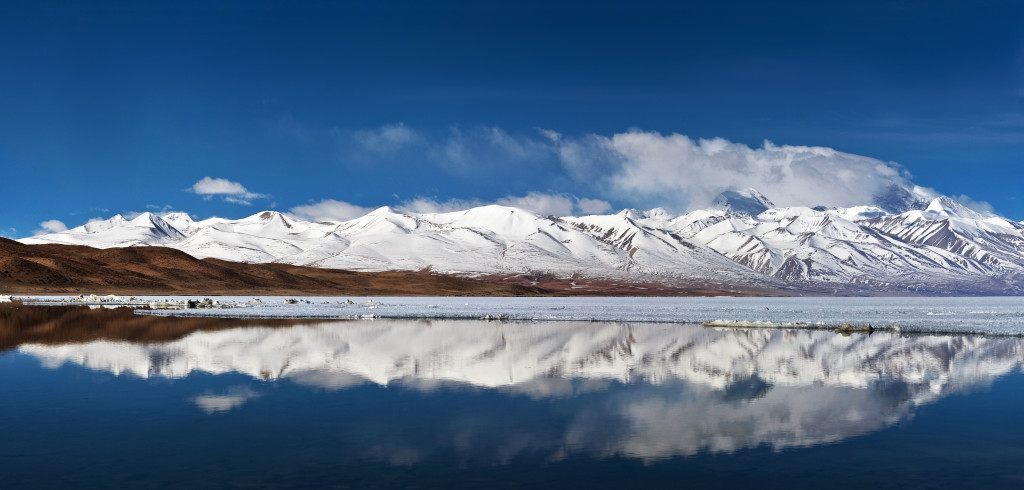 Are you looking for a remote adventure in Tibet? Western Tibet, Lake Manasarovar, Guge Kingdom and Mt. Kailash may be just for you!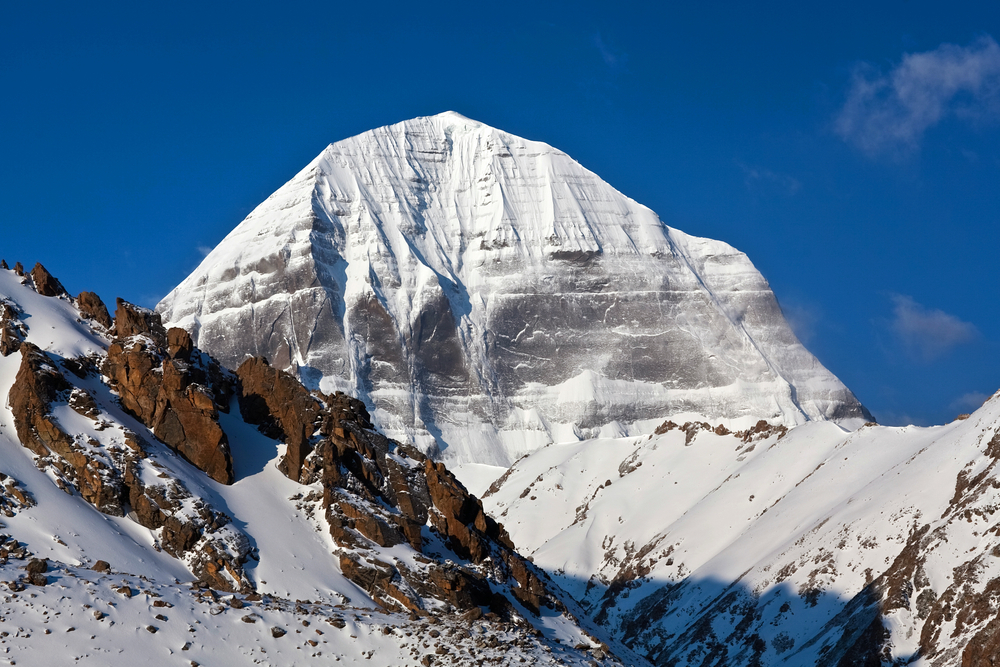 For detailed information on how to get to Mount Kailash, please go to the following link: How to get to Mount Kailash
Western Tibet
Covering an area more than twice the size of Germany and larger than the US state of Texas, western Tibet is barren, but is a ruggedly beautiful area that few foreign travelers experience. Western Tibet comprises the 2 large prefectures of Ngari མངའ་རིས་ས་ཁུལ་ and Nagchu ནག་ཆུ་ཁུལ་ that are found in far western and northern Tibet. With an average elevation of over 4500 meters, this region is sparsely inhabited with a population density of only 0.74 people/square kilometer (1.9 people/square mile). The region is underdeveloped, but still offers a lot for those who don't mind getting off of the beaten path.
Though many of the roads through Western Tibet have improved dramatically over the past 10 years, it still takes time to travel through this remote region. Time is also required to properly acclimatize to the areas extreme high elevation. It is best to stay at least 4 nights in the Lhasa—Gyantse—Shigatse area before making a journey to higher elevation areas found in Western Tibet. Multiple travel permits are required for this area, which can take several weeks for travel agencies to arrange. Like all areas of the Tibet Autonomous Region (TAR), the only way you can visit Western Tibet is on an organized tour through a travel agency.
Though there are not dozens of things to see in Western Tibet, the things that are there make the long journey well worth it. Here is a list of the top things to see and do in Western Tibet:
1. Mount Kailash: Kailash, known to Tibetans as Kang Rinpoche གངས་རིན་པོ་ཆེ་ is the holiest mountain to Tibetan Buddhists and is also considered to be holy to followers of Bon, Hinduism and Jainism. Each year, thousands of pilgrims from both Tibet and from India and Nepal make the journey to Kailash to walk the pilgrimage circuit around it. The pilgrimage circuit starts in the village of Darchen and is 52 kilometers long. The highest pass along the journey is the Drolma La Pass, which sits at 5640 meters. Though many Tibetans will do the entire 52 kilometers in one long day, most other people prefer to do the distance spread out over 3 days.
Here is a suggested itinerary for going to Mt. Kailash:
Here is a suggested itinerary if you plan to trek around Mt. Kailash:
2. Lake Manasarovar: Located just 35 kilometers from the start of the Kailash kora is the beautiful holy lake of Manasarovar. Manasarovar, known to Tibetans as Mapham Yum Tso མ་ཕམ་གཡུ་མཚོ་, sits at an elevation of 4590 meters. When the weather is clear, an excellent view of Kailash can be had when looking to the north from the small village of Chiu. There are several simple guesthouses to stay at or you can choose to find a secluded place along the lake to camp.
3. Guge Kingdom: Located about 260 kilometers from Darchen and the start of the Kailash kora is the ancient kingdom of Guge གུ་གེ་རྒྱལ་རབ་. For many centuries, Guge served as a major trade link between Tibet and India and was a quite prosperous area. Since the 17th century, the former kingdom has been slowly falling into ruin. There are 2 main sites to visit in the Guge region. The first is the ancient citadel located in Tsaparang. This picturesque place is well worth exploring for half a day while hiking around the ruins. Tsaparang is 18 kilometers past the town of Zanda. The second main site is Tholing Monastery, which was founded in the 10th century. Tholing Monastery is located in Zanda town and is also well worth hiking around for a few hours.
Here is a suggested itinerary for visiting the Guge Kingdom:
4. Pangong Tso: The alpine lake of Pangong Tso སྤང་གོང་མཚོ་ lies along the border between Tibet and Ladakh, India. The stunning lake sits at an elevation of 4245 meters. Roughly 60% of the lake sits within Tibet. The lake is about 15 kilometers past the town of Rutok or about 140 kilometers north of the Ali (Gar), the capital town of Ngari Prefecture.
5. The Changthang: The Changthang  བྱང་ཐང་ is Tibet's barren far western and northern plateau that is mostly uninhabited except for nomads, a few small nomad trading towns and wildlife. This vast region extends nearly 1800 kilometers from east to west and includes parts of Ladakh, the western and northern regions of the Tibet Autonomous Region and the far western regions of Qinghai province. From Ali, the capital of Ngari Prefecture, you can cross the Changthang back to Lhasa. This journey takes about 5 or 6 days to complete from Ali. I recommend the following route: Ali—Gegye—Gertse—Nyima—Nam Tso Lake—Lhasa. Another option is to go from Gertse to Tsochen and then on to Saga before going to Lhasa or the Nepal border. Be prepared for cold weather as this region is all above 4500 meters and snow and freezing temperatures occur even in the summer.
Here is a suggested itinerary for crossing the Changthang:
6. Going to Xinjiang: The 2500 kilometer overland journey from Lhasa to Kargilik in Xinjiang is an epic journey reserved for those who really like adventures off the beaten path. Starting from the Tibetan capital city, this route takes you to Yamdrok Lake, Gyantse, Shigatse, Tingri, Manasarovar, Kailash, the Guge Kingdom and then through the uninhabited desert regions of southwest Xinjiang before coming to the oasis city of Kargilik.
Here is a suggested itinerary for going from Lhasa to Xinjiang: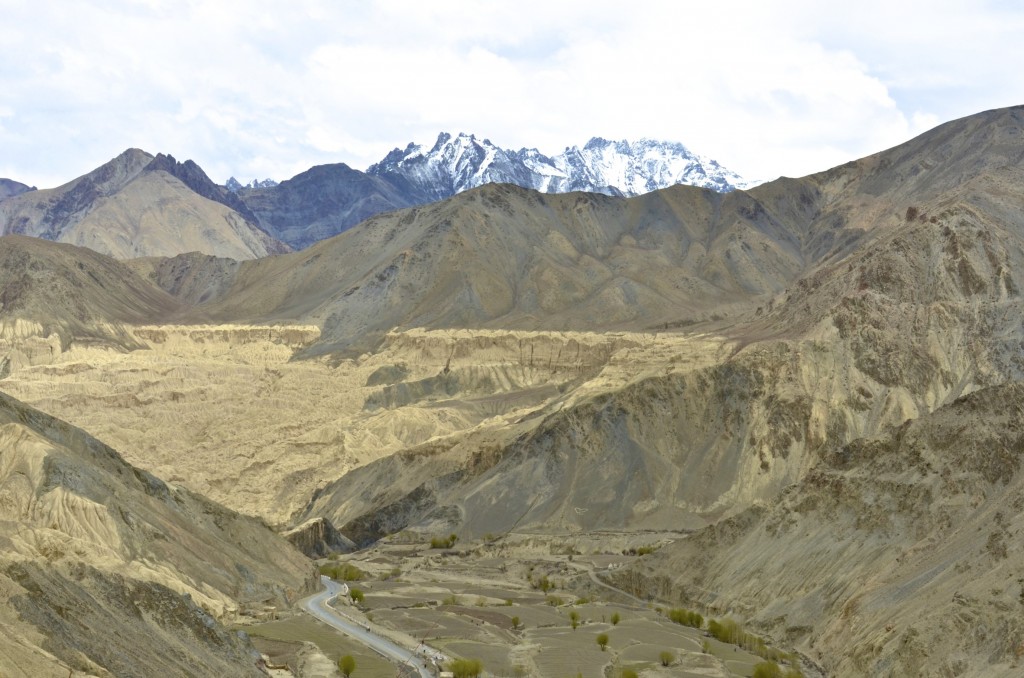 Western Tibet rewards those who make the long journey to get there. Seeing the Tibetan pilgrims going around Mt. Kailash is a site you will never forget. Gazing at the top of Kailash while along the bright blue shores of Lake Manasarovar is breathtaking.
For more information on this region or any other region of Tibet, feel free to send me an email at thelandofsnows@gmail.com