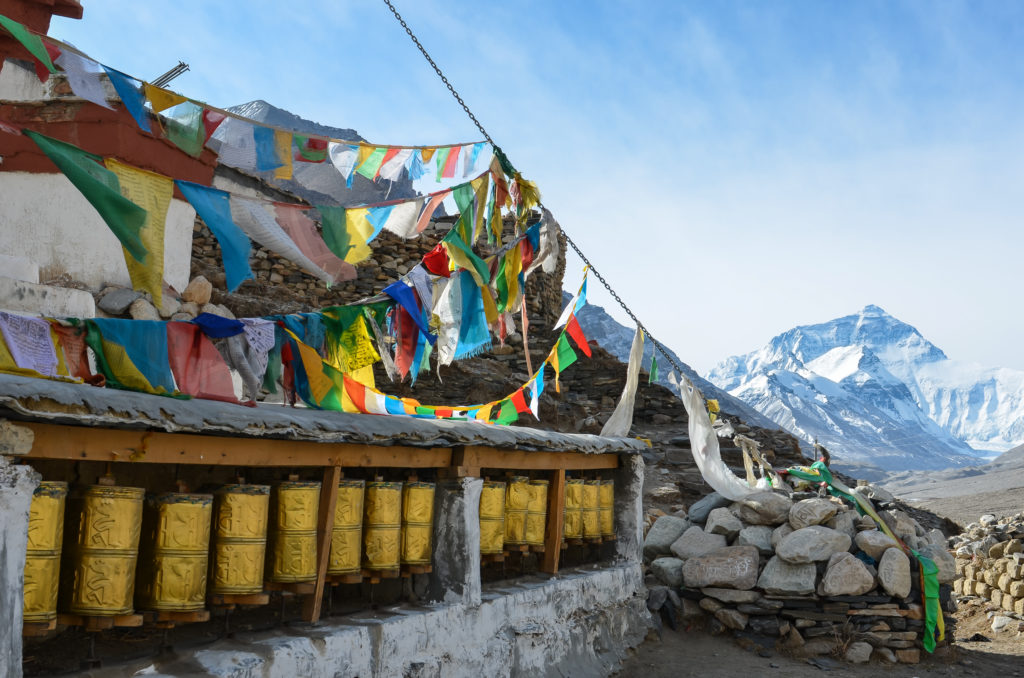 Need help deciding where to go in Tibet. Read our Top 10 Places to Visit in Tibet for our expert recommendations on what to see and do in Tibet.
Tibet is a land filled with natural beauty, remote Buddhist monasteries and a hospitable culture. It truly is a unique travel experience that you will not find anywhere else on the planet. Read this post for the Top 10 Places to Visit in Tibet (at least our recommendations based on our vast experience working and living here!). If you would like info on more remote, off-the-beaten-path areas of Tibet, go to this link: The Secret Places of Tibet
For more info on tours in Tibet, please go to the following site: Himalaya Journey or email us at: thelandofsnows@gmail.com
#1 Mount Kailash
Mount Kailash, known in Tibetan as གངས་རིན་པོ་ཆེ་ Kang Rinpoche or "Precious Jewel of Snow", is the most sacred peak in Tibet. It is located in far western Tibet's Ngari prefecture, more than 1200 kilometers from the Tibetan capital city of Lhasa. It is not particularly high as far as peaks in the Himalaya go as it only rises to 6714 meters/22,027 feet, but there is no other peak in Tibet that is as holy as Kailash. Each year thousands for Buddhists and Hindus do the 52 kilometer pilgrimage circuit around the mountain. A journey out to Kailash will take between 15 and 20 days to complete, but is absolutely worth it! For detailed information on how to get to Mount Kailash, please read the following post: How to get to Mount Kailash
#2 Everest Base Camp
Mount Everest, known in Tibetan as ཇོ་མོ་གླང་མ་ Chomolangma, lies along the border of Nepal and Tibet, so there are 2 base camps: south side and north side. The north side of Everest in Tibet offers a far superior view compared to the Nepal side. Unlike the south side of Everest which can only be reached by trekking, you can drive all the way to the Tibet side Everest Base Camp, elevation 5200 meters. Around 8 kilometers (5 miles) before Everest Base Camp, you will come to Rongphu (Rongbuk) Monastery, elevation 4950  meters. The monastery offers an excellent view of the world's highest peak. The 8 to 10 day overland journey from Lhasa to Everest Base Camp is the single most popular journey that people take in Tibet. It allows you to see many of the most important and most beautiful places in Tibet. You can also extend this journey a couple of more day and go all the way to the Nepal border and continue on to Kathmandu.
#3 Nam Tso
Nam Tso Lake གནམ་མཚོ is located 5 hours north of the Tibetan capital city of Lhasa at an elevation of 4718 meters. It is the largest lake in the Tibet Autonomous Region and certainly one of the most beautiful. The lake is surrounded by the snow-covered Nyenchen Tanglha Range, the highest mountains in northern Tibet. During the summer months from late May through mid September, nomad Tibetans can be seen in the area herding their yaks and sheep. If you only have time to visit one lake in Tibet, Nam Tso is the easy choice!
#4 Guge Kingdom
Located in the extreme west part of Tibet, the ancient Guge Kingdom གུ་གེ་ is an amazing place that few travelers get to experience. Guge, pronounced "Goo-Gay", was established in the late 10th century near the modern day town of Zanda. For nearly 700 years, Guge was a major Buddhist religious center as well as an important trade hub between Tibet and Central Asia. Guge is divided into a few different areas all in and around the town of Zanda. The most popular place is the Tsaparang Citadel, located 20 kilometers outside of town. Tsaparang is spectacular ruin set in an unreal badlands setting. The citadel is in ruin and is an intricate set of caves linging the base of a mountain. The top of the mountain have summer and winter palaces of the royal family that used to reside here. The entire area is unbelievable and spectacular in every way. Other parts of the Guge Kingdom are Tholing Monastery, Dungkar Village and the Piyang Caves.
#5 Lhasa
No journey to Tibet is complete without spending at least 3 or 4 nights in the capital city of Lhasa ལྷ་ས་. Yes, it's true that Lhasa is now a big city and that large parts of the city are completely Chinese style. However, the Old Town in Lhasa is incredible in so many ways! The site of the Jokhang, Tibet's most holiest temple, can be life-changing. Each day, thousands of devout Buddhist pilgrims can be seen walking around the Jokhang while spinning prayer wheels and chanting mantras. Their devotion is incredible. Other important sites in Lhasa include the Potala Palace, which dominates the skyline. This 1000 room building is the most iconic structure in Tibet. Sera Monastery, Drepung Monastery, Norbulingka, Ramoche Temple, Sangkhung Nunnery, Lhukang Temple and Drubthub Nunnery are also in Lhasa and are recommended places to see.
#6 Samye Monastery
Samye བསམ་ཡས་ is Tibet's first monastery and was founded in the late 8th century. It is located about 200 kilometers east of Lhasa in the fertile Yarlung River Valley at an elevation of 3630 meters. It is surrounded by pleasant mountains and, surprisingly, large sand dunes are found not far away. This is regarded as one of the most important monasteries in Tibet and the Greater Himalaya and the place from which Buddhism in Tibet expanded. The monastery's unique layout in the shape of a mandala is unique. It is a major pilgrimage destination for Tibetans, especially during Losar, or Tibetan New Year.
#7 Lake Manasarovar
Lake Manasarovar, or མ་ཕམ་གཡུ་མཚོ་ Mapaham Yum Tso in Tibetan, is Tibet's most sacred lake. It is found in far western Tibet near Mount Kailash at an elevation of 4590 meters. It is one of the highest freshwater lakes on the planet. The lake lies near the border of Nepal and offers a sweeping view of the Himalaya to the south. The mighty peak of Gurla Mandhata, elevation 7694 meters, can be seen rising above the lakeshore. Most people going to Manasarovar also do the 3 day trek around nearby Mount Kailash. For more information on Lake Manasarovar, go to the following link: Lake Manasarovar.
#8 Sakya Monastery
Sakya Monastery ས་སྐྱ་དགོན་པ་ is located 130 kilometers west of Shigatse, Tibet's second largest city and lies at an altitude of 4315 meters. It is unique among monasteries in Tibet due to it's fortress-like appearance and because it is painted maroon, gray and white (all monasteries of the Sakya sect are painted this color). The monastery was founded in the year 1073. There are several other smaller temples located close to Sakya Monastery. The mountains surrounding the monastery are great for day hiking. There are now a couple of decent hotels in Sakya making this a great place to spend one of your nights in Tibet.
#9 Yamdrok Lake
Yamdrok Lake, known as ཡར་འབྲོག་གཡུ་མཚོ་ Yamdrok Yum Tso in Tibetan, is one of the main holy lakes in Tibet. Famous for its turquoise-colored waters, it is easy to see why Yamdrok is such a popular attraction. The massive 7191 meter high peak of Nojun Kangtsang forms the background of the lake, which is shaped like a scorpion. The lake is best viewed some 90 kilometers past Lhasa from the top of the 4700+ meter high pass of Kamba La. From this pass, you can an outstanding panoramic view of Yamdrok Lake. This lake is visited along the overland route from Lhasa to Everest Base Camp.
#10 Gyantse
Rounding out the Top 10 places to visit in Tibet is the pleasant town of Gyantse རྒྱལ་རྩེ་, located 260 kilometers west of Lhasa. Though a small town, there is a lot to see and do here. The Palcho Chorten Monastery is located here, which is over 600 years old. The walled monastery contains the largest stupa in all of Tibet, which rises 32 meters high. A short hike to the base of the massive wall surrounding the monastery offers a panoramic view looking south towards Bhutan. The old Gyantse Fortress dominates the skyline of the town. Though now abandoned, this was once a large military base for Tibetan soldiers. Lastly, the Old Town of Gyantse will take you back to generations past as you stroll the streets lined with traditional Tibetan homes.
How to get to Tibet
All foreign travelers must be on an organized tour in order to visit Tibet. This means that you must have a private vehicle, a driver, a tour guide and travel permits. The travel agency you use will take care of all of these things for you. You do not need to worry about travel permits for Tibet as again, the agency you use will take care of those for you. Getting to Tibet is very easy! Contrary to what is written on many popular websites regarding Tibet travel, group tours are NOT required. You are free to go to Tibet as a solo traveler or go to Tibet with just your friends and/or family as long as you are on an organized tour through a travel agency. I suggest contact a travel agency at least 6 to 8 weeks before you plan to arrive to Tibet. If you plan to go to Mount Kailash, Guge Kingdom or Lake Manasarovar, which are all located in far western Tibet, I suggest contacting a travel agency at least 10 weeks in advance.
There are 2 main ways that people go to Tibet from. The first, and easiest, is from Mainland China. This option from Mainland China allows you to enter with just a normal Chinese Tourist Visa, which can be obtained at any China Embassy or Cunsulate. You can fly direct to Lhasa from the cities of Chengdu, Xining, Kunming, Xi'an and Chongqing and can fly indirect to Lhasa (meaning via a from just about anywhere in China. You can also take the train directly to Lhasa. The most popular places to take the train are from Xining, Chengdu and Beijing. For more detailed information on how to go from Mainland China to Tibet, read the following post: How to go from China to Tibet
The second main option for getting to Tibet is from Nepal. While not overly difficult, this option does require you to get a Group Chinese Visa from the China Embassy in Kathmandu, Nepal. If you arrive with a Chinese visa already in your passport, you will NOT be able to use it for going from Nepal to Tibet. The China Group Visa is more restricting than a normal Chinese Tourist Visa and cannot be extended anywhere in China (a normal Chinese Tourist Visa can easily be extended at least once for 30 days in China). For more detailed information on how to go from Nepal to Tibet, read the following post: How to go from Nepal to Tibet
Summary of the Top 10 Places to Visit in Tibet
This list is our recommendation of where to go in Tibet based on our 15 years of living and working in Tibet full-time. If you are researching where to go in Tibet, try starting with some of these places listed here. All foreign travelers must be on an organized tour in order to visit Tibet. You can go to Tibet from both Mainland China and from Nepal. For more information on how to get to Tibet, where to go in Tibet or which travel agency to use in Tibet, send us an email at: thelandofsnows@gmail.com