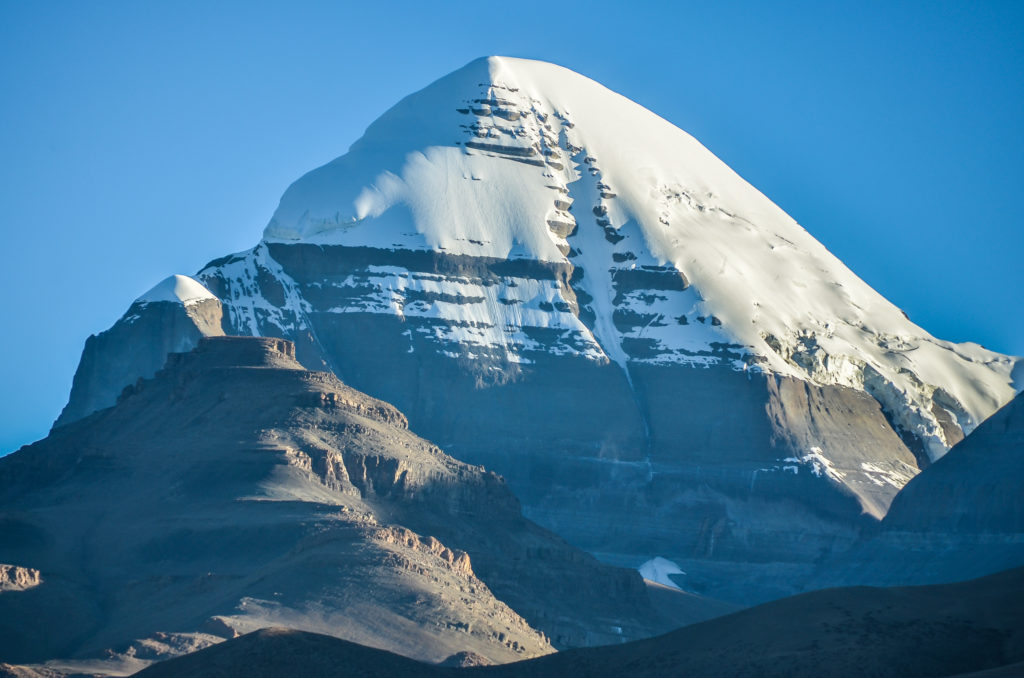 Mount Kailash is the most sacred peak in Asia. This post will tell you everything you need to know on how to get to Mount Kailash and trek around this holy peak.
26 MAY—14 JUNE 2018: Lhasa, Everest Base Camp and Kailash Journey! Limited places remaining for this epic journey. More information here: 2018 Lhasa, Everest and Kailash Journey or email us at: info@himalayajourney.com
Precious Jewel of Snow
Mount Kailash, known in Tibetan as གངས་རིན་པོ་ཆེ་ Kang Rinpoche or "Precious Jewel of Snow", is the most sacred peak in Tibet. It is located in far western Tibet's Ngari prefecture, more than 1200 kilometers from the Tibetan capital city of Lhasa. It is not particularly high as far as peaks in the Himalaya go as it only rises to 6714 meters/22,027 feet, but there is no other peak in Tibet that is as holy as Kailash. Each year thousands of Buddhists and Hindus do the 52 kilometer pilgrimage circuit around the mountain. Read this post for detailed information on Kailash, how to get there and information on the 3 day trek.
For more info, including tour information, email us at: thelandofsnows@gmail.com
Kailash: The holy mountain of Tibet
Mount Kailash lies near the source of 4 of Asia's important rivers incuding the Indus, the Brahmaputra, the Sutlej and the Karnali (a main tributary to the Ganges River). Contrary to popular belief (or legend), none of these rivers actually come directly from Kailash. The mountain is considered holy to over a billion people….followers of Hinduism, Buddhism, Jainism and Bön, the indigenous Tibetan religion. Stories across Asia refer to a sacred peak called Meru, considered to be the axis of the world, center of the universe or even the stairway to heaven. Over time, Meru became associated with Mount Kailash. Hindus believe that the sight of the peak will wash away the sins of a lifetime and give protection against evil spirits. Hindus also believe that Kailash is the home of Shiva, one of the principle deities in Hinduism.
One description of Kailash states that each face is made of something different. The east face is said to be made of crystal and is associated with the Brahmaputra River. The west face is said to be made of ruby and is associated with the Sutlej River. The south face is said to be made of lapis lazuli and is associated with the Karnali River. The stunning north face of Kailash is said to be made of gold and is associated with the Indus River.
For Buddhists, Kailash is the home of Demchok (the Wheel of Bliss) and his consort Dorje Phagmo. It is also regarded as the primary abode of Milarepa, Tibet's most famous poet and yogi. On and along Mount Kailash, Milarepa battled Naro Bönchung, the champion of the indigenous Bön religion in Tibet. The two engaged in an epic sorcery battle, with neither being able to claim victory. The last battle was a race to see who can reach the top of Mount Kailash first. The myth states that Naro Bönchung quickly took off for the top while sitting on a magic drum. Milarepa, still in meditation as Naro Bönchung was on his way to the top, suddenly took off on and passed Naro Bönchung while riding on a ray of sunlight. Tibetans then say that Milarepa threw Naro Bönchung from the mountain and that Naro Bönchung fell from the south face of Kailash, leaving a huge slash in the peak that can be seen to this day. Milarepa told followers of Bön that they could still circumambulate Kailash, but they had to do so in a counter-clockwise direction, which they continue to do to the present day.
Buddhist believe that walking around Kailash once will clear away the sins of a lifetime. Walking it 13 times will bring enlightenment within one lifetime and walking it 108 times will bring instant enlightenment. While most foreign travelers take 2 or 3 days to complete the 52 kilometer trek, Tibetans normally do it in one long 14 to 16 hour day.
Getting to Mount Kailash
For information on a quality, well planned journey to Mount Kailash, please contact us: Tibet and Mount Kailash Journey Info
As with all areas of the Tibet Autonomous Region (TAR), all foreign travelers going to Mt Kailash must be on an organized tour that includes multiple travel permits, a private vehicle, a driver and a tour guide. There are no exceptions. I know there are a handful of old or inaccurate reports on the internet from people who supposedly traveled to Kailash independently (meaning without an organized tour). However, I assure you that there is no possible way to go to Mt Kailash without being on an organized tour. Only a travel agency can assist you in arranging a journey to Tibet.
Travel permits for Mount Kailash can take up to 4 weeks to process. It is best to contact a travel agency in Tibet at least 8 weeks before you plan to arrive in order to have adequate time to have your journey arranged. Contrary to popular belief, group travel is NOT required in Tibet, however, joining a small group journey will lower your costs as you can share the costs of the required private vehicle, driver and guide among other travelers. With a small group tour, you will not have the freedom to customize your travel route or customize your starting date. If you are traveling solo or with a group of family or friends, you can also choose to arrange a private tour which would give you the freedom to customize your travel route begin on any date that you wish.
From Lhasa to Kailash
There are a few ways to get to Mount Kailash. The most common, and the way that I recommend, is to travel overland from the Tibetan capital of Lhasa to Mount Kailash. Between 90% and 95% of foreign travelers (excluding Indian pilgrims) take this route to reach Kailash. There is a good paved road leading west from Lhasa to Kailash via the towns of Shigatse, Lhatse, Saga and Paryang. Acclimatization to the high altitude of western Tibet is crucial so I strongly recommend spending 3 nights in Lhasa, 1 night in Gyantse, at least 1 night in Shigatse and a further 4 or 5 nights between Shigatse and Darchen (the trailhead point) before setting out on the Kailash trek. I am well aware that most travel agencies in Lhasa and Kathmandu don't give you this much time to acclimatize (particularly budget travel agencies!), but I strongly recommend it. Around eight to ten trekkers per year die  from high altitude complications while trying to go around the mountain….don't be the next.
From Kathmandu to Kailash
The next way to go to Mount Kailash is going overland from Kathmandu, Nepal through the main overland border crossing at Zhangmu or Kyirong. Currently, this option is NOT available to foreign passport holders (except Indians on a Hindu pilgrimage journey) as this border crossing has been CLOSED since the April 2015 Nepal Earthquake. It is impossible to say at this point (December 2016) when this border crossing will reopen. When it does reopen, foreigners are permitted to cross overland from Nepal into Tibet at either the old Zhangmu border crossing or at the new Kyirong crossing and then continue west to Kailash from there.
I do not recommend taking this approach to Kailash as it does not allow your body enough time to adjust to high altitude. When I hear of deaths occuring among travelers in western Tibet, the first thing I ask is if they entered Tibet from the overland route from Nepal. The answer is almost always yes. You quickly go from Kathmandu (1350 meters) to the Tibet border (2300 meters) and on to the town of Saga (4600 meters) or Paryang (4600 meters) in just 3 days. Ascending at this rapid speed dramatically increases the risk of serious altitude sickness (or worse). It is much safer to start your journey in Lhasa, spend a few days acclimatizing and then set out slowly for western Tibet.
From Simikot to Kailash
The third main way to Kailash is via the small village of Simikot in far northwest Nepal's Humal District. To reach Simikot you need to fly from Kathmandu to Nepalganj in southwestern Nepal and then take a second flight on to Simikot, elevation 2985 meters. From Simikot, you have two options. The first is to take a helicopter to the village of Hilsa, elevation 3650 meters. I don't recommend taking the helicopter as again, it does not allow you the proper time needed to acclimatize before entering Tibet.
The second option is to trek from Simikot to Hilsa, known as the Limi Valley Trek. This gorgeous trek takes about 6 days to complete going straight from Simikot to Hilsa and gives your body time to acclimatize to high elevation. Once you reach Hilsa, you then cross the bridge into Tibet where there is a China Customs building. Your driver and guide in Tibet will then meet you and drive you the short distance to Purang, the first major town in Tibet. You will stay a night or two in Purang, elevation 3890 meters, before going to Lake Manasarovar and to Darchen, the starting point of the trek. This is certainly not a cheap journey, but is an awesome route that very few foreign travelers take.
Kailash Trek
The Kailash trek is 52 kilometers in length and the starting point is the small, but growing village of Darchen, elevation 4680 meters. Darchen has numerous basic guesthouses along with a couple of decent hotel options. The best hotel in town is the "4 Star" Himalaya Hotel, located on the south end of town. Though the hotel is by far the best in town, the hot water can be slow to come, the internet can be terribly slow and the staff and can lazy. There are also many restaurants in town serving good Tibetan and Chinese food with some places even offering Western style breakfasts of pancakes and omelets (perfect for the morning that you set off on the trek).
It is best to bring the supplies and snacks that you need for the trek with you. However, if you forgot something, there are some stores in Darchen that sell trekking poles, gloves, winter coats, sunglasses and even sleeping bags. There are also some stores that sell Snickers bars, instant noodles and a limited selection of fresh fruit and vegetables.
While most Tibetans do the circuit of the mountain in just one long 14 to 16 hour day, most foreign travelers take 3 days. The trek begins just west of Darchen. To reach the trailhead, walk the main street north to the top of town and you will come to an intersection where you will turn left. Simply follow this road and after a few hundred meters, you will see the trail. It can't be missed….plus you will have a required guide with you. As you leave the paved road and start on the trail, there is a small checkpoint where tickets for Kailash are sold. The cost is 150 RMB per person.
Trek Day 1: Darchen to Dira Puk Monastery  Distance: 20 kms   Elevation gain: 400 meters
The first day of the trek begins in the village of Darchen, elevation 4680 meters. The trekking trail starts just west of Darchen and is easy to see. Approximately 3½ to 4 kilometers past Darchen, you will come to a rock cairn covered in prayer flags that offers a view of Kailash. This is the First Prostration Point. From there, there is a view of the mountain and you will likely see Tibetans praying and doing prostrations here. A further 2½ to 3 kms further and you will come to Tarboche, elevation 4740 meters. This area has a high flag pole that is covered and surrounded in colorful prayer flags. The flag pole has been here since 1681. During the holy month of Saga Dawa, the flagpole is lowered, prayed over and then raised again. Depending on how the pole leans as it is raised determines if the coming year will be a blessed or cursed. Many thousands of Tibetans gather here during Saga Dawa, which will be in 9 June 2017.
About 2½ kilometers past Tarboche (or 8½ to 9 kilometers from Darchen), you will come across the first of many "tea houses" that are along the kora. This first tea house lies below Chuku Monastery, which was founded in the 13th century. Though it looks easy to reach, it is a stiff 1 kilometer hike up to Chuku. The tea house beneath the monastery has hot water, bottled water and instant noodles for sale.
Around 5½  kilometers past the tea house (or 14 to 15 kilometers from Darchen), you will come to the second prostration point. It is hard to miss as there is a large amount of prayer flags here and a great view of the west side of Kailash. Less than 2 kilometers past the second prostration point, there is another tea house where you can purchase water or a simple snack. If you needed to, you could also sleep here, though almost everyone continues on to Dira Puk, which is a further 4½ to 5 kilometers away. NOTE: Dira Puk should actually be pronounced "Dri-ra Puk" (female yak horn cave. However, nearly all guidebooks write it as "Dira Puk"). There are guesthouses across the valley from Dira Puk, elevation 5080 meters. Dira Puk offers excellent views of Kailash's north face. From Darchen to Dira Puk is about 20 kilometers of relatively easy trekking. Expect to trek around 6 hours or so the first day.
Accommodations at the guesthouses near Dira Puk are VERY basic. The blankets are not washed regularly so I strongly recommend bringing a sleeping bag. Bathrooms are all unattached from the rooms and can be filthy. Make sure you bring plenty of hand sanitizer. The guesthouses all charge between 60 RMB and 80 RMB per person, depending on the season. They offer very basic noodle and rice dishes.
Trek Day 2: Dira Puk to Drolma La Pass to Zutul Pul  Distance: 18kms  Elevation gain: +560m to the Drolma La Pass and then -830m to Zutul Puk
This is definitely the most challenging day of the trek! Plan on trekking 7 or 8 hours this day.  From Dira Puk, you will begin climbing up to the Drolma La Pass. About 3 kilometers after Dira Puk, you will come to a tea house, elevation 5335 meters, that again offers drinks and snacks. It is best to make sure you have plenty of water and snacks before leaving Dira Puk just in case this tea house is not open. From the tea house, it is a further 3 kilometers (or 6 kilometers total from Dira Puk) to the top of the Drolma La Pass, elevation 5640 meters. The top of the pass does not offer a view of Kailash, but does offer great views of other nearby mountains. The pass is covered in countless millions (billions?) of prayer flags.
The descent of the backside of the Drolma La Pass is steeper than the ascent. If there is snow on the trail, you should be careful. Depending on the time of year, micro-spikes could be needed along with a trekking pole/walking stick. Just beneath the Drolma Pa, you will see the turquoise colored water of Gauri Kund, where some Hindu pilgrims will either pour some of the water on their heads or even wade in.
Three kilometers down the trail from the Drolma La (or 9 kilometers from Dira Puk), you will come to a tea house, elevation 5235 meters, that offers drinks, bottled water and instant noodles. This is a great place to relax for a while to dwell on completing the difficult task of crossing the Drolma La! From this tea house, it is about 9 more kilometers (or 18 kilometers from Dira Puk) to Zutul Puk Monastery, where most trekkers stay. Along the way, you will pass by the third prostration point as well as another tea house. Like Dira Puk, the accommodations and food at Zutul Puk, elevation 4810 meters, are very basic.
Trek Day 3: Zutul Puk to Darchen   Distance: 14 kilometers   Elevation loss: -130 meters
The third and final day of the Kailash trek is the easiest and only takes 3 or 4 hours to complete. About 6½ to 7 kilometers past Zutul Puk, you come to the fourth and final prostration point and the small village of Dzongdui. Upon entering this village, you will see a wall of hand-carved mani (prayer) stones here and will probably see a Tibetan guy who makes his living by carving them. Traditionally, Tibetans finishing the kora will purchase a mani stone and add it to the pile. Your guide can assist you in buying one and talking to the carver, if you are interested. In Dzongdui, there is a nice tea house where you can get some drinks and snacks before returning to Darchen.
From Dzongdui, the trail turns to the west and offers a sweeping view of the Barkha Plain. You can see the massive peak of Gurla Mandhata in the distance, as well as the waters of Rakshas Tal. From Dzongdui, it is an easy 4 or 5 kilometers of easy walking to Darchen.
Porters and pack animals for the Kailash Kora
As the Kailash Trek is only 3 days and 2 nights long and with tea houses and basic restaurants all around the mountain, you do not need to carry a lot of gear. Most people carry a 50 to 80 liter backpack for this trek which carries a sleeping bag, 2 liters of water, snacks, basic toiletries and extra clothing such as socks, underwear and fleece. If you do need a porter or pack animals, they are available through the Purang County Tourism Bureau. They operate an official office where you can arrange porters, horses and yaks. If you need to use these services, tell your guide the day before you arrive to Darchen. Upon reaching Darchen, remind your guide to arrange the porter or pack animals that you will need. This needs to be done at least the afternoon before you plan to start trekking.
Here are the prices charged for the 2017 tourism year. Prices could be slightly higher in 2018:
Porter: 630 RMB per porter for the 3 day trek
Yak: 720 RMB per yak for the 3 day trek
Horse: 1710 RMB per horse for the 3 day trek
Animal keeper (required if you take a horse or yak): 780 RMB per "yak-man"  for the 3 day trek
NOTE: One animal keeper can usually take up to 3 yaks. However, each horse will require its own animal keeper.
For porters and pack animals, backpacks and expedition duffel bags (like this or similar) are the best to use. The "yak-men" will have ropes and will secure your belongings safely to the yaks. Yaks are only for transporting bags and cannot be ridden. Horses can be hired for riding along the Kailash trek, but be advised that you will most likely not be permitted to ride the horse down the steep back side of the Drolma La Pass as there is too great a risk for the horse (and you) to be injured. You will have to trek the 3 kilometers or so from the top of the Drolma La down the mountain before you can begin riding the horse again.
Prices above include the costs of your porters meals and accommodations. Porters and animal keepers ("yak-man") expect a tip at the end of the trek. If you feel they have done a good job, please consider tipping them between 100 RMB and 150 RMB.
Best time to go to Mount Kailash
Due to the remoteness and extreme high elevation the Mount Kailash region, the region can only be visited safely during a specific time of year. The trek around Kailash can only be done from early May through late October. Due to the high chance of heavy snow and extreme cold temperatures, most travel agencies in Tibet will not attempt to arrange a trek around Mount Kailash outside of the typical trekking season.
The Buddhist holy month of Saga Dawa is the best time to go to Mount Kailash as this holiday brings thousands of pilgrims to the mountain. Saga Dawa usually falls sometime in late May to mid June each year. For 2017, the main Saga Dawa festival at Mount Kailash will happen on May 29.
The months of May and October are a little colder than the summer months, but in general there are far fewer trekkers on the mountain then. There will still be plenty of Buddhist pilgrims, but May and October are usually not very busy with foreign or Hindu trekkers. My personal opinion is to do the trek in May or October so that you avoid the crowds.
From July through mid September, Mount Kailash can be much busier as the weather during this time is the warmest. Thousands of Hindu pilgrims from India go to Kailash during those months. The travel regulations for Indian passport holders is different than for other nationalities, so most of the Indian pilgrims travel together in large groups of 50 to 120 people. In addition to other foreign travelers and Chinese travelers, it can be a little busy at the guesthouses at Dira Puk and Zutul Puk in the summer months. The small restaurants here have very limited staff so it can take a while to get your food if you don't put your order in early!
Essential items to bring for the Kailash Trek
Even during the summer months, the temperatures can be quite cold along the Kailash Trek, especially at night and early morning. It is important to pack the correct clothing for any trek in the Himalaya. Here are my suggestions for what to wear/pack for the 3 day trek:
comfortable, broken in hiking boots
a pair of wind-proof/water-proof hiking pants
at least 2 pairs of high quality wool trekking socks
at least 2 pairs of trekking underwear that prevent chaffing
one pair of thermal tops and bottoms (merino wool is good)
one or two moisture wicking t-shirts
one mid to heavy weight winter coat with hood
waterproof rain shell
one thick fleece
gloves
hat
sun hat with a wide brim
polarized sunglasses
trekking poles
50 to 80 liter back pack
sleeping bag rated for at least -10°C (15°F)
micro spikes (optional)
headlamp
two 1 liter Nalgene water bottles (or similar)
personal toiletries including strong sun block, lip balm and a blister kit for your feet
small, quick-drying towel (optional)
The temperatures in Darchen and around Mount Kailash can vary drastically over the course of the day. Morning and evenings will always be cool while when the sun is high in the afternoon, it can be incredibly warm. You will need to be able to easily take off or add a layer as the temperature changes. The wind can be very strong along the Kailash trek, especially at Dira Puk and on top of the Drolma La Pass. Here are some air temperatures to expect at Darchen, the starting point of the trek. (Note: these temperatures do NOT include wind chill, which can be extreme along the mountain):
Darchen Temperatures
May: HIGHS 12°C to 14°C (54° to 57°F)   LOWS -2°C to 2°C (28°F to 35°F)
June thru August: HIGHS 17°C to 19°C (63°F to 66°F)   LOWS 7°C to 9°C (44°F to 48°F)
September: HIGHS 11°C to 13°C (52°F to 55°F)   LOWS -2°C to 2°C (28°F to 35°F)
October: HIGHS 6°C to 8°C (42°F to 46°F)  LOWS -4°C to 0°C (24°F to 32°F)
Temperatures along the trek will be cooler. Here are the temperatures to expect at Dira Puk and Zutul Puk, the two places most people stay along the Kailash Trek:
Dira Puk and Zutul Puk Temperatures
May: HIGHS 9°C to 11°C (49° to 52°F)   LOWS -5°C to -1°C (23°F to 31°F)
June through August: HIGHS 14°C to 16°C (58°F to 61°F)   LOWS 4°C to 6°C (39°F to 43°F)
September: HIGHS 8°C to 10°C (47°F to 50°F)   LOWS -5°C to -1°C (22°F to 30°F)
October: HIGHS 3°C to 5°C (37°F to 41°F)  LOWS -7°C to -3°C (19°F to 27°F)
Summary of Mount Kailash
Mount Kailash is an extremely sacred peak to Buddhists, Hindus, Jains and followers of Bön
Kailash is extremely remote and is located in far western Tibet
Foreign travelers can only go to Tibet as part of an organized tour. Only a travel agency can arrange this for you.
The most common way to get to Tibet is from Lhasa. It is also possible to get there from Kathmandu and from Simikot.
Most journeys to Kailash from Lhasa take between 15 and 20 days to complete
The kora around Kailash is 52 kilometers long with most foreign trekkers taking 3 days to complete it
A journey to Kailash requires proper altitude acclimatization to reduce the risk of serious altitude sickness
The Kailash Trek is done from early May through late October
It is essential to pack the correct gear for the 3 day trek
For more information on how to get to Mount Kailash, or for info on booking a journey, send us an email at: thelandofsnows@gmail.com