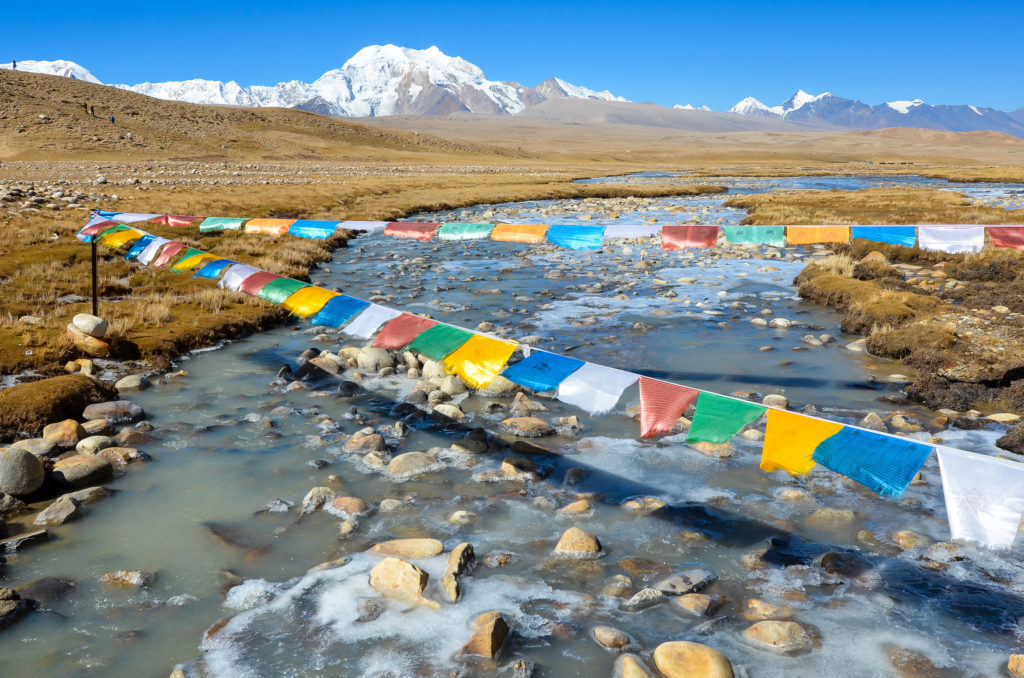 Tibet is HUGE and has many places that few travelers go to. Read this post for some of our secret and remote places to visit in Tibet!
With Tibet being so huge, there are many amazing places that are off the beaten path for those who perhaps have been to Tibet before or for those looking for adventure in the secret places of Tibet. This post will show some of my favorite off the beaten path, secret places in Tibet that few other travelers experience. For more popular places to visit in Tibet, please go to this link: Top 10 Places to Visit in Tibet
Getting off the beaten track in Tibet
Serling Tso
The remote, high altitude lake of Serling Tso is located in Tibet's Nagchu prefecture, Baingön County. It is over 600 kilometers northwest of Lhasa and the last half of the journey can only be accessed by a rough dirt road. The lake lies at an elevation of 4544 meters/14,910 feet surrounded by stunning mountains. There are no tourist facilities located at Serling Tso. The few people who go here have to camp along the stunning lakeshore. Before setting off for Serling, make sure you spend at least 3 or 4  nights in Lhasa to acclimatize to Tibet's high elevation. From Lhasa, it will take at least 2 (and probably 3) days to drive to the lake. The best months are from May through October. If you are looking for remote places in Tibet, Serling Tso is it!
Shishapangma Base Camp
Shishapangma is the 14th highest peak on the planet at 8013 meters/26,289 feet. It is the only 8000 meter peak that is completely inside of Tibet. Other 8000 meter peaks like Everest, Cho Oyu, Lhotse and Makalu all sit on the border of Tibet and Nepal. Shishapangma is a stunning peak that few people have heard of. With the most popular peak in Tibet to visit being Mount Everest, Shishapangma is largely forgotten.
Shishapangma base camp is located 120 kilometers west of the town of Old Tingri in western Tibet and just 45 kilometers from the amazing lake of Peiku Tso. It can easily be added as an extension to a journey to Everest Base Camp. The base camp of Shishapangma offers a great view of the 14th highest peak as well as numerous other nearby peaks including Kang Benchen (7299m), Porong Ri (7292m), Langtang Ri (7205m) and Phurephu Ri (6846m). This is truly one of the secret places in Tibet as the panoramic mountain views at Shishapangma base camp are far better than just about anywhere else in Tibet!
Khyunglung and Gurugyam Monastery 
In far western Tibet close to the village of Khyunglung, there is an interesting cave complex that researchers and archaeologists believe is part of the ancient Kingdom of Zhangzhung. This region is located near the banks of the Sutlej River about 95 kilometers west of Darchen, the starting point of the Kailash Trek. Though much smaller than nearby Guge Kingdom, Khyunglung and Gurugyam are still fascinating areas that show of ancient civilizations. The Khyunglung cave ruins are another true secret place in Tibet.
The few travelers who make it to this area are rewarded with a glimpse of what Tibet was like 1000 years ago. To reach Khyunglung and Gurugyam, you can either add an additional 2 days to a trekking journey to Kailash, or add an additional day along the route to Guge Kingdom.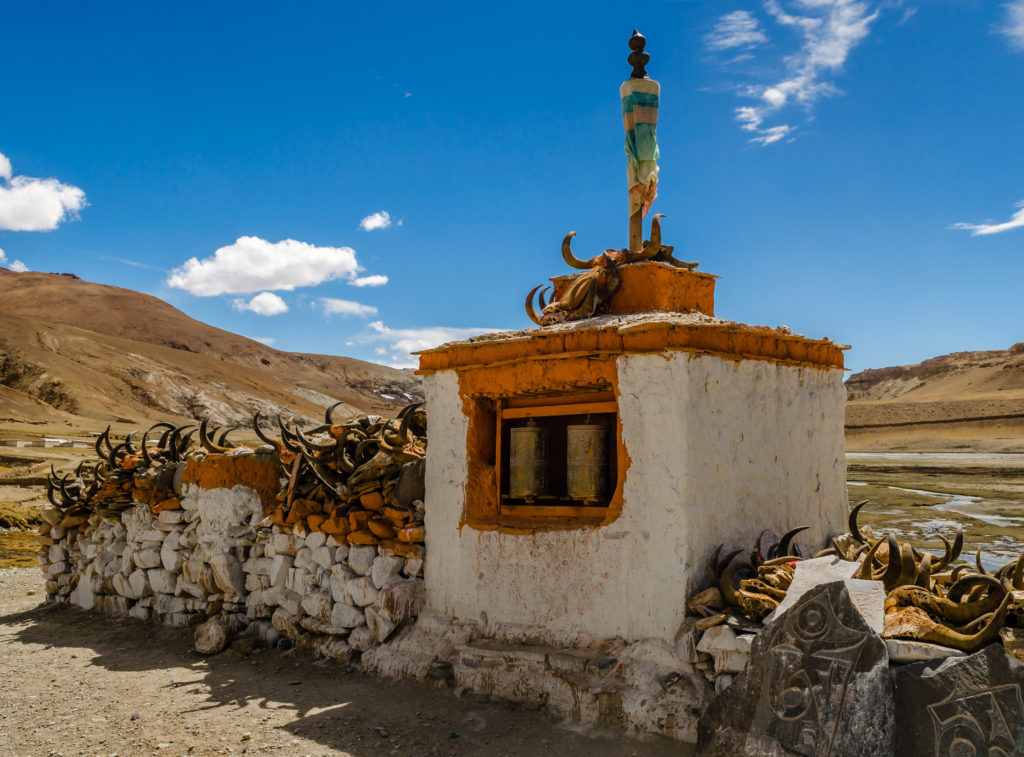 Samding Monastery
Though Samding Monastery is located along the popular travel route from Lhasa to Evereset Base Camp, few travelers stop there. It is located just 10 kilometers east of Nagartse, a popular lunch stop along the way from Lhasa to Gyantse. The monastery was founded in the 13th century and is unique as it is traditionally headed by a woman lama named Dorje Phakmo. The monastery has a population of around 35 monks.
For those interested in doing day hiking along the way from Lhasa to Everest, Samding is a great place to go. Above the monastery, there is a great hiking trail leading up that offers a splendid view of the monastery, the nearby lakes of Gongmo Tso, Drumo Tso and Yamdrok Tso as well as the snow-covered Himalaya near the Tibet-Bhutan border. To visit Samding along the way to Everest, there is no need to add an additional day. Just simply tell the travel agency you are using that you wish to go to Samding after having lunch in Nagartse.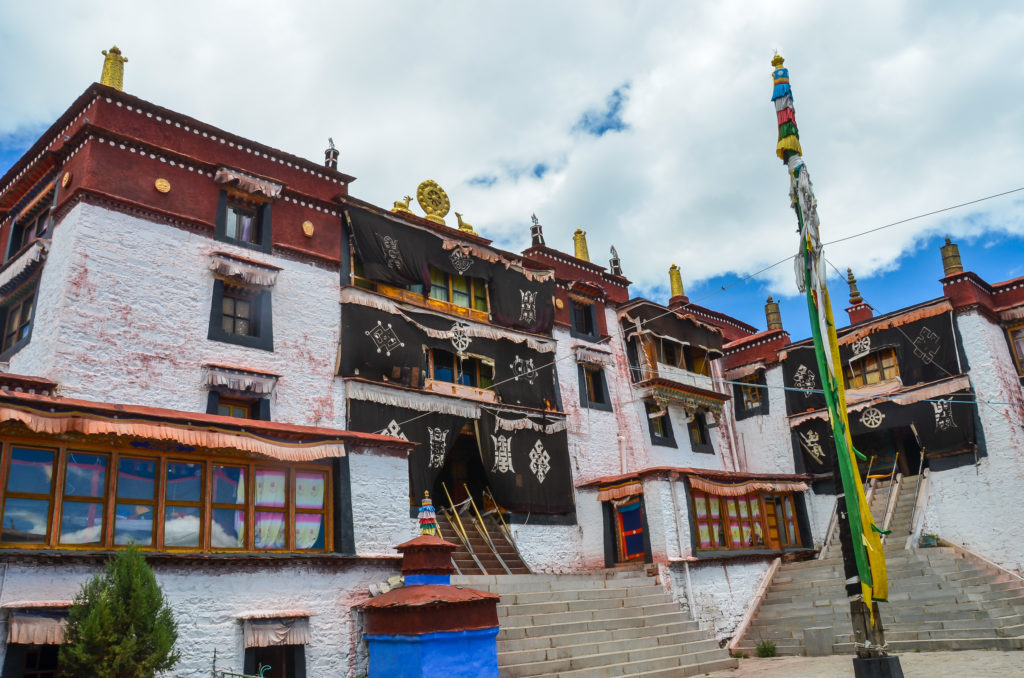 Shelkar Monastery and Fortress
Like Samding Monastery, the Shelkar Monastery and Fortress lie along the popular travel route to Everest Base Camp, but few people actually visit it. It is located about 4 kilometers off of the main Friendship Highway, just north of the small town of Baber. The small Shelkar Monastery is built along the side of a mountain and was established in the year 1269. Around 35 monks live in this monastery, which overlooks the valley floor below.
Above the monastery, a trail lead to the ruins of the ancient Shelkar Fortress (dzong), one of my favorite secrets places in Tibet. It is a stiff 1 1/2 hour hike to the top, but there are great views along the way. If the weather is clear, you get a view of Mount Everest in the distance. It will take you a further 45 minutes or so to hike back down to Shelkar Monastery. To visit the Shelkar Monastery and Fortress, I recommend adding an additional day to your journey to Everest Base Camp in order to not be rushed. Otherwise, if you arrive to Shelkar early enough in the daytime during the summer months, you should have enough time to make the hike to the top and make it back down before it gets dark.
Rawok and Ngan Tso Lakes
The pleasant lakes of Rawok and Ngan Tso are located in eastern Tibet's Chamdo prefecture. Currently, these lakes are the furthest east in the Tibet Autonomous Region that foreign travelers can go. They are nearly 800 kilometers east of Lhasa. Though this area is immensely popular with Chinese travelers, very few foreign travelers go here. The two lakes lie very near to each other and have a stream connecting them. The lakes are at an elevation of 3920 meters and are surrounded by evergreen forests. This region of Tibet looks and feel drastically different than other areas of Tibet as most of Tibet is very arid and tree-less.
Travelers wanting to go to this region of Tibet normally take a 10 to 14 day journey that goes east of Lhasa through the Kongpo Region before returning to Lhasa. Though currently closed, the overland route from Chengdu to Lhasa passes by these lakes. NOTE: These two lakes are OPEN, but all areas east of these lakes inside the Tibet Autonomous Region are closed to foreign travelers.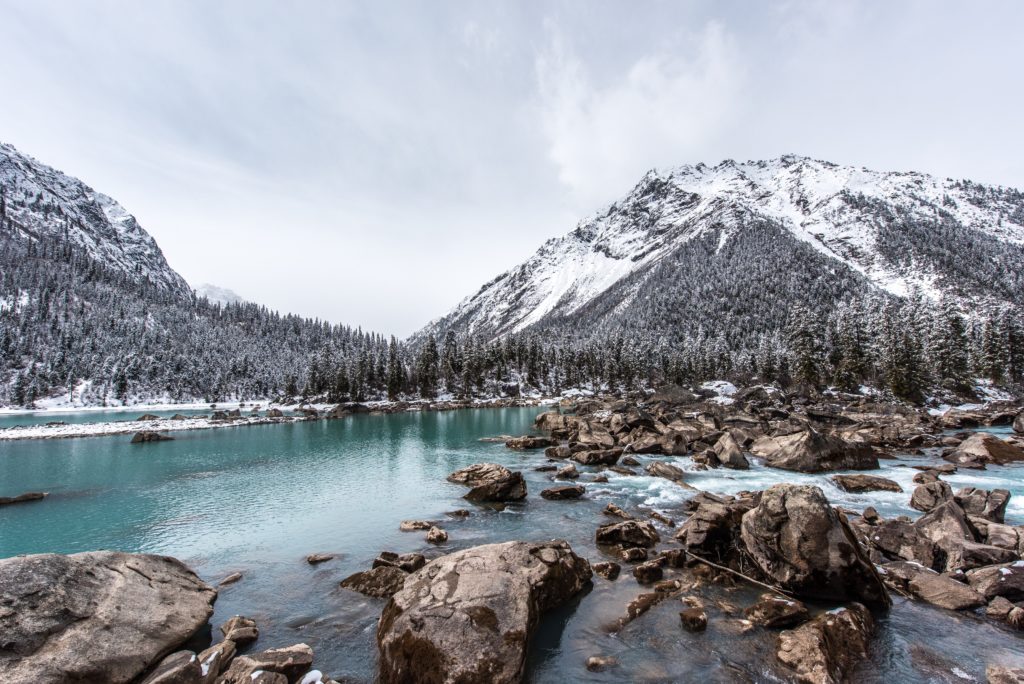 Cho Oyu Base Camp
Cho Oyu is the 6th highest peak on the planet at an elevation of 8201 meters / 26,906 feet. It sits on the border between Tibet and Nepal. If you have done the trek to Gokyo in Nepal, you have seen the south side of Cho Oyu. The north side of the mountain can be reached by road from the small town of Old Tingri in the Everest Region. Cho Oyu is just 28 kilometers away, straight-line distance, from Mount Everest. However, almost no travelers go to Cho Oyu base camp. To reach Cho Oyu, there is a dirt road leading south from Old Tingri for 43 kilometers to the base of Cho Oyu. The road is quite rough, but in the summer of 2016 road workers were busy upgrading the road. It amazes me that this remains one of the secret places in Tibet that few others know about.
From Cho Oyu base camp, the peak directly in front of you is not Cho Oyu, but is 6666 meter high Jowo Rabzang. Cho Oyu is situated further to the left (east). This base camp can be easily visited on a day trip from Old Tingri. If you take a journey to Everest Base Camp, you will need to add an extra day to your itinerary to visit this base camp.
Midui Glacier
Located 38 kilometers west of the small town of Rawok (see Rawok and Ngan Tso Lakes above) is the stunning Midui Glacier. Starting at an elevation of under 4000 meters, this is one of the lowest altitude glaciers in Tibet. As this region of Tibet lies close to the disputed border with India, this glacier can sometime be off-limits to foreign travelers. The travel agency you are using will be able to check the status on Midui for you.
Like nearby Rawok and Ngan Tso Lakes, many Chinese travelers go to Midui, but almost no foreign travelers go here. To reach Midui, you will need to take an overland journey about 800 kilometers east of Lhasa through the scenic Kongpo Region. Plan on taking 10 to 14 days to explore this area.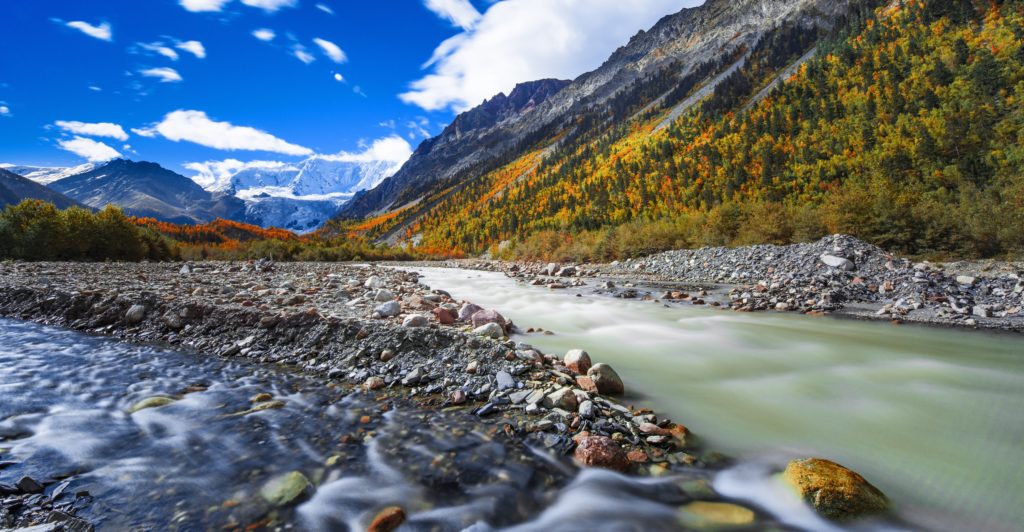 Zhari Nam Tso Lake
The large salt lake of Zhari Nam Tso, not to be confused with the more famous lake of Nam Tso, is located in northern Tibet nearly 900 kilometers northwest of Lhasa. The lake lies at an elevation of 4617 meters/15,150 feet surrounded by nice mountains. The lake is very isolated and is one of the more remote places in Tibet. The nearest town is  Tsochen, located 30 kilometers west of the lake. At the lake, camping is the only option as there are no facilities, stores or restaurants.
To reach Zhari Nam Tso, it will take a while! Most people visiting this region of Tibet do so while traveling the so-called "Northern Route" which connects the far western Tibet town of Ali with the town of Nagchu. Very few travelers take this route as the roads are poor, accommodations are bad and the journey is long. However, this is a fantastic route that is filled with nomadic culture, wildlife, amazing mountains and plenty of spectacular lakes. To complete the entire Northern Route, plan on taking 18 to 23 days. Read more about this route below.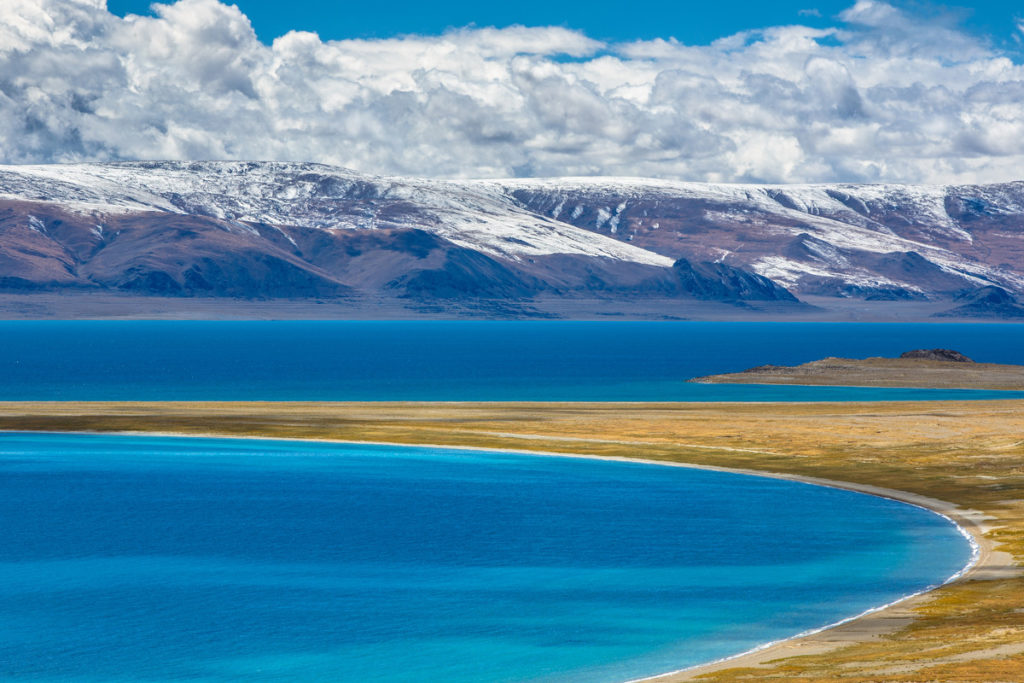 The Northern Route
By definition, Tibet off the beaten path has to be the epic 1400 kilometer Northern Route that links Ali in western Tibet's Ngari prefecture with Nagchu in north central Tibet. Most of this adventure is along a dirt road. The towns along the way are dusty and dirt. The accommodations are some of the worst on the planet. Fresh fruit and vegetables can be non-existent. So why would you want to take this route? Because of the stunning beauty that it offers! The route has plenty of spectacular mountains, dozens of pristine lakes, nomadic communities, wildlife and more. This journey is only for the adventurous. As this journey will take 18 to 23 days to complete, this journey is also not for budget travelers! The Northern Route is truly Tibet off the beaten path!
Draksum Tso Lake
Draksum Tso, sometimes referred to as Basum Lake, is another one of Tibet's many unbelievable lakes. Turquoise water, surrounded by forests with snow-covered peaks rising over 6000 meters? Yep, Draksum has it all! Throw in the island monastery in the middle of the lake and you have one of the best secret places in Tibet! Actually, many tens of thousands of Chinese tourists go here each year, but only a small handful of foreign travelers make it here.
Draksum Tso is located 375 kilometers east of Lhasa in Nyingtri Prefecture. Most people visiting this region do so on an 8 to 12 day journey.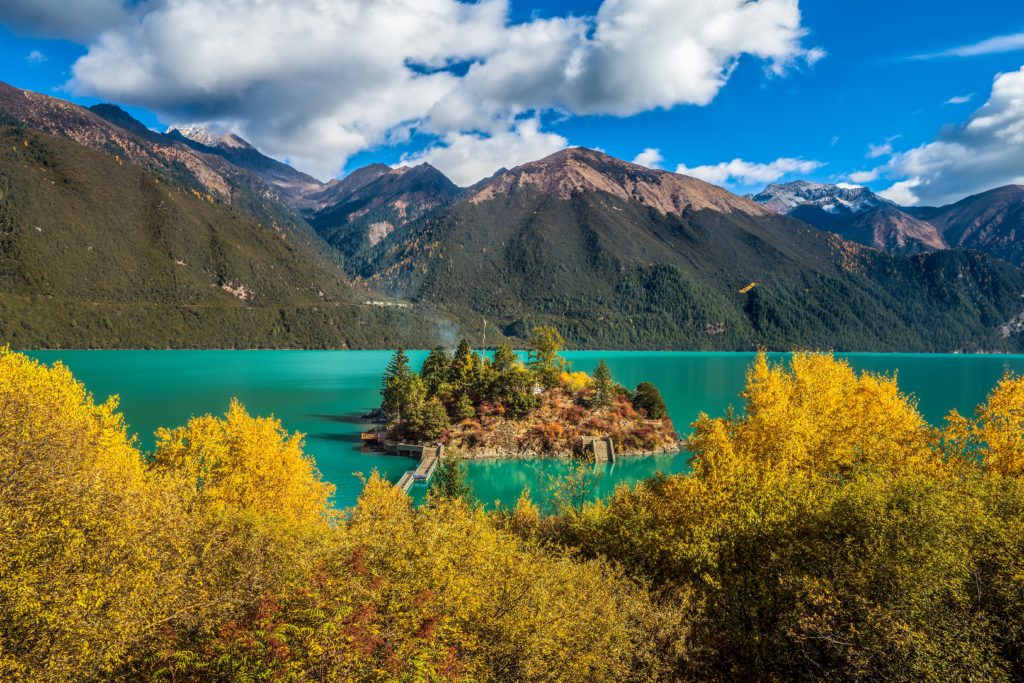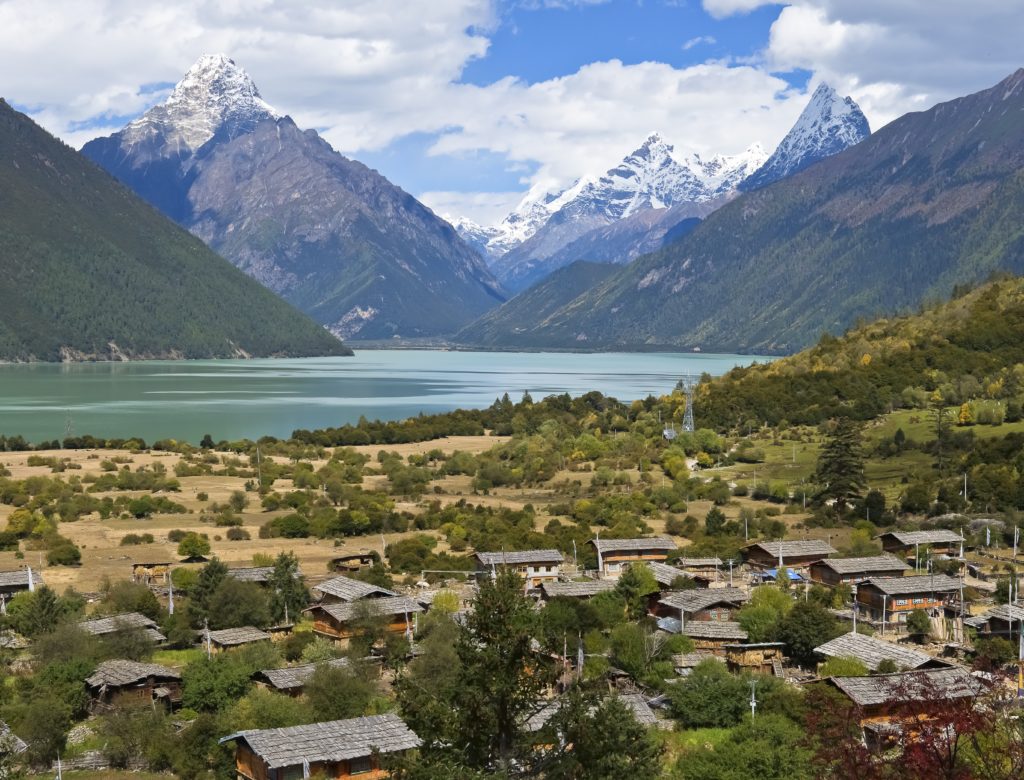 Summary of Tibet off the beaten path
As with ALL areas of the Tibet Autonomous Region, all of the places listed in this post require foreign travelers to be part of an organized tour that only a travel agency can arrange for you. There are no exceptions. For detailed info on how to get to Tibet, please go to the following link: How to get to Tibet
Even those who are repeat travelers to Tibet can still find places to go that they have not been to before. If you are going to Tibet for the first time and want to go to places that few others experience, start by researching the places I have listed in this post. Some of these areas are quite remote and might involve either camping or staying in very poor hotels for many nights in a row. However, the views, the culture and the experience are well worth it!
For more information on Tibet or for information on how to arrange a high quality journey in Tibet off the beaten path or to secret places in Tibet, feel free to contact us by email (thelandofsnows@gmail.com ) or fill out this short Trip Planner (click link) and we will get back to you soon!