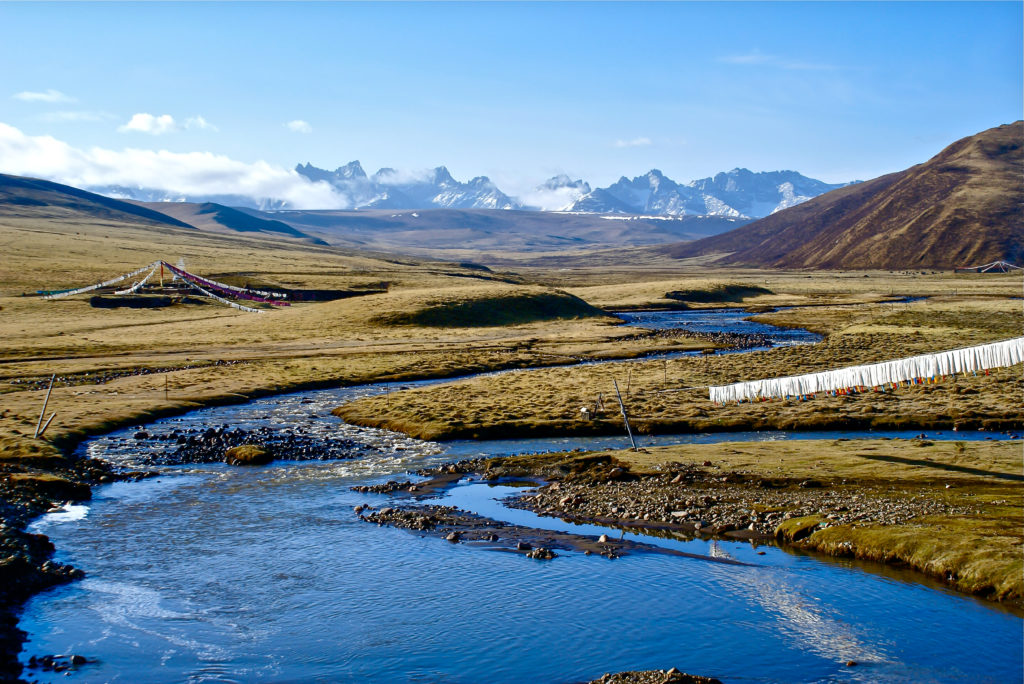 The eastern Tibet regions offer spectacular trekking and opportunities to see traditional Tibetan culture. Read this post for more info on some excellent trekking areas!
Nyenbo Yurtse Trek
I know excellent English-speaking Tibetan guides who know the Nyenbo Yurtse trek very well. To be put in contact with a reputable trekking agency in Eastern Tibet, send an email to: thelandofsnows@gmail.com
Eastern Tibet is the traditional Tibetan regions found in modern day Qinghai, western Sichuan, western Gansu and far northwest Yunnan. These areas are also referred to as the Amdo and Kham Regions. Not only do the Amdo and Kham regions have the best preserved Tibetan culture and stunning natural beauty, there are also some excellent trekking routes there. Unlike popular treks in Nepal which can have many thousands of trekkers, such as the Annapurna and Everest Regions, most areas of Amdo and Kham have few, if any trekkers. If you are looking for remote and amazing trekking routes without any other trekkers, Eastern Tibet is for you!
As Eastern Tibet lies outside of the Tibet Autonomous Region, no organized tour or permits (for the most part) are required. It is an open area of the Tibetan Plateau and is home to nearly 60% of the total Tibetan population. However, as most of the Amdo and Kham regions are quite rugged at high elevations with underdeveloped facilities for travelers, it is highly recommended to have a guide with you. Most trekking routes here have few other people, which is another reason to have an experienced local guide. You will not find trekking guides at Nyenbo Yurtse or in the nearby town of Jigdril. If you plan to trek in this region, you will need to contact a trekking guide in advance as the guides for this area are all based in Xining or Chengdu.
For recommendations on a reputable and experienced guide for this region, who can also speak English, send me an email at: thelandofsnows@gmail.com
Getting to Nyenbo Yurtse
Nyenbo Yurtse is one of the best kept secrets of the Tibetan Plateau. Its isolated location means that very few foreign travelers have experienced this amazing region. It is located in Jigdril (Jiuzhi) County in Golok Prefecture, Qinghai Province. Nyenbo Yurtse is a sacred peak to the people of eastern Tibet as it is revered as the birthplace of the Golok Tibetan tribes. Altogether, there are 14 peaks here rising above 5000 meters/16,400 feet. Nyenbo Yurtse is part of the Bayan Khar Range, which extends across the northern Tibetan Plateau. The highest mountain at Nyenbo Yurtse rises to 5369 meters/17,615 feet. The trekking route is dominated by tall craggy, snow-covered peaks with numerous turquoise-colored lakes. This region is very isolated and only a small number of outside trekkers come here. In the summer months, you can find nomad Tibetans around the trek that are living in tents while herding their yaks.
Golok Tibetan Autonomous Prefecture is located in southwest Qinghai. The prefecture is over 90% Tibetan and is part of the traditional Tibetan region of Amdo. Most people who go trekking at Nyenbo Yurtse go on an organized journey through a Tibetan owned travel agency in Xining or Chengdu, so they get to the trailhead by private vehicle. An organized tour to this region will allow you to really see the best that this region has to offer as you can get off the main roads to villages and nomadic communities. However, you can also take public buses to get there. From Xining, the capital of Qinghai province, there are daily buses to Jigdril (Jiuzhi) County. The bus takes between 10 and 12 hours. Jigdril is the closest large town to Nyenbo Yurtse and is about 40 kilometers west of the entrance to Nyenbo Yurtse. If you take a public bus to Jigrdil from Xining, you will need to take a local taxi from Jigdril to the entrance of Nyenbo Yurtse as there are no public buses going there.
You can also reach Jigdril and Nyenbo Yurtse by public bus from Chengdu, though it will take 2 days. From Chengdu, you can take a bus to Ngawa (Aba in Chinese) County in northern Sichuan. The bus normally takes 8 to 10 hours. You will then have to spend the night in Ngawa and take a bus to Jigdril (Jiuzhi) the next day. Another option is to take a taxi the 70 kilometers from Ngawa to Jigdril.
NOTE: Ngawa County has been closed to foreign travelers off and on for the past 6 years due to political instability in the region. If you plan to take a bus from Chengdu to Ngawa/Aba, check with me to see if there are any travel restrictions in the area.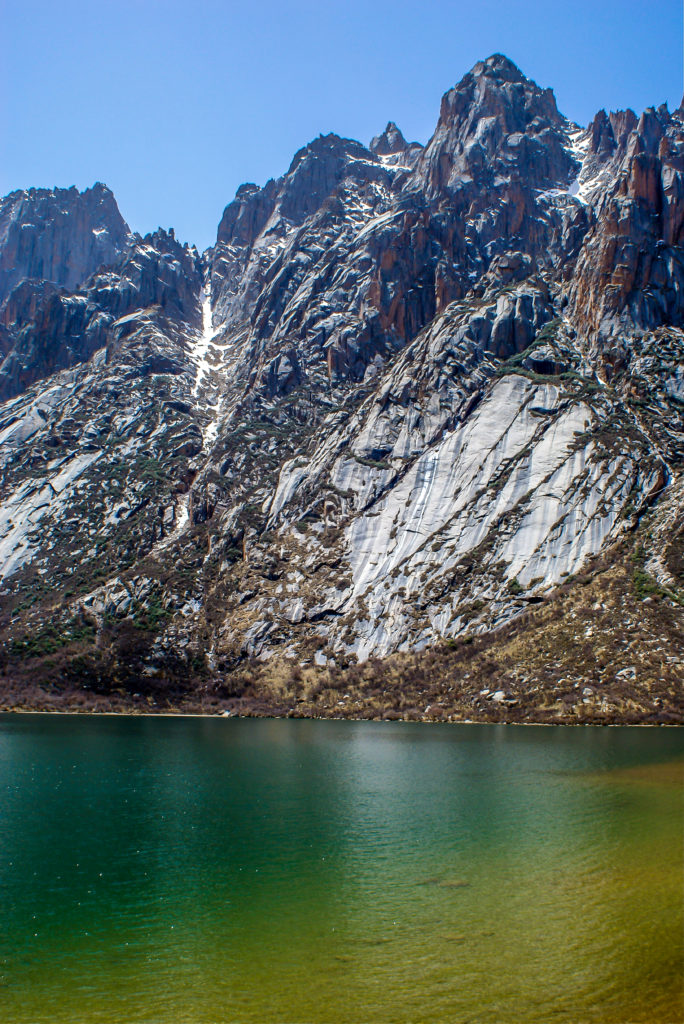 The Trekking Route
NOTE: It is best to have an experienced guide with you who knows the Nyenbo Yurtse area well. I do not advise trekking this region without a guide!
You will definitely want to make sure that you are acclimatized before beginning this trek. I recommend staying 1 or 2 nights in Xining, elevation 2300 meters, before staying a night or two in the town of Jigdril (Jiuzhi) at 3630 meters. If you are on an organized trek through a travel agency, most agencies will have you spend a night in Xining before going to Labrang (Xiahe), elevation 2900 meters, for a night. Agencies will then have you stay 1 night in Jigrdil before beginning the trek.
There are several different routes that you can take at Nyenbo Yurtse. The outer pilgrimage circuit takes around 12 days to complete.  The inner circuit, which is what most trekkers take, is much shorter and takes 5 to 6 days to do. You can customize your trek to fit both your time frame and budget. Treks begin near the prayer flags (33°23'39.3 N, 101°06'22.5 E) situated along the shore of Lake Shug Tso, elevation 4015 meters/13,175 feet.  From there, you will trek along the lakeshore in a clockwise direction for 6 kilometers until you enter the main Nyenbo Yurtse valley located on the far end of the lake. This section can me marshy in places, so be sure to have good, waterproof boots.
At the far end of Lake Shug Tso, there often can be Tibetan nomads camped with their herds of yaks. This is a great areas to experience traditional Tibetan culture that few others see. From the far end of the lake, most trekkers will follow the valley along the shores of the upper lake while following the path on the left side (33°20'43.1 N, 101°06'34.2 E). From the upper lake, the  main peak of Nyenbo Yurtse can be seen on the right side (33°17'16.8 N, 101°06'08.6 E). Most guides will take their clients over one of the passes on the left side, which descends to a couple more glacial lakes. After camping at the lakes, most guides will then lead trekkers further south to the nomad grasslands that lie on the other side of the range.
When to go
The best months to go to Nyenbo Yurtse are from mid May through mid to late October. These months have warmer temperatures, though because of the high altitude here, it can always be cool at night. Freezing temperatures in mid summer are not uncommon. I recommend going from mid May to mid June and then again in October, as these months are generally dry. The summer months from mid June through September can bring clouds and rain to Nyenbo Yurtse. The winter months can be difficult as the temperatures here can plummet to -25°C and there can be heavy snow on the mountain passes.
Summary of Nyenbo Yurtse
Nyenbo Yurtse is one of the best treks in Eastern Tibet. It has stunning mountain scenery, turquoise-colored glacial lakes and sees very few outsiders. There can be some Chinese trekkers in the region in the summer months, but overall very few people know about this hidden gem. You can reach Nyenbo Yurtse on your own using public buses as this area does not require an organized tour. However, I strongly recommend having an experienced guide with you as this area is very remote. Guides for Nyenbo Yurtse are based in Xining and Chengdu, so it is best to contact a guide at least a month or two before you plan to arrive. The complete circuit of the mountain takes about 12 days, but most people take 5 or 6 days along the inner circuit.
For a recommendation on an English-speaking Tibetan guide who knows the Nyenbo Yurtse area well, send an email to:  thelandofsnows@gmail.com