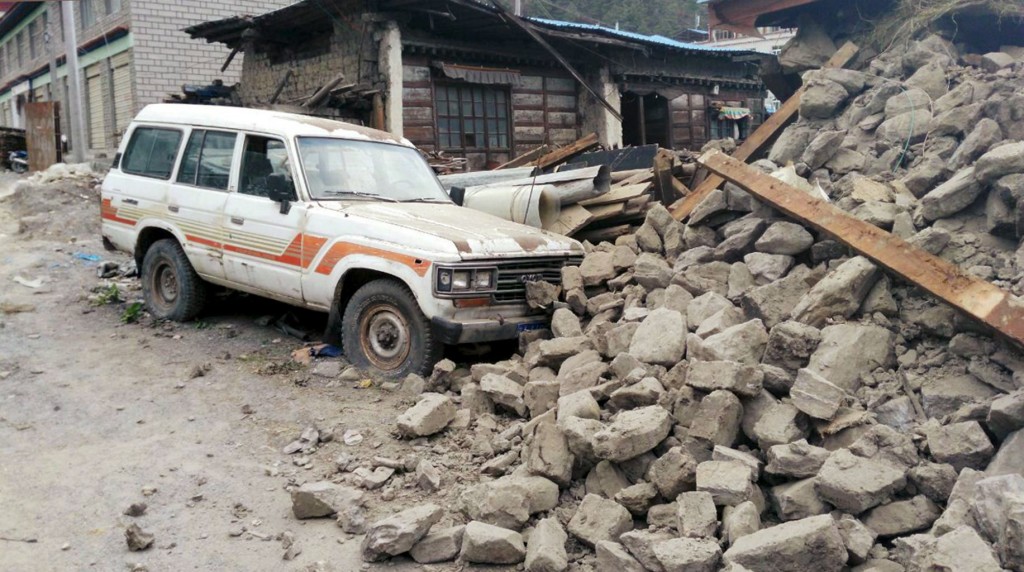 UPDATED 17 January 2017: A 7.9 earthquake struck Nepal in April 2015. Much of the damage has beeb repaired and Nepal is safe again to travel to, however the Tibet-Nepal border remains closed.
UPDATED 17 January 2017
For Tibet and Nepal tour and travel information, send an email to: thelandofsnows@gmail.com
Nepal Earthquake Update
The Tibet Autonomous Region remains open after the April 2015 Nepal Earthquake with the exception of the Tibet-Nepal (and vice-versa) overland border crossing. This border crossing area received heavy damage in the earthquake and remains CLOSED. The Chinese government has moved the international border crossing from Dram (Zhangmu) to Kyirong. Even before the earthquake on 25 April 2015, the Chinese Government was seriously considering moving the overland border crossing to a better and safer location. A this time, it remains impossible to say when the China government will reopen the overland road border between Tibet and Nepal.  When more information becomes available, I will immediately post it here.
Nepal Safe For Travelers
I have been to Nepal 5 times since the April 2015 earthquake. I assure you that Nepal is very safe for travelers. There are a small handful of places in the Kathmandu Valley that are still under repair, but all other areas of the region are fine and safe. In addition, all major trekking routes are open and safe. I spent several weeks trekking through the Everest Region of Nepal in March and April 2016 and saw almost no damage from last years earthquake. The trails were completely fine and all guesthouses and restaurants were fully operational. It was difficult to even see damage from last years earthquake as nearly everything that was damaged has been repaired. Pokhara and the Annapurna Region did not suffer any damage and are also completely safe to go to. Time magazine reported earlier this year that the best way to help Nepal recover is to go there on vacation.  Read the following links regarding traveling to Nepal (I personally recommend visiting Nepal!!):
Nepal prays for the return of tourists
Heritage sites in Nepal reopen
Nepal tourism is open for business
Again, the Nepal situation today is safe again after the 2015 Nepal Earthquake. Some Nepal earthquake relief efforts are still underway in very remote villages, but nearly all of these are out of the trekking and tourist regions.  When more information becomes available on the Tibet Nepal Border reopening, I will immediately update this site and my Facebook page. For more information, including advice on which travel agency in Tibet to use, please email me at: thelandofsnows@gmail.com