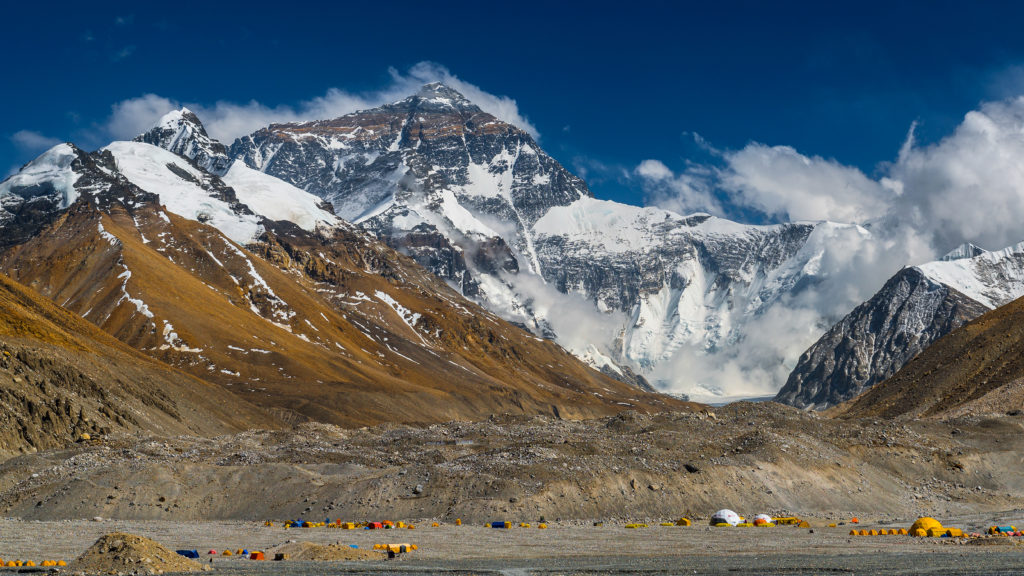 OCTOBER 14—26, 2018 TIBET PHOTOGRAPHY WORKSHOP For more info on this professionally-taught photography workshop going from Lhasa to Everest Base Camp, send an email to: info@himalayajourney.com
Lhasa to Everest Photography Workshop
In mid-October 2018 Himalaya Journey is arranging a high-quality Tibet Photography Workshop led by travel and landscape photographer Ariel Estulin and Tibet cultural expert Ben Cubbage. This 13 day journey will go from the Tibetan capital city of Lhasa overland thru Central Tibet to the North Face Everest Base Camp. Clients will see many of the best places that Tibet has to offer including ancient monasteries, farming villages, Buddhist temples, alpine lakes, glaciers and get up close to to the world's highest peak at Everest Base Camp. During this journey Ariel, a professional photographer from Canada, will be giving photography tutorials each day while clients explore Tibet. In addition Ben, an American who has lived in Tibet for nearly 10 years and is an expert on Tibetan culture and history, will be giving lectures each day of different aspects of Tibetan life.
Who is this journey for?
This journey is for those wanting to see the amazing beauty of Tibet, improve upon their skills as a photographer and learn more about the uniqueness of the Tibetan people. This Tibet Photography Workshop will be from October 14—26, 2018 and is limited to only 10 participants. and is open to clients with any photography skill level from beginner to expert. To join this journey or for more information, contact us at: info@himalayajourney.com
Tibet Photography Tour Itinerary
October 14, 2018
All participants must arrive in Chengdu, China by 4pm on 14 October. Himalaya Journey will give you detailed instructions on how to easily get to the 5 Star hotel we will be staying at. We will eat dinner together during a time of meet and greet at a centrally located restaurant near the Chengdu Airport.
October 15
In the late morning/early afternoon, we will fly to Lhasa and arrive in the mid to late afternoon. The Tibetan capital sits at 3590 meters and is the cultural and spiritual heart of Tibet. After getting situated in a modern, centrally located hotel, we will explore and photograph the center of the Old Tibetan Quarter in the heart of Lhasa. The Barkhor is the main shopping market for local Tibetans. It is one of the most interesting markets in all of Asia and is an excellent place to photograph modern Tibetan culture. In Lhasa we will stay at the famous Kyichu Hotel, located within short walking distance to Jokhang Temple and the Lhasa Old Town.
October 16
After breakfast, we will spend the morning going through the Jokhang, Tibet's holiest and most famous temple. Each day, thousands of Tibetan Buddhist pilgrims work their way through this nearly 1400 year old temple. We will also explore Tsamkhung Nunnery, one of the largest nunneries in the Lhasa area. In the afternoon, we will photograph the Buddhist philosophy debates at Sera, one of Tibet's largest monasteries. The monk debates will be a major highlight during your time in Tibet.
October 17
We will start the day by exploring Tibet's most iconic building, the Potala Palace. Towering above Lhasa with more than 1000 rooms, the Potala Palace served as the winter residence of the Dalai Lama's for hundreds of years. In the afternoon, we will have some free time to do some shopping and continue photographing Lhasa's amazing Old Town. NOTE: The exact time for us to visit the Potala Palace will be set by the tourism bureau. It normally is in the morning, but could be in the afternoon.
October 18
In the morning, we will depart from Lhasa and drive to Gyantse via Yamdrok Lake. Yamdrok Lake, during clear weather, is a brilliant turquoise color and is one of the 4 main holy lakes in Tibetan Buddhism. The huge, glaciated 7191 meter Mt. Nojin Kangtsang forms the backdrop of the lake. The lake sits at an elevation of 4441 meters above sea level. Along the way to Gyantse, we will stop by the glaciers of Mt. Nojin Kangtsang at the Karo La Pass, which come down almost to the highway. Gyantse is a small, but modern Tibetan town, that lies at 4025 meters. We will be photographing the Pelkor Chode Monastery as well as the Gyantse Kumbum, the highest stupa (Buddhist pagoda) in Tibet. The drive from Lhasa to Gyantse covers 260 kms (162 miles). In Gyantse, we will stay at the 3 Star Yeti Hotel, the best in town.
October 19
After breakfast, we will photograph the 600 year old Pelkor Chode Monastery. This beautiful monastery lies within a walled complex in the Gyantse Old Town. The short hike to the top of the wall gives an excellent panorama view of the monastery, town and the high plateau in the distance. After lunch, we will depart Gyantse and drive to Shigatse, elevation 3840 meters. Along the way, we will stop and photograph some traditional villages along the way to experience rural Tibetan life. The distance from Gyantse to Shigatse is 95 kilometers (60 miles). In Shigatse we will stay at the 4 Star Tashi Choten Hotel.
October 20
Shigatse is home to Tashilhunpo Monastery and its 650+ monks. This monastery, one of the largest in Tibet, is the seat of the Panchen Lama, the second most important lama in Tibetan Buddhism. We will spend the morning exploring this massive Buddhist complex. After lunch, we will walk around the pilgrim route that goes up and around the famous monastery and up to the recently rebuilt Shigatse Fortress, which sits above the Old Town. This nice hike offers great views above the monastery and above the city of Shigatse. Then we will explore the small Old Town Market located near our hotel.
October 21
This day we will depart Shigatse and continue westward to the town of Sakya, located 155 kilometers (95 miles) away. Upon reaching Sakya, elevation 4330 meters, we will have lunch and afterwards begin exploring this unique area. Sakya is the home of the Sakya sect of Tibetan Buddhism. The main monastery of the the Sakya school is located in this town. Most of the homes in this area are painted gray, red and white matching the colors of the Sakya Monastery. We will explore the small town of Sakya including the large monastery of Sakya and the villages nearby. We will stay at the Manasarovar Hotel, the best in town.
October 22
From Sakya we will drive 240 kilometers (150 miles) to the Everest Base Camp region. Along the way, you will cross the 5231 meter high Gyatso La Pass, the highest point along the journey. From the top of the pass, there is a sweeping view of the Himalayan foothills. From there, you will then go to the Geu La Pass, elevation 5200 meters. From this pass, you can see 5 of the world's 15 highest peaks, including Mt Everest. This pass offers one of the most impressive panoramic views of the Himalaya's in Tibet. Next, you will go to Rongphu (Rongbuk) Monastery and stay at a simple guesthouse that looks directly out to the world's highest peak. We will photograph the sun setting on Everest's epic North Face.
October 23
We will get up early this morning to watch the sun rise on Mt Everest from near our guesthouse at Rongphu Monastery. October generally offers clear skies allowing for excellent views of Everest. After watching the sunrise, we will travel a few kilometers closer to the mountain and photograph near the Rongphu River, which flows off of the Everest glaciers located further up the mountain. We will spend several hours photographing Mt Everest before driving 115 kilometers (72 miles) to the town of Shelkar where we will stay at the Everest Qomolangma Hotel, the best accommodation in the Everest Region.
October 24
From Shelkar, we will begin making the journey back to Lhasa. We will drive through the rugged, but beautiful wilderness of western Tibet to Phuntsoling. The monastery at Phuntsoling is one of Tibet's true secrets. This remote monastery offers both a "newer" functioning monastery as well as the ancient ruined monastery that lies above the current one. We will have lunch at a basic restaurant in the area before exploring the spectacular Phuntsoling Monastery. From there, we will return to Shigatse, Tibet's second largest city. We will stay at the 4 Star Tashi Choten Hotel. The distance from Shelkar to Shigatse is 265 kilometers (165 miles).
October 25
Our last full day in Tibet will take us from Shigatse back to the Tibetan capital city of Lhasa. We will drive along the scenic Yarlung River Valley and will be stopping several times to photograph the stunning natural scenery along the way. In Lhasa, we will stay at the Kyichu Hotel, located within a short walk of the Lhasa Old Town. The distance from Shigatse to Lhasa is 270 kilometers (170 miles).
October 26
After breakfast, you will be transferred to the Lhasa Airport where you will depart Tibet.
Leaders of this journey
Ariel Estulin is an award winning photographer and photo educator. Primarily interested in landscapes, he travels the world seeking out beauty in those wild and remote places on earth that still remain untouched by civilization and where nature commands ultimate attention. He will be serving as the photography workshop instructor during this journey.
Self-taught as a photographer, he spent time with Freeman Patterson, Canada's renowned photographer, to learn the art of making great photographs. His training as a graphic designer continually shapes what he sees through the lens in order that elements such as light, shape and colour all work in harmony. His never-ending search for off-beat adventures have led him to explore the Himalayas of Nepal and Ladakh, along with South America's Patagonia. He feels right at home paddling his canoe or hiking in his backyard, the country of Canada.
As a photo educator, his goal is for students to come away with not just better photographs, but a better understanding of photography, better compositions and most importantly, a skill set they now have and can use on future adventures.
His 3-year old son has accompanied him on numerous trips and has his father's adventurous spirit. See some of Ariel's amazing pictures on his website in the following link: Ariel Estulin Photography
Ben Cubbage is originally from the US, but has spent nearly 10 years living and working full-time on the Tibetan Plateau. He will be serving as the lead guide on this Tibet photography tour. Ben has a degree in Environmental Science and has spent considerable time over the years teaching organic agriculture and sustainable development in Ghana and Liberia.
Ben has been guiding in the Himalaya and other parts of the globe for over 10 years. He has completed numerous treks including the 4240 kilometer/2650 mile Pacific Crest Trail, which goes from Mexico to Canada thru the western US, the 3500 kilometer/2200 mile long Appalachian Trail in the eastern US, the Annapurna Base Camp Trek in Nepal, the Amnye Machen Trek in eastern Tibet and many others. He has been to the Tibet-side Everest Base Camp numerous times and knows that region well. Ben is also a Wilderness First Responder, the respected backcountry medical certification held by guides across the globe.
Ben will use his expert knowledge in giving lectures each day on different aspects of Tibetan culture, history and religion.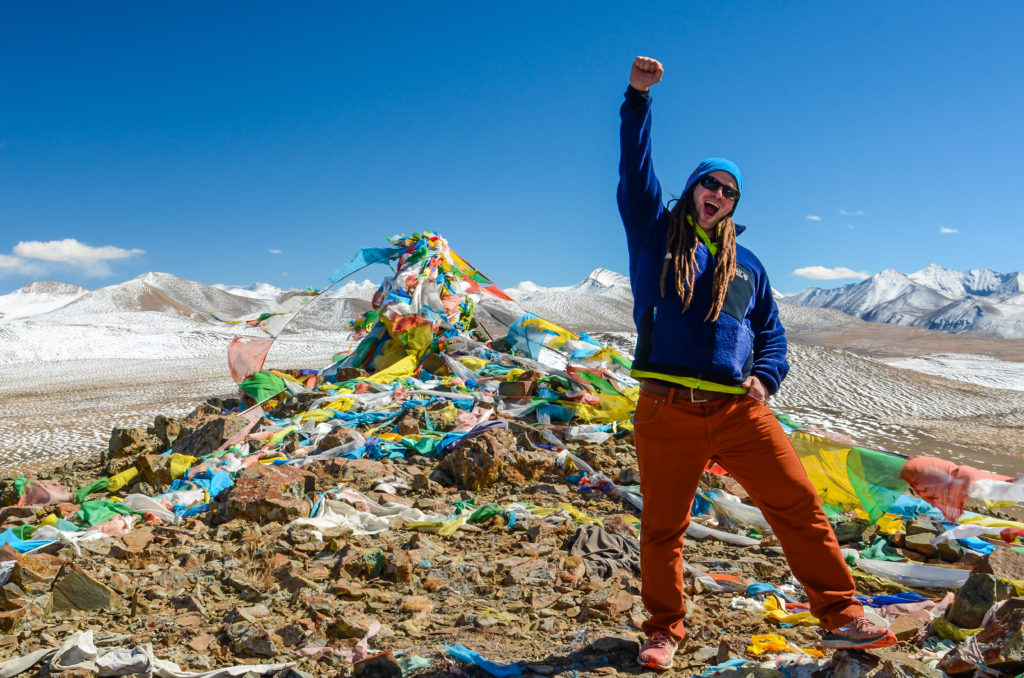 Ben Cubbage will be serving as the lead guide on this Tibet Photography Worskhop
Photography Workshop Costs
Tibet Photography Workshop from Lhasa to Everest Base Camp. To join this journey or for more info, email us at: info@himalayajourney.com
Dates: OCTOBER 14—26, 2018
The cost per person for this professionally-guided photography workshop in Tibet is $3199 USD. We include MANY things in this price! Participants are responsible for their own travel arrangements to Chengdu, but we will take care of just about everything else after that! Send us an email at info@himalayajourney.com  to apply for this tour or for any questions you may have.
Included in the price:
One-way airfare from Chengdu, China to Lhasa, Tibet
All accommodations (based on double occupancy; single room supplement available). Most of our hotels will be locally-rated 3 or 4 star.
All meals from evening of 14 October to morning of 26 October (We eat well on this trip!)
All bottled drinking water (bottles will all be responsibly recycled)
All ground transportation in Tibet
All entrance fees
All Tibet travel permits
All Everest fees
Professional Tibetan guide who speaks fluent English
Professional foreign guide who is certified as a Wilderness First Responder
Professional photography instructor
Chengdu Airport transfer on 15 October
Lhasa Airport transfer on 26 October
Not included in the price:
Passport and Chinese Visa fees
Photography equipement
International airfare to/from Chengdu, China
Airfare departing Lhasa
Travel vaccinations
Insurance (travel, medical, etc)
Souvenirs or personal items such as laundry, excess baggage fees, snacks, alcohol drinks, etc
Photography fees inside temples and monasteries (We cover entrance tickets, but you will be responsible for any associated fees for inside photography.)
Gratuities to the Tibetan guide and driver
This photography workshop to Everest Base Camp is open to ANY level of photographer from beginner to expert and is limited to 10 participants. No specific camera is required. We will be traveling this entire route by vehicle, though we will be doing day hikes around temples, villages and at natural sites each day. No trekking or climbing is required for this journey. Each participant will be sent a list of required and recommended gear for the tour that they will be responsible for. A suggested packing list will be sent to participants upon registration and acceptance.
Summary: Tibet Photography Workshop
Dates of this journey from Lhasa to Everest Base Camp are October 14—26, 2018
The journey will see many of the main sites in Central Tibet
The cost includes many extras such as all meals, flight from Chengdu to Lhasa, purified drinking water, all entrance fees, permits for Tibet, expert Tibetan and foreign guides and photography classes.
In addition to learning about photography, clients will hear interesting lectures on Tibetan culture, history and religion each day
Space is limited for this Tibet adventure
For more info on who we are, go to the following link: Why Travel With Us?
To join this Tibet Photography Workshop of for more information, email us at: info@himalayajourney.com