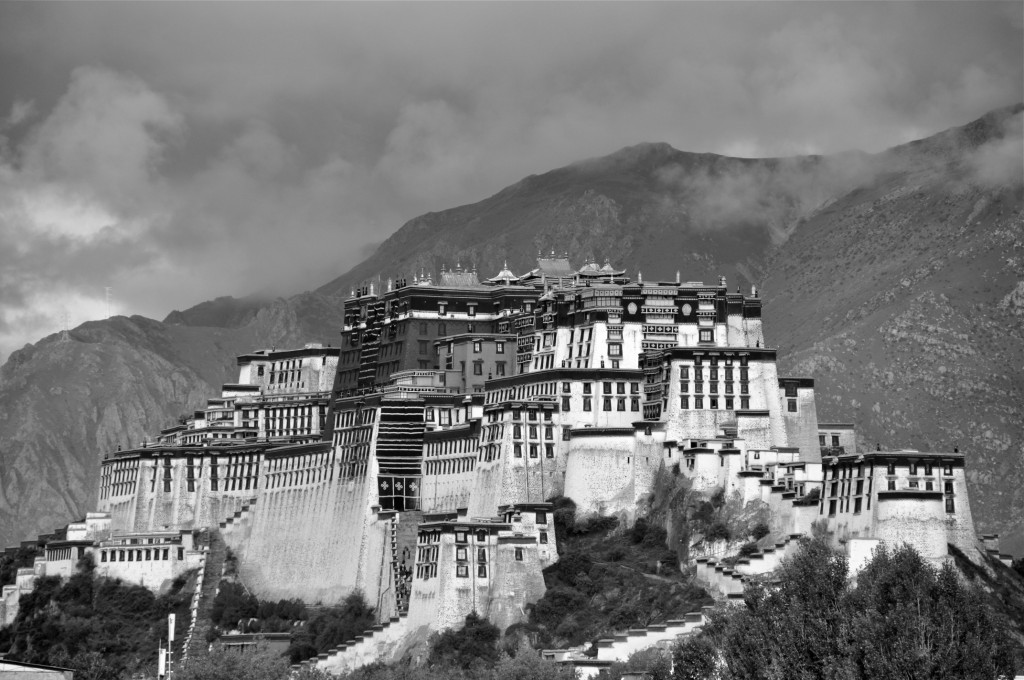 UPDATE SEPTEMBER 2015: Due to the Nepal Earthquake in April 2015, the overland border crossing between Tibet and Nepal (and vice-versa) is closed until 2016. This means it is not currently possible to go overland all the way from Tibet to Nepal.
The 830 kilometer route linking Lhasa with the Nepal border at the Sino-Nepal Friendship Bridge remains the most popular overland route in Tibet. The Friendship Highway follows the western portion of Chinese National Highway 318. At the Nepal border, the Friendship Highway continues on the Araniko Highway for a further 115 kilometers to the capital of Kathmandu. Starting in Lhasa, this route goes through many of the most popular tourist spots that the Tibet Autonomous Region (TAR) has to offer.
I get a surprisingly high amount of emails from across the globe from people who tell me they only have 4 or 5 days to spend in Tibet and they want to know if it is enough time to see Lhasa and travel along the Friendship Highway to the Nepal border.  I always laugh when I get these types of emails! These people have spent so much money getting to Tibet and then want to rush through it leaving no time to really see what Tibet has to offer! For most people, Tibet is a once-in-a-lifetime trip. It is best to give yourself adequate time, not only to adjust to the high elevation, but to really experience the amazing culture and beauty of Tibet. I have been privileged  to travel across the Friendship Highway more than a dozen times. Though it can be done in fewer days, I recommend taking 11 days in going from Lhasa to Kathmandu (though the most I have taken is 21). The following itinerary allows you to acclimatize in Lhasa and to ascend in elevation at a relatively safe pace. It also allows you to see much of what this amazing route has to offer, including some places that few others see!
Day 1: Arrive in Lhasa
The first day you arrive in Lhasa, it's best to relax and take it easy. Lhasa sits at 3650 meters (12,000 feet) and has considerably less oxygen in the air than Chengdu, Beijing and even Xining. While there is no way of eliminating the risk of altitude sickness while in Tibet, you can drastically reduce the risk of severe symptoms by taking proper time to acclimatize.
Days 2-4: Explore Lhasa
Though Lhasa is now a  large city and only has a small Tibetan Quarter, it is still a fun place to explore. Along with the most famous temples and monasteries in Tibet and the hum of thousands of pilgrims walking and prostrating around the Barkhor, Lhasa has many excellent restaurants, bars and hotels to choose from. I suggest taking 3 full days to spend in Lhasa. This is enough time for you to visit the main monasteries of Sera and Drepung as well as go to the Potala Palace, Jokhang Temple, Ramoche Temple, Ani Sangkhung Nunnery, Norbulinka, Nechung Monastery and spend plenty of time shopping and walking the pilgrimage circuits.
Day 5: Lhasa – Yamdrok Lake – Gyantse  Distance: 260 kilometers/162 miles
It's now time to hit the road for the adventure of a lifetime! After leaving the city of Lhasa, you will drive southeast along the Kyi Chu River སྐྱིད་ཆུ་, a tributary of the Yarlung Tsangpo River ཡར་ཀླུངས་གཙང་པོ་. The first major site along the way is the scenic lake of Yamdrok. The turquoise colored lake lies at 4447 meters/14,590 feet. You first see the lake as you cross the 4700 meter/15,420 foot Kamba La Pass. In the distance beyond the lake, you get a fantastic view of the glaciated peak of Nojin Kangtsang rising to 7191 meters/23,593 feet.
Descending from the Kamba La Pass, the road follows alongside Yamdrok Lake to the small town of Nakartse སྣ་དཀར་རྩེ་. Though there are some decent accommodations here, I recommend just stopping here for lunch. About 10 kilometers/ 6 miles east of Nakartse is Samding Monastery བསམ་སྡིང་དགོན་པ་. This monastery has a sweeping view of the plains below as well as the mountains in the distance. Relatively few travelers stop here, but it is worth the short detour.
Leaving Nakartse or Samding Monastery, you continue driving east towards the Karo La Pass. This pass lies just under 5000 meters/16,400 feet and serves as the boundary between Lhoka prefecture ལྷོ་ཁ་ས་ཁུལ་ and Shigatse prefecture གཞིས་ཀ་རྩེ་ས་ཁུལ་ (not to be confused with the town of Shigatse). The high pass sits at the base of Mt. Nojin Kangtsang, the snow-capped peak viewed from above Yamdrok Lake. From this pass, you can get a great view of the glaciers as they stop just above the highway. There is a stupa here as well as thousands of prayer flags fluttering in the wind.
From the Karo La Pass, the road continues to descend to Gyantse རྒྱལ་རྩེ་. Gyantse, elevation 4025 meters/13,210 feet, is one of the most interesting towns in all of Tibet. The massive hilltop military fort called the Gyantse Dzong dominates the skyline. It is one of the best preserved "dzong" (fortress) remaining in Tibet. You can purchase an entry ticket and explore the old fort on your own. The other main attraction in Gyantse is the 35 meter high Gyantse Kumbum Stupa རྒྱལ་རྩེ་སྐུ་འབུམ. This stupa, one of the highest and largest in Tibet, is found on the grounds of the Pelkor Chorten Monastery དཔལ་འཁོར་མཆོད་རྟེན་དགོན་  Construction on the Gyantse Kumbum began in 1427. The stupa has 6 floors to explore, with each floor having several chapels. The Pelkor Chorten Monastery has many pilgrims from the surrounding area during Losar or Tibetan New Year, which is one of the best times to visit the region.
Though Gyantse is relatively small, there are a couple of good accommodation choices in town. My favorite is the Yeti Hotel, which offers hefty discounts in the low season (November-April). Surprisingly, there are also some good restaurants in town. I prefer the Tashi Restaurant.
Day 6: Gyantse – Shigatse  Distance: 93 kilometers/58 miles
The short drive from Gyantse to Shigatse can be done in about 90 minutes and passes through fertile plains where wheat and barley are grown. Shigatse གཞིས་ཀ་རྩེ་ is the second largest city in Tibet and is the former  capital of the traditional Tibetan region of Tsang གཙང་. The traditional Tibetan region of Tsang is now found in the 18 county prefecture of Shigatse. Shigatse is a fairly modern city with a population of over 100,000 and sits at an elevation of 3845 meters/12,615 feet.
The main attraction in Shigatse is the Tashilhunpo Monastery བཀྲ་ཤིས་ལྷུན་པོ་དགོན. Tashilhunpo is of the 6 main monasteries of the Yellow Hat Sect of Tibetan Buddhism and was founded in 1447. Before the Cultural Revolution there were more than 4000 monks in residence here. Now there are around 600. Tashilhunpo Monastery is the home monastery of the line of Panchen Lamas པན་ཆེན་བླ་མ་, the most influential line of lama's in Tibet after the Dalai Lama ཏཱ་ལའི་བླ་མ་. The tombs of the 5th through the 10th Panchen Lama's are found within the huge monastery.  Tashilhunpo is a major pilgrimage destination for Tibetans from across the plateau. The monastery sees the most pilgrims during New Year time, though there are usually at least a few hundred here each day throughout the rest of the year. There is an easy 1.6 kilometer/1 mile pilgrimage circuit lined with prayer wheels that goes around the outside of the monastery that is well worth hiking. It gives great views of the monastery and of the city of Shigatse. It is best to visit the monastery in the early morning as this is when it is the most active.
Nearby to Tashilhunpo Monastery is the newly rebuilt Shigatse Dzong གཞིས་ཀ་རྩེ་རྫོང་. The original was built in the early 17th century, but was destroyed in the 1960's. Reconstruction of the Dzong began in 2005 and was completed in 2007. It was rebuilt in the same location and in the same design, but is slightly smaller than the original. For unknown reasons, the Shigatse Dzong had yet to open to tourists the last time I visited (late 2015), despite construction being finished.
The Walking Street, a few hundred meters before Tashilhunpo Monastery, is filled with souvenir shops, restaurants and tea houses. Be careful though…even though it is officially a pedestrian only street, there are still cars and motorcycles that come through.
Since Shigatse is a large, modern city, there are plenty of good accommodation choices. I almost always stay at the 4 Star Gesar Hotel, which offers great prices even in high season. Another good option just a short walk from Tashilhunpo Monastery is the Gang Gyan Shigatse Hotel. Good restaurants include the Third Eye, which is next door to the Gang Gyan, and the Songtsen Tibetan Restaurant, located on the Walking Street.
Day 7: Shigatse – Sakya Monastery – Baber  Distance: 282 kilometers/176 miles
After Shigatse, the route to the Nepal border continues west through small farming villages. Feel free to tell your guide to stop at one or two of these villages to explore them. These small villages can be a lot of fun! The main attraction along this route is the massive fortress-like monastery of Sakya ས་སྐྱ་དགོན་. Sakya Monastery is the seat of the Sakya Sect, one of the 4 main schools of Tibetan Buddhism.  This monastery will look much different than the other monasteries you have seen so far along this route. The most obvious difference is the color of the monastery. Nearly all Sakya sect monasteries in Tibet are painted gray, white and maroon. Sakya Monastery  is very old and was founded in the year 1073, though the main monastery is newer and was founded in 1268. The monastery is built like a fortress with high walls and watchtowers on the corners. It is one of the most impressive pieces of architecture in Tibet.
Sakya Monastery is located in Sakya county and is 25 kilometers/16 miles off of the main Friendship Highway. The town is quite small, but is fun to explore on foot. On the north part of town, there is a village as well as the ruins of the original monastery, which was founded in 1073. The newer part of Sakya town, elevation 4313 meters/14.150 feet, is fairly uninteresting and few people choose to stay here. There are a couple of hotels and restaurants if you do decide to stay here.
After Sakya Monastery, you will get back on the Friendship Highway and drive west towards the town of Lhatse ལྷ་རྩེ་. Lhatse, elevation 4025 meters/13,205 feet,  is a good place to stop for lunch. I almost always eat at the Lhatse Tibetan Farmer's Hotel, which has a decent restaurant serving simple Tibetan and Western food.
From Lhatse, it is a further 80 kilometers/50 miles to the town of Babar དབལ་འབར་, the last town of size before entering the Everest Nature Reserve. Baber is quite small, but has a couple of guesthouses and restaurants and a few small stores where you can stock up on simple supplies. Seven kilometers northwest of Babar is Shekar ཤེལ་དཀར་, a slightly larger town that few travelers take time to go to. Shekar has an amazing mountain top Dzong (fortress) that lays in ruins. It is quite a hike getting to the top, but you will be rewarded with a view of Everest in the distance if you make it. There is a trail that leads the 2 kilometers or so to the top. Local guides can usually be hired around the village at the trailhead to take you to the top for around 80 RMB. There is also a small monastery along the trail, just a short hike past the trailhead.
Babar, elevation 4320 meters/14,175 feet, is where your guide will purchase your entrance tickets for the Everest Nature Reserve. Be sure you are clear with the travel agency you choose whether or not these entrance tickets are included in your price as these tickets are not cheap (180 RMB per person + 400 RMB per vehicle. You will also have to pay 180 RMB for your guide to enter the nature reserve).
The best place to stay in Babar is the Kangjong Hotel. It has double rooms with private bathrooms and showers as well as simpler dorm style rooms. They also can cook up simple, but good Tibetan and Western food for reasonable prices.
Day 8: Babar – Pang La Pass – Everest Base Camp  Distance: 112 kilometers/70 miles
Up until this point, the Friendship Highway has be entirely paved. About 6 kilometers past the Babar checkpoint, the cut-off road to Everest Base Camp (EBC) appears. From here to EBC the road becomes a decent quality dirt road. The first village you come to is called Chay, about 3 kilometers/2 miles past off of the cut-off. At Chay, your guide and driver will need to get out and register you with the authorities. Normally you do not need to go to the checkpoint and can either stay in the vehicle or walk around the village. From Chay, it is just a short, but winding drive, to the top of the Pang La Pass. The Pang La Pass, sitting at 5200 meters/17,062 feet (some guide books list it a 5050 meters, but my altimeter and Google Earth both listed 5200 meters as the elevation), gives an amazing sweeping view of the Himalaya Mountains. This is truly one of the highlights of this overland journey! On a clear day, which is most days from October until early May, you can get an excellent view of not only Everest ཇོ་མོ་གླང་མ་, but also of Lhotse (4th highest peak), Makalu (5th highest peak), Cho Oyu (6th highest peak), Shishapangma (14th highest peak) and Gyachung Kang (15th highest peak). For the best views, leave early in the morning so that you can see the sun rise across the Himalaya's.
As you descend from the Pang La Pass, you will pass through several small villages. A good place to stop for a late breakfast is Tashi Dzom, elevation 4155 meters/13,635 feet. There are several guesthouses to choose from that serve good food. Another 10 kilometers past Tashi Dzom is a smaller village called Basum, which has a guesthouse and a small store with simple supplies. About 56 kilometers past Basum, you arrive at Rongphu Monastery རྫ་རོང་ཕུ་དགོན་, the highest monastery in the world at 5000 meters/16,400 feet above sea level. There are a handful of friendly monks and nuns who live here year-round. Rongphu Monastery sits in front of a huge backdrop of  Everest's North Face. On a clear day, this is one of the most beautiful spots on the planet.
A few kilometers past Rongphu Monastery are the Everest Tent Hotels. This group of yak wool tents are the furthest that travelers are allowed to sleep who don't hold a hiking or climbing permit for Everest. There are about 2 dozen or so "tent hotels" that all offer the same services (for the same prices) of a relatively clean bed, meals, drinks, snacks and souvenirs. This is also as far as your driver is allowed to go during the high season. From here, you will have to take an "environmentally safe" bus the additional 3 kilometers/2 miles to the official base camp of Everest, elevation 5200 meters/17,060 feet. This bus costs 25 RMB per person for the roundtrip.
NOTE: During the low season from November through early April, the tent hotels are closed and the bus stops running. There are simple accommodation options at Rongphu Monastery, though it would be best to stay at Tashi Dzom where the guesthouses are considerably warmer. Also, your driver will be allowed to drive all the way to base camp during the winter months.
Though you probably won't sleep well due to the elevation, staying at EBC allows you to watch the sun set over Everest as well as rise on it the next morning. If you are having problems breathing at EBC, it is highly recommended that you descend to lower elevation. The small villages of Basum and Tashi Dzom are only a short drive away and are nearly 1000 meters/3280 feet lower than EBC. Another option is to just visit EBC for a short while and then continue on to Old Tingri, which is also considerable lower than base camp.
Day 9: Everest Base Camp – Old Tingri  Distance: 65 kilometers/41 miles
If your plan is not to continue from EBC to Nepal, you would begin your return journey to Lhasa on this day. You can make it back to Lhasa in 2 long days. Otherwise, after you take your sunrise shots of Everest, you will continue on your Himalayan adventure. The drive from EBC to Old Tingri isn't far, but the road is a bit rough in spots. Also, there are a few nice villages to stop at and explore as well as other sweeping views of the Himalaya's, particularly of Mt. Cho Oyu, the 6th highest peak.
Old Tingri is a small, one street town that doesn't have a whole lot to see. However, after spending the night at EBC, Old Tingri will be a welcomed site! There is a nice sweeping view of the Himalaya's from the far west end of town that is quite spectacular. There are several guesthouses in town, though none are that great. I normally stay at the Kangar Hotel, which looks out to a sweeping view of the Himalaya's, including Cho Oyu and Everest.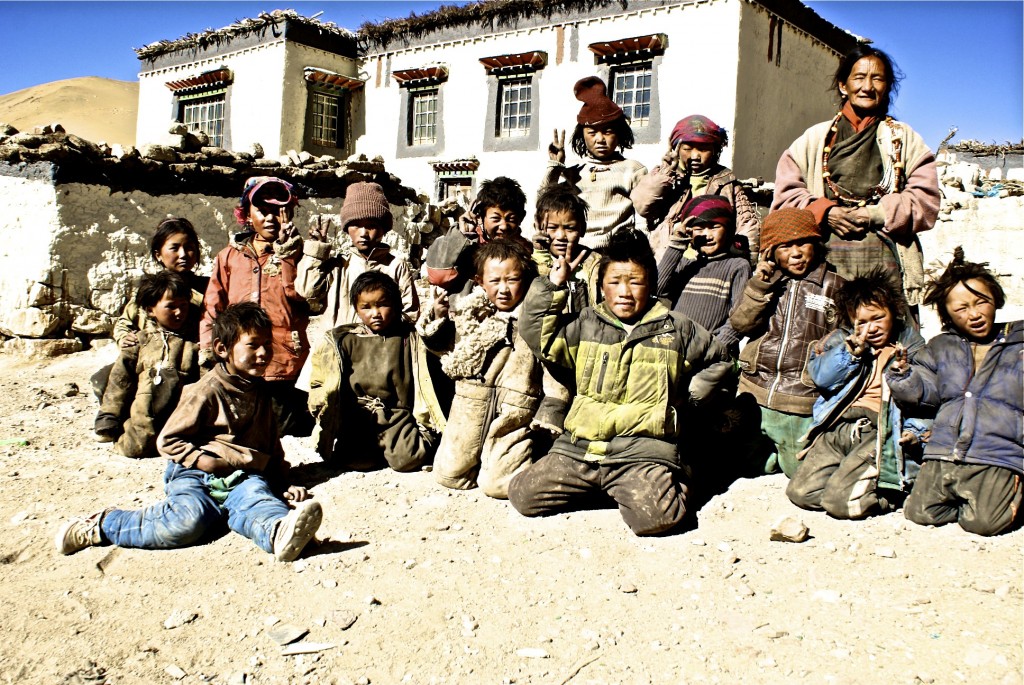 Day 10: Old Tingri – Peiku Lake – Shisha Pangma Base Camp – Dram  Distance: 285 kilometers/178 miles
NOTE: Due to the Nepal Earthquake in April 2015, it is currently NOT possible travel beyond Old Tingri. The overland border crossing to Nepal most likely will remain closed until mid-2016
Most people  just go from Old Tingri straight to the Nepal border at Dram this day, however I suggest an alternative. About 70 kilometers past Old Tingri, you come to a fork in the road that heads west. This dirt road leads 65 kilometers/40 miles to Peiku Lake པད་ཁུད་མཚོ་ and to the base camp of Mt. Shisha Pangma ཤིས་ས་སྤང་མ, the 14the highest peak on earth rising to 8013 meters/26,289 feet. This is an amazingly beautiful region of Tibet that few discover. The first time I took this route, my driver, who had been driving across Tibet for 15 years, had never been to this area. Abundant wildlife live here. I have seen packs of wolves, herds of gazelle and wild donkey's as well as many foxes and Himalayan Griffons.
Peiku Lake sits at 4585 meters/15,045 feet. Its crystal clear waters offer great views of the nearby Himalaya's. This is truly one of the best kept secrets in western Tibet! From the lake, you will drive back east towards the main Friendship Highway. Not far past the lake is the turn-off to the base camp of Shisha Pangma. There is an old stone sign that lists the base camp at an elevation of 5000 meters. The view of Shisha Pangma from here is unbelievable.
From Shisha Pangma base camp, you will return to the Friendship Highway and go south towards Nepal. About 24 kilometers/15 miles south of the Peiku Lake cut-off, you come to the top of the Tong La Pass, the last high pass before descending to the sub-continent. This pass sits at 5129 meters/16,828 feet and offers another sweeping view of the Himalaya's, including a great view of Shisha Pangma. From the Tong La Pass, it is all downhill the remaining 90 kilometers/56 miles to Dram འགྲ་མ, the last town on the Tibet side of the border. This 90 kilometer stretch of road drops more than 2700 meters/9000 feet in elevation. The last 30 kilometers from the town of Nyalam གཉའ་ལམ་ to Dram, the geography changes drastically. You leave the rocky, arid, dusty and treeless Tibetan Plateau and enter a humid, dense, evergreen forest that is filled with waterfalls.
Dram, known as Zhangmu in Chinese, has to be the most unique town in all of Tibet. It is built clinging to the foothills of the Himalaya's, so it is very narrow and steep. Its one street is incredibly busy with both Chinese and Nepali trucks. In fact, if you arrive in the middle of the day, it can take your driver up to 2 hours to work his way around all of the big trucks from the top of Dram to the lower section, even though the distance is only 4 or 5 kilometers! More than once I have just gotten out and walked to the hotel and waited for the driver to meet me. Dram is a very diverse town with roughly equal parts being Tibetan, Chinese and Nepali. Nearly all business signs are written in Tibetan, Chinese, Nepali and English.
Even though Dram receives plenty of tourists because of it being on the border, there really aren't a lot of good choices in accommodations. There are plenty of places to choose from, though none of them are all that great. I usually stay at either the Sherpa Hotel or the Zhangmu Hotel. The Zhangmu Hotel is probably the best in town and does offer a decent breakfast, but it is quite overpriced. Last time I was in Dram, I noticed a new, modern youth hostel a couple hundred meters up from the Sherpa Hotel. The rooms all looked clean and nice. I don't remember the name of it, but it is on the right side as you descend towards the border. The best place to eat is probably the Tibetan/Western restaurant located across from the Zhangmu Hotel.
Day 11: Dram – Sino-Nepali Border – Kathmandu  Distance: 123 kilometers/77 miles
NOTE: Due to the Nepal Earthquake in April 2015, it is currently NOT possible to go to Dram or cross over from Tibet into Nepal. 
If you arrive in Dram in the late afternoon or early evening, it is best to stay the night and enter Nepal in the morning. The main reason is that the roads in Nepal are quite dangerous, especially at night. The drive from the Tibet-Nepal border to Kathmandu takes about 4 or 5 hours and I highly suggest avoiding this if you are going to be taking it at night.
The border crossing from Tibet to Nepal is not actually located in the town of Dram. The border is a further 8 kilometers/5 miles past Dram along a very winding road. The border opens at 9:30am Tibet time. Your driver and guide will lead you to the border crossing. For some odd reason, all of your bags will need to be inspected before you can leave Tibet. If you have any guidebooks on Tibet or anything with pictures of the Dalai Lama, it will most likely be taken. In 2009, I had my Lonely Planet Tibet guidebook taken from me with no real explanation given to me. Immigration is fairly straight forward and takes little time. At the Tibet side immigration, you will say goodbye to your guide and driver as they will not be crossing the border with you. Be sure to leave them a good tip, as is customary, for getting you safely across Tibet!
Leaving customs on the Tibet side, you will cross over the Sino-Nepal Friendship Bridge, which spans across the Bhote Kosi river. Half-way across the militarized bridge, there is a red line which is the actual border between Tibet and Nepal. Photography on and around the bridge is forbidden. If you do take a photo, plain-clothed Chinese police officers will make you delete it. On the other side of the bridge, you have arrived in Kodari, the first town in Nepal. Most foreigners can obtain a visa-on-arrival in Kodari. A 15 day tourist visa costs $25, while a 30 day visa costs $40. Payment can also be made in Chinese RMB. You will need to also fill out a visa application form as well as submit 1 passport photo. Be aware that Nepal is 2 1/4 hours behind Tibet time.
From Kodari to Kathmandu is about 115 kilometers/72 miles. From Kodari, there are several public buses that make the 5 hour journey. Another more comfortable  option is to hire a private jeep. If you are traveling with a group of 3 or 4, this is a good option as the price is quite reasonable and you can stop anywhere you want along the way to take pictures. If you are interested in adventure sports, you need to stop at The Last Resort. It is located about 12 kilometers/8 miles past Kodari and is one of the best places in Nepal for bungee jumping, hiking, rafting and mountain biking. The road continues to descend to the Nepali capital of Kathmandu.
As with all travel in the Tibet Autonomous Region, the Friendship Highway requires that all foreigners be part of an organized tour that includes travel permits, a tour guide, a private vehicle and a driver. There are NO exceptions to this. There is a seasonal bus that runs from Lhasa to Kathmandu, but foreigners are NOT permitted to take it. This 10 day itinerary is just my recommendation. You can choose to modify this in anyway you like, however, I do recommend spending at least 3 nights in Lhasa to acclimatize and take at least 3 nights to get to Everest Base Camp to minimize the risk of serious altitude sickness.
Contrary to popular belief, the Friendship Highway is open year round and only very rarely closes to heavy snow. It is unlikely you will have any problems taking this route in the winter. Also, nearly all of  the Friendship Highway is now paved. There are only small sections that remain dirt. The exceptions are the 165 kilometer/103 mile loop from the Friendship Highway to EBC and back to Old Tingri and the 130 kilometer/81 miles to Peiku Lake and back. These sections of the road, which are not part of the official Friendship Highway, remain dirt.
Altogether, the itinerary I described covers a total of 1220 kilometers/763 miles with 830 of those kilometers (520 miles) being on the Friendship Highway. It is one of the best overland routes in Tibet and really, in the world. Summer time can bring heavy clouds, limiting your views of Everest and the Himalaya's. This is the reason I recommend doing this route in the low season, which is from mid-October until late April. During this time, the weather is generally clear and dry allowing good views of the mountains.
I have done this route many times over the past 10 years. If you have any questions about it or want a recommendation on which travel agency to use, feel free to email me at thelandofsnows@gmail.com
Losang བློ་བཟང་