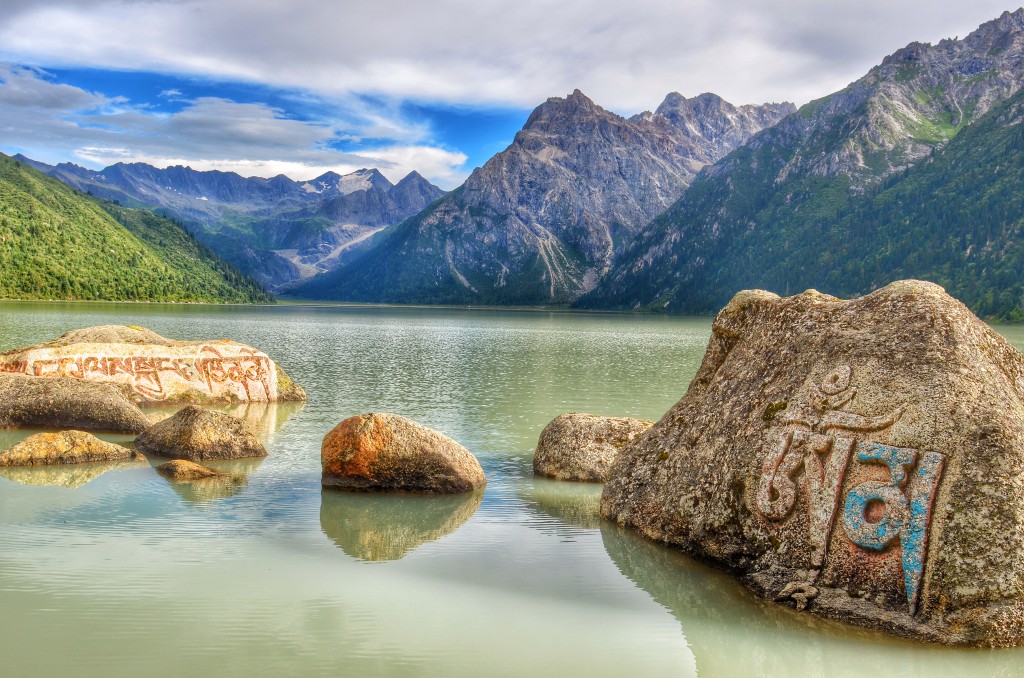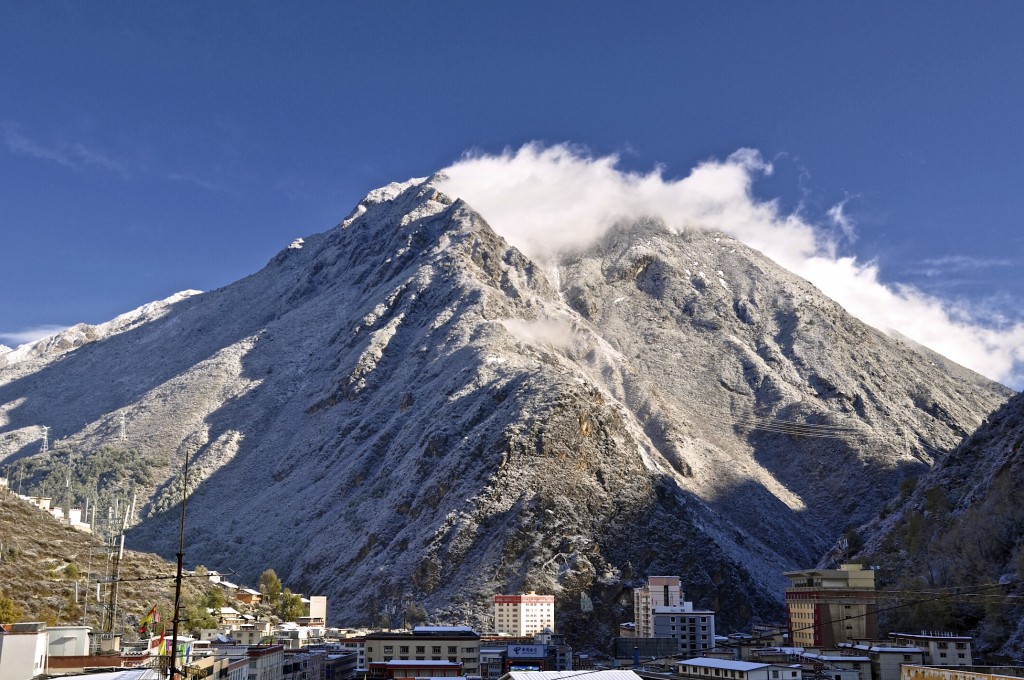 The 850 kilometer overland journey from Kangding (Dartsedo) to Yushu (Jyekundo) is one of my favorite routes to travel in the Kham region of eastern Tibet. The landscape along the way has just about everything you could ask for: grasslands, snow-capped peaks, alpine forests, lakes, rivers and also has some of the best preserved Tibetan culture. The area is full of Tibetan monasteries and, for the most part, sees relatively few travelers. Getting to Kangding from Chengdu is very easy. In addition to 1 or 2 daily flights, there are around a dozen buses per day that make the 325 kilometer trip. Here is the route I suggest taking from Kangding to Yushu with a couple of attractions off of the main route that I recommend.
Day 1: Arrive in Kangding (Dartsedo)  Elevation: 2500 meters
Kangding is a great place to spend 2 or 3 days. I lived here for a year and had an amazing time! This small city is the capital of Garze Tibet Autonomous Region and is fairly modern and clean. I recommend staying at Zhilam Hostel. The hostel is located in a small village just above Kangding. It offers clean dorm rooms, great food and the hostel can give you all kinds of excellent travel advice.
Day 2: Kangding
Kangding has 3 Tibetan Buddhist monasteries in town to explore. There is also a couple of good day hikes in town to take. The first is to simply hike up to the grasslands that lie high above Zhilam Hostel. Ask Kris at the hostel to show you where the path starts. Another good day hike is to go to the top of Gouda Peak, the main mountain that sits right in town. One of my favorite places to go near Kangding is the Yajiageng Pass, which is about 30 kilometers south of town. On a clear day, you get an amazing view of several glaciated 6000 meter peaks. You can hire a taxi to take you out here. Once you get here, there are also great day hikes available. You can also spend a couple of hours exploring downtown Kangding. There are several cool markets to explore. Be sure to get a great cup of coffee at the Himalayan Coffee shop and go Tibetan dancing at the large square in the center of town. Dancing starts each night shortly before sunset.
Day 3: Kangding to Tagong (Lhagang) Distance: 92 kilometers  Elevation: 3730 meters
Tagong, known in Tibetan as Lhagang, is a really fun place to spend a couple of nights in. Tagong is a small nomad Tibetan trading post sitting at 3730 meters on the grasslands just north of the Kangding Airport. You can get to Tagong from Kangding by taking a shared mini-van taxi. Ask the front desk at Zhilam Hostel where you can catch the mini-van at. Kham Tibetan nomads can be found in town, often on horseback. The ancient Lhagang Monastery is located right in town and is an excellent place to spend a few hours exploring. Across the grasslands from Tagong is the beautiful snow-capped peak of Zhara Lhatse (Mt. Yala in Chinese), which rises to over 5800 meters. This mountain offers excellent trekking and horse trekking. Contact my friend Angela at Chyoger Treks for more information about trekking in this amazing area.
Day 4: Tagong (Lhagang)
This day, you can stroll the main street in town watching all of the wild-haired Tibetan nomads and do a bit of shopping. Just outside of town, there is a fascinating Tibetan Buddhist nunnery that is well worth spending a few hours at. In Tagong, I often stay at Gayla and Jya Drolma's Guesthouse, which is located just across the square from the Lhagang Monastery. It is clean and basic, but very pleasant. For homestays in the region, contact Angela at Chyoger Treks.
Day 5: Tagong to Ganzi (Garze)  Distance: 275 kilometers  Elevation: 3380 meters
The drive from Tagong to Ganzi (Garze) is quite nice. This stretch of road used to be really terrible, however, most of the road now is quite good. Ganzi is one of my favorite mid-sized Tibetan towns. It lies on the grasslands with amazing snow-capped peaks nearby. The town is full of traditional Tibetan culture. It has several good hotel options, including the Hotel Himalaya, located near the center of town. Garze Monastery is over 500 years old and offers a great view of the town below and the mountains in the distance. There is no bus originating from Tagong going to Ganzi. The bus from Kangding to Ganzi passes through Tagong. You will need to wait out on the road for the bus to come. Pay the bus fare directly to the driver. There also occasionally are shared mini-van taxi's that go from Tagong to Ganzi. These taxi's will leave when full.
Day 6: Ganzi
If you have extra time, I suggest taking a day trip 30 kilometers west to Darjay Monastery. This monastery is very traditional and overlooks grasslands and some amazing mountains. The monastery has a small and clean guesthouse where you can stay. Another option is to camp on the grasslands outside of the monastery. There are several small villages and monasteries in the distance that you can hike out to. You can hire a taxi from Ganzi to go out to Darjay Monastery.
Day 7: Ganzi to Sertar  Distance: 150 kilometers   Elevation: 3890 meters
The 150 kilometer detour to Sertar off of the main road connecting Kangding to Yushu is well worth it. The dirt road is very rough and takes around 6 or 7 hours to travel. There is normally a public bus that travels the route between Ganzi and Sertar. In addition, there should also be shared mini-van taxi's that also cover this route. The town of Sertar is rather uninteresting, but the Larung Gar Buddhist Institute definitely is. Sertar town has a couple of decent hotel options in the center of town. In previous years, particularly in 2009 and 2010, Sertar was closed to foreign travelers from time to time. However, the past few years most foreigner travelers have had no problems being in the area. Because of the long drive from Ganzi to Sertar, I recommend spending 2 nights in order to have enough time to explore Larung Gar.
Day 8: Sertar and Larung Gar Buddhist Institute
Larung Gar is located about 25 kilometers south of Sertar town. There is one hotel located in Larung Gar, however it is usually reserved. There are several decent hotel options in Sertar to choose from. From Sertar, you can take a taxi or shared mini-van taxi to Larung Gar very easily.
Larung Gar is one of those places in eastern Tibet that is really hard to explain….you just need to see it for yourself! It is the largest Tibetan Buddhist Institute on the Tibetan Plateau and is home to over 40,000 monks and nuns. The monks and nuns live in small wooden homes that sprawl across the mountainsides surrounding the main temples. Larung Gar attracts Tibetan pilgrims from across the Amdo and Kham regions and even as far away as Lhasa. The region is quite extraordinary. I highly recommend making the detour off of the main road to Yushu to explore this area.
Day 9: Sertar to Ganzi  Distance: 150 kilometers  Elevation: 3380 meters
From Sertar, it is best to return to Ganzi and continue on from there along the route to Yushu. There should be a daily bus from Sertar to Ganzi as well as a shared mini-van taxi or two.
Day 10: Ganzi to Manigango  Distance: 95 kilometers  Elevation: 3875 meters
The 95 kilometers from Ganzi to Manigango is along a newly paved road that goes through several small, scenic villages. From Ganzi, you leave the farming valleys behind and begin going through nomadic grasslands that are full of yaks. Manigango is a small town that is full of nomad culture. It is common to see nomad Tibetans riding into town on their horses. Whenever I am in Manigango, I stay and eat at the Manigango Pani Hotel, which is located right in the center of town. It is pretty basic, but is not bad.
Just 13 kilometers west of Manigango is the gorgeous lake of Yilhun Lha Tso, elevation 4025 meters.. This is probably my favorite lake in all of Tibet. It is so tranquil with stunning views of the surrounding Cho La Mountains. I have camped at this lake several times over the years and have always had an amazing time. If you are in Manigango, you absolutely MUST go to the lake. You can hire a taxi or motorcycle in Manigango to take you to the lake for a minimal charge. To get to Manigango, you can take the bus from Ganzi to Dege and get off in Manigango.
Day 11: Manigango to Dege (Derge)   Distance: 112 kilometers   Elevation: 3265 meters
The road from Manigango to Dege is absolutely terrible. A tunnel is being built that will drastically reduce the time it takes to get to Dege, however, the tunnel probably won't be completed until sometime in 2015. Despite the poor road condition, Dege is well worth going to. Along the way to Dege, you will cross over the massive 5050 meter Chola Pass. If the skies are clear, you will get an amazing view of the snow-capped mountain range. Dege is considered to be the cultural heart of the Kham region of Tibet. It is home to the Parkhang Printing Press. The printing press was built in the early 18th century and houses over 70% of Tibet's literary library. Buddhist scripture books are made here using traditional wooden blocks. It is quite fascinating watching the printers, who work in pairs, work as fast as they can to print the scriptures onto paper.
Also in town is the nearly 1000 year old Gonchen Monastery, which is worth exploring. Just walking through the streets in town is also a lot of fun. There are a few decent hotel options to choose from. I normally stay at either the Golden Yak Hotel or at the Hexie Hotel, both offer well priced double rooms with private bathrooms. From Manigango, you can take the bus going to Dege that originates in Ganzi. Wait for the bus in front of the Pani Hotel.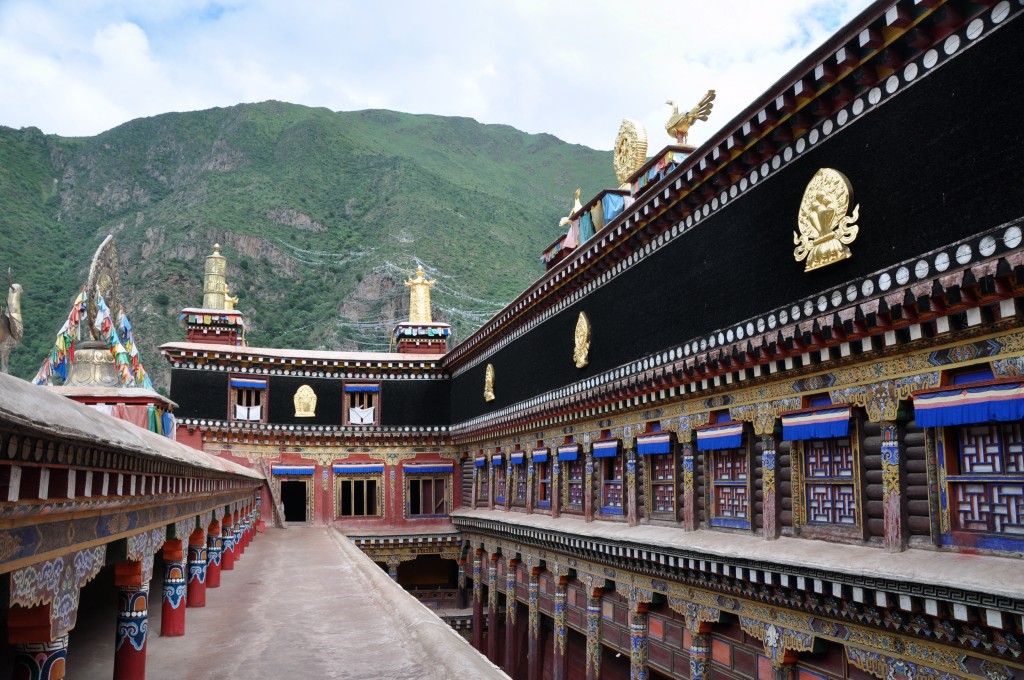 Day 12: Dege to Manigango  Distance: 112 kilometers  Elevation: 3875 meters
Getting back on the main road to Yushu from Dege is a bit tricky. One option is to take a shared mini-van taxi from Dege to Sershul (Shiqu). In Dege, there are mini-van taxi's that go all over the region, including all the way to Jyekundo (Yushu). However, the signs on the taxi's are usually only written in Tibetan so be sure to ask the drivers where they are going. Another option is to take the bus back to Manigango and then take the bus the next morning on to Sershul. Of course, those with a private driver can go directly from Dege to Sershul without any problems.
Day 13: Manigango to Sershul (Shiqu)  Distance: 220 kilometers  Elevation: 4190 meters
From Manigango north to Sershul (Shiqu) the road is very bad and slow going. This section of road is scheduled to be repaired in 2014. To get to Sershul from Manigango, go to the far east end of town at the intersection that leads north. Wait here for the bus coming from Ganzi that is going to Sershul.
Around 50 kilometers north of Manigango is the large monastery of Dzogchen, elevation 3875 meters. If you have a private vehicle, it is well worth staying a few hours here or even staying the night. The monastery has a clean guesthouse to stay at. Dzogchen sits beneath a huge glacier covered mountain that rises to nearly 6000 meters. There is excellent hiking in the region and the monks here are very friendly.
Most of the route between Manigango and Sershul is along high altitude grasslands that are filled with yaks. There are only a few small villages along the way. Sershul is not a very interesting town, however, 30 kilometers past town is the large Sershul Monastery. This monastery is quite famous and Tibetan pilgrims and worshippers can be seen walking the pilgrimage circuit around the monastery each morning. Sershul is well-known for having terrible hotels. Last year when I was there, it took me nearly 2 hours to find a decent hotel to stay at. I can't remember the name of it, but there is a new hotel on the far south end of town. As you are coming from Manigango, the hotel is on the right side. Sershul Monastery also has a small, but clean guesthouse with a nearby restaurant.
Day 14: Sershul To Yushu (Jyekundo)  Distance: 145 kilometers   Elevation: 3700 meters
On April 14, 2010, a devastating 7.1 magnitude earthquake hit Yushu prefecture destroying the prefecture capital of Jyekundo as well as many surrounding villages. In November 2013, the government officially announced that the region was finished being rebuilt. Jyekundo, which was upgraded to city status, is rebuilt in a kind of modern Tibetan design. It is drastically different than the way Jyekundo looked before, however, the new town is pleasant and worth spending a couple of days exploring. Of course, the areas outside of Jyekundo that are within Yushu prefecture are quite stunning. For more information on Yushu prefecture, go to the following link: Yushu Tibet Autonomous Prefecture.
There is a daily bus from Sershul to Jyekundo and there should be a couple of shared mini-van taxi's covering this route as well. From Jyekundo, there are multiple daily buses going to Xining as well as 1 or 2 flights per day.
The above route is ideal if you have a lot of time to really see the region. When I travel or lead photography tours, I usually travel slowly in order to really see all that the region has to offer. I understand that not all travelers have lots of time. If your time is less, you can do this overland route quicker. In fact, you can probably do it in two days. There is a daily bus from Kangding to Ganzi (Garze) and there should be a daily bus from Ganzi directly to Yushu (Jyekundo). However, taking these buses won't allow you to really see anything that this amazing route has to offer.
I always recommend people to travel by private vehicle if they can afford it. Yes, I know the cost of the private vehicle is quite high, but the private vehicle will allow you to stop at all of the awesome monasteries, villages and nomad communities that are found between towns. Most of the best places to explore are found between towns that the public bus just speeds by. If you are interested in traveling this route by private vehicle, please contact me at thelandofsnows@gmail.com and I can give you some travel agency and tour guide recommendations.
If you travel the overland route from Kangding to Yushu, taking detours to Sertar and Dege, the total distance is around 1375 kilometers. If you stay on the main highway without making detours, the distance is about 850 kilometers. If you have any questions about this route, feel free to contact me.