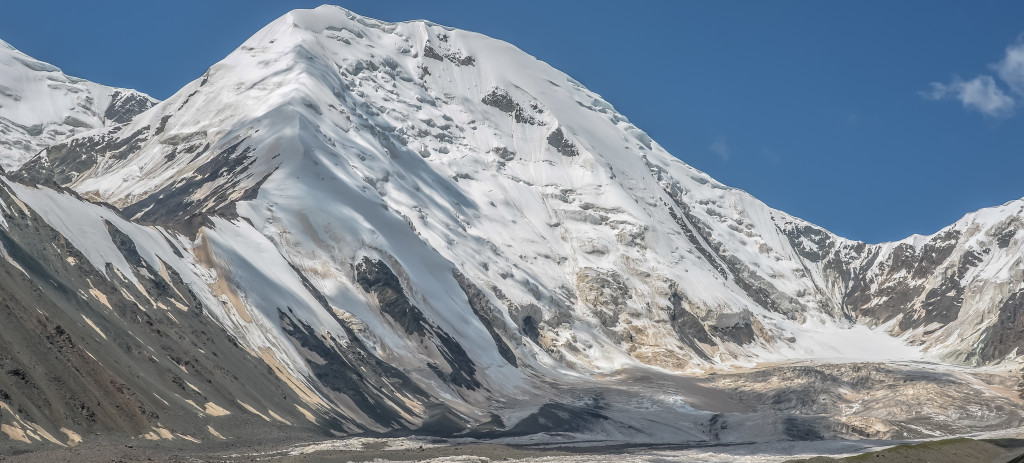 Details on how to still trek around Mt. Amnye Machen, while avoiding the current road construction project.

Amnye Machen Trekking
*Information on Amnye Machen was current when I wrote it. Be advised that conditions could change at anytime. I will do my best to keep this updated. If you do this trek on your own without a local guide, I highly recommend researching this trek on Google Earth before setting out!
For the best available trekking map for Amnye Machen, please check out this great map that was produced by trekker Jon Aldridge: Amnye Machen Map
If you have followed me on this site, you will know that I frequently travel to the holy mountain of Amnye Machen, located in Machen County, Golok Prefecture in the Amdo region of Qinghai. I have made the long journey to this 6282 meter/20,610 foot peak around 18 times over the years and have spent considerable time trekking around its glaciers. It truly is one of the most beautiful areas in the Amdo region with spectacular trekking.
When I was at the mountain in August 2014, I noticed that big changes were happening at Amnye Machen. Many hundreds of road construction workers were there along with dozens of make-shift offices and temporary shelters for workers. The road leading to the mountain was quite littered with trash along with huge piles of construction equipment. All of this seems to point towards Chinese mass tourism, something that most of Qinghai (outside of Kumbum Monastery and Qinghai Lake) has been able to avoid.
After talking to some local Tibetans as well as some Tibetan-owned travel agencies in Xining, it seems that the government is replacing the old dirt road across the north side of Amnye Machen with a wide paved road. There also is going to be a checkpoint at Xia Dawu Village (west end of the mountain) and Xue Shan Village (east end of the mountain) where tickets will need to be purchased to enter the Amnye Machen area. So far, nothing official has been said on how much tickets will be, but rumors suggest anywhere between 80 RMB per person to 150 RMB per person. There may also be a vehicle fee similar to what is charged to enter the Everest Region.
With the new road being built along the north side of Amnye Machen, there are definitely going to be far more tourists arriving at the mountain. Amnye Machen remains very remote and isolated so I doubt it will become as big of an attraction as other big peaks of the eastern Tibetan Plateau such as the Hailuogou Glacier (western Sichuan), Kawa Karpo (northwest Yunnan) or Yading (western Sichuan).  But, the mountain will never be the same after this huge construction project is completed, which will probably be late summer 2016.
With a portion of the trek going along the road that lies along the mountains north side, I recommend skipping this portion until the construction is finished. This portion is extremely dusty and loud. I felt quite bad for all the Tibetans I saw last summer who were prostrating in the deep powder-like dirt caused by all of the heavy earth-moving equipment. If you are looking for a peaceful place to go high-altitude trekking, this section should be avoided. The construction begins at the intersection of Highway 214 and the road that that leads east to Xia Dawu Village. Construction continues over the 4610 meter Drakde Pass and continues on to Xue Shan Village on the east end of the mountain. Below, I have an alternative trekking route to take to avoid the construction.
Even with the construction project at Amnye Machen, I still recommend trekking this region, but avoiding the major construction areas. There seems to be still large portions of the mountain that, hopefully, will avoid this major construction project. Here is my recommendation on how to get to the area.
How to get to Amnye Machen
From Xining, there are no buses that go specifically to Amnye Machen, but they do go to places like Mado (Maduo) and Jyekundo (Yushu). You can take one of these buses and then get off 400 kilometers southwest of Xining in the small nomad trading town of Tsogen Rawa (Huashixia in Chinese). From Huashixia, you can hire a vehicle to take you to the village of Xia Dawu, which lies about 48 kilometers away to the east. I almost always begin my time at Amnye Machen from this direction.
Another option is to take a bus from Xining to the large town of Machen (Dawu in Chinese). From Dawu you can hire a vehicle to take you to the starting point of the trek near the village of Xue Shan or to the new place that I recommend to start, which is written about below.
Getting to the starting point
Starting from the village of Xia Dawu (35°00'14.2N, 99°15'39.5E), you will want to continue in a vehicle past the present road construction. From Xia Dawu Village, there is a high pass called Drakde La located after 27 kilometers. This high pass (34°52'25.8N, 99°27'57.7E) lies at 4610 meters and offers an excellent view of Amnye Machen and its glaciers. Continue over this pass and continue descending the other side for a further 16 kilometers to a bridge. The coordinates for this bridge are 34°50'28.0N, 99°35'04.9E.
At this bridge, you will see a rough dirt road leading west towards the glaciers. Follow this rough road, which at certain time of the year will require a 4WD vehicle, for about 6 kilometers. This valley is often referred to as the Halong Valley and it is amazingly beautiful with great views of the peaks and glaciers. After taking this dirt road for about 6 kilometers, you will come to a small bridge at 34°49'08.9N, 99°32'04.8E. This bridge is not for vehicles, but is used by motorcycles and yaks. This is normally as far as you can drive as the river here is often fast flowing and deep, especially in the summer months. You may be able to drive across this river in the winter months when the water is frozen or in the spring when the water level is lower.
Possible Day Hikes from Base Camp
From this small bridge, you can begin trekking around Mt. Amnye Machen. In 2014, I set up an unofficial base camp near the small bridge, elevation 4220 meters, for 2 nights while setting off on day hikes to the nearby glaciers. The first day hike that I took was to 34°46'47.6N, 99°31'56.8E, which is pictured at the top of this post. This spot offers an excellent view of the Amnye Machen range with the glaciers located just below. There is a decent trail, probably created from yaks, that goes along the moraine. From my base camp near the small bridge, I hiked just under 5 kilometers (10 kilometers roundtrip) and gradually ascended 475 meters in elevation.
The next day, I set out on another day hike. This time I went to 34°49'08.9N, 99°30'11.3E, elevation 4925 meters. This spot, pictured below,  offers another amazing view of the glaciers. From my base camp, this spot is about 3.5 kilometers (7 kilometers roundtrip) away with an elevation gain of 705 meters. I saw around 3 dozen gazelle at the 4800 meter mark, which was really awesome!
Alternative Starting Point of the trek: Ascending the Pass
**Note: This is where I recently decided to start the trek from in order to avoid the long-term construction project currently going on at Amnye Machen. Other people, including Tibetan pilgrims, may start somewhere else, but this is where I chose to begin. Trekking the Halong Valley, where I began, is stunningly beautiful and very remote. In my opinion, it is the best place to begin the trek, even though it isn't part of the traditional pilgrimage route. The information I have listed below will take you to an alternative starting point of the trek that will avoid the construction project and then lead you back to the main path around Amnye Machen.
From the small bridge at the end of the road leading up the valley, 34°49'08.9N, 99°32'04.8E, you begin hiking around Amnye Machen by heading southeast up the valley. About 2.5 kilometers up the valley, you will see a small home at 34°47'53.1N, 99°32'15.3E at 4415 meters. From this small house, continue going southeast towards the top of the pass. The top of the pass lies at 4758 meters (34°45'13.3N, 99°33'55.7E). From the small bridge to the top of the pass, the distance is approximately 8.2 kilometers with an elevation gain of 538 meters.
Descending the pass
Keep in mind that Amnye Machen is not one single mountain, but multiple glaciated peaks. After crossing the pass at 4758 meters, the trail continues along the northeast side of the mountains for a further 13 kilometers to the end of the valley. At this point (34°41'26.2N, 99°40'00.5E, elevation 3863 meters), the trail meets up with the main pilgrimage route around Amnye Machen. This is also the main road that connects Machen (Dawu in Chinese) to the village of Xue Shan. When you reach this road, which most likely will be under construction, turn right (south). If you wish to go to Xue Shan village, turn left and follow the dirt road for 15 1/2 kilometers. However, the trekking route around the mountain will require you to turn right.
Meeting up with the road
At this point, you have met up with the road that connects Machen (Dawu) with Xue Shan Village. Turn right and follow the road, which probably will be under construction, for about 4 kilometers. After 4 kilometers (34°39'32.8N, 99°41'12.5E, elevation 3920 meters), the road will come to a fork. The left fork will head southeast towards Machen while the right fork will continue on the trekking trail around the mountain. From here, you can continue on your journey around Amnye Machen along the traditional trail.
Starting from the small bridge I wrote about above, this alternative route covers about 21.2 kilometers and avoids most of the major construction that is going on along the north and east sides of the mountain. This route, in my opinion, is far better than the main route and allows amazing mountain views that are very close to the glacier. Altogether, the trek from the small bridge, through the Halong Valley, around the south side of the mountains and back to Xia Dawu Village is about 105 kilometers. Most people cover this distance in 6 to 8 days.
Even though the Amnye Machen region will be forever changed with the construction of a major road going across the north side, I still recommend the area. Before setting out on this trek, be sure you do some research. Google Earth is an excellent resource as all of Amnye Machen is in high definition. Since most of this trek takes place between 4000 and 4800 meters and is at a more northerly latitude that other popular treks such as Kailash, Kawa Karpo and Minya Konka, weather can be cold and harsh. Be smart and be properly prepared.
For experienced trekkers, you will have no problem going around Amnye Machen on your own without a guide (still, do your research before you go). If you feel more comfortable taking a local Tibetan guide with you, that can be arranged. Keep in mind that Amnye Machen is very remote and isolated. There most likely will not be guides just waiting there for trekkers to arrive. Nearly all of the guides live either in Xining or in Machen. If you have any other questions or are looking for a guide to take you around Amnye Machen, please feel free to contact me at: thelandofsnows@gmail.com
Read the following link for more information about the Amdo parts of Qinghai province.