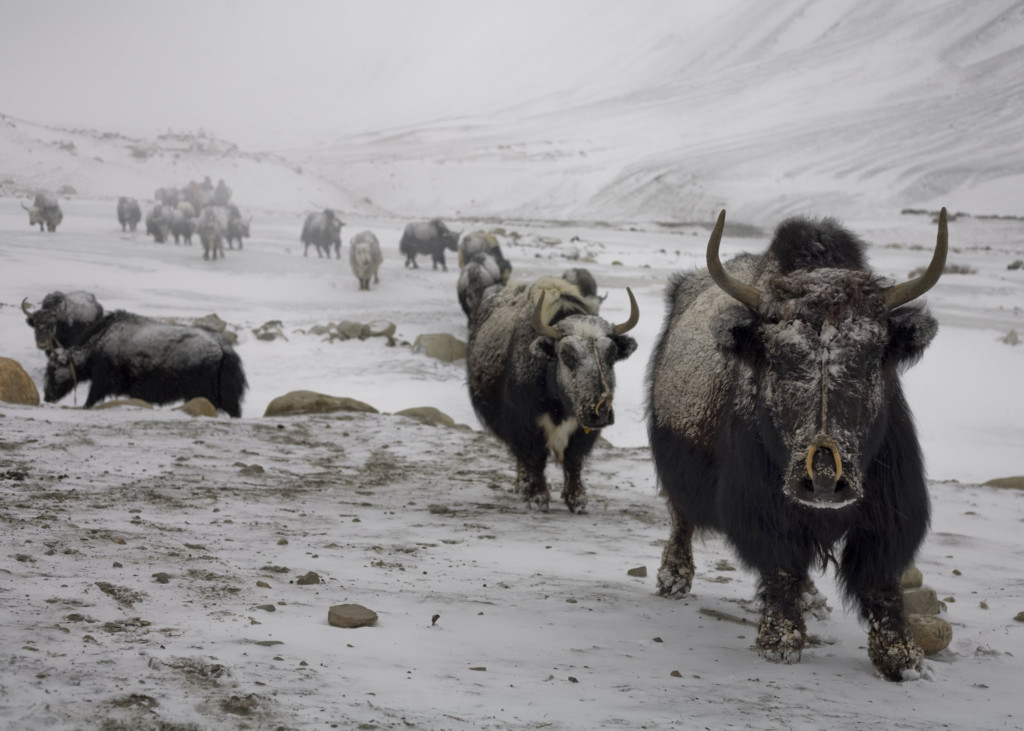 KORA makes high quality yak wool clothing perfect for any activity in the mountains or cold weather. Read this post to see why we support this business and use their products in the Himalayas.
Use our Discount Code
Use our discount code for 10% off Kora's high quality yak wool clothing. Go to the following site and use our discount code HIMALAYAJOURNEY18 and receive 10% off of your order:
Kora: High Performance Yak Wool Clothing
Yaks are unique animals that live throughout the highlands of the Himalaya Mountains and in parts of northern Asia. They are found primarily in Tibet, Nepal, Bhutan, India, Mongolia and Russia. Yaks thrive in high altitude areas above 3000 meters (10,000 feet) where temperatures can easily plummet to -35°C (-31°F). Yaks survive these harsh conditions by the thick wool that covers their bodies. Nomad Tibetans have been using yak wool to make their tents and blankets for over 1000 years. Yak wool is the perfect material for making clothing to keep you warm in the harshest and most extreme regions of our planet.
Our friends at Kora have created comfortable, high quality, performance yak wool clothing perfect for people who live, work or play in cold environments. They purchase their wool directly from Tibetan nomads in the eastern Tibet region of Yushu. The loose wool is harvested painlessly from yaks. Many Tibetans in this region have large herds of yaks and have an abundance of quality yak wool that is available for sale. However, these local people are often taken advantage of and are forced to sell their wool at a below-market rate. Kora partners with over 80 Tibetan nomad families in eastern Tibet and pays them a premium rate for their yak wool. This generates some much needed income for these people, who live in one of the most remote areas of the Tibetan Plateau. Ethically sourced wool is a top priority for Kora.
Watch the following short video to learn more about what inspired Kora to begin making the best yak wool outdoor clothing on the market:
Yak Wool versus Merino Wool
Merino wool is a popular choice for those wanting to keep warm and dry in cold weather. While merino wool is a great choice, independent studies carried out by Sheffield Hallam University's Centre for Sport & Exercise Science have shown that, weight-for-weight, yak wool is 40% warmer, 66% more breathable and 17% faster at transporting water vapor away from the skin. Yak wool is odor-free and is extremely soft. In fact, its softness is compared to cashmere. If you are wanting a material you can rely on to keep you warm in cold weather, Kora's yak wool clothing is the clear choice.
Base Layers, Sweaters, Vests and more
Kora makes the best base layers on the market. We know because we have used them in the cold, high altitudes of the Himalayas. They also make sweaters, vests and jackets for both men and women. Not only are their products the best in keeping you warm, they are stylish and high quality.  The Kora team is always keeping up to date on current fashion trends and create comfortable, attractive and high quality outdoor clothing that can be used for any cold weather outdoor activity.
Summary: Kora Yak Wool Clothing
Use our discount code to receive 10% off your order from Kora.  Click the link and use our code: HIMALAYAJOURNEY18
Kora makes high quality outdoor clothing made from yak wool that is specifically designed for extreme conditions
The yak wool they use is sourced ethically from nomads in eastern Tibet
Studies prove that the wool from yaks performs better than Merino wool
Kora makes base layers, sweaters, vests and more for both men and women
The Land of Snows proudly supports Kora and their vision to create high quality yak wool clothing from wool purchased from Tibetan nomads. We personally use their clothing during our journeys and expeditions.