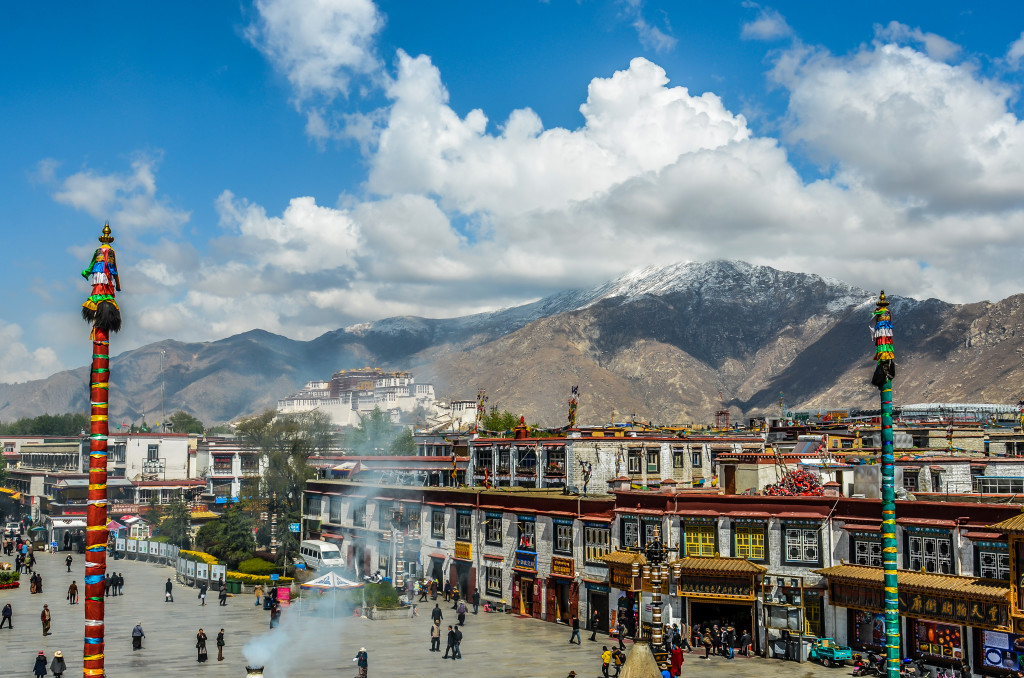 The Tibetan capital city of Lhasa is one of Asia's most unique cities. Buddhist pilgrims, ancient monasteries, amazing culture and so much more are found in Lhasa.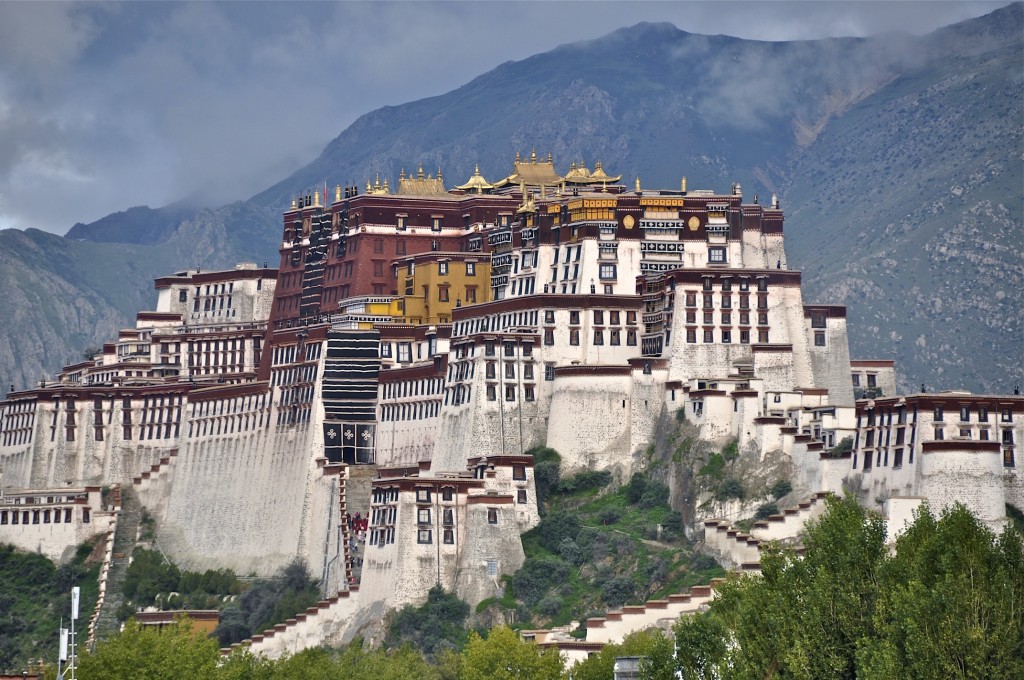 Lhasa ལྷ་ས་, meaning "place of the gods" in Tibetan, is the most important city in Tibet. Lying at an elevation of 3655 meters / 12,000 feet, Lhasa is the second largest city on the Tibetan Plateau after Xining ཟི་ལིང་. Historically, Lhasa was the capital of the traditional Tibetan region of Ü དབུས་, though today it is the capital of all of the Tibet Autonomous Region. Lhasa is a prefecture-level city that includes all of the city of Lhasa as well as 7 surrounding counties. The total population of Lhasa prefecture is around 1.1 million with more than 400,000 in the city of Lhasa.
No trip to Tibet is complete without spending at least a few days in Lhasa. Though Lhasa is not the small, remote and forbidden city it once was, it is still a fun place to spend a few days exploring. Most travelers to Tibet are surprised that Lhasa is very modern and developed and they are surprised that Lhasa, especially from May through early October, has warmer temperatures than they expected. Since the controversial train line to Lhasa opened in July 2006, Tibet has seen a steady increase in the amount of annual tourists. In 2011, 8.7 million tourists visited Tibet and in 2012 Tibet received over 10.3 million tourists (http://tinyurl.com/b7mpxa8). By 2015, up to 15 million tourists are expected to go to Tibet each year. Domestic Chinese travelers make up well over 90% of the tourists who go to Tibet each year.

Lhasa is a large city, but the heart and soul of the city is in the ancient Tibetan district which surrounds the Jokhang Temple. The Jokhang is Tibet's most famous and holiest temple. Pilgrims from all across Tibet arrive each day to prostrate in front of it. During Losar, or Tibetan New Year, tens of thousands of pilgrims arrive in Lhasa to worship. When booking a tour to Lhasa, be sure to stay in one of the many excellent Tibetan owned hotels and guesthouses that are in the Tibetan district. Two of my favorite mid-range hotels in Lhasa are the Yak Hotel and the Kyichu Hotel.
The Barkhor བར་སྐོར་ is a maze of narrow streets that surround Jokhang Temple. Tibetan Buddhist pilgrims walk around the Barkhor each day, often prostrating along the way. The Barkhor streets are lined with guesthouses, restaurants, tea houses, souvenir shops, billiard halls and much more. In front of Jokhang Temple is the large Barkhor Square which is filled with more shops and more prostrating pilgrims.
Lhasa has plenty of things to do to keep oneself busy for 3 or 4 days. Simply walking around the Barkhor with all of the Tibetan pilgrims will probably be the biggest highlight of a journey to Lhasa. Here is a list of other things I recommend seeing and doing while in Lhasa:
Go up on the roof of Jokhang Temple. The views from here overlooking Barkhor Square and the Potala Palace in the distance are amazing.
Check out the monk debates at Sera Monastery. Though monk debates take place in most Tibetan Buddhist monasteries across Tibet, seeing it at Sera is special. The debates usually take place at 3pm during the week.
Visit Nechung Monastery. Nechung is just a short walk below Drepung Monastery and was the former residence of the State Oracle of Tibet.
Visit the nuns at Ani Sangkung Nunnery. Though there are only a few dozen nuns here, it is a fun place to spend a morning. There is a pleasant tea house that the nuns operate in the courtyard.
Enjoy a meal at the New Mandala Restaurant. This Nepali-run restaurant sits above the Barkhor with an excellent view of Jokhang and has excellent Nepali, Indian and Tibetan food.
Enjoy a cup of real coffee from the Summit Cafe. This foreign owned and Tibetan staffed cafe has a few locations that serve excellent coffee and great Western food.
Drink some Cha Ngamo (sweet milk tea). If you don't like butter tea, you might like sweet milk tea. It is served at dozens of small tea houses around the Barkhor.
Walk the kora around the Potala Palace. Follow the pilgrims around the former winter residence of the Dalai Lamas. You will rub shoulders and interact with people from all across Tibet.
Get lost in the maze of the Barkhor. To me, the Barkhor is the best thing about Lhasa! Don't worry if you get lost….the experience will be worth it!
Buy souvenirs at Dropenling. Dropenling sells quality souvenirs made by local Tibetan artisans. Support the local Tibetan people by purchasing souvenirs directly from them!
As with all areas of the Tibet Autonomous Region (TAR), a complete organized tour including travel permits and a tour guide, are required in order to travel to Lhasa. There are no exceptions to these regulations. For more information on Lhasa or more information on Tibet, go to my Facebook Page or send me an email at thelandofsnows@gmail.com.