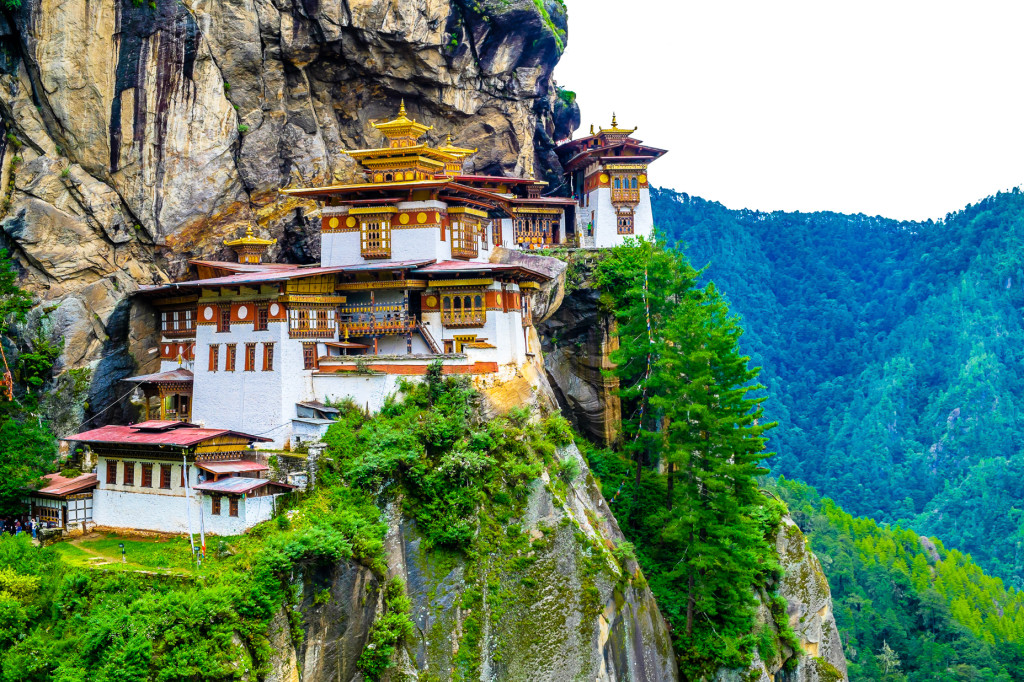 Bhutan, the Land of the Thunder Dragon, is a fascinating and mysterious Himalayan country. It is full of natural beauty, spectacular architecture and friendly people. Read more on how to travel to Bhutan.
For more information on how to get to Bhutan or for recommendations on a reputable and affordable Bhutan tour operator, send an email to: thelandofsnows@gmail.com or go to this site: Himalaya Trip Planner
Introduction to Bhutan
Bhutan is a small, isolated Buddhist kingdom located in the eastern Himalaya. It is bordered by Tibet to the north and by India to the south, east and west. Bhutan is slightly larger than the US State of Maryland and slightly smaller than Switzerland. Bhutan has a population of only 750,000. The two main religions in Bhutan are Vajrayana Buddhism, followed by nearly 75% of the population, and Hinduism. The main languages in Bhutan are Dzongkha, a language in the Tibetan family, Tshangla, Nepali and English.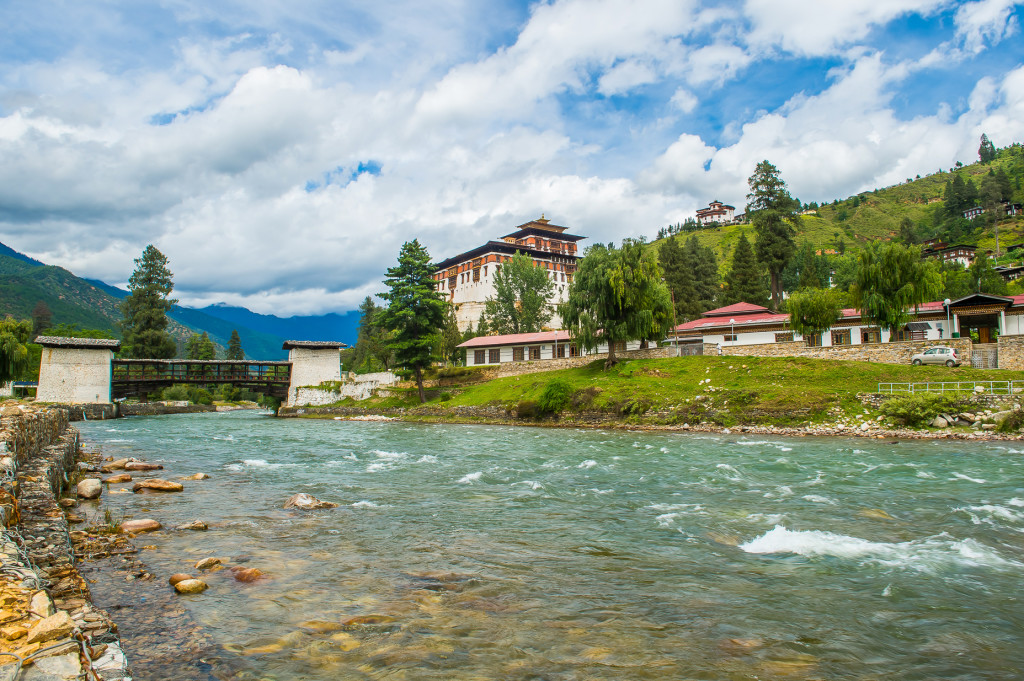 Tourism in Bhutan
Bhutan opened to foreign tourism in 1974. Foreign travelers going to Bhutan must be on a fully organized tour that includes a private vehicle, a driver and a tour guide. The journey must be pre-planned, pre-paid and can only be arranged through a travel agency. There is no independent travel allowed in Bhutan (some exceptions apply for citizens from India, Bangladesh and Maldives as well as foreign travelers visiting Bhutan on an official government invitation). Contrary to popular belief, there is no limit on the amount of travelers permitted to enter Bhutan each year. In addition, group tours in Bhutan are not required. However the government-set daily tourism tariff is regulated under a policy of "High Value, Low Impact Tourism".
The tour guides in Bhutan must meet a very high standard and pass difficult tests before earning their tour guide license. In addition to English, you can request guides who can speak French, Thai, Chinese, Japanese and Spanish.
The cost of the daily tourism tariff, explained below, is out of the price range for many budget travelers causing the total tourist numbers in Bhutan to remain relatively small. Foreign tourism in Bhutan has been increasing steadily over the past 15 years. According to the Bhutan Tourism Monitor, in 2014 there were 64,164 foreign tourists along with a further 65,399 regional tourists from India, Bangladesh and Maldives.
Daily Tourism Tariff
Under the policy of "High Value, Low Impact Tourism", the government of Bhutan sets a daily tourism tariff that is applied per person for each night stayed in Bhutan. The tariff includes a private vehicle, driver, licensed tour guide, all accommodations, entrance fees into monasteries, temples and dzongs and all meals while in Bhutan. It does not include your Bhutan visa or the costs of getting to and from Bhutan.
From the Daily Tourism Tariff, $65 USD per day, per person goes directly to the Sustainable Tourism Royalty. This royalty goes to funding free education in Bhutan along with poverty alleviation and free health care. This free health care is extended to include all tourists who become ill or injured while in Bhutan.
The tourism tariff varies between the high season months (March—May and September—November) and the low season months (December—February and June—August). In the high season, the tourism tariff is set at a rate of $250 USD per day, per person for a group of 3 people or more. If you are a solo traveler, there is an addition surcharge of $40 USD per day, bringing the total tariff to $290 USD per day. If you are traveling in a group of 2, there is an additional surcharge of $30 USD per day, per person, bringing the total daily tourism tariff to $280 USD per person. There is no surcharge if you are traveling in a group of 3 or more.
In the low season, the daily tariff is discounted to $200 USD per person for a group of 3 people or more. The same surcharges for groups of 2 or less apply. If you are a solo traveler, there is an additional surcharge of $40 USD per day for a total daily tariff of $240. For a group of 2, the surcharge is $30 USD per person, per day, bringing the total daily tourism tariff to $230 USD per day, per person.
Note: The above daily tourism tariff is the minimum. The tariff is higher if you wish to upgrade to 4 or 5 Star hotels or wish to eat at higher-end restaurants. The daily tariff can also be higher on some of the trekking routes in Bhutan and can be higher if you need additional items for your journey that are not included in the standard daily tourism tariff.
In Bhutan, all travel MUST be pre-arranged and pre-paid in full. There are no exceptions. You cannot make a partial payment on your Bhutan tour…it must be paid in full to the Tourism Council of Bhutan (TCB). You can send this payment by bank transfer. The TCB will then send your payment to the travel agency in Bhutan that you are using.
Discounts on the Daily Tourism Tariff
There are a few discounts given on the daily tourism tariff:
Children under the age of 5 are free of charge
Children from age 6 to 11 are given a 50% discount of the daily tariff
Full-time students between the ages of 12 and 24 who have a student ID card are given a 25% discount. NOTE: The surcharge for traveling in a group of 1 or 2 still applies.
A 50% discount is given to one person who is traveling with a group of 11 to 15 people
A 100% discount is given to one person who is traveling with a group of 16 or more people
A 10% discount of the daily tariff is given from the 11th night to the 20th night on longer stays in Bhutan during high season. This discount does not apply in low season.
When to go to Bhutan
The high season months in Bhutan coincide with the best weather the country has. The months of March thru May and again from September thru November generally have dry weather with mild temperatures making these months the best to go to Bhutan. The most popular month to travel to Bhutan is October followed by May and April.
The low season months from June thru August bring monsoon rains. Very few travelers go to Bhutan during the summer monsoon. The low season months of December and January are generally dry in Bhutan, but temperatures can be slightly cool in higher elevations. February is a good month for Bhutan travel as you can still take advantage of the lower daily tourism tariff, while enjoying clear weather and decent temperatures.
How to get to Bhutan
Most people going to Bhutan go by flight. Bhutan has only one international airport, which is in the town of Paro in Western Bhutan. The most common way of flying to Paro is from Kathmandu, Nepal. There are daily flights between Kathmandu and Paro year round. During clear weather, this flight offers spectacular Himalayan views, including Mt. Everest, Cho Oyu (6th highest), Lhotse (4th highest) and Kangchenjunga (3rd highest).
There are also flights to Paro, Bhutan from Bangkok, Kolkata, New Delhi, Guhawati, Singapore, Bagdogra and Dhaka. There are only 2 airlines that fly to Bhutan, Druk Air and Bhutan Airlines. Air tickets to Bhutan are relatively expensive. You can either book these tickets yourself on the websites of Druk Air or Bhutan Airlines or have the travel agency you are using in Bhutan arrange them for you.
While the vast majority of travelers enter Bhutan by flight, it is also possible to enter (or exit) Bhutan overland from India. There are 3 international border crossings that you can use to enter Bhutan from. The most common overland route is through the town of Phuentsoling, located along the border of West Bengal, India in southwest Bhutan. The other 2 lesser used overland entry points to Bhutan are located in Samdrup Jongkhar in southeastern Bhutan and Gelephu in south-central Bhutan.
It is not possible to enter Bhutan from Tibet as there are no flights between the two countries and there are no overland border crossings that are open to travelers.
Bhutan Visa
All travelers require a Bhutan Visa (some exceptions for travelers from India, Bangladesh and Maldives). The travel agency you use in Bhutan will email you a visa application to fill out (some agencies may even fill it out for you). Fill out the short application and email it back to the tour operator you are using. The visa fee is $40 USD and will need to be paid in advance along with the complete cost of your Bhutan tour.
The tour operator you are using will then email you a visa approval letter for you to print out. This letter will be checked before boarding any flight to Bhutan. When you arrive at the international airport in Paro or at one of the 3 designated overland border crossings into Bhutan, Bhutanese immigration will place a Bhutan visa in your passport that is valid for the length of your pre-arranged tour and pre-paid tour.
Bhutan Tour Ideas
Adventure Tours in Bhutan offer rock climbing, rafting, cycling and trekking. Several of the premier trekking routes in the Himalaya are found in Bhutan including the 6 Day Druk Path Trek, the Jomolhari Base Camp Trek, the Jomolhari Loop, the Dagala Thousand Lakes Trek and the 25 day Snow Man Trek. NOTE: While trekking is permitted and encouraged in Bhutan, mountaineering is prohibited.
Bird Watching Tours have become very popular in recent years. Bhutan has over 670 species of birds including the rare Black-necked Crane and Imperial Heron. There are several agencies in Bhutan that specialize in bird watching tours.
Tsechu Tours, or religious festivals, are held in monasteries, temples and dzongs across Bhutan throughout the year. During Tsechu, the local community comes together to watch religious masked-dancing, receive blessings from monks and to visit with friends and family. Tsechu is a major part of Bhutan culture and is very popular to observe among foreign travelers. The largest Tsechu take place in Thimphu, Paro, Punakha and Trongsa.
Flora and fauna are abundant across Bhutan. In fact, 60% of the total land mass of Bhutan has been designated as protected nature preserves. The Blue Poppy is the national flower of Bhutan. Rhododendrons, magnolias, junipers, edelweiss and countless other plants are found throughout the country. Wildlife including snow leopards, blue sheep, takin, red pandas, marmots, Himalayan black bears and even tigers are found in Bhutan.
Cultural tours are the most popular in Bhutan. The country is filled with spectacular dzongs (fortresses that serve as government centers), Buddhist temples and monasteries and traditional architecture. The people of Bhutan are extremely friendly and hospitable.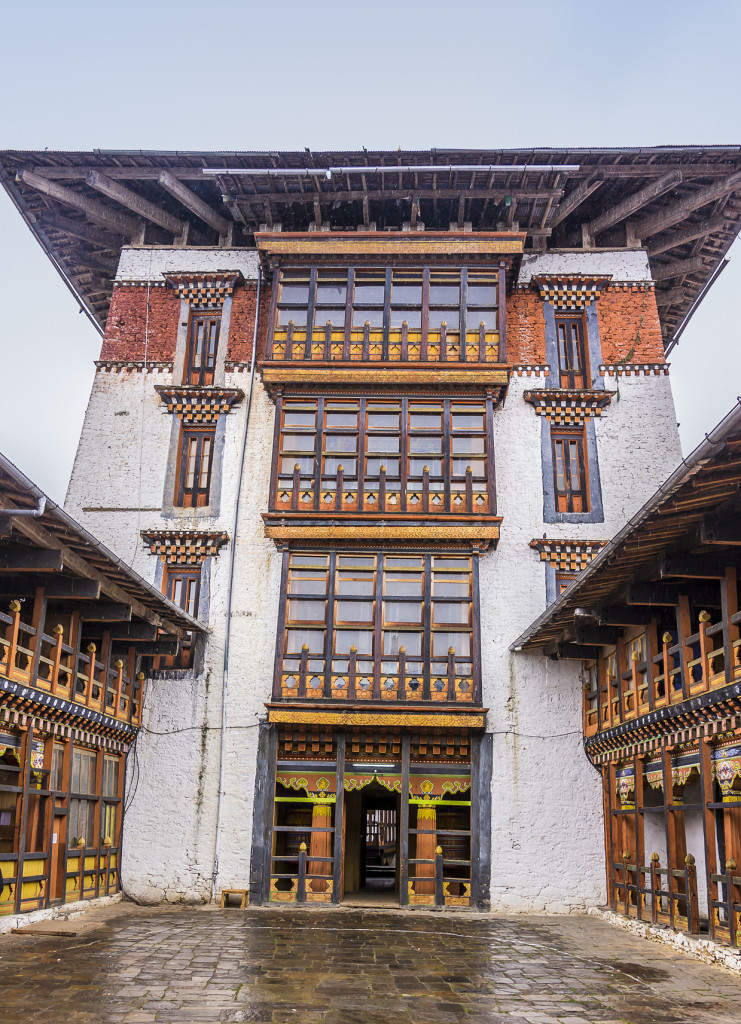 Bhutan Tour
It is best to contact a travel agency in Bhutan at least 8 weeks before you plan to arrive. In the peak high season months of September and October, it is best to begin contacting a travel agency even further in advance in order to be sure that hotels and flights will be available. A Bhutan tour is easy to arrange!
For recommendations on reputable Bhutan tour operators or questions on how to get to Bhutan or a Bhutan tour, please send me an email at: thelandofsnows@gmail.com