Gonlung Jampaling Monastery དགོན་ལུང་བྱམས་པ་གླིང༌དགོན་པ། is tucked away in far northeastern Amdo about 70kms from the city of Xining. This rare gem is not well known and sees few foreign visitors each year. Of all the guidebooks covering the Tibetan Plateau, only 2 give a detailed write up on Gonlung and that is Footprint's "Tibet" written by Gyurme Dorje and the current Lonely Planet China guidebook. The monastery is set on the base of a mountain at an elevation of 2900m / 9515 feet. The mountains around Gonlung rise to nearly 4000m. Most of the Tibetan Plateau is treeless, but there is a small evergreen forest surrounding parts of Gonlung. The mountains around the monastery are often snow covered in the winter and spring and offer some of the best hiking in the area.
Gonlung Monastery, known in Chinese as You Ning Si, was founded in the early 17th century. The area was visited by the 3rd Dalai Lama in 1584 and the 4th Dalai Lama in 1602, while they were on their way to Lhasa, so the area was revered before the monastery was built. It is one of the largest monasteries in the area with a monk population of around 300. At it's peak, it was home to over 7000 monks. Most of the monks there are from the Tu (pronounced "two") minority. The Tu people are originally from Mongolia and settled in the area in the 13th century. Their language is still somewhat similar to Mongolian. Along with their own native language, many monks at Gonlung also speak Tibetan along with Chinese.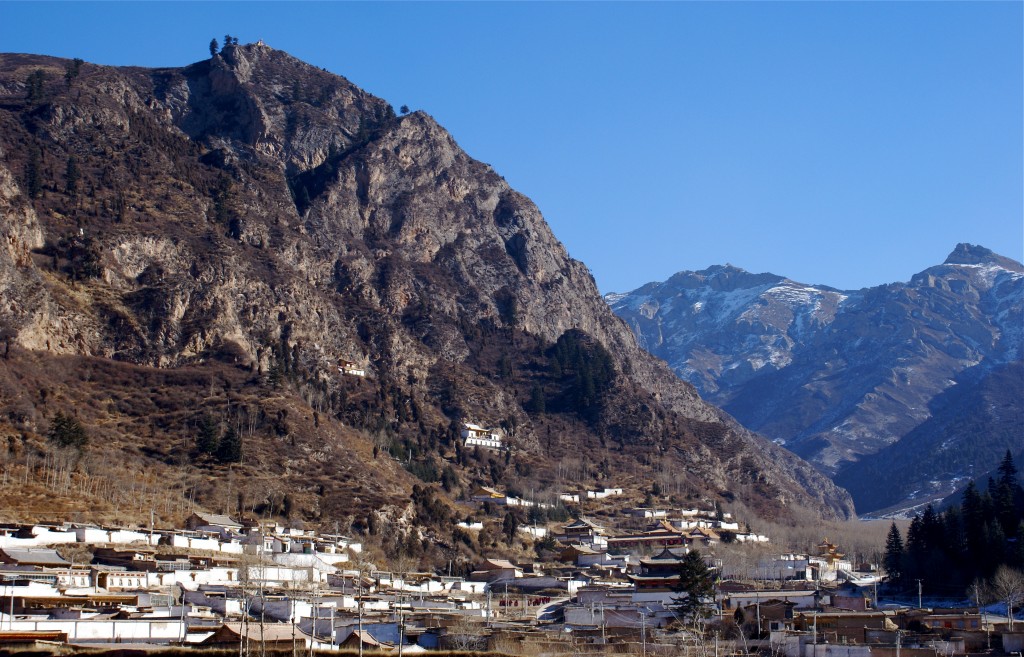 Gonlung Jampaling Monastery offers excellent hiking with stunning scenery. The mountains surrounding the monastery have many beginner and intermediate hiking trails. It is a great place to spend the day. There is no public transportation to the monastery. If you wanted to get there on your own, you can take a public bus from Xining to Ping'an (32kms east of Xining). From Ping'an you can take a bus going north to Huzhu. Twenty-seven kilometers before Huzhu and 28kms past Ping'an, there is a road going off to the right leading to the monastery. You will need to get off at this intersection and either hike the remaining 6kms to the monastery or try and hitch a ride. Gonlung does not charge an entrance fee.
If you have any questions about Gonlung Monastery or any other region of Tibet, please send an email to thelandofsnows@gmail.com
For more images from Gonlung Monastery, check out the link below from a good friend of mine who was with me recently: