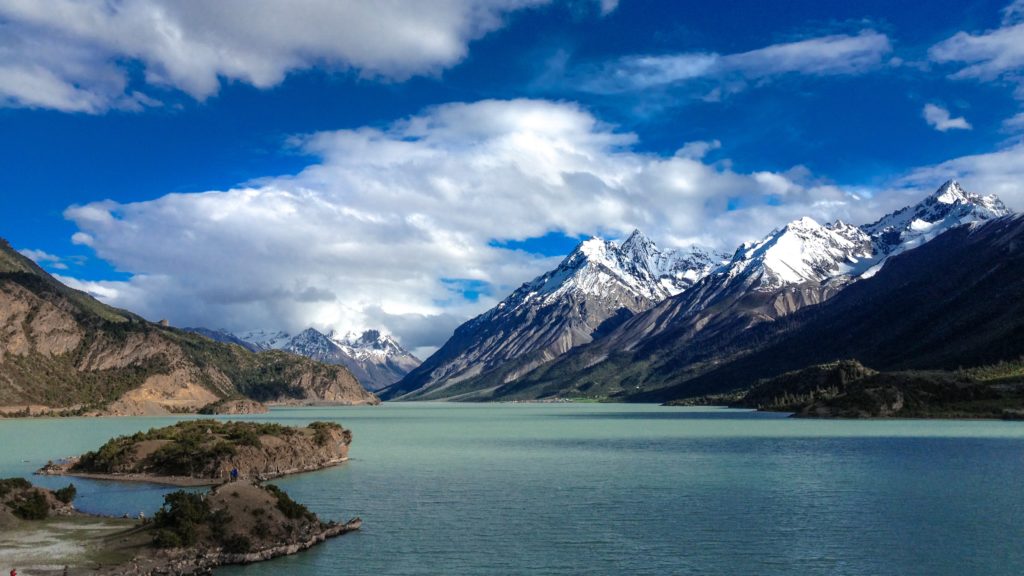 Over the years, this site has helped many tens of thousands of travelers easily get to Tibet. Read this post for reasons why you should use us and why our travel advice on Tibet is the most reliable.
Over the years this website, The Land of Snows, has grown considerably. In this post, I will share a little more about how it got started, why it exists, what I do and why you should trust my travel advice. If you have joined me on one of the journeys I lead in Tibet, you have heard all of this, in much further detail. But I think it is important for everyone reading through my site and emailing me for advice to know a bit more about me, how this all started, what I do and why I do it.
If you have questions about traveling in Tibet, Nepal, Bhutan or Ladakh, send me an email at: thelandofsnows@gmail.com
How it all started
Wanting to find a tangible and real way to help the Tibetan people, I worked for a Tibetan-run non-government organization (NGO) in the early 2000's that had an emphasis on education and cultural preservation. The founders of this NGO, who were all Tibetan people, were mostly retired government leaders from eastern Tibet who had a deep desire to see their people be brought out of severe poverty and to see their people be given opportunities in life that previous generations didn't have. It was difficult for this group of Tibetans to set up this NGO, but against the odds, they succeeded. The NGO  then reached out to a group of Americans and British for assistance in supplying teachers at the school. That is how I became involved…working as an English teacher. The school had programs for Tibetan adult students to learn how to use a computer, how to read and write their own language, how to speak and write basic Chinese and how to speak English.
The school started with just a small number of students. But word quickly spread across the Tibetan Plateau….from Amdo to Lhasa, from Kham to Everest…..that there was an English school offering extremely low tuition (in many cases, free tuition) and expert foreign teachers. After just a few years, the school had nearly 200 adult students, ranging in age from 18 to 40. Some were monks, some were nomads, some were farmers. All of them were excited to learn. I spent 3 years teaching at this school and they were some of the best days of my life.
Our school offered students a 2 year program that took them from beginner English level to a solid intermediate level. In addition, they took the computer, Tibetan and Chinese courses as they needed them. After the 2 year program, students were given a Certificate of Completion. For many of the students, particularly those from nomadic backgrounds, it was the first time they had ever achieved anything academically. I will never forget one of my students, a nomad man from the Ngawa region, writing me a letter in English after his 2 year program was completed, telling me how much he appreciated having me as a teacher (I taught him for 4 straight semesters). Due to the huge family workload, this student had to drop out of school in Grade 4 (about age 10) to work herding the yaks. He had never returned to school. At age 23, he earned his 2 year Certificate of Completion from our school…..a moment that he (and I) was immensely proud of. More than 10 years later, this former student is still one of my closest friends.
However, one of the big problems that I noticed was that even with their 2 year Certificate of Completion, it was extremely difficult for Tibetans to find jobs. Many of the students at the school were hoping to find jobs in the growing tourism industry on the Tibetan Plateau. They were wanting to work as English speaking cultural and trekking guides, private drivers catering to foreign travelers or were wanting to open small hotels and guesthouses or even open up restaurants serving Tibetan and Western food. These jobs and opportunities were definitely plentiful, but few were going to Tibetans. Most were going to Chinese who were coming from eastern China to start these businesses while employing only Chinese staff, leaving Tibetans to wonder how they could benefit from tourism to Tibet. To this day, the vast majority of tourism jobs in Tibet are NOT held by Tibetans. It is very difficult for Tibetans to find jobs working in tourism in Tibet. 
So, I spent about 18 months brainstorming ideas that could get Tibetan people more involved with tourism in their region and land…..More on this in a moment.
15 years spent traveling around Tibet
Any time I had even the shortest break from working at the NGO (and the 2 years I spent in university in eastern Tibet before that), I would take off and go traveling across the high plateau. All of my friends were Tibetan so many times I would simply travel to their hometowns and stay with their family…..a great way to learn more about Tibetan culture. In the eastern Tibet regions of Amdo and Kham, I would use public buses to travel all through the nomadic regions like Golok, Yushu, Gannan and Tsolho. I would frequently travel to Lhasa (haha….both legally and illegally!). In the old days, the main way to get to Lhasa was by bus from Golmud. I cannot tell you how many times I have taken that bus across the plateau to Lhasa! And the epic bus ride from Xining to Yushu? Yeah, I have done that route nearly 40 times…..and my body reminds me of it everyday! Finally in 2009, I bought my own 4WD vehicle so I could retire from taking those back-breaking multi-day bus journeys and drive myself around! Perhaps you have come across me driving somewhere in the remote mountains of Tibet.
I traveled anywhere and everywhere in Tibet. In the early and mid 2000's, the travel regulations for the Tibet Autonomous Region (TAR) were much different than they are today. You used to be able to make your way to Lhasa and then put together a group of travelers to go to places like Everest, Kailash, the Nepal border or even to Xinjiang. You still needed a travel agency to arrange a private vehicle for you, but permits took days to arrange, not weeks to arrange like they do now. You would simply put up notices at the popular guesthouses and hotels stating when you were leaving, how much the journey would be per person and where you were staying. So, I spent every free minute traveling across Tibet. Over 15 years later, and I am STILL traveling across Tibet with any free time that I have! I have been just about everywhere in Tibet and most places I have been to dozens of times. I have traveled overland across Tibet for nearly 400,000 kilometers (250,000 miles). I now have friends in just about every remote corner of Tibet. All of the travel advice that I give to people comes directly from my own vast travel experiences in Tibet….not just from a guidebook or hearsay….but from firsthand experience.
Wanting to give accurate Tibet travel information to you
Tibet, for many reasons, has always appeared to be a difficult place to travel to. There is SO MUCH conflicting information about Tibet on the internet, in guidebooks and from travel agencies. Even today, it can become overwhelming trying to figure out the travel regulations…..do you need a group tour? How do I get a permit? Can I travel by public bus? Do I have to travel with a group from the same nationality? Can I take the train to Lhasa? To be fair, guidebooks would write the updated travel regulations in their research, but by the time the guidebook actually hit the store shelves 6 months later, the travel regulations had changed a half dozen times! Certainly no fault to the guidebook companies, but still, how frustrating!
So, in 2005 I started a very simple website where I would post the current travel regulations for Tibet along with info on how to get to Tibet, what travel agencies to use what travel routes to take and other helpful info to assist travelers. I would get the travel regulation information directly from my friends working in tourism in Lhasa, who were at the Tibet Tourism Bureau (government office that regulates tourism in Tibet) everyday. The other information came from my vast travel experiences. I never would have imagined that my website would become so popular! My goal was simple: To assist travelers, free of charge, in planning their journey to Tibet. 
Within 18 months, my simple website was getting 200+ unique visitors per day. By 2011, it was receiving nearly 600 visitors per day and I began receiving thousands of emails each year from travelers asking me for travel advice on their upcoming journey. In 2011, I updated my website and renamed it The Land of Snows. Now, I get an average of 1200 visitors per day and nearly 4000 emails per year from travelers across the globe asking for assistance in getting to Tibet as well as to Bhutan, Nepal and Ladakh. I answer over 95% of these emails FREE OF CHARGE and have helped many tens of thousands of travelers get to Tibet….maybe more.
I don't put any annoying ads on my website, do not have a PayPal account associated with my site for people to give me tips and I never charge anyone for travel advice…even for some people who send me dozens of emails while planning their trip. In fact, 90% of the time when I meet travelers in Tibet whom I have assisted, I offer to buy them dinner or a drink. I have a lot of joy and fulfillment in assisting travelers in visiting Tibet….my adopted home.
Himalaya Journey: A way to help the Tibetan people
So, getting back to the rest of the story……The students at the NGO school where I worked received a Certificate of Completion after finishing 2 years of study at our school. Unfortunately, this certificate did little in assisting these Tibetan students in getting a job. Many of the students at our school did not have a diploma from high school, as they had to drop out of school at a young age to held tend the family's yaks and sheep. Because of their lack of formal education, and due to Tibetans being discriminated against, getting good jobs can be extremely difficult. So, I came up with a plan to help the Tibetan people.
In 2006, I came up with a plan to start a travel agency arranging tours across Tibet while employing students who had either graduated from our school or were in their second year of the program. By 2006, I had already traveled extensively across Tibet, knew the tourism regulations for Tibet better than anyone, had a travel blog that was becoming more and more well-known and knew plenty of Tibetans who were eager to work in tourism in their native land. My goal was to teach these Tibetans how to work in tourism and pay them a good wage.
My first company, Tibetan Connections, specialized in small-group journeys across the Tibet Autonomous Region (TAR) as well as the eastern Tibet regions of Amdo and Kham. Most of our clients were lower budget/backpacker-style travelers. We quickly become VERY popular and our first year saw us far exceed our goals. All of our staff were Tibetans, most of whom were either studying at the NGO school (where I still worked at while running Tibetan Connections) or had recently graduated. Many of my staff came to me with the goal of owning their own travel company. I hired them, trained them and after a couple of years, happily sent them off to start their own company….not looking at them as competition, but being thankful that I was able to help them learn a business that they could continue working in.
In late 2009, I sold Tibetan Connections, which is now owned by a great Tibetan guy who specializes in eastern Tibet. I sold it because I wanted to live in a different region of Tibet (Kham) and wanted to focus on more mid-range and higher end journeys in Tibet and wanted to expand to include nearby Bhutan, Nepal and India (all areas that I have also thoroughly explored). In early 2010, I started a new company, Himalaya Journey. I personally lead 3 photography and cultural journeys each year through Tibet and then arrange a further 30 private journeys per year in Tibet, Nepal and Bhutan.
As it was with my first company, all of the staff in Tibet with Himalaya Journey are local Tibetan people. As I have spent nearly 15 years living in Tibet, I know many Tibetans and chose to work with only the best.  All of my guides, drivers and office staff are all Tibetans…something that few companies focusing on Tibet tourism can say. In Bhutan, all of my staff and partners are local Bhutanese…same in Nepal. Providing jobs for local Himalayan people and arranging quality journeys for clients are my 2 top objectives.
Ethical travel in Tibet
As I stated above, the vast majority of tourism jobs in Tibet do NOT go to Tibetan people, but to Chinese people. I recently did a Google search for companies specializing in tours to Tibet. Less than 30% of the top 25 companies listed were actually Tibetan owned and staffed. Many companies will try and pretend that they are Tibetan-owned and staffed by having their staff wear Tibetan clothing, but in reality, they are Chinese owned and employ mostly (if not all) Chinese staff. Every year, I see more and more foreign travelers in Tibet who have a Chinese tour guide, not a Tibetan guide. The Chinese guides, who cannot speak a word of Tibetan and know almost nothing about Tibetan culture, history and religion, regularly tell foreign clients wrong information on Tibet.
The goal of The Land of Snows and Himalaya Journey is to practice the most ethical tourism possible in Tibet so that local people benefit from you traveling there. Though I am originally from the US, ALL of my staff are Tibetans. Every….single….one. In addition, our clients stay at Tibetan-owned hotels and eat at Tibetan-owned restaurants so that the vast majority of your tourism money goes directly into the hands of local Tibetan people. As I wrote above, most of the top travel agencies on Google are Chinese owned. In Tibet, they have their clients stay at Chinese owned hotels rather than Tibetan-owned hotels. To me, it is an injustice that so few Tibetans can benefit from tourism. My goal is to change that by employing only Tibetans and using as many Tibetan-owned businesses in Tibet as possible.
Giving back to the community
From the first days of owning my first company in Tibet, giving back to the community has been a TOP priority. We set aside money from EACH journey that we arrange to be put towards some project in Tibet that benefits local people. Here are just some of the projects we have been able to carry out over the years:
Winter Coat Project: In the winter of 2007-2008, heavy snow fell across the nomadic areas of eastern Tibet. Many areas received more than 2 meters (6 1/2 feet) of snow, which along with extreme freezing temperatures, killed tens of thousands of yaks. Yaks are the main source on income and food for local Tibetans. We carried out a project in the worst hit area so that 325 elementary-aged children received a free winter Tibetan-style coat along with new shoes, socks and winter hats. We also got the school several footballs and basketballs along with a much-needed copy machine.
Yushu Earthquake Children's Project: In April 2010, a devastating 7.1 magnitude earthquake hit the Kham Tibet town of Jyekundo (Yushu). I was living there then with my family and know the horrible nightmare that it was. Officially, 2689 were killed. Unofficially, the death toll was around 20,000. It was a miracle that we survived. The earthquake left 70,000+ people homeless and many hundreds of children orphaned. Partnering with the Lhasa branch of Save The Children, I set up camp among these homeless people and carried out projects with the children including giving out clothing and food and working with the day camps that Save The Children set up to help keep these displaced children occupied throughout the day.
Yushu Earthquake Feeding Project: As I wrote above, the Yushu Earthquake left behind many hundreds of orphaned children. Most of these children were taken in by extended family members, but because the region is so impoverished, these families struggle to financially take care of another child. An NGO from Taiwan set up a program where these orphaned children could eat 3 healthy meals each day, right at the campus of their school. I was introduced to the leader of the NGO in the summer of 2012 and instantly knew that we were to assist in this project. Along with some other friends, we were able to donate enough money to fund this feeding project for nearly 6 months.
Tibetan Small Engine Repair School: Across Tibet, most of the skilled labor jobs, including large and small engine repair, do not belong to Tibetans, but to Chinese. Tibetans, because they usually cannot speak Chinese and do not have the money to go to vocational school in faraway Mainland China, simply don't have the opportunities to learn how to do engine repairs. In 2013, we partnered with the Kunpen Vocational Training Center to bring a certified mechanic from Mainland China to Tibet to teach Tibetans how to do small engine repair. We helped pay for this course in engine repair that was offered to a large number Tibetans from the nomadic region of Trindu (Chengduo). These Tibetans took the course FREE of charge. Because of this, numerous jobs have been created for Tibetan mechanics who can do small engine repair on both small cars and motorcycles.
Rural Homestay Training: In the summer of 2014, I was asked to give a training in how to operate homestays in rural Tibet. In rural Tibet, there are often no hotels for travelers to stay at.  So, a group of local people contacted me to give a seminar in how to operate and manage simple, but clean homestays. This not only offers travelers a pleasant place to stay in rural areas of Tibet, but helps Tibetan in these poor regions to earn a little more income as well.
Creating Jobs for Physically and Mentally Disabled Tibetans: In 2015, I partnered with a hotel in Lhasa called Tibet Dolma's Home, which employs a staff that is mostly physically and mentally disabled. The owner, a wonderful woman named Dolma, operates this hotel that also has a restaurant and small gift shop. Her goal is to give physically and mentally disabled Tibetans jobs….something that almost no other company does. I was able to give Dolma and her staff a free training seminar in how to become even better at what they do and give them further business advice in how to hire more disabled Tibetan people.
These are just some of the projects we have been able to do over the years and have many more planned for the future. One great thing about carrying out these projects is that it has helped to inspire the few Tibetan-owned travel agencies in Tibet to do the same! Some have been doing it all along since starting their company, while newer companies are making it a priority to help their communities. Today, nearly all of the Tibetan-owned travel agencies in Tibet are carrying out yearly projects to benefit their communities.
Partnerships across Tibet
My goal is to see the Tibetan people benefit from tourism. Over the past (nearly) 12 years of working in tourism, I have become close friends with many guides, drivers, hotel owners, restaurant owners and staff at other travel agencies. At Himalaya Journey, we use Tibetan owned hotels and restaurants as much as we possibly can to ensure that local Tibetans benefit from your journey to Tibet.
From The Land of Snows website, I receive THOUSANDS of emails per year from people wanting to know which travel agency to use in Tibet. With Himalaya Journey, I only arrange about 30 private journey per year in order to give clients the best customer service possible. The other 3000+ emails that I receive each year, I instruct people to contact other Tibetan-owned travel agencies to arrange their tours. These other agencies all are high quality, safe and reputable. These agencies DO NOT charge you more because I referred you to them. These agencies charge you the same competitive price that they charge other clients. By doing this, I am able to refer many thousands of travelers to other Tibetan-owned travel agencies in Tibet each year so that local Tibetan business-owners benefit.
Every year, I give tour guide training, sales training and basic business training to numerous different travel agencies in Tibet each year. Though some would look at these companies as "my competitors", I do not have that thought. First, I (along with my all-Tibetan staff) only arrange a small number of private journeys per year. Second, I refer many thousands of travelers to other companies. And lastly, my goal is to see Tibetans benefit from tourism in their land. By giving these other companies training, they are able to improve their business, provide a good service to travelers and give back to their communities both in hiring local people and in giving time and resources to projects.
Summary:  Why Use Us?
Here is a brief summary of why you should consider either using us to arrange your journey to Tibet or using our free travel advice in planning your journey to Tibet:
We give FREE travel advice on Tibet to many thousands of travelers each year
Our expert travel advice comes from over 15 years of extensive travel in Tibet
Our company, Himalaya Journey, employs ONLY local Tibetan people with the goal of arranging high quality journeys in an ethical and practical way
In addition to employing only local Tibetans, we use as many Tibetan owned businesses during your journey to Tibet (hotels, restaurants, etc) to ensure that your tourism money goes directly to local people
We regularly give back to local communities in ways that practically help the Tibetan people
We partner with numerous other Tibetan-owned travel agencies, hotels and restaurants in giving business training, marketing advice and general business consulting (free of charge) in order to see more Tibetan businesses succeed.
If you would like our expert help in arranging your journey to Tibet, Bhutan or Nepal, send us an email at:  info@himalayajourney.com
If you would like our expert FREE travel advice in planning your journey to Tibet, Bhutan or Nepal, send us an email at:  thelandofsnows@gmail.com