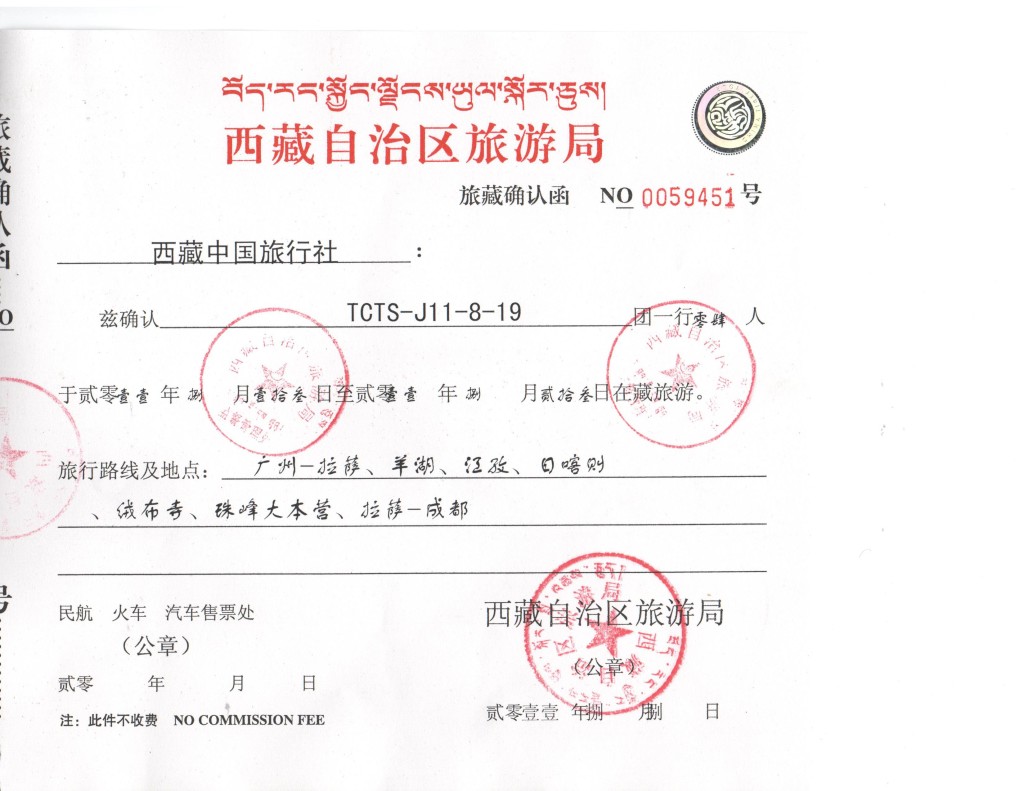 UPDATED September 2017: There is a lot of outdated and incorrect information on the internet regarding Tibet Travel Permit (TTP). This post will clearly explain what a TTP is and how you can obtain it.
Getting permits to visit Tibet
UPDATED September 2017
For recommendations on a reputable and affordable travel agency in Tibet, send me an email at: thelandofsnows@gmail.com
The infamous Tibet Travel Permit! If you have been looking online for Tibet travel information, you have probably come across multiple sites that seem to contradict each other regarding the travel regulations in Tibet. I constantly read websites that have either severely outdated travel information on Tibet or the information is simply incorrect. Some websites I have come across, particularly those from travel agencies in North America and Europe, list regulations that are outdated by as many as 20 years! Wrong information can be extremely frustrating for travelers who are trying to plan their journey to Tibet. Here's a little secret: Getting a Tibet Travel Permit (TTP) is not difficult! It's very easy! Let me tell you how to do it……….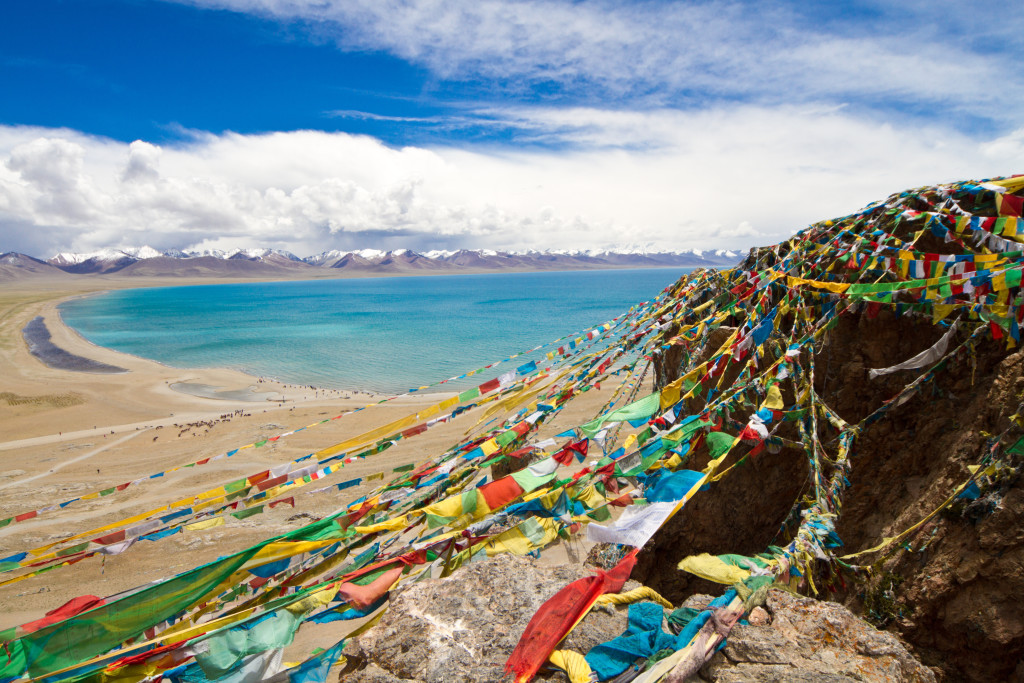 Travel Permits for Tibet
First, it's important to understand what a Tibet Travel Permit is…..and what it is not. TTP's are not a Tibet Visa. Since Tibet is part of China, there is no such thing as a "Tibet Visa", even though many travel agencies will use this term when referring to TTP's. When going to Tibet, there is only 1 visa that you need and that is a Chinese Visa (tourist, student, work, business, etc). When entering Tibet from Mainland China, you can apply for a Chinese tourist visa in your home country or at most other Chinese Embassies/Consulates across the globe. When entering Tibet from Nepal, you will have to obtain a Group Chinese Visa at the Chinese Embassy in Kathmandu. You will not be able to use a Chinese Visa obtained from anywhere else…it must be from the Kathmandu Chinese Embassy. The travel agency you use will assist you with this. Read the following post of mine on how to get a Chinese Tourist Visa when going to Tibet: Chinese Visa when going to Tibet
Tibet Visa?
A Tibet Travel Permit is not a Tibet visa, but is similar to an entrance ticket. In addition to a Chinese Visa, all foreign travelers must also have a Tibet Travel Permit in order to enter Tibet. TTP's are issued by the Tibet Tourism Bureau in Lhasa and not by Chinese Embassies/Consulates. These permits are valid for the duration of your journey in Tibet. The permit is not placed in your passport (again, TTP's are not visas). The permit is 2 pieces of paper. The first lists your itinerary in Tibet, along with your travel dates and the business number of the travel agency you are using. The second page lists your name (as well as the names of anyone traveling with you) as well as your nationality, gender, passport number, profession and birthdate. While you will have the permit (or a copy of it) when you board a flight or train to Lhasa, your guide will handle the permit the remaining time of your journey. You probably won't see it very often. Your guide will show it to authorities at the numerous checkpoints that are across Tibet.
How to get a Tibet Travel Permit
Now, how do you get a Tibet Travel Permit?? Only a travel agency can arrange this for you as part of an organized tour. In addition to a Tibet Travel Permit, you will also require a tour guide, a private vehicle and a driver in order to travel to Tibet. There are NO exceptions to these regulations. You cannot get a Tibet Travel Permit on your own. It is issued from the Tibet Tourism Bureau in Lhasa. To get the permit, follow these simple instructions:
Contact a local, Tibetan-owned travel agency at least 6 to 8 weeks before you plan to arrive in Tibet
Tell them the travel route you wish to follow in Tibet (you have the freedom to design your own itinerary while traveling in Tibet)
Tell the agency the dates you plan to travel in Tibet
Scan and email the agency your passport and Chinese Visa
The travel agency will then take care of EVERYTHING else for you, including obtaining your permits, arranging a vehicle and driver and arranging a guide for your journey.
The travel agency you use will fill out the paper work for your permit, submit it to the Tibet Tourism Bureau and then mail or email the permit to you so that you can board a flight or train to Tibet. **NOTE: If taking the train to Tibet, the travel agency will just email you a copy of the permit. If you take a flight to Tibet, the travel agency will mail you the original permit.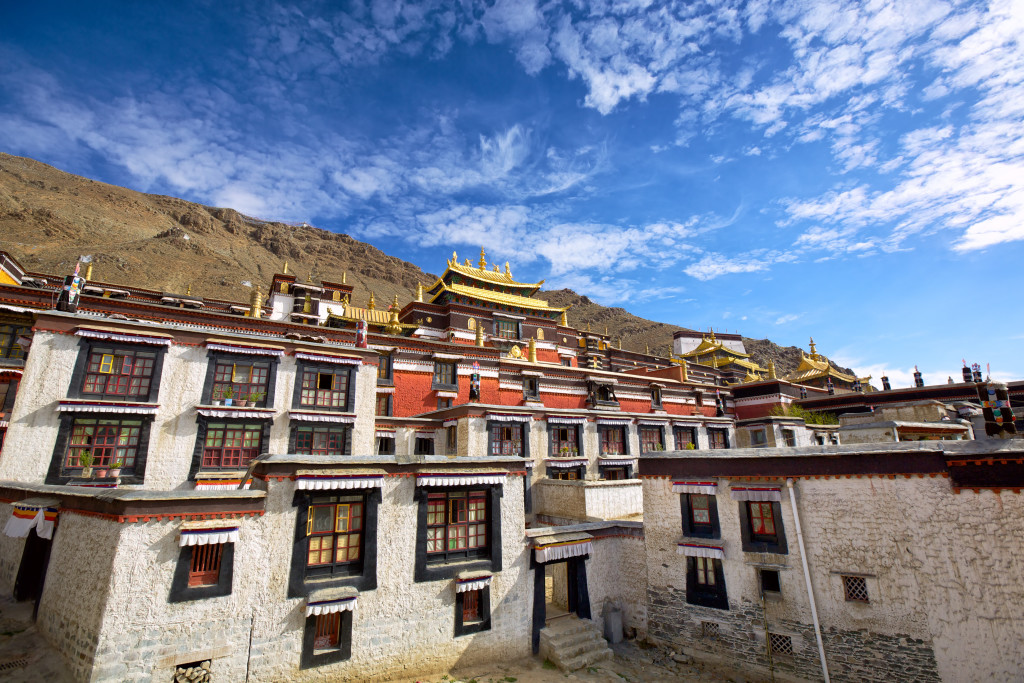 Certain areas of Tibet require additional permits such as an Alien Travel Permit or Military Permit. The same applies to these permits….the travel agency you use will take care of these for you. You don't need to do anything except follow the simple 5 steps listed above! The travel agency you use will know which permits are required for your journey and they will take care of all the required paperwork in obtaining these permits. Remember, permits are just 1 thing that you need in order to travel to Tibet. You need a FULL organized tour. No exceptions. You will also have to have a tour guide, a private vehicle and a driver (Exception are tours that only stay in Lhasa. No private vehicle or driver are required in your stay within the city of Lhasa. A guide is still required for tours to Lhasa.)
Summary of getting a Tibet Permit
In summary, getting a Tibet Travel Permit is NOT difficult…it's extremely easy!  You don't have to do anything except contact a travel agency. The agency you use will take care of everything regarding your permit and will then mail or email it to you so you can enter Tibet. The most difficult thing about getting the required travel permits is trying to get accurate, up-to-date travel information on Tibet. For more information on how to get to Tibet, read the following post of mine: How to get to Tibet
For a recommendation on a reputable, Tibetan-owned travel agency to use or if you have any other question about a Tibet Travel Permit, email me at: thelandofsnows@gmail.com