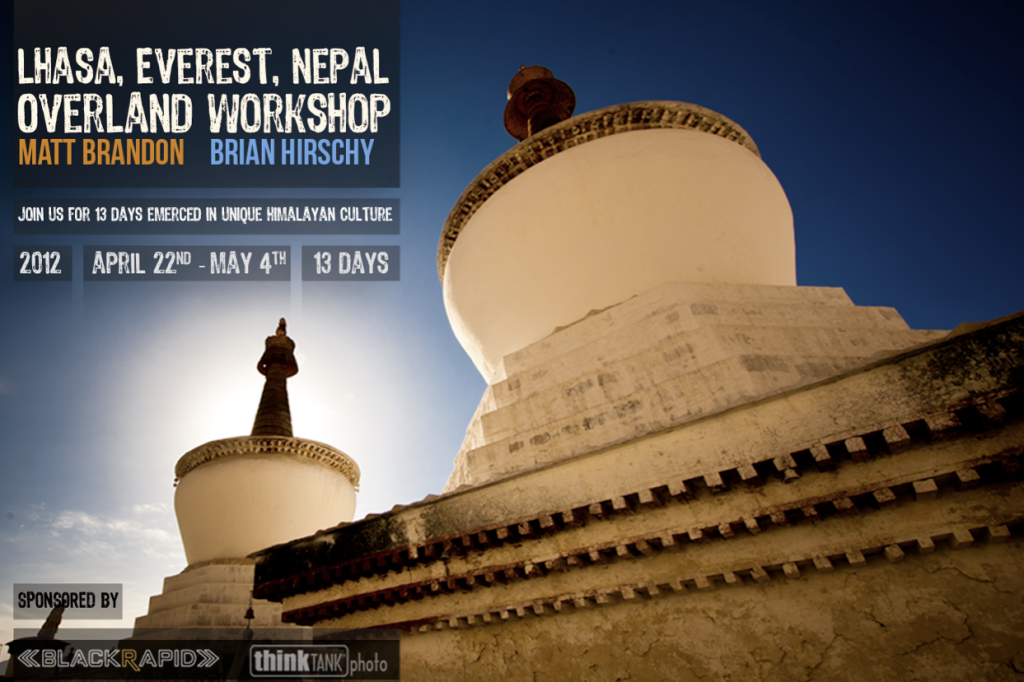 On April 22, 2012, Plateau Photo Tours, the company that I own, will be hosting The Digital Trekker Matt Brandon and my good friend and business partner Brian Hirschy, on a 13 day photography workshop adventure through Tibet and Nepal. This workshop is a follow up to our very successful 2011 trip through the Himalaya's (read link for testimonials from this years workshop). The workshop will begin by flying from Chengdu to Lhasa and from there we will take the famous Friendship Highway before arriving in the ancient city of Bhaktapur in the Kathmandu Valley. With this workshop, we will be exploring the once forbidden Tibetan capital city of Lhasa, wander around the large monastery of Tashi Lhunpo in Shigatse, gaze upon the turquoise waters of Yamdrok Lake, follow the pilgrimage circuit around Tibet's largest stupa in Gyantse and stand in front of Everest from the North Face Base Camp. From there, we will descend down to the Kathmandu Valley to the well preserved ancient city of Bhaktapur. We will be photographing some of the most interesting cultures and peoples in the world.
Matt Brandon and Brian Hirschy are both Asia-based professional photographers with many years experience teaching photography and leading workshops. Plateau Photo Tours always limits the number of workshop participants to a small number so that each customer can spend adequate one-on-one time with the instructors. No matter what your level of photography is, Matt and Brian can help take your photography to the next level. I, Losang, serve as the lead guide on all of Plateau Photo Tour's workshops. Having lived in Tibet for nearly 10 years, I am familiar with all aspects of Tibetan culture, history, language and religion. Together, the 3 of us work hard to ensure that all of our workshop participants come away with a greater understanding of photography and the cultures they travel through.
For more information about this workshop, go to the following link:
2012 Tibet, Nepal, Everest Overland Workshop
For an overview of the workshop, go to the following link:
2012 Himalayan Workshop Overview
To sign up for this workshop, go to the following link:
2012 Tibet, Nepal, Everest Overland Workshop Application
For more information about the workshop leaders, read the following links:
Brian Hirschy, Workshop Leader
Jamin "Losang" York, Lead Guide
Space is very limited for this workshop so sign up today! If you have any questions about this workshop, send me an email at info@plateauphototours.com.
See you in Tibet next spring!