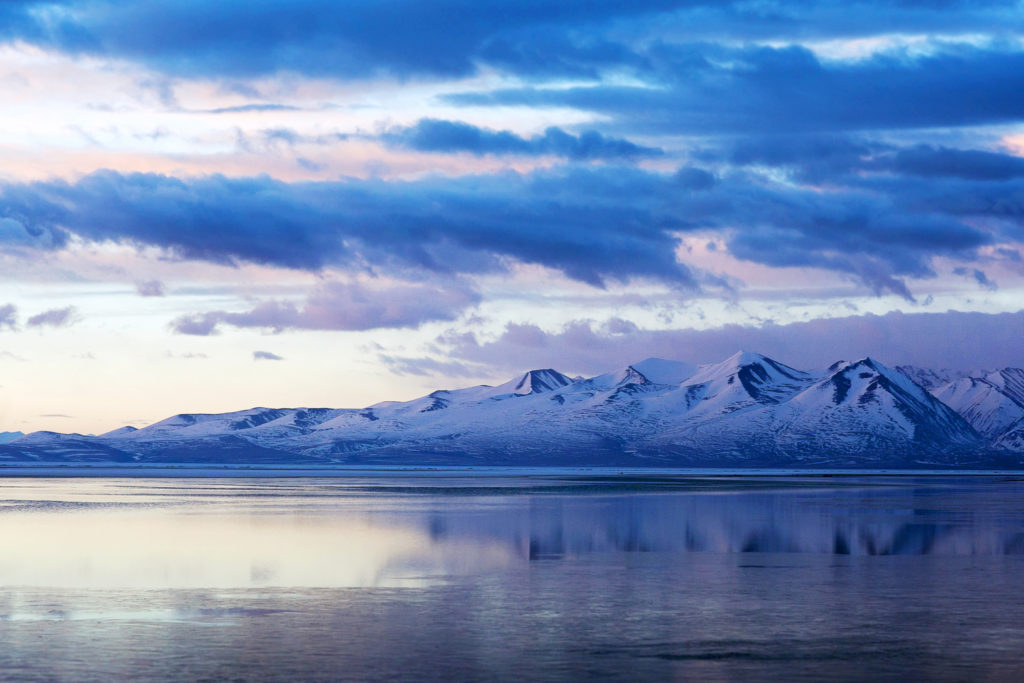 When traveling to Tibet, it is important to know what things you should and shouldn't bring. Read this post for a recommended packing list for Tibet. If you still have questions, send me an email at: thelandofsnows@gmail.com
Recommended Packing List for Tibet
If you have questions on what to pack for Tibet or need a recommendation for a quality travel agency in Tibet, send an email to: thelandofsnows@gmail.com or fill out this short form: Himalaya Trip Planner
Some travelers like to take as little as possible when they go on a big journey. Others prefer to take as many comforts from home as possible. Most travel agency sites recommend packing the absolute minimum when going to Tibet, but I (with over 14 years experience of living full-time in Tibet) do not necessarily agree with that. Being at such high altitude, Tibet can have varying weather over the course of a journey. In addition, the temperatures can fluctuate considerably between places like Lhasa and Everest Base Camp and at Mt Kailash. In Lhasa during the summer, you could easily have warm temperatures between 23°C and 26°C (73°F and 79°F), but could be well below freezing 0°C/32°F at Everest Base Camp. For that reason, careful packing is needed for any journey to Tibet. This post will assist you with what to pack for Tibet.
Airline Baggage Allowance in Tibet
For all airlines flying to Lhasa from Mainland China, the checked baggage allowance is one bag weighing up to 20 kilogram/44 pounds. If you fly directly to Lhasa within 24 hours of arriving to Mainland China, you should be able to check one bag weighing up to 23 kilograms/50 pounds. In addition to the one checked bag, you can carry up to 2 carry-on bags as well. Official policy states that these carry-on bags should weigh no more than 5 kilogram/11 pounds, however, in all of my years living in Tibet I have never had any problems with carry-ons weighing up to 12 kilograms/26 pounds. For my carry-ons, I usually have a camera/computer bag along with a 30 liter backpack. Knowing how much baggage you can take will help you to know more what to pack for Tibet.
What luggage to bring to Tibet
Unless you are specifically trekking in Tibet, a large backpack is not needed and not recommended. I suggest bringing a wheeled duffel, similar to what can be found here: REI wheeled duffel bags. In Tibet, all journeys, except treks, are overland trips using vehicles. Even for a trek around Kailash, I recommend bringing a suitcase or wheeled duffle bag for the journey, along with a smaller backpack you can use for the 3 day trek (you can lock up whatever things you don't need at the Kailash trail head in Darchen). For the Kailash trek, there are guesthouses and simple restaurants along the way so tents and sleeping mats are not needed (though you will need a sleeping bag). For most of your journey in Tibet, your guide and driver, along with the staff of the hotels you are staying at, will be carrying your luggage for you from the vehicle to the hotel. You can use any luggage that you are comfortable with for a journey to Tibet. So again, unless you are trekking there is absolutely no need to bring a large backpack to Tibet.
For overland journeys in Tibet, your luggage will be placed in the back of the vehicle and will be somewhat hard to access during the day. Bringing a small 20 liter or 30 liter backpack to put your camera, small toiletries, sunblock, water bottle, snacks and other small items is recommended.
What backpack to bring to Tibet
Backpacks are only needed if you plan to trek in Tibet. If you plan to trek, bringing the right backpack is an important decision. Be advised that some trekkers use either porters or pack animals (mostly yaks) when trekking in Tibet, while others prefer the traditional way of carrying their own things for the duration of the trek. The size of the backpack you will need will depend on the length of your trek. The most common treks in Tibet are the 3 days around Mt Kailash and the 5 day trek from Ganden Monastery to Samye Monastery. In general, for treks lasting 3 to 5 nights, a 50 to 80 liter backpack is suggested. For a list of good backpacks that are this size, go to the following link: Multi-day backpacks. For treks lasting 5 or more nights, a 70 liter to 85 liter backpack is recommended. For a list of quality large backpacks, go to the following link: Extended trip backpacks. Still not sure which size and specific backpack you need? Go to this site: What backpack to choose.
Weather in Tibet
Tibet has a reputation as being a place covered in snow with freezing temperatures year round. In reality, Tibet is quite pleasant for much of the year. During the winter months, many areas of Tibet can be quite cold, but for the most part, heavy snow is rare. The Himalaya Mountains generally allow very little precipitation to come over from India and Nepal. Much of Tibet is a large, arid desert.
The wettest months of the year are from late June through mid September. During these months, rain can fall, but usually not every day. Clouds in the summer months can obscure views of Everest and other Himalaya peaks. Kailash and Western Tibet usually remain relatively dry in the summer months, though some rain is possible.  When it does rain in Tibet, it is rare for it to rain for more than an hour or so before stopping. The remaining months of the year are generally dry and sunny. Snow can fall in higher elevations above 4000 meters/13,000 feet in winter, spring and autumn, but it normally melts shortly after falling due to the strong UV rays from the sun at high elevation.
The wind on high mountain passes can be extremely strong. When stopping at high passes, you should wear your coat, hat and gloves as the windchill can be very cold. High quality sunglasses are essential. The sun in Tibet can be very intense and can quickly cause damage to your eyes.
Tibet can have wide temperature swings throughout the day. Due to strong UV rays from the sun at high altitude and an extremely dry climate, the weather will often feel much warmer than the actual air temperature while in the sun, but cold in the shade. This type of weather makes it very important to bring clothing that allows you to wear layers that you can take off, or add, as the temperature changes. While you may be wearing a heavy coat in the morning, you might be in just a fleece by the afternoon. By evening, the temperatures can be quite cool again.
Here are the average temperatures to expect in the main areas of  Tibet for each season: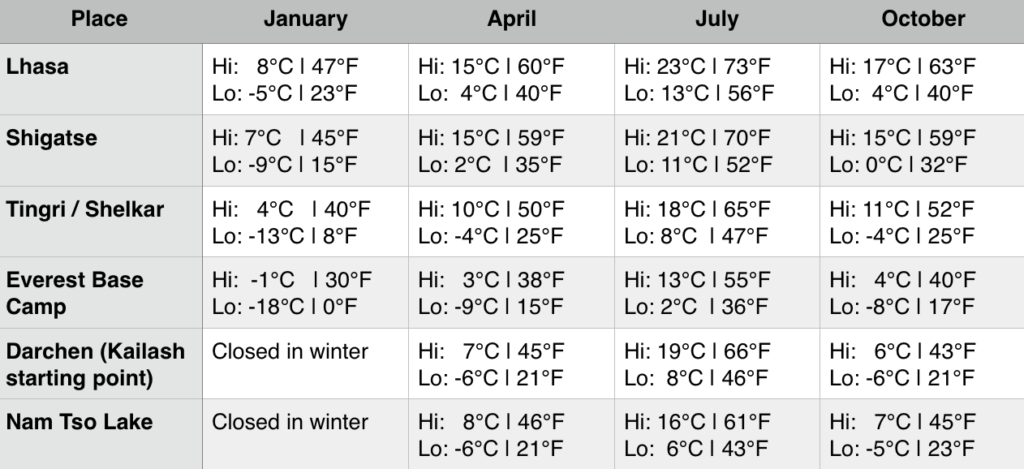 What to pack for Tibet
Twenty years ago, I didn't really care about high quality clothing gear when I trekked, climbed and camped in the mountains. After some unexpected clothing breakdowns years ago (mainly with zippers), I now prefer to only use high-quality gear from trusted outdoor brands. There are many excellent brands across the US, Canada, UK, Australia, New Zealand and western Europe to choose from. Here is a list of clothing items that I recommend to bring:
Recommended clothing items for overland journeys (treks include this and the list below):
comfortable, broken-in hiking shoes or walking shoes (hiking boots not required on overland journeys)

3 or 4

 

pairs of hiking pants (at least 1 pair of waterproof/windproof hiking pants)

2 or 3 pairs of cotton socks

3 or 4 pairs of wool socks

4 to 6 pairs of underwear

1 or 2 sets of thermal underwear (tops and bottoms)

1 set of warm pajamas for overnight

mid-weight or heavy-weight winter coat (down recommended for travel in the months from Oct—Apr)

lightweight hooded rain jacket for any travel done from April thru October

warm hat

warm gloves

scarf (optional)

sun hat with wide brim

2 or 3 fleece tops

4 or 5 T-shirts (Mixture of short and long sleeved)
Recommended Accessories
small flashlight (torch) or headlamp with extra batteries

sunglasses with UV protection

1 liter Nalgene bottle

small thermos for tea/hot water

day pack that is 20 L to 30 L in size to keep accessible in the vehicle

1 small bag for dirty clothes, etc
Personal Hygiene and Toiletry Items
sun block/sun screen that is SPF 35 or higher

lip balm that contains sunscreen

skin moisturizer (optional)

anti-bacterial hand sanitizer

small hand-held mirror (optional)

deodorant

feminine products

shaving products

travel size soap and shampoo

toothbrush and tooth paste

wet wipes

2 rolls of toilet paper (toilet paper not provided in many public toilets)

nail clippers

band-aids and moleskin for blisters

ear plugs

cotton buds/Q-tips
Recommended Medicines (contact your doctor for more info)
medicine to treat travelers diarrhea

anti-biotic ointment for minor cuts or blisters

personal Tylenol, ibuprofen, cold medicine, antihistamine, etc

Diamox / Acetazolamide (Optional….contact your doctor for details)

medicine if you are prone to motion sickness

prescription drugs (consult your doctor)
Extra Optional Items
iPod/iPad/Kindle

batteries for personal items (camera, flashlight, etc)

plenty of memory cards for your camera

passport/money holder

extra copy of your passport and Chinese visa

protein bars, chocolate, dried fruit or other snacks of your choice

electric outlet adapters for Tibet

small notebook with pen

3 or 4 small zip-lock bags

digital version of Lonely Planet Tibet guidebook
Additional Items for Trekking Journeys (only needed when trekking)
1 pair of comfortable tennis shoes, flip-flops or croc-style sandal to wear after trekking

broken-in hiking boots
2 or 3 wicking t-shirts
3 or 4 pairs of trekking underwear that minimize chaffing

1 lightweight, quick-drying towel

gaiters (optional)

bandana 

lightweight rain jacket with hood
good quality sleeping bag rated for -12°C to -18°C (10°F to

 

0°F) 

2 durable trekking poles

lightweight hand-held mirror
moleskin and band-aids for blisters
70 liter (or bigger) backpack
Camelbak water carrier
Summary for Tibet Packing List
It is important to pack practically for Tibet. If you are not trekking, big hiking boots, a large backpack and a sleeping bag are not needed. The weather in Tibet can change throughout the course of the day and can vary across different areas of Tibet. Knowing what to pack for Tibet will help you to be prepared no matter the weather that you may come across. If you have any questions about my recommended packing list for Tibet or what to pack for Tibet, please send an email to: thelandofsnows@gmail.com