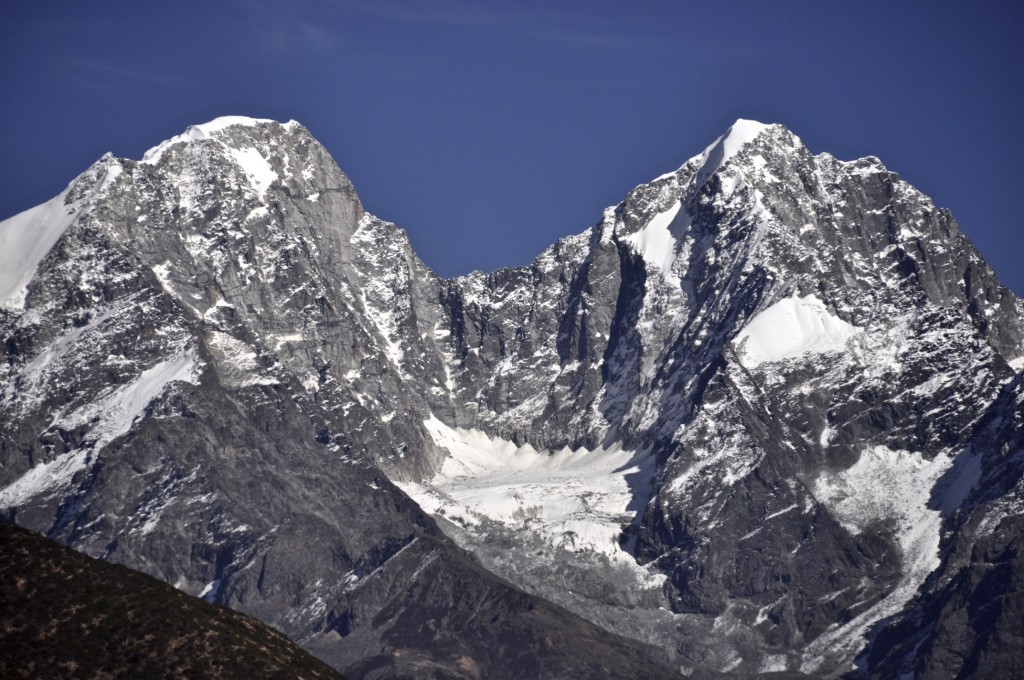 The 1200 kilometer overland route from Chengdu to Shangri La goes through some of the most rugged and beautiful terrain the eastern Tibetan Plateau has to offer. Glaciated peaks, evergreen forests, crystal clear rivers, glacier-fed lakes and traditional Tibetan culture are all found along this route. Though this route can be done by using public transportation, having a private vehicle will allow you to see this region up close and at your own pace. There is a lot to see and do along this route so don't rush through this area. Here is the itinerary I recommend for this region:
Day 1: Chengdu to Kangding (Dartsendo)    Distance: 325 kilometers/203 miles
There are a couple of bus stations in Chengdu, the capital of Sichuan province, that have buses going to Kangding. The main bus station is the Xin Nan Men station, which has buses about every hour leaving for Kangding starting at 7am. The other bus station is the small Wu Hou Ci station in front of the Kangding Hotel in the Tibetan District of Chengdu. This station normally has 2 daily buses to Kangding. Buses take between 7 and 9 hours.
For the most part, this section of the journey is uninteresting. The first 150 kilometers is all on an expressway with literally nothing to see. The remaining 175 kilometers is along a narrow, winding road that goes through several small Chinese towns and villages. You slowly ascend to the top of the Er Lang Shan Pass, which tops out at a little over 3000 meters. The Er Lang Shan Pass is the traditional border between Chinese and Tibetan cultures. Once you cross over the pass, you have entered into Garnze Tibetan Autonomous Prefecture  དཀར་མཛེས་ཁུལ་. The large town of Luding sits in the valley below the pass. From Luding, you begin to ascend again to Kangding.
NOTE: If you plan to cycle the route from Chengdu to Shangri La, I personally recommend starting in Kangding. There is really little to see along the route from Chengdu to Kangding, plus the road is extremely narrow in many places with heavy truck traffic.
Days 2 and 3: Kangding    Elevation 2600 meters
Kangding, known in Tibetan as Dartsendo དར་རྩེ་མདོ་, is the first Tibetan region as you travel west from Chengdu. Lying at an elevation of 2600m / 8530 feet, Kangding has been a main trading center, particularly for tea, between Chengdu and Lhasa for many centuries. Even today, most goods traveling from mainland China to the inner regions of the Tibetan Plateau pass through Kangding. Most travelers to Kangding stay only 1 or 2 days. However, there is enough to see and do in the area to keep one busy for several days. For more about what to see and do in and around Kangding, read the post below:
I have suggested staying in Kangding for 2 nights, but if your schedule allows it, stay longer. There is so much to see and do in and around town. There are 20 peaks in the surrounding area that rise above 6000 meters. Talk to the good people at Zhilam Hostel about great treks in the area as well as amazing picnic areas that are relatively close by!
Day 4: Kangding to Tagong (Lhagang)  Distance: 112 kilometers/70 miles     Elevation 3725 meters
Though Tagong requires a detour off of the main highway going to Shangri La, it is well worth the detour! Tagong, known in Tibetan as Lhagang ལྷ་སྒང་,  lies at 3725 meters and is 112 kilometers from Kangding. This high altitude grassland area is home to many Tibetan nomads who spend their days herding yaks. From late spring until fall, the nomads live in traditional style black yak wool tents. Tagong is a great place to experience authentic Kham Tibetan culture. Though the small town can be quite full of Chinese tourists during the summer months, there are many places to explore just outside of town. Talk to Chyoger Treks, who operate an excellent cafe and guesthouse just outside of the monastery, for more details on mountain treks and horse trekking in the area.
In addition to a large monastery, expansive grasslands and plenty of Kham Tibetan nomadic culture, Tagong has excellent views of nearby Mt. Zhara Lhatse, know in Chinese as Yala Xue Shan. Zhara Lhatse rises to 5820 meters and is one of the most beautiful mountains in the Sichuan part of Kham.
The easiest way to get to Tagong is by shared mini-van taxi. These shared taxi's take about 3 hours to reach Tagong.It is best to leave Kangding in the early morning in order to give you enough time to explore Tagong. If you have a little bit of extra money or if you are traveling with a group, hire the taxi all to yourself. That way you can have the driver stop along the way to photograph the amazing scenery. There are 2 ways to reach Tagong from Kangding. Though the route leading to the nearby lake of Mu Gu Cuo (Migoo Tso) is a little shorter, the route going west over the Zhe Duo Shan Pass is more scenic. The top of the pass on a clear day offer great views of the nearby snow-capped peaks. Past the high pass towards Tagong, there can also be a clear view of Minyak Konka, the highest mountain in eastern Tibet, which rises to 7556 meters.
Day 5: Tagong to Kangding  Distance 112 kilometers/70 miles 
There is so much to see and do in this area that I strongly suggest staying for at least 1 night and most of the next day. In the later afternoon, you can take a shared mini-van taxi back to Kangding and then continue your journey towards Shangri La. There are no public buses going from Tagong towards Litang or Shangri La. It is easiest to just return to Kangding and then take the bus from there.
Day 6: Kangding to Litang  Distance 285 kilometers/178 miles    Elevation 4000 meters
From Kangding you will travel west to the wild west town of Litang ལི་ཐང་. Litang sits at 4000m and is a main nomadic trading center for Kham Tibetans. Tibetan nomads from the region, on motorcycles or even horseback, come to Litang each day to buy and sell goods. Litang is well over 85% Tibetan and has several places to see. On the far west end of town, there is a huge, white stupa where Buddhist worshippers gather each morning. They walk the kora around the stupa while spinning prayer wheels and chanting mantras. On the north end of  town is the Litang Chode Monastery, which was established in 1580. It is the largest monastery in the region with several hundred monks. Litang was the birth place of the 7th and 10th Dalai Lama's. The actual home that the 7th Dalai Lama was born in still exists in the center of town and can be visited free of charge.
In Litang, be sure to talk to either Tsering or Medok for more information on the area. Tsering is the owner of the Peace Guesthouse, located near the bus station. He speaks English well and knows the region better than anyone. Medok is the owner of the Potala Inn. She can arrange homestays in the area as well as tours to interesting sites outside of town.
NOTE: Major road construction has been going on between Kangding and Litang for the past couple of years. Large sections of this road are in poor condition. Though the distance is only 285 kilometers, it often takes buses 10 to 12 hours to cover the distance.
Day 7: Litang
I recommend staying 2 nights in Litang in order to see the unique Kham culture that this area has. The grasslands on the south end of town often have nomads camped out on them during the summer months. Just a short 30 to 45 minute drive west of town also leads to some vast nomadic grasslands.
Day 8: Litang to Xiangcheng (Chaktreng)   Distance 205 kilometers/128 miles   Elevation 2895 meters
The scenery between Litang and Xiangcheng, known as Chaktreng ཕྱག་འཕྲེང་ in Tibetan, is quite amazing. You go from huge expanses of grassland to the top of the Tu Er Shan Pass at just under 4700 meters. On the top of the pass, the scenery is quite moon-like devoid of trees and covered in huge boulders. From the pass, you descend back below the tree-line to lush evergreen forests with glacier-fed rivers flowing through them. If you are taking a public bus, you will miss nearly all that this section has to offer. If you are taking a private car, be sure to stop often and explore this area up close.
Xiangcheng itself is fairly uninteresting. It is a mid-sized town that has some markets and a couple of monasteries to explore. It really serves as a place to overnight between Litang and Shangri La. There are a couple of decent guesthouses to stay in and plenty of shops and restaurants. There is also an ATM in town that normally accepts a foreign card. This is the first ATM that accepts a foreign card since Kangding.
Sometimes there is a daily bus from Litang going to Xiangcheng, but not always. When there is not a direct bus from Litang to Xiangcheng, you still have 2 options. The easiest option is to take a shared mini-van taxi between the 2 towns. Mini-vans leave Litang very early in the morning for Xiangcheng. You can either purchase a seat int he shared mini-van or hire the entire vehicle. If you hire the entire vehicle, the driver will stop at all of the scenic places along the way so you can take pictures and explore. Another option is to wait for the bus from Kangding to pass through Litang as it continues on to Xiangcheng. The bus normally passes through in the late afternoon or early evening. If you can't speak Chinese or Tibetan, have Tsering at the Peace Guesthouse assist you.
NOTE: If you have the time, an excellent side trip this day would be to go to Daocheng (known as Dabpa འདབ་པ་ in Tibetan) and then on to the Yading Nature Reserve. This would require an additional 3 or 4 days. The Yading Nature Reserve is home to 3 peaks considered to be holy to the Tibetan people. These 3 peaks each rise to nearly 6000 meters. There is a great kora around the main mountain that takes about 2 days to hike. For more information on this area, read the post below:
Day 9: Xiangcheng to Shangri La (Gyelthang)    Distance 205 kilometers/128 miles  Elevation 3290 meters
This final day will take you from Xiangcheng to Shangri La, known as Gyeltang རྒྱལ་ཐང་ in Tibetan. The drive is amazingly beautiful as it crosses the jagged mountain peaks that form the border between Sichuan and Yunnan provinces. Shangri La marks the end of the Kham Tibetan world. The Old Town in Shangri La is a maze of great restaurants, bars guesthouses and shops. At the big square in the Old Town, there is Tibetan dancing each night. On the north end of town is Ganden Samtseling  Monastery, which is the largest Tibetan Buddhist monastery in Yunnan. It is over 300 years old and has over 650 monks. There is a daily bus connecting Xiangcheng with Shangri La. Most of the road is in great condition, though there is a 70 kilometer section in the middle that is quite rough and is often under construction.
Shangri La is a fun place to spend 2 or 3 full days in. There are so many fun restaurants and great guesthouses to stay in. It is a great place to spend some time relaxing after a long overland journey. From Shangri La, there are daily buses and flights to Kunming. Though the itinerary above is for 9 days, adding an extra day in places like Kangding, Tagong and Litang are recommended if your schedule allows it.
If you have any questions about this route or have any other questions regarding travel on the Tibetan Plateau, send an email to thelandofsnows@gmail.com
Losang
བློ་བཟང་