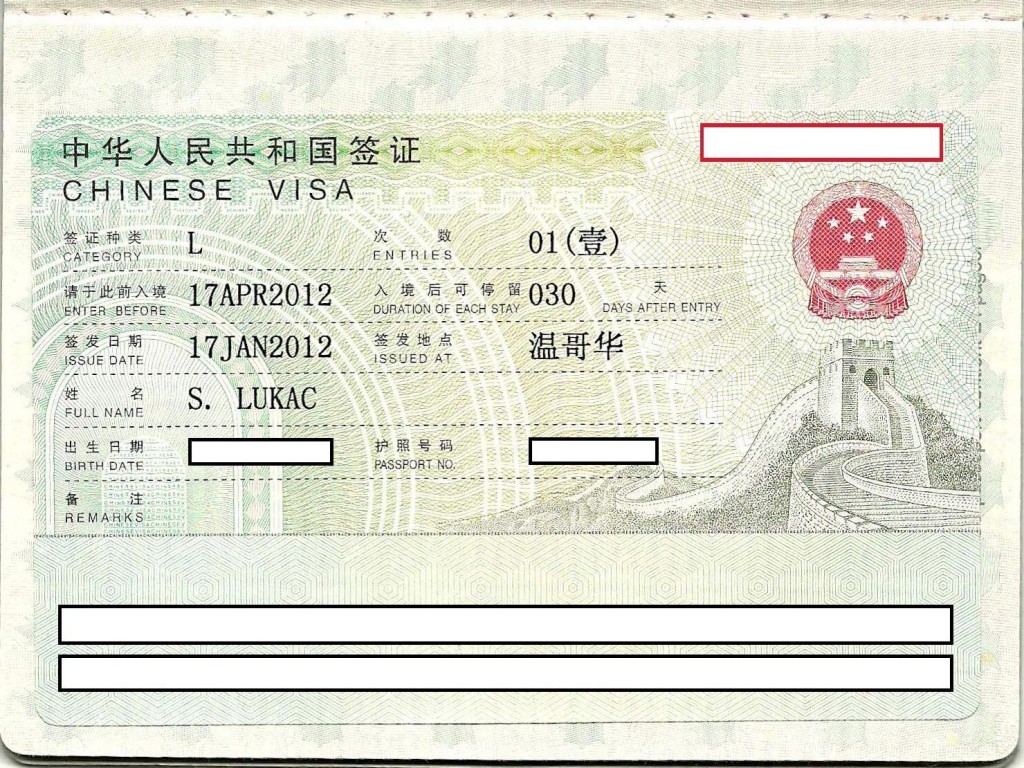 UPDATED SEPTEMBER 2015
Getting a Chinese tourist visa is a fairly simple process. For many nationalities, including North Americans, EU citizens, UK citizens. Australians and New Zealanders, you can apply for a Chinese tourist visa at the Chinese embassy/consulate in your home country and in most Chinese embassies/consulates around the world. On the Chinese visa application, it asks for you to list the places in China that you plan to go to. It is very important that you NOT write "Tibet" on your application or any other Tibetan regions that are found in the Tibet Autonomous Region, Qinghai, western Sichuan or southwest Gansu. If you write Tibet or any Tibetan town or region on your visa application form, there is a very good chance that your application will be denied.
 If you write "Tibet" as one of your destinations on your Chinese visa application, the consulate/embassy will tell you that they need you to first get a Tibet Travel Permit in order for your visa to be processed. However, the Tibet Tourism Bureau will not process your permit application without you first having a Chinese visa. You will then be in a Catch 22 situation (incapable of avoiding a problem because of contradictory rules) with the embassy refusing to give you a visa without showing your permit and the tourism bureau refusing to give you a permit without showing your visa. If this sounds illogical, it is!! After living more than 13 years on the Tibetan Plateau, I can tell you from personal experience that illogical situations occur all the time, especially in the government.
I have heard many reports over the past few years of people having problems with their Chinese visa application when they have listed Tibetan towns in the Amdo and Kham regions (modern day Qinghai, western Sichuan and southwest Gansu provinces). That is why it is best to avoid listing "Tibet" or any other Tibetan town or region on your visa application form. It is important to remember that you are free to go to places that you didn't list on your visa application form. You are not going to be prevented from going to a certain place because it wasn't listed on your visa application form. I recommend just listing a few of the major cities in China that you are planning to go to, such as Beijing, Shanghai, Xi'an or Guangzhou.
Certain Chinese consulates and embassies are now requiring foreigners to show proof of hotel bookings in China before a visa will be issued to them. An easy way to do this is to book an extended stay at an inexpensive youth hostel in a large Chinese city that you are planning to go to (in order to get to Tibet, you will have to pass through Beijing, Chengdu or Xining). Ask the hostel before you book with them if you can change or shorten your stay after you make a booking. In most cases, the hostel will allow you to change your reservation without having to pay a penalty. Have the hostel email you your booking to you to give to the Chinese embassy. Once your visa has been given, contact the hostel and either cancel or shorten your stay with them. You are then free to make other hotel reservations in other parts of China, including in Tibet.
The most important thing to remember is to not list "Tibet" or any other Tibetan inhabited region as one of your destinations on your Chinese visa application.
If you have any questions regarding Tibet travel permits, Chinese visa's or any other Tibet related questions, go to my Facebook Page or send an email to thelandofsnows@gmail.com