Larung Gar is the largest Buddhist Institute on the planet and is located in the Kham region of the Tibetan Plateau.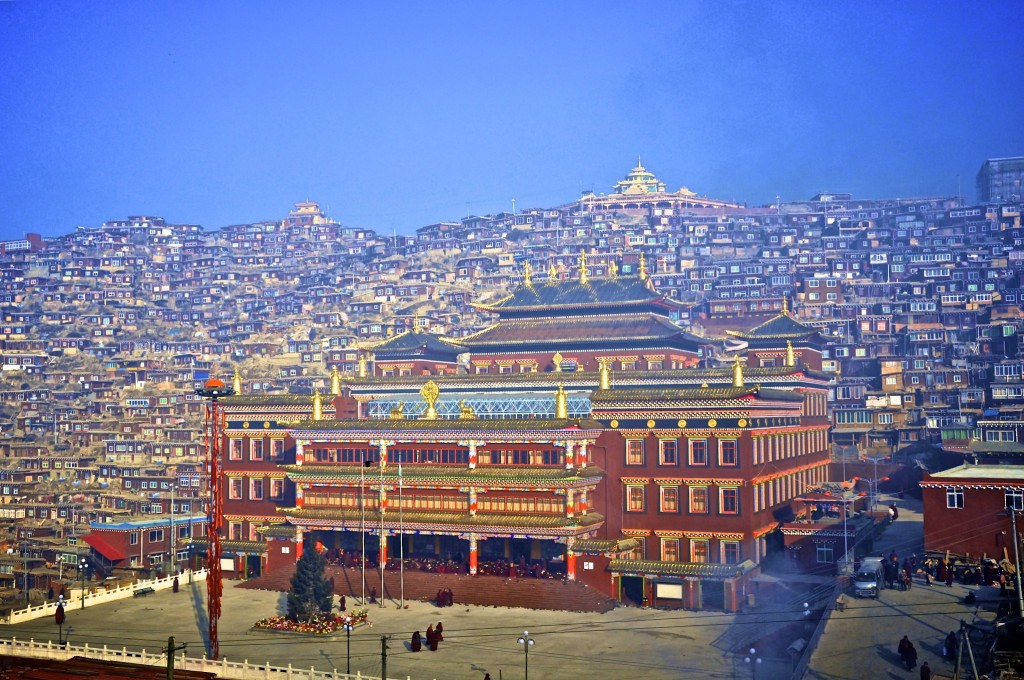 2016 Larung Gar Travel Restriction
In June 2016, local government officials announced that the Larung Gar Buddhist Institute would be dramatically reduced in size. Thousands of monks and nuns will have to leave by the latter half of 2017. Click these links to read more: China to reduce the number of monks at Larung Gar. and BBC: Destruction of Larung Gar. Because of this new policy at Larung Gar, foreign travelers are NOT permitted to travel to the area at Larung Gar or to the nearby county town of Sertar (Seda). If you are looking for an "official" statement from the police of local government on this travel restriction, you won't find it as the Chinese government NEVER gives out official information like this. Larung Gar most likely will be closed for the next 12 to 18 months. Travel to this region at your own risk!
First hand reports state that English speaking police officers told foreign travelers that they could not go to Larung Gar. Police then escorted travelers to a hotel in nearby Sertar/Seda town where they were allowed to stay just one night before having to leave the region the next morning. This restriction is ONLY for Larung Gar and is not in place for other regions of Kham in Western Sichuan. Many thanks to all of you for emailing me with your reports! If you have had a recent experience at Larung Gar, please send me an email at: thelandofsnows@gmail.com
Larung Gar Buddhist Institute
The first time I arrived at the Larung Gar Buddhist Institute, I couldn't believe my eyes! I couldn't believe that something this HUGE could exist on the Tibetan Plateau ( Ihave since been back to Larung Gar several times). Located in Sertar County, Garze Prefecture དཀར་མཛེས་ཁུལ་གསེར་ཐར་རྫོང་ in the traditional Tibetan region of Kham found in western Sichuan, Larung Gar is home to over 40,000 monks, nuns and lay-students. Some sources claim that there are only 10,000 monks and nuns here, but that number is incorrect. Several monks at Larung Gar told me that there are at least 40,000 people living there and possibly more. Looking around the massive complex of Larung Gar, you can easily see that this place is home to many tens of thousands of people.

Location of Larung Gar
Larung Gar sits in a valley at 4000 meters in elevation, about 4kms off of the main road and about 15kms before reaching the county town of Sertar. Huge prayer wheels mark the entrance to the institute. The campus is enormous…much larger than I ever imagined. Houses for monks and nuns sprawl all over the valley and up the surrounding mountains. A huge wall through the middle of Larung Gar separates the monk side from the nun side. Monks and nuns are not allowed out of their designated areas except at a common area open to both monks and nuns is found in front of the main monastery assembly hall. The houses are all built in a wood style that is traditionally found in this region. The houses are built so close together that they are almost on top of each other. How the monks and nuns find their specific house among ten thousand plus houses is beyond me!
I went during the winter the first time I visited. The air temperature was at least  -25C (-13F) when I was there in December, and perhaps even colder. The few police that I saw in the area were probably more concerned about staying warm than keeping an eye out for foreigners. Again, I have not heard of anyone having any issued visiting this area since 2011. Larung Gar sits at 4000m / 13,100 feet so make sure you are acclimatized before going there. Summers are pleasant, but winters are deathly cold with temperatures getting as cold as -40C.
Language used in the area
Though located in Garze Prefecture, which is home mainly to Kham-speaking Tibetans, Sertar is traditionally a part of Golok, which is an Amdo speaking area sound in southeast Qinghai. A large percentage of the native people in this area will speak Amdo Tibetan as a first language. Among local Tibetans, the area is referred to as "Golok Sertar".
Getting to Larung Gar
Sertar County is not an easy place to get to. It is quite remote and far from any city. The nearest large city is Chengdu, which is 650 kilometers away and takes 11 to 13 hours to reach by vehicle. Because of the high elevation of Sertar, it is recommended that you take a couple of acclimatization days before arriving. I recommend going from Chengdu to Kangding (330 kilometers, multiple buses per day). Stay at night or two in Kangding. The last time I checked, there were not direct buses from Kangding to Sertar. You first need to go to Garze (385 kilometers, 1 bus per day) and then take either a bus or a shared mini-van taxi to Sertar and Larung Gar (distance: 150 kilometers).
Using Public Buses from Chengdu
There are at least 1 or 2 daily buses that go directly from Chengdu to the Sertar (Seda in Chinese) county town. NOTE: The bus does NOT go directly to Larung Gar, but goes to the county town. The bus departs from the Chengdu Cha Dian Zi bus station. The first bus departs at 6:25am. The ticket costs around 210 RMB per person. The bus normally takes 12 to 14 hours and sometimes more. You can either get off of the public bus at the intersection of where Larung Gar is (roughly 15 kilometers before reaching the county town) or go first to the county town and then take a short taxi ride to Larung Gar. A shared mini-van taxi from the Sertar/Seda county town to Larung Gar costs around 7 RMB/person.
Shared Vehicle from Chengdu
Another option is to talk to the many Tibetan drivers that hang out each day in front of the Kangding Hotel in the Wu Hou Ci District in Chengdu (the main Tibetan area of Chengdu). These drivers own their own vehicles and operate an "under-the-table" type of taxi service. They most serve Tibetans, but they will usually also take foreigners. They mostly use LandCruisers or Pajero's.  As stated above, I recommend acclimatizing somewhere before arriving in the Sertar region, elevation 4000 meters. Do not underestimated the affects that high altitude can have on your unacclimatized body.
Using Public Bus from Kangding
There is normally one daily bus from Kangding to Sertar/Seda. The bus departs Kangding at 6am and normally takes 6 hours, though it can be longer depending on weather conditions. The bus ticket costs around 133 RMB per person.
The main attraction is this area is Larung Gar. The dusty town of Sertar, 25 kilometers from Larung Gar, has a couple of decent hotel options to choose from that foreigners are permitted to stay at and plenty of restaurants and small stores.
If you have any questions about Larung Gar, need a recommendation on a travel agency or have any other travel related questions on Tibet, send an email to me at thelandofsnows@gmail.com