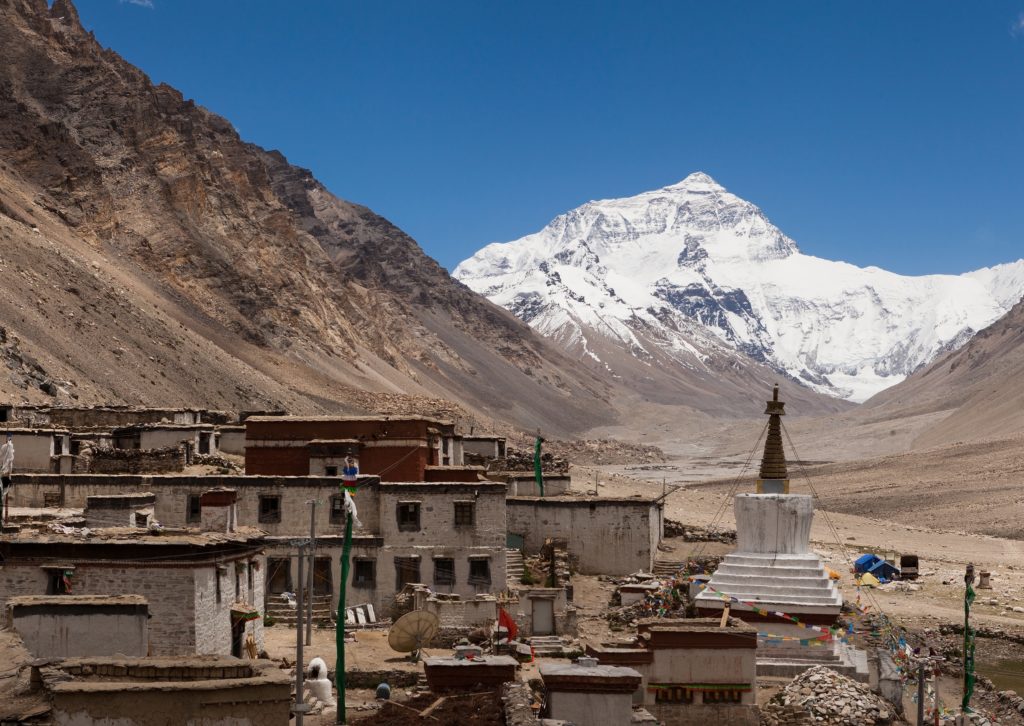 Rongbuk Monastery is located 8 kilometers/5 miles north of Everest Base Camp in Tibet. It is regarded as the highest monastery in the world. More info on Rongbuk at: thelandofsnows@gmail.com
For information on a tour to visit Rongbuk Monastery and Everest Base Camp, go to the following link: Overland Journey from Lhasa to Rongbuk Monastery and Everest Base Camp or send us an email at: thelandofsnows@gmail.com
Rongbuk: Highest Monastery in the World
Rongbuk Monastery (རོང་ཕུ་དགོན་པ།), also spelled Rongphu, is regarded as the highest monastery in the world at an elevation of 5000 meters/16,420 feet. Dira Puk Monastery on the north side of Mt Kailash in western Tibet is technically higher than Rongbuk at 5080 meters/16,670 feet, but most sources list Rongbuk as the highest, including Wikipedia. The monastery is just a few kilometers north of the infamous "tent-hotels", the closest accommodation option to Everest Base Camp for non-climbers and just north of the Tibet-side base camp. Rongbuk Monastery was founded in 1902 and is part of the Nyingma sect of Tibetan Buddhism. Prior to the monastery being built, the area around the monastery was used by monks and nuns as a region to meditate. Numerous meditation caves can be found along the mountainsides in the Rongbuk Valley.
Prior to the 1960's, several hundred monks and nuns lived at Rongbuk. Currently, only around 35 monks and nuns live here. The monastery has a large stupa lined with prayer wheels along with a pilgrimage circuit that goes all around the complex. Just above the monastery, there is a an excellent viewpoint that offers a panoramic vista of the monastery along with a clear, unobstructed view of Everest's North Face. For obvious reasons, Rongbuk Monastery is regarded as one of the most beautiful places on the planet. The view of Everest from this area is far superior to the view of Everest from the Nepal Everest Base Camp.
How to get to Rongbuk Monastery
All foreign travelers going to Tibet MUST be on an organized tour that includes travel permits, a private vehicle, a driver, a tour guide and an official travel itinerary. There are no exceptions to these travel regulations. Only a travel agency in Tibet can assist you in arranging the required organized tour. Contrary to popular belief, a group tour is NOT required in order to visit Tibet. Solo travelers can easily visit Tibet as long as they are on an organized tour. Travel to Tibet must be organized well in advance. I recommend contacting a travel agency in Tibet at least 6 to 8 weeks before you plan to arrive.
Unlike the Nepal-side Everest Base Camp, which can only be reached by trekking, Rongbuk Monastery and the Tibet-side base camp can be reached by road. There is a paved road leading all the way from Lhasa to Rongbuk Monastery. The travel agency you use will arrange a vehicle to take you all the way to the Tibet Everest Region.
Despite what you may have read or heard, getting to Tibet is not difficult. In reality, visiting Tibet is very easy as the travel agency you use will take care of nearly all your travel plans. Nearly all travelers to Tibet start by flying or taking the train to Lhasa, the capital city. Lhasa is located some 800 kilometers east of Rongbuk Monastery. A journey from Lhasa to Rongbuk Monastery and Everest Base Camp will take between 8 and 12 days to complete, depending on your exact travel itinerary. As Rongbuk lies at an altitude of 5000 meters/16,400 feet, proper altitude acclimatization at a slow pace is extremely important. We recommend taking at least 10 days to go from Lhasa to Rongbuk Monastery and back to Lhasa (or on to Nepal). This amount of time will not only allow you to acclimatize much better to Tibet's high altitude, but will let you experience Tibet at a much slower pace.
Here is an example travel itinerary going from Lhasa to Rongbuk and Mt Everest. Again, this entire route will be done by vehicle as there is a road leading all the way to Rongbuk. No trekking is required:
Day 1: Arrive in Lhasa
Day 2: Lhasa—Jokhang Temple, Sera Monastery, Barkhor Square
Day 3: Lhasa—Potala Palace, Drepung Monastery
Day 4: Lhasa—Yamdrok Lake—Karo La Glacier—Gyantse
Day 5: Gyantse—Shigatse—Tashi Lhunpo Monastery
Day 6: Shigatse—Shelkar
Day 7: Shelkar—Rongbuk Monastery and Everest Base Camp 
Day 8: Everest Base Camp—Shigatse
Day 9: Shigatse—Lhasa
Day 10: Depart Lhasa
NOTE: An alternative is on Day 8 to go from Everest Base Camp to Old Tingri, Day 9 to the Tibet—Nepal border at the the town of Kyirong and then continue to Kathmandu on Day 10.
For more information on tour information to Rongbuk Monastery and Everest Base Camp, email us at: thelandofsnows@gmail.com
Best time to visit Rongbuk Monastery
Rongbuk Monastery and Mt Everest in Tibet can be visited anytime of year, except from mid February until very early April. Tibet is closed to all foreign travelers each year for that 5 or 6 week period. The best months to visit Rongbuk Monastery are April, May, October, November and December. These months generally have clear skies that allow for excellent views of Mt Everest. The month of January is also okay, though temperatures then can be quite cold. The winter months typically bring little snow to the north side of Mt Everest in Tibet. I have been to Everest Base Camp numerous times in the winter and rarely have seen any measurable snow.
From mid June thru mid to late September, heavy clouds from the monsoon season in south Asia can obscure the view of Mt Everest, hiding it behind clouds. The months of July and August are usually not the best months to visit the Mt Everest Region  because there can be considerable cloud coverage then.
Summary of Rongbuk Monastery
Rongbuk Monastery is often listed as the highest in the world at an altitude of 5000 meters, but Dira Puk Monastery near Mt Kailash is actually slightly higher.
When the weather is clear, Rongbuk offers a clear, unobstructed view of Mt Everest.
The view of Mt Everest from the Tibet-side base camp is much better than the view from the Nepal-side base camp.
Rongbuk Monastery is located just a few kilometers north of Everest Base Camp in Tibet.
All foreign travelers going to Tibet must be on an organized tour that can only be arranged thru a travel agency. There are no exceptions.
The best months to visit Rongbuk Monastery are April, May, October, November and December.
Getting to Tibet is NOT difficult. Contact us for info on visiting Rongbuk Monastery, Everest Base Camp or other areas of Tibet: thelandofsnows@gmail.com