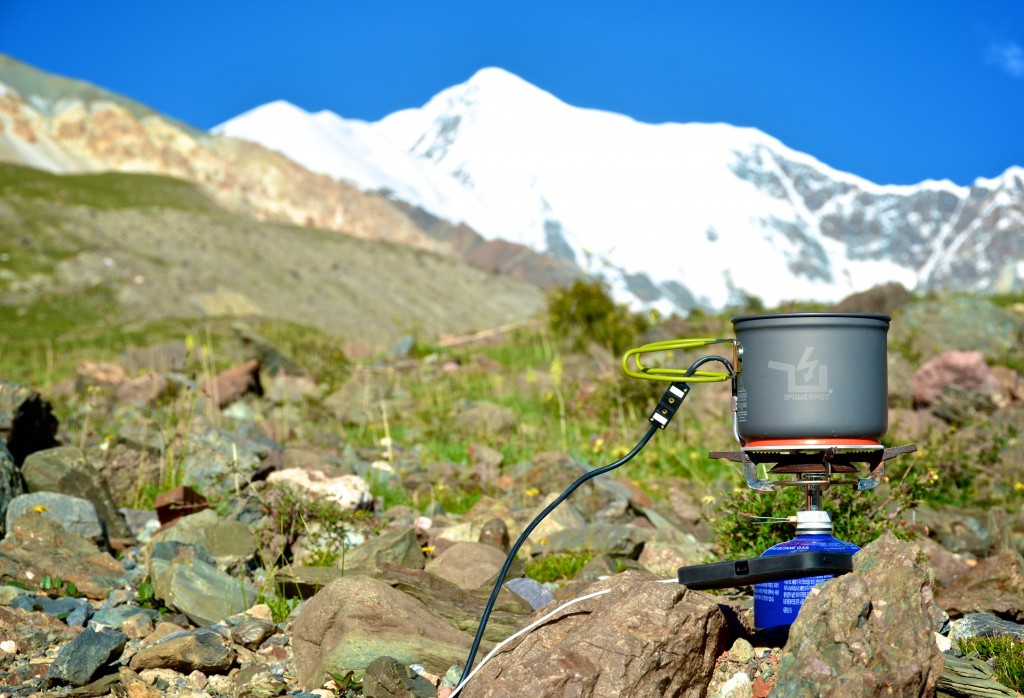 The Power Pot is a fantastic piece of equipment to have when trekking in remote regions.
I recently returned from an amazing high-altitude trek to the remote mountain of Amnye Machen, located in eastern Tibet. This is a mountain that I am quite familiar with, having been there about a dozen times or so over the past 10+ years. As a photographer, I am always facing the difficult decision of whether or not I should take my big Nikon DSLR with me on a trek or climb, or if I should just stick with taking photos with my iPhone 5. In order to keep my load light and to keep both hands free, I nearly always end up just taking my iPhone with me.  But in extreme back country areas, like the Amnye Machen area, it's always a challenge keeping my phone/camera charged. Often, my phone battery dies by day 2 or 3 of my trek, meaning I am unable to take any more photos for the rest of the time on the mountain.
A friend of mine recently told me about the Power Pot V (http://www.powerpractical.com/powerpot-v) and said it may be useful when I am in the back-country of Tibet. I took the pot with me to see how it would perform. Here is what the Power Pot is: it is a cooking pot that has a USB charger connected to it. You can charge phones, iPods, flashlights, etc.  It's perfect for spending time in the remote back-country where there is no electricity. It is lightweight, durable and easy to use. You can use it either on a campfire or on a butane/propane stove. The pot, including the USB cord, is weather and fire resistant. To use the pot, simply fill it with some water and place it on a heat source (campfire, butane stove, etc). Then, plug your device into the USB charger. That's it!
I really like that the Power Pot is lightweight. It weighs only 14 ounces (396 grams). When trekking and climbing, it's important that I keep my pack as light as possible. I also like the size. At 1 quart (1.4 liters), it is large enough for me to do just about all of the cooking I need to do when high on the mountain. I found that my iPhone charged quite quickly with the Power Pot…about the same speed as it would if it were plugged in at home. The USB cord is fire resistant. At no time did the cord burn or feel hot. The pot is perfect for boiling water or broth-based soups.
Bottom line….this is a great product that will now be accompanying me on ALL of my treks and camping trips in Tibet! Follow the links below for more information on the Power Pot V.