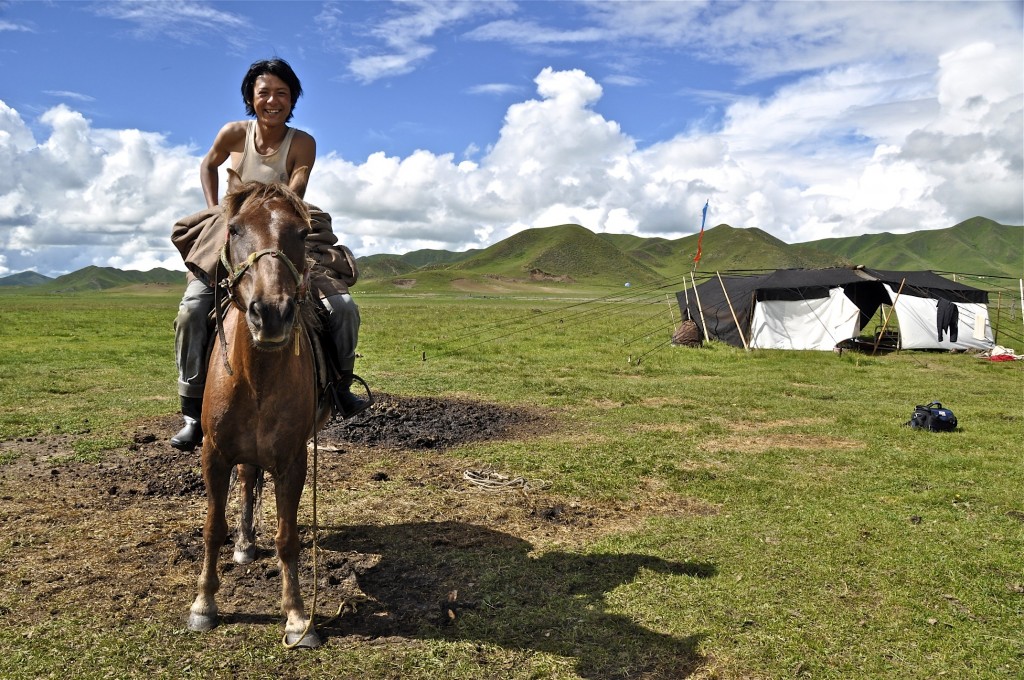 The 1200 kilometer route from Xining to Chengdu through the traditional Tibetan region of Amdo has become quite popular in recent years. This route passes through several amazing Tibetan towns that are home to some of the most important monasteries in Tibet. This route also goes through some excellent nomadic regions. In fact, some of the best nomadic areas in all of Tibet are found in this area. This route can be done using public transportation, though if you have the money, hiring a private vehicle is much better as you can get to the more remote nomadic areas much easier and can see the areas between towns that others rarely get to see. Here is the itinerary that I recommend:
Day 1: Xining to Rebkong (Tongren)   Distance: 170 kilometers/106 miles
Xining, known in Tibetan as Siling ཟི་ལིང་, is the capital and largest city in Qinghai province and is the largest city on the Tibetan Plateau. Xining has a population of 1.2 million, with more than 2.2 million in the metropolitan area. It has long been an important trading post between Mainland China and Lhasa. Lying 26 kilometers outside of Xining is Kumbum Monastery, སྐུ་འབུམ་དགོན།, one of the 6 main monasteries of the Gelukpa sect of Tibetan Buddhism. Xining, elevation 2275 meters, is a diverse city with a prominent Muslim population. The Dong Guan Grand Mosque, located in the eastern section of Xining, is one of the largest mosques in China and  attracts 50,000+ Muslims each Friday for prayer time. There are numerous other mosques, temples and small Tibetan Buddhist monasteries scattered across the city. Xining is a great city to spend 2 or 3 days exploring. A good place to base yourself is the Lete Youth Hostel, which is located close to downtown.
Rebkong རེབ་གོང་, known in Chinese as Tongren, is one of the largest towns in the traditional Tibetan region of Amdo. Along with Labrang, the Rebkong area is considered the center of Amdo Tibetan culture. It is also an artistic center with some of the best painters in all of Tibet coming from here. Rebkong is the capital town of Huangnan/Malho Tibetan Autonomous Prefecture རྨ་ལྷོ་ཁུལ་. Lying at an elevation of 2500 meters, Rebkong is a farming community surrounded by rugged mountains on all sides. The 3 large monasteries of Rongwo, Gomar and Wutun are all great for exploring. There are several art centers in town where you can see artists painting traditional Tibetan Thanka's. There are multiple buses per day from Xining to Rebkong. Rebkong has plenty of things to do to keep you busy for at least 2 days.
Day 2: Rebkong    Elevation 2500 meters
Day 3: Rebkong to Labrang (Xiahe)   Distance: 123 kilometers/76 miles
There is a daily bus going from Rebkong (Tongren) to the monastery town of Labrang བླ་བྲང་, known in Chinese as Xiahe. Labrang Monastery, founded in 1709, is the largest and most important monastery in the traditional Tibetan region of Amdo and lies in the modern day province of Gansu. It is home to nearly 2000 monks. Labrang sits in a stunning valley surrounded by alpine forests and mountains. The Sang Chu River བསང་ཆུ་, known in Chinese as the Da Xia River, flows through town. Along with Labrang Monastery, there are several smaller monasteries in town as well as a small nunnery. Not far from town are the nomadic grasslands of Sangke and Gangya, which are filled with yaks and sheep. In recent years, many of the nomads have been relocated into small resettlement villages just outside of town.
Day 4: Labrang    Elevation 2940 meters
Labrang is a great small town to base yourself for at least 2 days. There are numerous good hotels and guesthouse and several excellent restaurants that have English menu's. My favorite restaurant is the Nomad Restaurant, located upstairs on the right side of town just at the start of the pilgrimage kora around Labrang Monastery. There is a daily bus from Rebkong to Labrang as well as a daily bus from Xining to Labrang.
Day 5: Labrang to Taktsang Lhamo (Langmusi)    Distance: 185 kilometers/115 miles
Taktsang Lhamo སྟག་ཚང་ལྷ་མོ་, known in Chinese as Langmusi, is one of the most picturesque towns in the Amdo region of the Tibetan Plateau. It lies in Luqu/Luchu County ཀླུ་ཆུ་རྫོང་ right on the border of Gansu and Sichuan provinces. Sitting at 3345m, Langmusi lies in a beautiful valley surrounded by alpine forests and amazing mountains. The town only has a population of around 4500, with more than 1100 of the people belonging to the two monasteries found in the village.
Kirti Monastery, on the Sichuan side of the village, is home to around 750 monks. Behind the monastery is a gorge with several old meditation caves. In Tibetan, "Taktsang" means "Tiger Cave" and a short hike behind Kirti Monastery will bring you to the caves for which the town is named. Hiking behind the monastery is one of the highlights of the area. Sertri Monastery, on the Gansu side of the village, is home to around 350 monks. It is the higher of the two monasteries and sits in a less impressive setting than nearby Kerti Monastery. There is a pilgrimage kora around Sertri. It is best to go in the morning as there are normally many Tibetan pilgrims also doing the kora.
The main reason people go to Langmusi is for the hiking and horse trekking. As stated above, there is excellent hiking behind Kirti Monastery. The Langmusi Tibetan Horse Trekking Company arranges quality horse treks in the area for around Y170 per day, per person. They arrange everything from 1 to 5 day treks to the surrounding mountains and nomadic grasslands of the region. The company is half-owned by Kelsang, who also owns the Langmusi Hotel located across from the trekking company. Kelsang is a local Tibetan who knows the area well and is quick to help with any travel related questions you may have. The horse treks are led by Tibetan guides who also know the area well.
Day 6: Taktsang Lhamo (Langmusi)    Elevation 3345 meters
Langmusi is probably the best place in the Amdo region to hike and horse trek. I highly recommend staying here at least 2 or 3 days. If you plan to do a horse trek, it is best to arrange everything with the Langmusi Horse Trekking Company the day before. There is a daily bus going from Labrang (Xiahe) to Langmusi.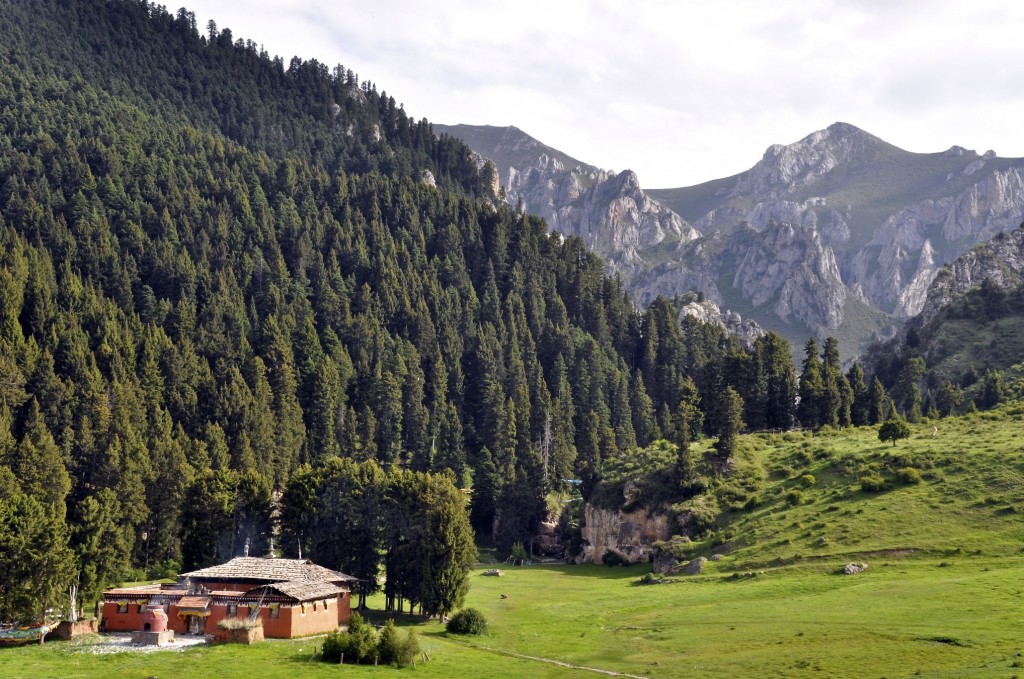 Day 7: Taktsang Lhamo to Zoige (Ruo'ergai)   Distance: 85 kilometers/53 miles
Zoige མཛོད་དགེ་, known in Chinese as Ruo'ergai, is a nomadic county located in northern Aba/Ngawa Tibetan Autonomous Prefecture རྔ་བ་ཁུལ་ in far northern Sichuan province. Lying at 3450 meters, some of the best grasslands on the Tibetan Plateau are found within this county. Though this area gets horrible reviews by most guidebooks, it is actually an amazing area, especially if you have an interest in Tibetan nomad culture. During the late spring, summer and early fall, thousands of families live in traditional style yak wool tents on the grasslands.
The county capital of Zoige is a fairly modern town for the Tibetan Plateau. It has several good hotels to choose from along with many restaurants. However, going to the county town is not the main attraction of the area…the grasslands are! If you just go to the county town, you have missed EVERYTHING this area has to offer. I have several friends from Zoige and all of them tell me that their grasslands are the best in all of Tibet and I have a hard time arguing with them. During the summer, the grasslands bloom into an amazing shade of green. The contrast against the high rocky mountains is amazing. Nomad culture is something that is almost non-existent along the popular tourist route that connects Lhasa with the Nepal. For those who are interested in traditional style Tibetan culture, the grasslands of Zoige is a must see region.
There normally is not a bus from Langmusi to Zoige, however there are numerous shared mini-van taxi's that depart from the center of Langmusi throughout the day to Zoige.
Day 8: Zoige to Songpan   Distance: 160 kilometers/100 miles
Songpan, known in Tibetan as Zungchu ཟུང་ཆུ་, is a mid-sized town lying at an elevation of 2860 meters. It is located in northeastern Aba/Ngawa Tibetan Autonomous Prefecture རྔ་བ་ཁུལ་ in northern Sichuan province. Though the county town has relatively few Tibetans in it, the rural countryside is predominantly Tibetan. Songpan is a fun town to stay a night or two in. There are a couple of companies in town that arrange horse trekking in the nearly countryside. In my opinion, the horse trekking in Langmusi is better, though the horse trekking in Songpan is good also. For recommendations on what to see and do in the area, talk to Emma, the friendly owner of Emma's Kitchen in town. She speaks English well and knows the area well.
From Zoige, there is a daily bus to Songpan.
Day 9: Songpan to Jiuzhaigou Nature Reserve    Distance: 145 kilometers/90 miles
The Jiuzhaigou Nature Reserve is one of the most beautiful corners of the Tibetan Plateau. It is a UNESCO World Heritage Site that is filled with amazing lakes, multi-tiered waterfalls and stunning snow-capped peaks. Jiuzhaigou, known in Tibetan as Zitsa Degu གཟི་རྩ་སྡེ་དགུ་. The Chinese name is translated as "9 Village Valley" and gets that name from the 9 Tibetan villages found along the main valley.
Twenty years ago, Jiuzhaigou was barely known across China. Now, it is one of the most popular nature reserves in China. During the summer high season, tens of thousands of tourists arrive each day. Though the summer is the high season, the winter is the best time to go in my opinion. The crowds are non-existent, hotel prices are lower and the peaks are covered in snow during the winter.
There are daily buses from Songpan to Jiuzhaigou. Jiuzhaigou is very developed and has plenty of great hotels and guesthouses to choose from as well as many good restaurants.
Day 10: Jiuzhaigou Nature Reserve
You will want to spend at least one full day exploring Jiuzhaigou. I recommend starting up at the highest part of the park first and then working your way down to the bottom. The entrance fee into Jiuzhaigou is incredibly high, but it does include all transportation within the park.
Day 11: Jiuzhaigou Nature Reserve to Chengdu   Distance: 420 kilometers/261 miles
The final day of this journey will take you to the mega-city of Chengdu, capital of Sichuan province. There are multiple buses per day from Jiuzhaigou to Chengdu as well as one flight per day. The flight is quite expensive and is rarely discounted. The road between Jiuzhaigou and Chengdu is quite good, though the journey still takes between 7 and 9 hours to make.
The overland route from Xining to Chengdu is a great route to take. You will see plenty of traditional Tibetan culture, nomads, monasteries, grasslands, forests, lakes and some snow-capped peaks. I recommend taking this 11 day itinerary, though if you don't have as much time, you can do it in about 8 days. As always, I recommend traveling this route slower in order to really see and appreciate the amazing things this itinerary has to offer.
If you have any questions about this route or any other questions about travel on the Tibetan Plateau, go to my Facebook Page or feel free to email me at thelandofsnows@gmail.com
Losang བློ་བཟང་