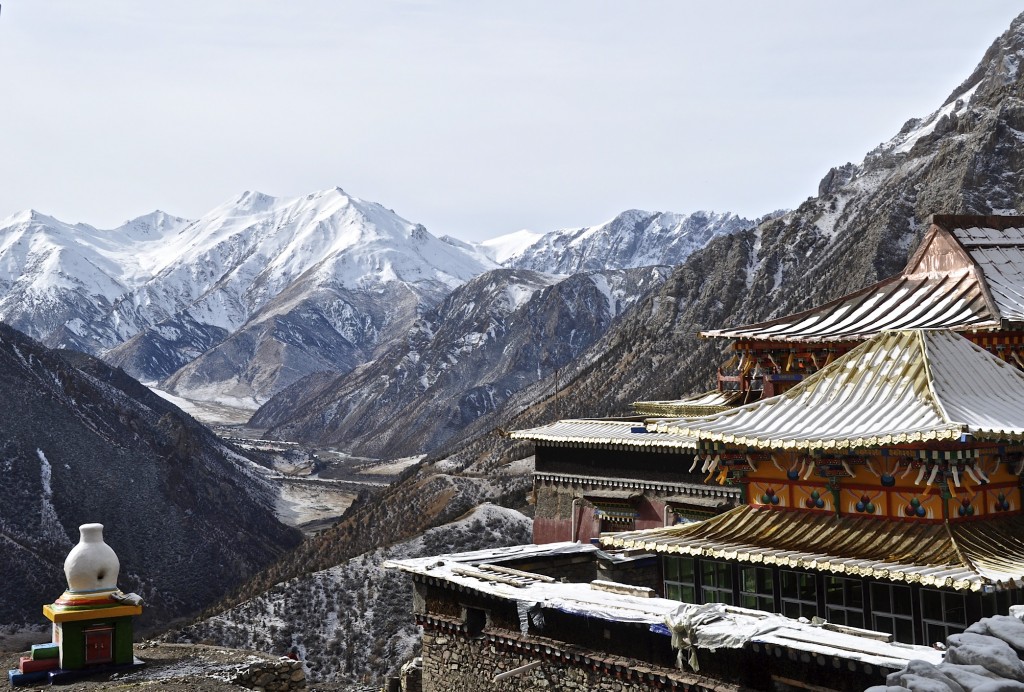 Nangchen County
Nangchen county ནང་ཆེན་རྫོང་ is one of 6 counties located in Yushu Tibetan Autonomous Prefecture in the Qinghai Part of Kham. Though Nangchen is remote and underdeveloped, it is one of the most beautiful parts of Tibet and has some of the best preserved Tibetan culture remaining. Nangchen county covers 11,539 square kilometers/4455 square miles and has around 70,000 people with Tibetans making up about 98% of the population. Of the 155 counties of the Tibetan Plateau, it has one of the highest percentages of Tibetan people.
Nangchen was one of the 5 independent kingdoms of eastern Tibet. These kingdoms were independent from both China and the Tibetan government in Lhasa and were ruled by a king. The former Nangchen kingdom expanded over all of modern day Yushu Tibetan Autonomous prefecture in southern Qinghai. The king of Nangchen ruled this region until the late 1950's/early 1960's. During the Kham rebellion from 1956 to 1959, the king of Nangchen sent out several platoons of soldiers on horseback to defend against the Communist Chinese soldiers. The last king of Nangchen to sit on the throne was King Tashi Tsewang. He was killed during the Cultural Revolution.
The county capital of Nangchen is Sharnda ཤར་མདའ་. Sharnda is the largest town in Nangchen county and is the only town accessible by public transportation. Sharnda is NOT the main reason for going to Nangchen as it is fairly uninteresting and it is quite dirty and loud, but it is the starting point for travel to the other more interesting parts of the county. Sharnda has several hotel options, though none of them are particularly good. The best hotel options are the Khamba Hotel and the San Jiang Yuan Hotel. Both of these hotels are located on the main road in town only 100 meters away from each other. There are numerous restaurants and small stores lining the main road. For those going camping or hiking, Sharnda is the last place to stock up on supplies. There is at least 1 daily bus to Sharnda from Xining, the provincial capital of Qinghai. Sharnda is also accessible by bus or shared mini-van from Jyekundo སྐྱེ་དགུ་མདོ་ to the north and from Chamdo ཆབ་མདོ་ to the south.
In addition to Sharnda, there are 9 townships spread across the county. These townships are remote and relatively difficult to get to. There are no public buses going to these townships. Shared mini-van taxi's go to some of these townships everyday from Sharnda, though some of the more remote townships only have mini-vans departing for them ever 2nd or 3rd day. There are over 120 Tibetan Buddhist monasteries in Nangchen county and an estimated 15,000 monks and nuns.  There are more monks and nuns per capita in Nangchen than anywhere else in Tibet. The most famous monasteries are Gar Monastery in far southeast Nangchen, Gechak Nunnery located just south of Jinisai township, Dana Monastery located east of Gayong township and Trulshik Monastery located near Jiqu township.
About 70 kilometers south of Sharnda along Highway 214, you will reach the cut-off to Tsechu Monastery and the former home of the Nangchen King. Tsechu is quite large and has a huge field of carved prayer stones that is lined with prayer wheels. Pilgrims from the area come here everyday. There are a couple of hundred monks who live here. The small, modest home of the former King of Nangchen is still found. Ask one of the monks to show you where it is and he may even unlock it for you. Tsechu Monastery is located about 12 kilometers straight-line distance north of Riwoche county in Chamdo prefecture or about 25 kilometers by road. It can only be accessed by shared taxi from the county capital of Sharnda.
Probably the most beautiful region of Nangchen county is the area in and around Dana Monastery རྟ་རྣ་དགོན་. Dana Monastery is remote and is often cut off in the summer when heavy rains wash out the few roads leading here. The mountain top monastery sits at 4300 meters and is surrounded by jagged peaks that are snow-capped for much of the year. A forested valley lies below the monastery with a glacier fed river and hot springs close by. Dana Monastery is located about 2 hours from the very small village of Jinisai and about 5 or 6 hours west from the county capital of Sharnda. There are no accommodation options in Jinisai, though Dana Monastery will allow you to camp in the area or stay at a small and simple guesthouse they have.
Gechak གེ་ཆགས་དགོན་ is the largest nunnery in Nangchen and the largest in Qinghai province. It (unofficially) has more than 600 nuns living there. Gechak lies on a remote grassland area where yaks can be found grazing. Gechak is located about 45 minutes past Jinisai village or about 5 hours from Sharnda. The nuns here are extremely friendly and very rarely have any guests. They are always happy to have guests come and visit them!
Nangchen has 2 national level forests within it. While much of Yushu Prefecture and the Tibetan Plateau is completely treeless, these 2 large forests are filled with evergreen trees. The first forest is the Baizha National Forest, which is located about 65 kilometers south of the county capital of Sharnda along Highway 214. The other forest is the Jiangxi National Forest, which is located about 110 kilometers   southeast of Sharnda. The Jiangxi Forest is quite stunning and remote and sees very few foreign travelers. The forest covers parts of Nangchen and Yushu counties as well as part of Chamdo county. There is no accommodation in this area, but plenty of places to camp. Since this area is heavily forested, it is best to not have any campfires.
Surmang ཟུར་མང་ is a traditional region of Kham found within modern day Yushu Tibetan Autonomous Prefecture. The village of Small Surmang is located in southeast Yushu county, while Big Surmang is located in northeast Nangchen county. Big Surmang, also known as Maozhuang in Chinese or Modrong in Tibetan, is home to the large Surmang Namgyaltse Monastery. This massive Kagyu sect monastery was rebuilt recently and is home to over 500 monks. The area around Big Surmang/Modrong is home to many nomads and semi-nomadic families. Big Surmang is located about 100 kilometers northeast of the county capital of Sharnda along a rough dirt road.
About 10 kilometers east past Modrong, you come to the scenic Gaden Monastery. Gaden Monastery lies on a mountain top along a hairpin turn of the Dzi River at 3660 meters above sea level. There is a new modern bridge that now allows you to drive across the river to reach the monastery. For an excellent panoramic view of the monastery and the river bend, hike about 500 meters above the road on the opposite side of the river from the monastery.
Southeastern Nangchen county is home to Gar Monastery གར་དགོན་, which has several hundred monks. The monastery is located within proximity to the Baizha National Forest and is about 70 kilometers from Sharnda along a rough dirt road. This monastery is surrounded by evergreen trees and is one of the best places in Nangchen county to go hiking and camping. Even though the monastery is located above 4200 meters, there are monkeys found in the area, one of the few areas where monkeys are found in Tibet. The monastery was recently rebuilt and has a lower and upper part. The old prayer wheels in the upper monastery are said to be over 700 years old.
Southwestern Nangchen county is relatively easy to reach as much of the road is now paved. The road from Sharnda to Jichu (Jiqu in Chinese) is now all paved and in good condition. Near to the village of Jichu is the Gyamar Mani, the second largest collection of carved prayer stones in Kham after the famous Gyanak Mani in Jyekundo. There are hundreds of millions of carved prayer stones at the Gyamar Mani Temple. The Gyamar Mani is located about 95 kilometers southwest from Sharnda and about 3 kilometers past the village of Jichu. There is a pilgrimage circuit around the temple.
Trulshik Monastery looks like a miniature version of Kathmandu's Boudhanath Temple, the most famous stupa in the Tibetan Buddhist world. Trulshik is located about 15 kilometers from Jichu village and about 115 kilometers from Sharnda. Everyday, pilgrims come from the area to the monastery, many from Riwoche in Chamdo prefecture. The prefecture line between Yushu and Chamdo is less than 5 kilometers away from Trulshik Monastery. There is no accommodations or services anywhere near this area. Even though it is remote, it is well worth traveling to.
The most remote part of Nangchen county is the far northwest. There is one small township in this area called Dompa (Dongba in Chinese). This portion of the county is higher in elevation than the rest with the average elevation being between 4200 meters and 4500 meters. This area consists mainly of high altitude grasslands that are filled with yaks. From the county capital of Sharnda, Dompa is located 125 kilometers west. Like most of the rest of the county, there are no accommodations or facilities in this region.
Juela township in far north-central Nangchen county is one of the largest of the 9 townships spread across the county. The large Juela Monastery is located here along the upper reaches of the Mekong River, known as the Dza Chu in Tibetan. Juela actually has a few small and simple guesthouses as well as restaurants and a few shops to stock up on supplies. Juela is 65 kilometers northwest of Sharnda by paved road and can only be reached by shared taxi. The monastery here is very large and is home to over 600 monks.
If you are looking for an adventure in an off-the-beaten-path area that is purely Tibetan and has stunning natural beauty, Nangchen is it. It really doesn't get much better than this area. I have been fortunate enough to spend about 9 weeks over the past 8 years traveling from one end of the county to the other. There are very few places in Nangchen that I haven't been to. Do remember that the county capital of Sharnda isn't really worth staying in for more than a couple of nights. Literally all of the pictures here were taken in one of the 9 township regions spread across Nangchen county. Nomads, grasslands, monasteries, snow-capped peaks, forests, rivers, yaks, monkeys and some of the best preserved Tibetan culture…..Nangchen has it all!
For more information about Nangchen, send an email to thelandofsnows@gmail.com