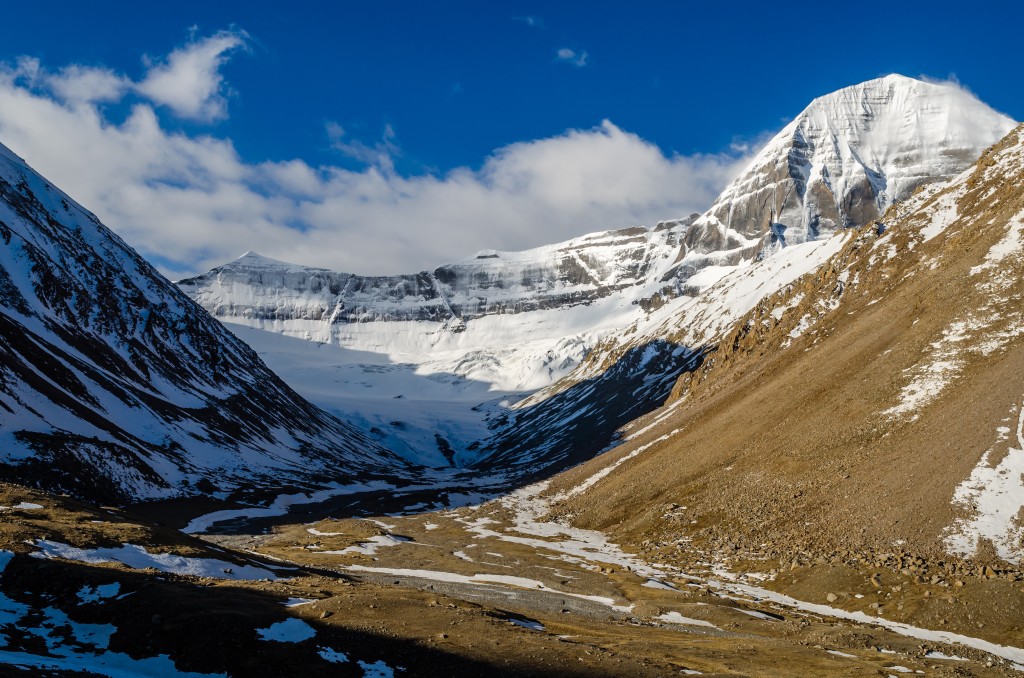 Updated November 2017: A small group tour to Mt. Kailash can drastically reduce the costs of this amazing journey. Read for further details on how to affordably travel to Asia's holiest peak.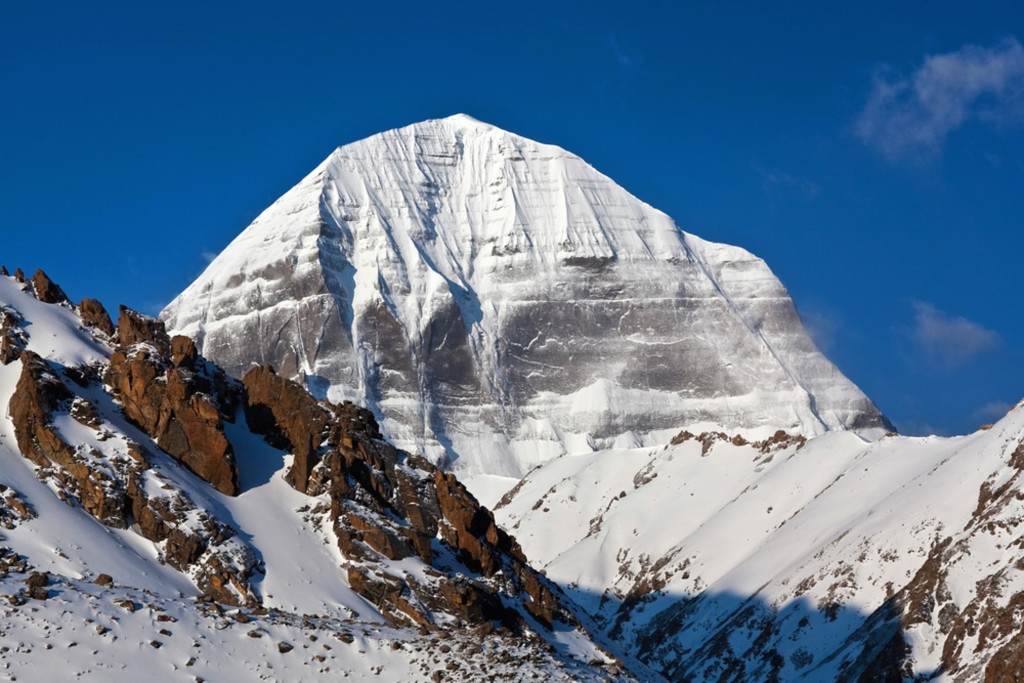 Mt Kailash on a budget
UPDATED NOVEMBER 2017
For affordable and reputable travel agency recommendations for Mt Kailash and Western Tibet, send an email to: thelandofsnows@gmail.com or fill out our Himalaya Trip Planner.
Mt. Kailash, known as Kang Rinpoche to the Tibetans, is Tibet's most famous and most holy mountain. It is located in far Western Tibet's Ngari Prefecture, more than 1250 kilometers/780 miles west of Lhasa. Mt. Kailash is a major pilgrimage destination to both Buddhists and Hindu's. Each year, tens of thousands of Tibetans and Indians, along with some foreign travelers, make the long journey to Kailash to trek the pilgrimage circuit around Asia's most revered peak. The Kailash trek is 52 kilometers / 32.5 miles in length and takes about 3 days to complete (however, some Tibetans will do the entire route in one long day). Altogether, a journey from Lhasa to Kailash and back takes between 16 and 20 days to complete.
Costs of Getting to Kailash and Western Tibet
Since Kailash is so remote and journeys to the mountain take in excess of 2 weeks, the costs of going to Kailash can be quite expensive, especially for budget and solo travelers. For solo travelers, the cost of a journey to Kailash can easily cost $7000 USD or more during the high season, not including flights/train tickets to and from Lhasa. However, traveling with a small Mt Kailash budget tour, usually around 6 to 10 people, the costs of traveling to Kailash can be more affordable. It's important to remember that Mt Kailash is very remote and far from Lhasa (where nearly all journeys in Tibet begin) so there will still be some cost involved, but it will be considerably less than if you were traveling on your own or with a partner. A small group tour from Lhasa to Kailash for 15 days usually will cost between $1900 and $2350 USD per person, depending on the size of your group.
Itinerary from Lhasa to Mt Kailash
For most Mt Kailash budget tour, the starting point is in Lhasa. However, it is also possible to begin a group tour from Nepal. Most trips to Kailash begin with spending at least 3 nights in Lhasa to acclimatize and see the main Buddhist pilgrims sites. From Lhasa, journeys to Kailash and Western Tibet pass through all of the main places in Central Tibet, such as Yamdrok Lake, Karo La Glacier, Gyantse, Shigatse and Everest Base Camp. From Everest, you will continue traveling west to Manasarovar, one of the most holy lakes in the Himalaya. Here is an example itinerary for a Mt Kailash Budget Tour:
Day 1: Arrive to Lhasa
Day 2: Around Lhasa–Jokhang Temple, Sera Monastery
Day 3: Around Lhasa–Potala Palace, Drepung Monastery
Day 4: Lhasa–Yamdrok Lake–Gyantse–Shigatse
Day 5: Shigatse–Tashi Lhunpo Monastery–Sakya–Lhatse
Day 6: Lhatse–Saga
Day 7: Saga–Manasarovar–Darchen
Day 8: Kailash Trek day 1
Day 9: Kailash Trek day 2
Day 10: Kailash Trek day 3–Manasarovar
Day 11: Lake Manasarovar–Saga
Day 12: Saga–Everest Base Camp
Day 13: Everest Base Camp–Shigatse
Day 14: Shigatse–Lhasa
Day 15: Depart Tibet
NOTE: This is an example only. Some travel agencies follow this specific itinerary while others will be slightly different.
Kailash Trekking
The trek around Mt Kailash is 52 kilometers / 32.5 miles long and takes 3 days to complete. The trek is not overly difficult, but is at high altitude the entire time. No mountain climbing skills are required to complete this trek. There are "tea houses" all along the trek so camping is not required. In addition, there are small shops and restaurants serving basic rice and noodle dishes along the way as well. Most people only take a 30 liter or 40 liter backpack (or day pack) on this trek as it is only 2 nights and 3 days long. If you need a porter, you can hire one the day before starting your trek. Porter rates are usually around 260 RMB ($40 USD) per day.
The starting point of the trek is the town of Darchen, elevation 4690 meters / 15,385 feet. From Darchen, you will begin the first day of trekking. This day you will cover around 20 kilometers to the monastery of Dira Puk. The elevation of Dira Puk is 5080 meters / 16,667 feet. The next morning, you will leave Dira Puk and cross over the 5640 meter / 18,500 foot Dolma La Pass, which is the highest point along the trek (and one of the highest trekking points in the Himalaya). You will descend the Dolma La to Zutul Puk Monastery, elevation 4820 meters/15,815 feet. The distance from Dira Puk to Zutul Puk is 18 kilometers. The final day of the trek will take you 14 kilometers back to Darchen.
Guesthouses at Mt Kailash
Kailash, as well as the Everest Region, Peiku Tso Region, Saga, Lake Manasarovar and areas west of Kailash, are very remote areas of Tibet. These places are limited to basic guesthouses that are well below international standards. There is no heating in these places, no internet and only simple restaurants serving basic noodle and rice dishes with vegetables. Regardless if you are taking a budget tour or normal tour, accommodation and restaurants in these remote areas are very basic and not clean. Toilets are usually located outside and are not clean compared to international standards.
Travel agencies for a Mt Kailash Budget Tour
Having lived in various regions of the Tibetan Plateau for over 14 years, I know the best local, Tibetan-owned travel agencies to contact for budget journeys to Kailash and Western Tibet. Even with budget group tours, these travel agencies take great care of their clients, make sure that itineraries allow for proper acclimatization, offer excellent prices and have great safety records. The best time to make the journey to Western Tibet and trek around Mt. Kailash is April through June (**especially during the Saga Dawa festival in May) and then again in September and October.
If you are interested in a budget small group journey to trek around Mt. Kailash, send me an email at: thelandofsnows@gmail.com and I will recommend some excellent Tibetan-owned agencies for you to contact.