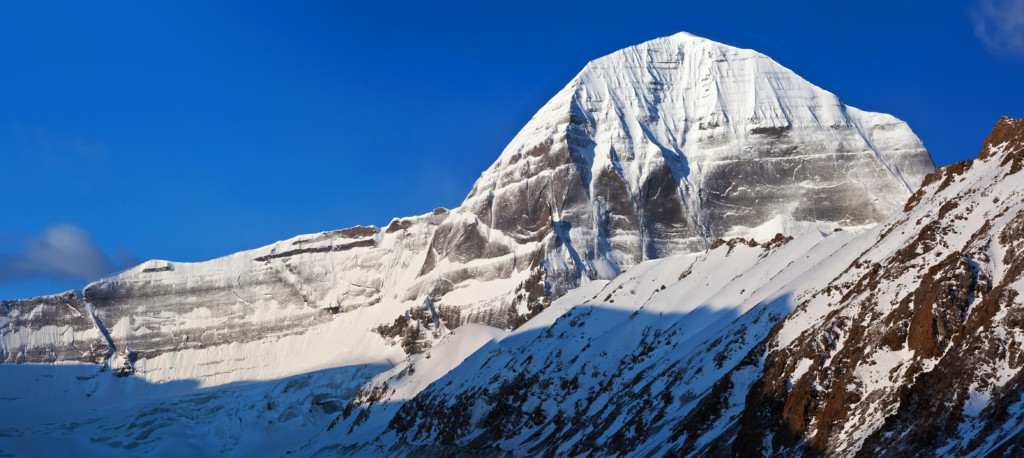 Kailash is the most sacred peak in Asia. Join us on a high quality, professionally guided trek around this holy mountain of Tibet! More details: info@himalayajourney.com
Trekking around Mount Kailash
To join our upcoming professionally-guided, high quality Kailash Trek from 26 May to 14 June 2018, click the following link: May 2018 Mt Kailash Trek, or email us at: info@himalayajourney.com.
Why you should join our Kailash Journey
Each year, we lead a high quality journey from Lhasa overland through Central Tibet to Everest Base Camp and then on to the sacred peak of Mount Kailash. During this journey, we will stay at comfortable hotels throughout the journey. We will start by staying at a 5 Star hotel in Chengdu the night before we fly to Tibet (flight from Chengdu to Lhasa included in the price!). Most of the hotels we will stay at in Tibet will be locally rated 3 and 4 Star hotels. All meals and purified drinking water are included in the journey cost and we will be eating at the best restaurants in Tibet. Fresh fruit will be in our vehicle each day as well! We will use a newer, comfortable vehicle and will make plenty of stops to experience Tibet each day of the journey.
We will take a nice, slow approach to Everest Base Camp and Mt Kailash so that your bodies are well acclimatized to Tibet's high altitude. Many companies offer journeys from Lhasa to Kailash and back in just 13 to 15 days. We will take 19 days to make this journey. This slower approach greatly reduces the risk of altitude sickness and lets our clients see and experience more of Tibet. We will make the 3 day Kailash Trek being led by experts who have years of experience doing the famous kora.
Lead guide for this journey is Jamin "Lobsang" York, who spent 15 years living and exploring Tibet. His travel blog, The Land Of Snows, is listed in all major guidebooks and is visited by nearly half a million people each year. He has led nearly 60 expeditions and adventures across the Himalaya, including many treks around Mt Kailash. Previous clients include BBC, Animal Planet and The Discovery Channel. Jamin has researched Tibet for National Geographic, Lonely Planet guidebooks, Rough Guides and Bradt guidebooks. He will be giving detailed lectures each day on different aspects of Tibetan culture, history and religion so that each client leaves Tibet with a good understanding of the people and places they saw and experienced. Jamin is well-known throughout Tibet, as well as nearby Bhutan and Nepal, for his ethical and responsible business principles in the Himalaya. For more information about Jamin and his company Himalaya Journey, please go to the following link: About Himalaya Journey
Joining Jamin on this Kailash journey will be 2 Tibetan support staff, both of whom have worked in tourism in Tibet for well over a decade. Jamin's co-guide for this journey is a Tibetan man named Lobsang who has guided numerous treks around Mt Kailash and is an expert in Tibetan culture as well as an expert in Buddhism. He will be there to help clients communicate with local people, assist in giving cultural lectures each day and to answer any questions clients have on Tibet.
Space is limited for our May 2018 Kailash Trek. Contact us for more info or to reserve your place: info@himalayajourney.com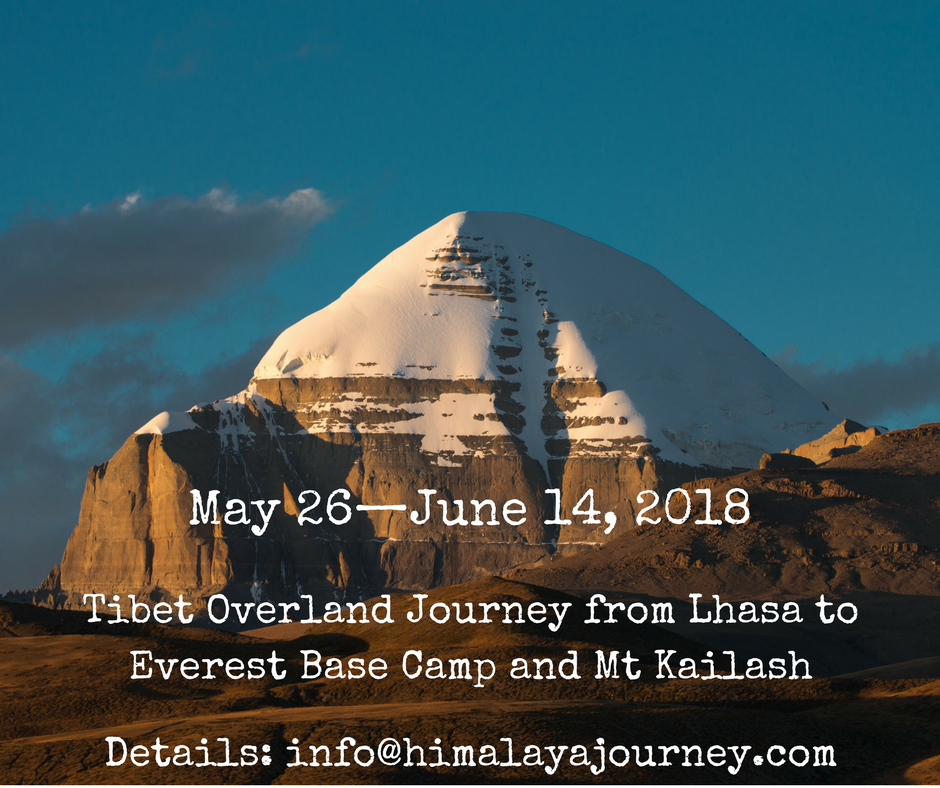 Kailash Trek Journey Overview
The journey begins on 26 May 2018 in the Chinese city of Chengdu. The next day we will fly to Lhasa, Tibet where we will spend 3 nights exploring the Buddhist holy city. We will visit many of the main pilgrimage sites there including Jokhang Temple, Sera Monastery and the Potala Palace.
From Lhasa, we will travel thru central Tibet seeing many of the main religious and natural sites along the way. One of our first stops will be along the scenic Yarlung River, known as the Brahmaputra River further downstream in India. From there, we will continue on to Yamdrok Tso, one of the most famous and beautiful lakes in Tibet. After that we will visit the Karo La Glacier, one of the easiest glaciers to access in Tibet. We will then spend the night in Gyantse, one of Tibet's most pleasant small towns. In Gyantse, we will visit the 600 year old Pelkhor Chode Monastery and the Kumbum Stupa, the highest Buddhist pagoda in Tibet.
After Gyantse, we will make the short drive to Shigatse. Along the way we will explore a couple of farming villages and learn about the techniques locals use to grow crops in this high altitude area. In Shigatse, we will explore Tashilhunpo, the largest monastery in central Tibet. Our next destination will be the Everest Base Camp Region, where we will get up close to the world's highest peak!
We will then continue west to the sacred lake of Manasarovar, which is holy to Buddhists and Hindus. We will spend a night at a simple guesthouse near the lake shore. Then we will make the short drive to Darchen to finalize preparations for the 3 day Kailash Trek. The trek will cover a total of 52 kilometers and will reach a maximum height of 5640 meters/18,500 feet on top of the Dolma La Pass. After completing the Kailash Kora, we will make the journey back to Lhasa and depart Tibet on 14 June 2018.
May 2018 Kailash Trek Itinerary
Dates: 26 May—14 June 2018
26 May: All clients arrive to Chengdu, China by 4pm
27 May: Fly from Chengdu, China to Lhasa, Tibet
28 May: Lhasa—Explore Jokhang Temple and Sera Monastery
29 May: Lhasa—Explore the Potala Palace and Barkhor Square
30 May: Drive from Lhasa to Yamdrok Lake, Karo La Glacier and Gyantse
31 May: Drive from Gyantse to Shigatse via farming villages
1 June: Shigatse and Tashilhunpo Monastery
2 June: Drive from Shigatse to the Everest Region
3 June: Everest Base Camp and drive to Old Tingri
4 June: Drive from Old Tingri to Mt Shisha Pangma, Peiku Lake and Saga
5 June: Drive from Saga to Lake Manasarovar
6 June: Drive from Lake Manasarovar to Darchen
7 June: Trek from Darchen to Dira Puk Monastery
8 June: Trek from Dira Puk to Drolma La Pass and Zultul Puk Monastery
9 June: Trek from Zultul Puk to Darchen
10 June: Drive to Saga
11 June: Drive from Saga to Lhatse
12 June: Drive from Lhatse to Shigatse
13 June: Drive from Shigatse to Lhasa
14 June: Depart Lhasa
May 2018 Kailash Trek Costs
The cost per person for this high quality, professionally guided Kailash Trek is $3599 USD. This price includes MANY extras that other companies do not offer. Participants are responsible for their own travel arrangements to Chengdu, but we will take care of just about everything else after that! Send us an email at info@himalayajourney.com  to apply for this tour or for any questions you may have.
Included in the price:
One-way airfare from Chengdu to Lhasa
All accommodations (based on double occupancy)
All meals from the evening of 26 May until morning of 14 June
All bottled drinking water (bottles will all be recycled)
Daily fresh fruit
All ground transportation in Tibet
All entrance fees
All Tibet permit fees
All Everest and Kailash fees
Professional foreign guide certified and trained as a Wilderness First Responder
Professional local Tibetan guide trained in Wilderness First Aid
Chengdu Airport transfer on morning of 27 May
Lhasa Airport transfer on morning of 14 June
Not included in the price:
Passport and Chinese Visa fees
International airfare to/from Chengdu, China
Airfare departing Lhasa on 14 June
Porters for the Mt Kailash trek (porters are available for a small extra cost)
Travel vaccinations
Insurance (travel, medical, etc)
Souvenirs or personal items such as laundry, excess baggage fees, snacks, alcohol drinks, etc
Photography fees inside temples and monasteries
Gratuities to the Tibetan driver and guide
Each participant will be sent a list of required and recommended clothing and gear for the Kailash Trek that they will be responsible for as will information on how to obtain a Chinese Tourist Visa.
High quality, professionally guided journey: This journey from Lhasa to Mount Kailash is for clients who want to get the most out of their time in Tibet. In addition to being a longer tour, this journey price includes MUCH more than other journeys to Kailash include, such as hotel in Chengdu, flight from Chengdu to Lhasa, upgraded hotels in Tibet, all meals at quality restaurants, all bottled drinking water, fresh fruit each day, expert English speaking Tibetan guide, expert foreign guide who is certified as a Wilderness First Responder and an expert in Tibetan culture and history and much more! Each day, clients will learn more about different aspects of Tibetan religion, culture and history so they can fully understand the places and people they are seeing and experiencing.
Accommodations: In Chengdu, we will be staying in a highly rated 5 star hotel. In Lhasa, Gyantse and Shigatse, we will be staying in pleasant 3 and 4 Star Tibetan-owned hotels. Hotels in western Tibet are very basic, but clean. In the village of Basum, near Everest Base Camp, we will stay in a traditional style Tibetan home. In Old Tingri, Saga, Lake Manasarovar, Darchen, Guge Kingdom and along the trek around Mt. Kailash, we will be staying in very basic guesthouses that have shared toilets, no heating and restaurants serving basic noodle and rice dishes.
Meals: For this tour, we will be eating a variety of Western, Chinese, Tibetan and Nepali food. Food in the Everest and Kailash regions are limited to basic noodle and rice dishes with vegetables. If you have any food allergies or dietary restrictions, please let us know so we can plan accordingly.
Eligibility: Participants must be in good health and be able to spend each day walking around towns, villages and monasteries while carrying their own equipment.  The 3 day Kailash Trek is 52 kilometers long (32 miles) reaches a high point of 5640 meters/18,500 feet. Porters are not included in the tour price, but can be hired if needed for an additional cost. Most of this tour will take place in mountainous terrain between 3600 meters and 5630 meters (11,800 feet to 18,470 feet) above sea level. We will spend 1 night in Chengdu and 3 nights in Lhasa for altitude acclimatization before going above 3600 meters. Ascent will be slow and gradual with the highest sleeping elevation being on the Mount Kailash Trek at 5080 meters (16,600 feet). This tour is not recommended for those who have severe asthma, heart condition or have no trekking experience or who have had problems with high elevation in the past.
This is a combination overland and trekking journey. It is open to anyone who is interested in Tibetan culture and the Himalaya Mountains. Unfortunately, people holding a Norwegian or Indian passport are unable to join this tour due to government restrictions that are beyond our control.
Responsible Tourism: Himalaya Journey is foreign-owned, but Tibetan staffed. All of our guides and drivers are local Tibetans who have been working in tourism for many years. It is a top priority for us to support as many Tibetan-owned businesses as possible. During this tour, all of the hotels we will be staying at in Tibet are locally-owned, as are all of the restaurants we will be going to. The preservation of the culture of Tibet, as well as the protection of the environment of Tibet, are extremely important to us. In fact, when we are not out leading journeys across Tibet, we are working with local Tibetans in numerous eco-tourism and conservation projects.
Summary: Mount Kailash Trek
Our 2018 professionally guided Mount Kailash Kora is from 26 May to 14 June
This journey is limited to just 8 to 12 clients
The trek is led by expert guides with many years experience
Each day there will be interesting lectures on Tibetan culture, history and religion
A certified Wilderness First Responder will be on the journey
Our journey cost includes MANY extras including upgraded hotels, all meals and purified drinking water, flight from Chengdu to Lhasa, expert Tibetan staff and much more
The journey from Lhasa to Kailash and back will take 19 days…much longer than other companies offer in order to reduce the risk of altitude sickness
We will explore Lhasa, Gyantse, Yamdrok Lake, Yarlung River, Shigatse, Everest Base Camp, Lake Manasarovar, Kora La Glacier, Peiku Lake and many other places in Tibet
For more information or to reserve your place on our 2018 Mount Kailash Trek, send an email to: info@himalayajourney.com