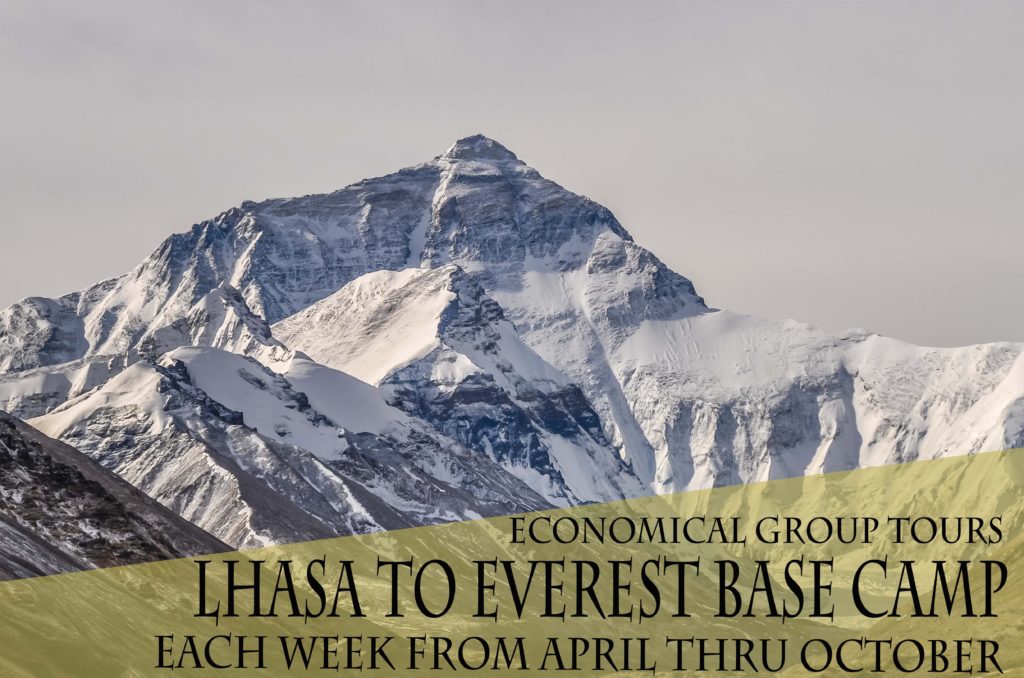 Small group tours are an economical way to travel the beautiful route between Lhasa and Everest Base Camp. Read this post for more details on a reputable travel agency to use!
Lhasa to Everest Base Camp Group Tour
For information on a reputable and affordable travel agency in Tibet, please use our Himalaya Trip Planner (link for details) or send an email to: thelandofsnows@gmail.com
The overland route from Lhasa to Everest Base Camp is the most popular journey in Tibet. This route lets you experience the Buddhist holy city of Lhasa for a few days before going overland through central Tibet to the base camp of the world's highest peak. Along the way, you will see the main cultural and scenic places including Yamdrok Lake, Karo La Glacier, Gyantse, Pelkhor Chode Monastery, Shigatse, Tashi Lhunpo Monastery and more. At Everest Base Camp, you will get an amazing, up-close view of the mountain!
Tibet Group Tour
If you haven't heard yet, Tibet is not the cheapest place on the planet to travel to. All foreign travelers must be on an organized tour that includes travel permits, a private vehicle, a driver and a tour guide. Because of these requirements, traveling in Tibet can be relatively expensive compared to other areas of Asia. A private tour from Lhasa to Everest can easily cost you many thousands of dollars, especially in the high season months from June through October. However, travel agencies in Lhasa can arrange a Tibet Group Tour, which can be a much cheaper way to travel in Tibet. In a Tibet Group Tour, you can join a small number of other travelers, usually 6 to 9 others, and can share the costs of the private vehicle, driver and tour guide. This is a great option for budget travelers who are wanting to go to Tibet. A Tibet Group Tour is not a luxurious tour and is not very long, but many reputable travel agencies do a good job of arranging quality group tours. Again, this is the best option for those with a smaller budget who wish to see Tibet.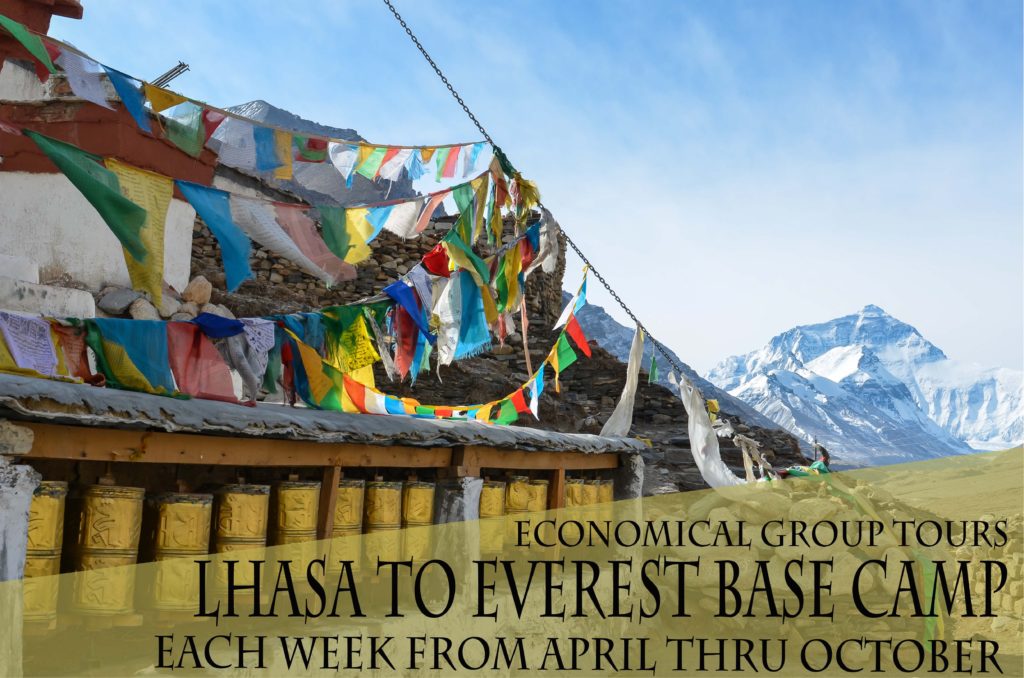 Lhasa to Everest Base Camp Itinerary
Group tours to Everest start in early April and go through late October or early November each year. Most travel agencies offering a Tibet Group Tour from Lhasa to Everest Base Camp take 8 days to complete the journey. You begin with 3 nights in the Tibetan capital of Lhasa. From there, you then take 2 more days to reach Everest Base Camp and 2 days to return to Lhasa. You then depart Lhasa on the morning of the 8th day. Here is what the itinerary usually looks like:
Day 1: Arrive to Lhasa, Tibet
Day 2: Lhasa, Jokhang Temple, Sera Monastery
Day 3: Lhasa, Potala Palace, Drepung Monastery
Day 4: Lhasa to Yamdrok Lake, Karo La Glacier, Gyantse and Shigatse
Day 5: Shigatse to Everest Base Camp
Day 6: Everest Base Camp to Shigatse
Day 7: Shigatse, Tashi Lhunpo Monastery to Lhasa
Day 8: Depart Lhasa
Travel Agency in Tibet
There are literally hundreds of travel agencies to choose from when going to Tibet. It is important to choose a reputable agency that is based in Tibet and owned/staffed by local Tibetan people. From my many years living in the region, I know all of the best agencies to use. I can put you in touch with a few travel agencies that specialize in budget group tours to Everest.
For assistance on a travel agency to use in Tibet, fill out this short Himalaya Trip Planner (click link for details) or send an email to: thelandofsnows@gmail.com