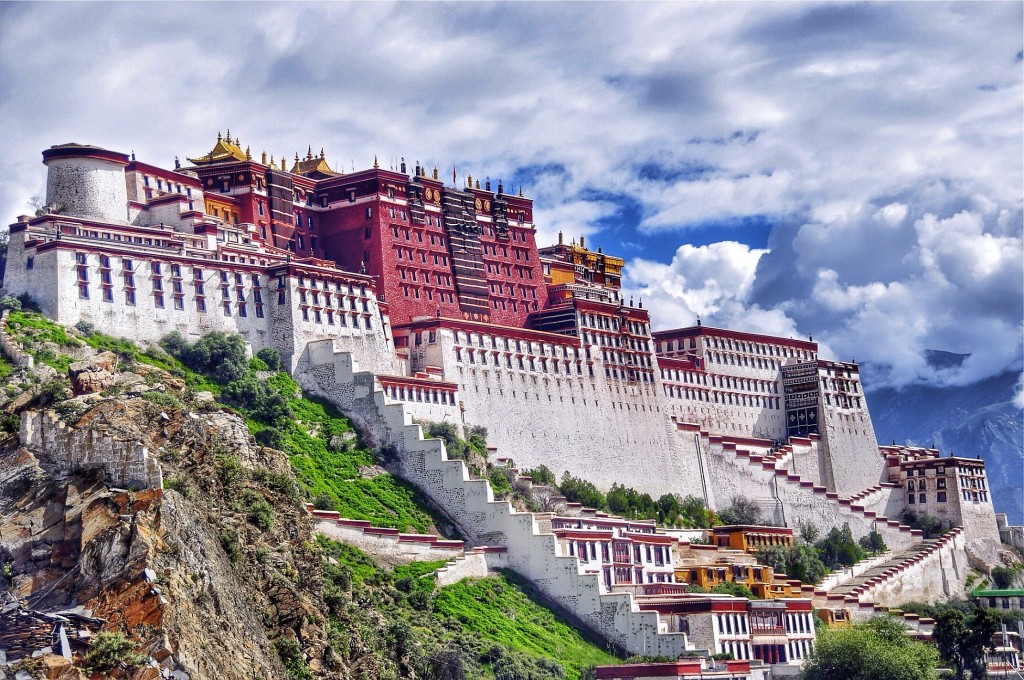 Updated February 2017: Find out how to get your Chinese tourist visa when going overland from China to Tibet and on to Nepal.
For recommendations on a reputable and affordable travel agency in Tibet, send an email to: thelandofsnows@gmail.com
Chinese Visa for Tibet
UPDATED FEBRUARY 2017
One of the most common questions I receive from travelers is how to get a Chinese Visa when traveling from Tibet to Nepal.  Most, if not all, Chinese embassies and consulates require foreigners to show proof of air tickets to China as well as tickets leaving China. The overland route from Lhasa to Kathmandu is one of the most popular routes to take when traveling in Tibet. However, it can be a little tricky to get your Chinese Visa when taking this route (or flying to Kathmandu from Lhasa) since you aren't able to show that you have an air ticket leaving China. If you do show the China Embassy your flight departing Lhasa when you apply for your China visa, you almost certainly will be DENIED a visa. The reason is that China Embassies and Consulates across the globe will generally not process China visa applications that have the word "TIBET" on them or list any Tibetan towns or include flights to/from Lhasa. So, when applying for your China visa, do not list Tibet or anyplace in Tibet….and remember to not include any proof of flight going to/from Nepal.
NOTE: When going directly from Nepal to Tibet, the travel regulations are different. This post is ONLY for those going from Mainland China to Tibet and then to Nepal. If you are going from Nepal to Tibet directly, please read the following post: How to go from Nepal to Tibet
Chinese Visa when going from Tibet to Nepal
If you list on your Chinese visa application that you plan to go to Nepal from Tibet, there is a high chance that your visa application will be denied. Read this post of mine for the reasons why: Don't list Tibet on your Chinese Visa Application. Since Tibet is so politically sensitive, Chinese embassies and consulates don't like it when foreigners list "Tibet" as a destination. If you do list "Tibet" as a travel destination, the Chinese embassy/consulate will most likely ask for 1 of 2 things. The first thing they will usually ask to see is your Tibet Travel Permit (TTP) before issuing a Chinese visa. However, the Tibet Tourism Bureau (TTB) in Lhasa will usually NOT issue a Tibet permit unless you have a Chinese visa….a classic Catch-22 situation. The second thing that Chinese embassies/consulates ask for is an invitation letter from a travel agency that is stamped by the Tibet Tourism Bureau. Getting a letter from a travel agency is easy enough, but getting it stamped by the TTB can be difficult. For whatever reasons getting the TTB to stamp an invitation letter usually takes an eternity. And, even with this letter, there is NO guarantee that the Chinese embassy/consulate will grant you a visa. Though foreign tourism to Tibet is allowed and encouraged, Chinese embassies are extremely hesitant to grant visas to people that list "Tibet" as a travel destination on their Chinese visa application. For this reason, it is best to NOT list Tibet. Just list 2 or 3 major cities in China and you will be fine.
How to get a China Visa when traveling to Tibet
I will explain what I recommend to do in order to still get a Chinese Visa for Tibet without listing Tibet on your application and being able to travel from Lhasa to Kathmandu without having a flight ticket leaving China. If you follow these instructions, you will not have any problems. Read through the following very carefully:
1. As stated above, do NOT list Tibet as one of your travel destinations in China. You will most likely have major problems if you do. Just list 2 or 3 major cities in China such as Beijing, Chengdu, Xi'an, Kunming or Guangzhou. Even if you don't list a specific destination on your Chinese visa application, you can still go there without any problems. Chinese embassies don't expect you to list every single place in China you are planning to go to. Just list a couple of big cities and you'll be fine.
2. Some (even most) Chinese embassies/consulates require foreigners to prove that they have at least a few nights accommodations booked in advance, while others will require you to prove that you have ALL of your hotels booked in advance. For a lot of travelers, following such a rigid itinerary just doesn't fit their style of travel. And of course, if you show hotel bookings in Tibet, you are going to have issues (see #1). To get around this regulation, there are several websites that will allow you to book a hotel and then cancel it without any penalty. Websites such as C-Trip (http://english.ctrip.com/) and Agoda (http://www.agoda.com/) allow you to book a hotel room and cancel it for free (make sure that the hotel you are booking offers free cancellation….they usually all do, but check to make sure!). ***Using the C-Trip site, you should be able to choose the "Pay at Hotel" option, meaning nothing is charged to your credit card. Once you make your hotel bookings for the duration of your time in China, print out the confirmations and then cancel the booking for free. Then submit these hotel booking confirmations along with your visa application. I have never heard from anyone who has been denied a visa for China when giving these cancelled hotel bookings.
3. The next thing you will need in order to get a Chinese visa is proof of your flight going to China and exiting China. Obviously, showing proof of your flight to China is easy. However, if you are planning to go from Tibet to Nepal, you have no air ticket to show, which will cause your visa to be either denied or will cause you major headaches. In addition, if you show a flight going from Lhasa to Kathmandu, you will also have big problems as the China Embassy will obviously know you are going to Tibet. Here is what I recommend doing in order to give the Chinese embassy the required exit air ticket needed to get your Chinese Tourist Visa.
A. Go to the Travelocity Flights website (http://www.travelocity.com/Flights)
B. Check the "Flight Only" tab on the top of search panel on the left side of the page.
C. Check the "One-Way" tab
D. Set your "Leaving From" city for a major city in China, such as Chengdu, Beijing, Kunming, etc.
E. Set the "Departing" date for a date that corresponds to the end of your time in China.
F. Set the "Going To" city for a major city such as Bangkok, Singapore, Kuala Lumpur, etc.
G. Check the "Refundable Flights Only" tab near the bottom of the search panel.
H. Hit the "Search" button.
I. Click the "Show Flight Details" tab and make sure that the ticket allows free cancellation within 24 hours.
J. Book the ticket using your credit card.
K. Print out the flight booking, which will need to be submitted with your visa application.
L. After you print the booking, cancel it for a full 100% refund (Cancellation MUST be made within 24 hours!!).
I understand it may sound strange to have to do all of the above steps (And I agree…It is strange!), however, it's just one of the political hoops you have to jump through in order to travel to the amazing region of Tibet. The above instructions are what nearly all travel agencies in Tibet recommend for their customers to do when they plan to travel overland out of Tibet to Nepal. I cannot guarantee that following the above instructions will work, but I can say I have NEVER heard of anyone who has been denied a tourist visa for Tibet by following what I have written in this post. Literally many thousands of travelers have followed these instructions and received their China visa without issue. Over the past 10 years, I have not heard of even 1 traveler who has been denied a China visa when following my instructions.
Tibet Permit
Remember that ALL foreigners going to Tibet must be on an organized tour. There are no exceptions. You will be required to be on an organized tour that includes a Tibet permit (sometimes multiple permits are required), a tour guide, a private vehicle and a driver. Only a travel agency can arrange this for you. Getting to Tibet can sound difficult and confusing, but in reality it is VERY easy. The travel agency you use in Tibet will make all arrangements for your Tibet tour, but it will be your responsibility to get your Chinese Visa for Tibet when going to Tibet from Mainland China (NOTE: The travel regulations for Tibet are different when entering from Nepal. If you plan to go from Nepal to Tibet, please read the following link: How to go from Nepal to Tibet).
If you have further questions about a Chinese Visa for Tibet or need a recommendation on a reputable and affordable travel agency to use, feel free to send me an email at: thelandofsnows@gmail.com