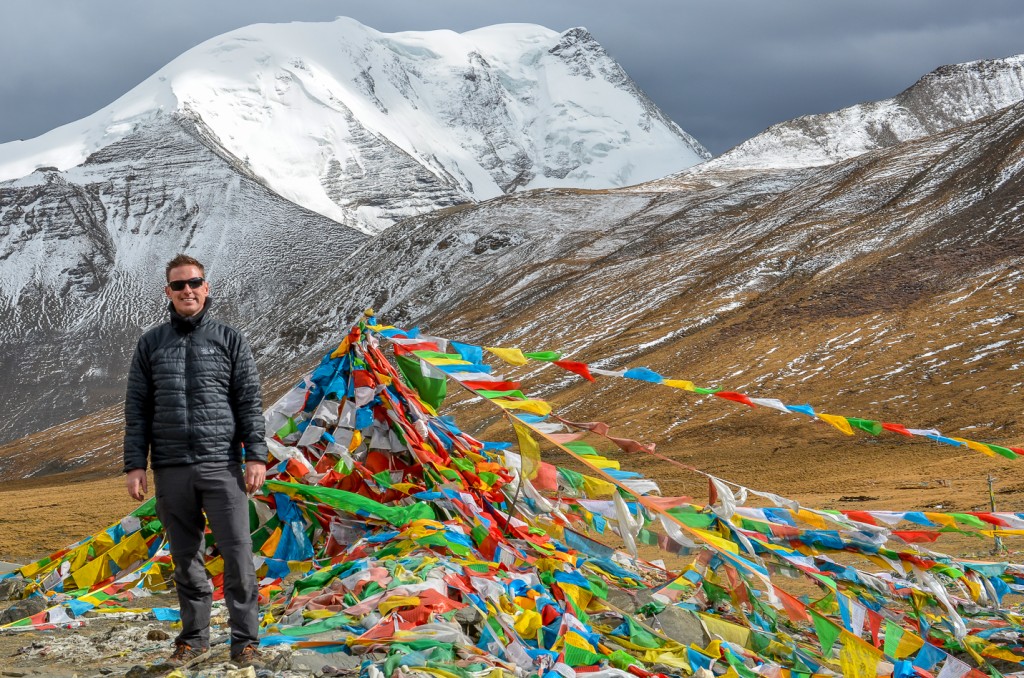 Jamin "Lobsang" Lee has lived and worked in various areas of Tibet for over 14 years. He spent several years working for an NGO focusing on adult education programs for Tibetans from the Amdo and Kham regions and in 2006 he co-founded a successful travel agency which organized nearly 500 custom journeys, photography tours, cultural excursions and treks across Tibet and Nepal.  This agency has grown over the past 12 years to now be called Himalaya Journey, which now arranges quality tours, treks and climbs throughout Tibet, Nepal, Ladakh and Bhutan.
Lobsang serves as the lead guide on all professionally guided treks, photography tours and cultural journeys. With clients, his goal is to help them understand, appreciate and respect the people and cultures they photograph. In addition, all of the staff at Himalaya Journey are local Tibetans, Nepalis, Ladakhis and Bhutanese who are experts in tourism. The staff work as trekking and cultural guides, sales managers, secretaries, drivers, trekking and climbing cooks and more.
Understanding how difficult it can be to get accurate and current travel information on Tibet, Lobsang started The Land of Snows website in 2005 to assist travelers in planning their journey to Tibet. The site now has over 30,000 visitors per month. Lobsang receives nearly 5000 emails per year from across the globe from travelers asking him for advice on which areas of Tibet (and other areas of the Himalaya) to travel to and how to get there. Free of charge and regardless of which travel agency they use, he answers nearly 95% of these emails. To contact him for travel advice, send an email to: thelandofsnows@gmail.com
Lobsang has done research on Tibet for several guidebook companies including Lonely Planet, Frommer's, DK Eyewitness Travel and Fodor's. His expert knowledge on Tibetan culture, history and religion has been used for research by The Discovery Channel, BBC, Animal Planet and numerous NGO's. He has traveled extensively across all regions of Tibet, totaling nearly 400,000 kilometers overland. He has also traveled al across Ladakh (India), Nepal and Bhutan.
Lobsang has had countless images published in magazines and books across North America, Europe and Asia. Even in the harshest of conditions that Tibet has to offer, he has his camera with him at all times. In addition to Tibet, he has traveled throughout Mongolia, Thailand, Burma, Malaysia, Laos, Nepal, India, Pakistan as well as other regions of China.
Lobsang is very involved in community development in Tibet and also serves as a consultant to many tourist-related businesses in Tibet including travel agencies, restaurants and hotels. Lobsang's ultimate goal is to see Tibetans succeed in doing business. Lobsang can often be found in Lhasa giving sales training and guide training to travel agencies, in Amdo giving free courses in how to operate a successful guesthouse or in Kham working with local officials to develop tourism in a socially responsible way.
For travel information on Tibet, send Lobsang an email to thelandofsnows@gmail.com.
If you are interested in using our services to arrange your upcoming journey to Tibet, Nepal, Bhutan or Ladakh, start dialoguing with Lobsang or a member o the Himalaya Journey sales staff by sending an email to: info@himalayajourney.com
You can follow Lobsang on Facebook at: The Land of Snows and on Instagram at: thelandofsnows