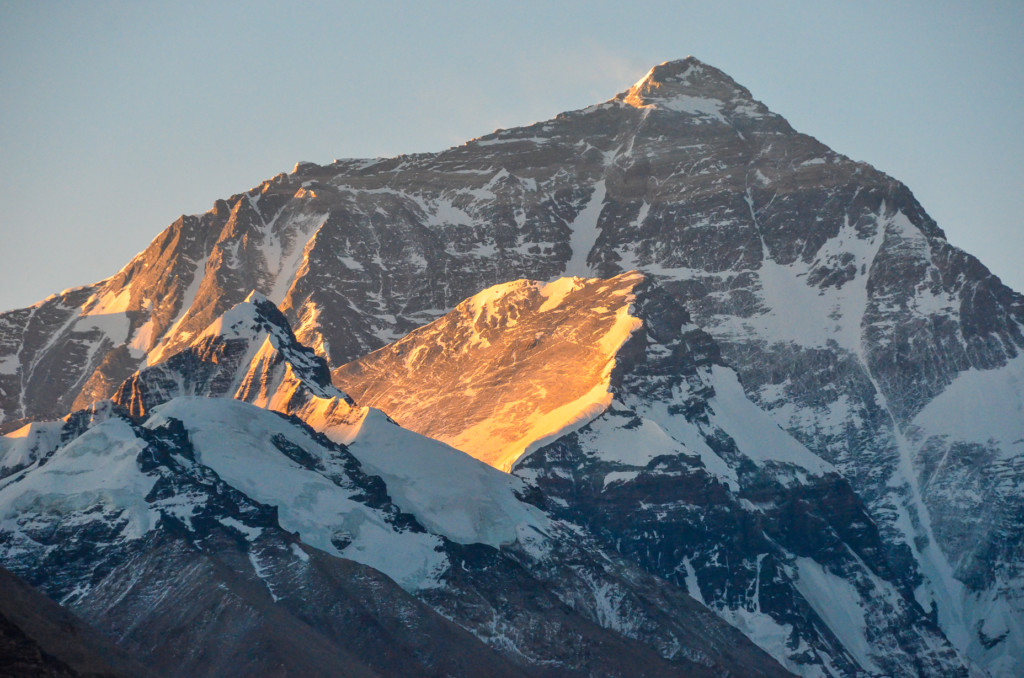 SOLD OUT! Join us on this same journey in October 2017! More info in this post or email us at: info@himalayajourney.com
Lhasa to Everest Base Camp
This journey is SOLD OUT! Join us on this same journey in October 2017. Go to the following link for more info: 8 October—20 October Tibet Journey to Everest and Western Himalaya
To join this amazing Tibet tour in October 2017, send an email to: info@himalayajourney.com
The overland route connecting Lhasa, Tibet with Everest's North Face Base Camp is one of the most beautiful and amazing land routes in Asia. Covering a distance of 800 kilometers / 500 miles, this journey will take us from the modern Tibetan capital of Lhasa to pristine high altitude lakes, rivers, glaciers, farming valleys and through the Himalaya's to Everest Base Camp. At Everest Base Camp, we will get up close and personal with the world's highest peak. We will be visiting the most famous and picturesque monasteries and temples and will spend 12 days experiencing and photographing the uniqueness of Tibetan culture. Join us on the Roof of the World for the adventure of a lifetime! To join this amazing journey in April 2017, send an email to: info@himalayajourney.com
Lhasa to Everest Base Camp
April 15—26, 2017
15 April
All participants must arrive in Chengdu, China by 3pm on 15 April. Himalaya Journey will give you detailed instructions on how to easily get to the hotel we will be staying at. We will eat dinner together during a time of meet and greet at a centrally located restaurant near our hotel.
16 April
In the morning, we will fly to Lhasa and arrive in the late morning/early afternoon. The Tibetan capital sits at 3590 meters and is the cultural and spiritual heart of Tibet. After getting situated in a modern, centrally located hotel, we will explore and photograph the center of the Old Tibetan Quarter in the heart of Lhasa. The Barkhor is the main shopping market for local Tibetans. It is one of the most interesting markets in all of Asia and is an excellent place to photograph modern Tibetan culture. In Lhasa we will stay at the 4 Star Gang-Gyen, which is located within walking distance of the Barkhor.
17 April
After breakfast, we will spend the morning going through the Jokhang, Tibet's holiest and most famous temple. Each day, thousands of Tibetan Buddhist pilgrims work their way through this nearly 1400 year old temple. We will also explore Tsamkhung Nunnery, one of the largest nunneries in the Lhasa area. In the afternoon, we will photograph the Buddhist philosophy debates at Sera, one of Tibet's largest monasteries. The monk debates will be a major highlight during your time in Tibet.
18 April
We will start the day by exploring Tibet's most iconic building, the Potala Palace. Towering above Lhasa with more than 1000 rooms, the Potala Palace served as the winter residence of the Dalai Lama's for hundreds of years. After this, we will explore Ramoche Temple and more of the Old Tibetan Quarter of Lhasa.
19 April
In the morning, we will depart from Lhasa and drive to Gyantse via Yamdrok Lake. Yamdrok Lake, during clear weather, is a brilliant turquoise color and is one of the 4 main holy lakes in Tibetan Buddhism. The huge, glaciated 7191 meter Mt. Nojin Kangtsang forms the backdrop of the lake. The lake sits at an elevation of 4441 meters above sea level. Along the way to Gyantse, we will stop by the glaciers of Mt. Nojin Kangtsang at the Karo La Pass, which come down almost to the highway. Gyantse is a small, but modern Tibetan town, that lies at 4025 meters. We will be photographing the Pelkor Chode Monastery as well as the Gyantse Kumbum, the highest stupa (Buddhist pagoda) in Tibet. The drive from Lhasa to Gyantse covers 260 kms (162 miles). In Gyantse, we will stay at the 3 Star Yeti Hotel.
20 April
After breakfast, we will photograph the 600 year old Pelkor Chode Monastery. This beautiful monastery lies within a walled complex in the Gyantse Old Town. The short hike to the top of the wall gives an excellent panorama view of the monastery, town and the high plateau in the distance. After lunch, we will depart Gyantse and drive to Shigatse, elevation 3840 meters. The distance from Gyantse to Shigatse is 95 kilometers (60 miles). In Shigatse we will stay at the 4 Star Gesar Hotel.
21 April
Shigatse is home to Tashilhunpo Monastery and its 600+ monks. This monastery, one of the largest in Tibet, is the seat of the Panchen Lama, the second most important lama in Tibetan Buddhism. We will walk around the pilgrim route that goes up and around the famous monastery as well as explore inside the huge monastery complex. In the afternoon, we will explore the walking street and markets in the Old Town.
22 April
We will depart from Shigatse in the morning and drive 305 kilometers (190 miles) to the small village of Basum going through small farming villages. Along the way, we will cross the Gyatso La Pass, which rises above 5000 meters and the Pang La pass, which rises to 5050 meters. From the Pang La pass, you get a sweeping view of the Himalaya's where you can see 5 of the worlds highest mountains, including Mt. Everest. Basum is a small Tibetan village only 40 kilometers (25 miles) from Everest Base Camp. We will stay with a local Tibetan family in their traditional-style home. The elevation of Basum is 4270 meters.
23 April
In the early morning, we will drive 40 kilometers (25 miles) from Basum to Everest's North Face Base Camp. Along the way, we will stop at the the beautiful Rongphu Monastery, the highest monastery in the world at nearly 5000 meters. The small monastery has an amazing view of Everest. We will explore and photograph this region, getting excellent pictures of the world's highest mountain. After spending several hours in the Everest Base Camp region, we will drive 100 kilometers (62 miles) to the small town of Shegar where we will stay the night at the Everest Qomolangma Hotel.
24 April
This day we will leave Shegar after breakfast and begin the journey back to Lhasa. We will stop at a couple of farming villages along the way to photograph traditional farming culture. We will arrive in Shigatse in the mid afternoon and stay at the 4 Star Gesar Hotel. The distance from Shegar to Shigatse is 230 kilometers (145 miles).
25 April
After breakfast, we will return to Lhasa. We will arrive in Lhasa with enough time to stroll through the Old Tibetan Quarter a few more times. The distance from Shigatse to Lhasa is 260 kilometers (162 miles). In Lhasa we will stay at the 4 Star Gang-Gyen Hotel.
26 April
In the morning, we will transfer you to the airport to depart from Tibet.
Tibet Tour Leader
Jamin "Lobsang" York has lived full-time on the Tibetan Plateau for over 14 years working in education, community development and tourism. He is also the author of the popular Tibet-Himalaya travel blog The Land of Snows. In addition to traveling over 350,000 kilometers overland across Tibet, Jamin has led and arranged hundreds of tours across Tibet and the Himalayan regions of Ladakh (India) and Nepal over the past 10+ years. He has vast trekking experience across the Himalaya in Tibet and Nepal. Jamin's expert knowledge on Tibetan culture, history and religion has been put to use for The Discovery Channel, Animal Planet, BBC, Frommer's Travel Guides, Fodor's Guidebooks, Rough Guides, DK Eyewitness Travel and Lonely Planet Guidebooks. Jamin will be giving detailed lectures on Tibetan culture and history throughout this journey.
Jamin is the owner of Himalaya Journey and serves as the lead guide on  professionally-led journeys through Tibet, India, Bhutan and Nepal. His goal is to help clients understand, appreciate, and respect the people and cultures they photograph. Joining Jamin on this journey is his professional Tibetan staff. A professional English-speaking Tibetan guide will be along to further explain the uniqueness of Tibetan culture and religion. For more info about Jamin and Himalaya Journey, please go to the following link: About Himalaya Journey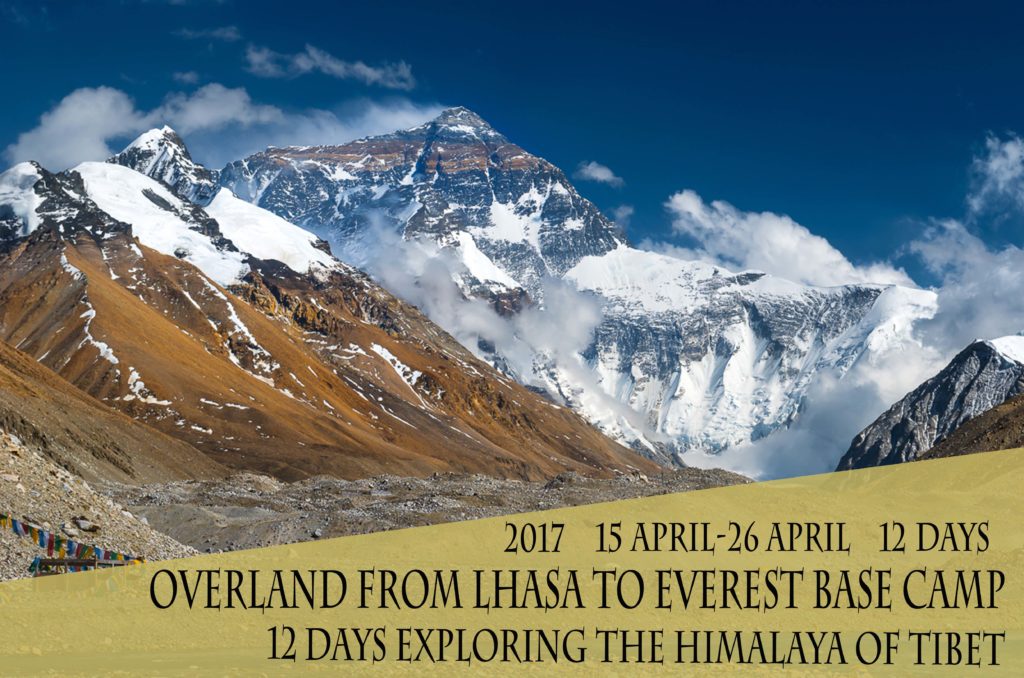 Mt Everest Tibet Tour
Send us an email at info@himalayajourney.com  to apply for this tour or for any questions you may have.
Dates: April 15—26, 2017   
The cost per person is $3250 USD. Participants are responsible for their own travel arrangements to Chengdu, but we will take care of just about everything else after that! This journey is limited to just 10 participants.
Included in the price:
One-way airfare from Chengdu to Lhasa
All accommodations (based on double occupancy; single room supplement available)
All meals from evening of 15 April to morning of 26 April
All drinking water
All ground transportation in Tibet
All entrance fees
All Tibet travel permits
All Everest fees
Professional Tibetan guide fees
Professional Foreign guide fees
Chengdu Airport transfer on 16 April
Lhasa Airport transfer on 26 April
Not included in the price:
Passport and Chinese Visa fees
International airfare to/from Chengdu, China
Airfare departing Lhasa
Travel vaccinations
Insurance (travel, medical, etc)
Souvenirs or personal items such as laundry, excess baggage fees, snacks, alcohol drinks, etc
Photography fees inside temples and monasteries
Gratuities to the Tibetan guide and driver
Each participant will be sent a list of required and recommended gear for the tour that they will be responsible for. A suggested packing list will be sent to participants upon registration and acceptance.
Accommodations: In Chengdu, we will be staying in a highly rated boutique hotel. In Lhasa, Gyantse and Shigatse, we will be staying in pleasant 3 and 4 Star Tibetan-owned hotels. Hotels in other areas of Tibet will be the best available, but be advised that these areas are very remote and undeveloped. Hotels in the Everest Region are basic without heating, but with plenty of clean blankets. Toilets in the Everest Region are usually outside. In the village of Basum, near Everest Base Camp, we will stay in a traditional style Tibetan home, which will be very simple without heating, but with plenty of blankets. All hotels, except for those in the Everest Region, should have internet access.
Meals: For this tour, we will be eating a variety of Western, Chinese, Tibetan and Nepali food. Food for the 2 nights in the remote Everest Region will be limited to vegetable dishes with rice and noodles. If you have any food allergies or dietary restrictions, please let us know so we can plan accordingly.
Eligibility: Participants must be in good health and be able to spend each day walking around towns, villages and monasteries. Though we will be doing a lot of walking each day, no trekking or camping is required. Most of this tour will take place in mountainous terrain between 3600 meters and 5200 meters (11,800 feet to 17,000 feet) above sea level. We will spend 1 night in Chengdu and 3 nights in Lhasa for altitude acclimatization before going above 3600 meters. Ascent will be slow and gradual with the highest sleeping elevation being at 4270 meters (14,000 feet). For safety and comfort reasons, we will not be sleeping at Everest Base Camp. This tour is not recommended for those who have severe asthma or who have had problems with high elevation in the past.
This is a cultural and photography. Any level of photographer (or non-photographer) is welcome to join and no specific camera gear is required. Unfortunately, people holding a Norwegian passport are unable to join this tour due to government restrictions that are beyond our control.
Responsible Tourism: Himalaya Journey is foreign-owned, but Tibetan staffed. All of our guides and drivers are local Tibetans who have been working in tourism for many years. It is a top priority for us to support as many Tibetan-owned businesses as possible. During this tour, all of the hotels we will be staying at in Tibet are locally-owned, as are all of the restaurants we will be going to. The preservation of the culture of Tibet, as well as the protection of the environment of Tibet, are extremely important to us. In fact, when we are not out leading journeys across Tibet, we are working with local Tibetans in numerous eco-tourism and conservation projects.
For more information about this Tibet tour from Lhasa to Everest Base Camp, send an email to: info@himalayajourney.com